The US Moon landing in 1969 first gave us a real view of what Warhammer 40k xenomorphs may have seen as they prepared for the invasion of Terra. Whether by human eye or bio-electrical organs, the visible otherworldly landscape is often where battles wage for many tabletop wargames. How do you create this "look" in your miniature painting and modeling work? Basing miniatures with effects that recreate these unearthly landscapes is easier than you think!
In this article, I share my love for the Astrogranite Debris Citadel Technical Paint which I use to base and texturize models, and all without a lot of effort. While there are cheaper texture mediums available, Astrogranite and other Citadel Technical Paints are highly useful due to their user-friendliness, great results, and wide application in my miniature work.
My Top 3 Citadel Technical Paints for Most Miniature Painting Projects
Astrogranite: This specialized paint is designed to mimic the appearance of rough, unpaved stone. It features a thick grey base infused with actual bits of debris, adding an authentic texture to your miniatures. By applying Astrogranite directly onto the base and then drybrushing it, you can bring out the intricate details and enhance the ruggedness. It is particularly suitable for urban rubble or rocky outcrops. For example, when used on a miniature's base, Astrogranite can create the impression of a weathered city street or a rocky mountain terrain.
Stirland Mud: If you're aiming to replicate the look of mud, soil, or dirt on your miniatures, Stirland Mud is the ideal choice. This thick, brown paint contains textured components that allow you to achieve a realistic muddy effect. Whether you want to depict a muddy battlefield, a farmyard, or a rustic countryside, Stirland Mud can help bring your miniature to life. Applying Stirland Mud to the base or even to specific areas of your miniature will create the appearance of wet, earthy ground, as if the miniature has just trudged through muddy terrain.
Agrellan Earth: For an intriguing visual effect of parched, cracked earth, Agrellan Earth is the perfect solution. This unique paint formulation exhibits a cracking pattern as it dries, effectively simulating the appearance of desiccated soil. When applied to a miniature's base or any other suitable surface, Agrellan Earth adds a distinct dimension of realism. Imagine using it to depict a dry, barren landscape, an arid wasteland, or the cracked ground of a desert. The cracks formed by Agrellan Earth provide an interesting textural contrast and lend an air of desolation and aridity to your miniatures.
Is Astrogranite the best Citadel Technical Paint? Should you give it a try? Read on to find out!
---
A Quick Word: What is a Citadel Technical Paint?
Citadel Technical Paints are a range of paints from Games Workshop, the makers of the popular miniature wargaming hobby. They are designed to give your miniatures a unique look and texture, with a wide variety of colors and textures available.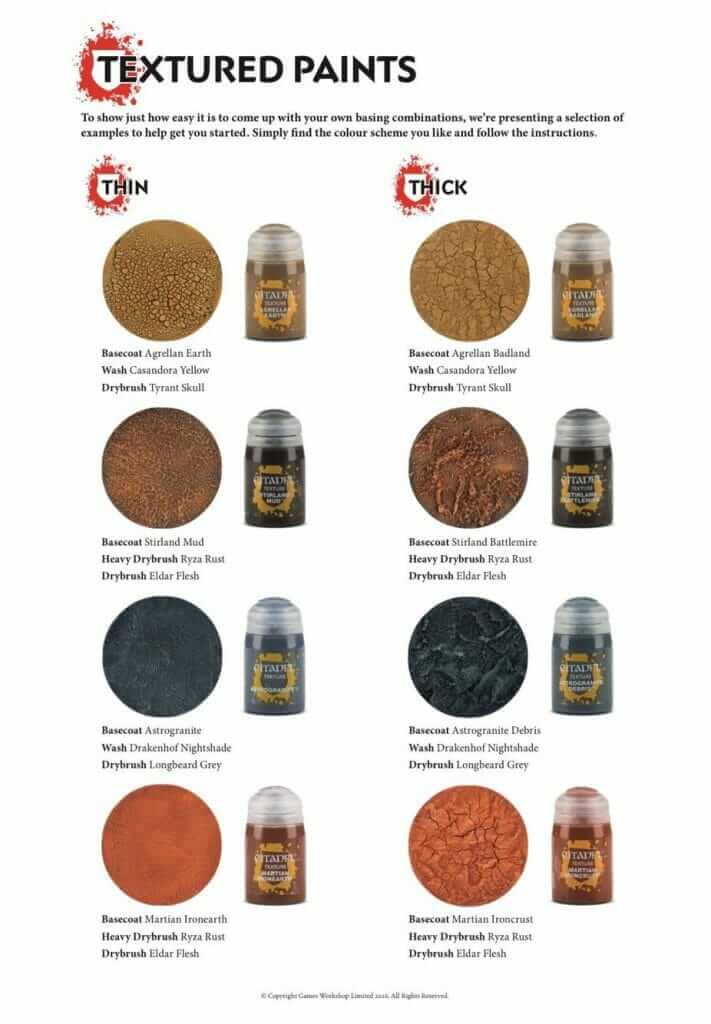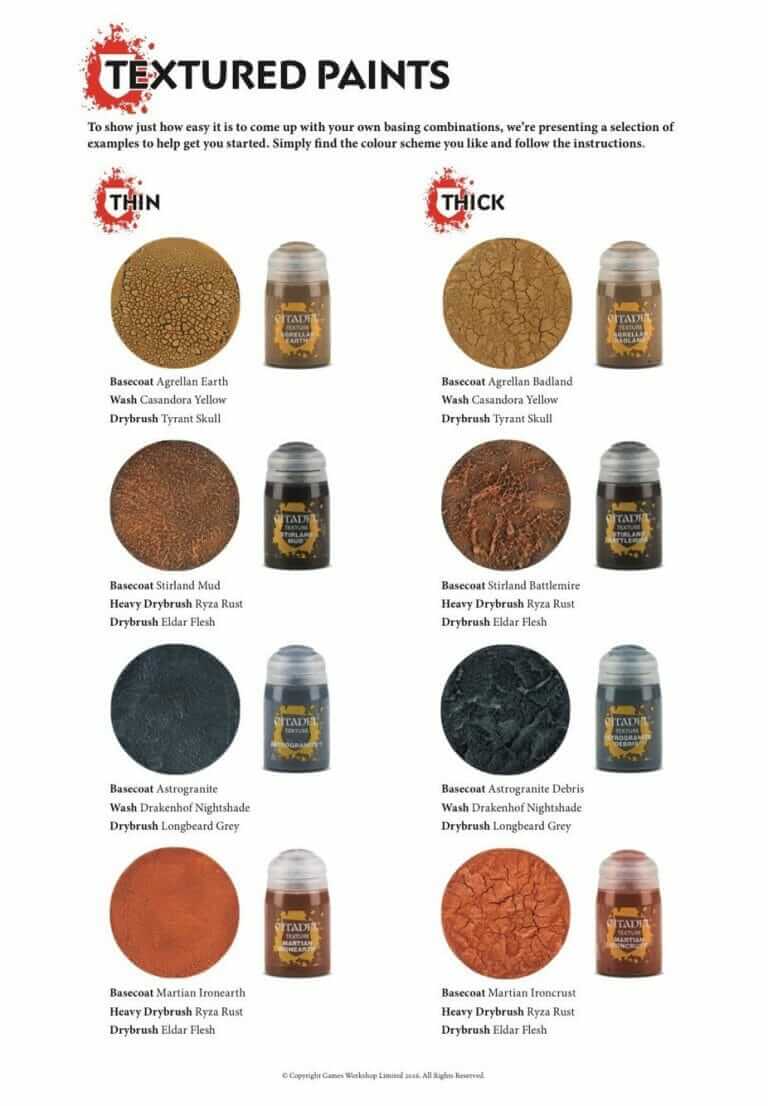 The most popular Citadel Technical Paints are their texture paints, which are used for basing your miniatures or adding special effects to them. These paints can be mixed with regular paint to create interesting textures such as mud, sand, stone, or even snow.
RELATED: ESSENTIAL BASING MATERIALS FOR MINIATURES AND MODELS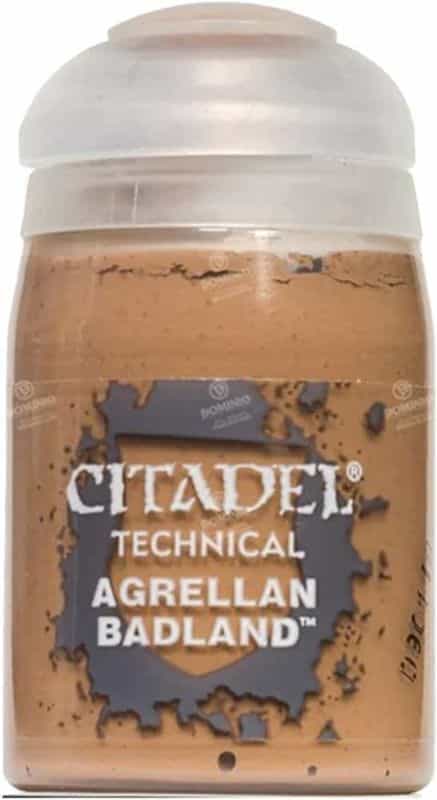 Note here, that the brand alternative are from the Vallejo Texture Gel range which also offers an array of textured mediums to add context and thematic interest to your miniatures and models. Take a closer look at Vallejo, if you're looking to expand beyond Games Workshop offerings.
Are Citadel Technical Paints Expensive?
In my opinion, Citadel Technical Paints are worth it if you're looking for a way to add unique effects to your models without having to use complicated techniques or materials. They are fast to use.
On the other hand, yes, I am aware that Citadel technical paints are a specialized hobby product, and may cost far more than generic brands or alternative textured art mediums.
But, there are three good reason for why Citadel textured products are popular and worth the investment. Simplicity, efficiency, and reliability.
Citadel Technical Paints are simple to use and fast. You don't need to be an experienced painter or modeler to get great results with them. They dry quickly which means the project can be finished in no time at all. If you want reliable effects, with good results almost every time (you can't screw up the application), then I suggest sticking with the Citadel texture range.
Citadel technical paints work well. You can, in-principle, apply them as you would normal paint (though they are more like a thick paste), allow it to dry, and expect it to last a long time.
Overall, Citadel Technical Paints offer great value for money and are worth considering if you want to add some extra detail to your miniatures or terrain pieces. With a wide variety of colors and textures available, you'll be sure to find something that suits your needs.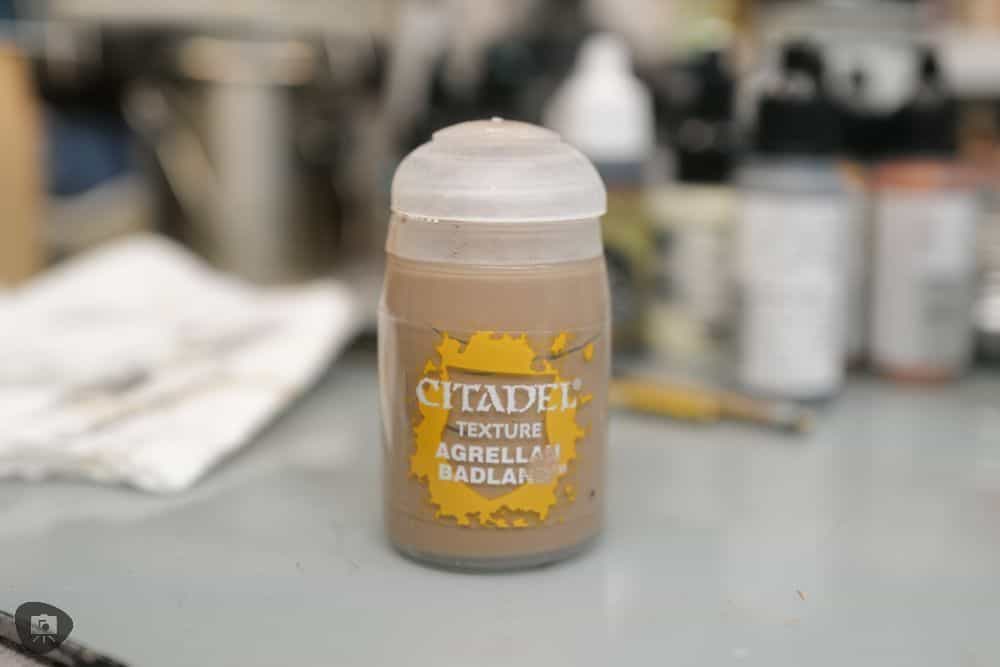 Citadel Technical Paints (Pros and Cons)
Here's a quick list of the pros and cons of using Citadel Technical Paints:
Pros
Easy to apply with either a brush or texture tool
Water-based formula is easy to clean up
24ml pot size is convenient for smaller projects
Can create realistic effects such as churned earth, grisly gore, rust and corrosion or spectral glows
Cons
Not suitable for large projects due to the small pot size
Can be difficult to work with if you don't have the right tools
Read on to see why I tend to choose Astrogranite Debris my favorite technical paint.
---
Why Astrogranite Debris? The Best of the Citadel Technical Paints
Citadel Technical Paints are a great way to add special effects to your models. One of the best technical paints is Astrogranite, which is perfect for creating realistic rock and stone textures. It's a water-based formula that's easy to use and can be applied over white or other colors for eye-catching results.
Here are the key reasons why I often choose Astrogranite Debris for basing and texturizing my miniatures.
Fast to apply
Versatile application
Neutral gray color
Basic texture to recreate many environments
Simple is better
In my miniature painting approach, I have a philosophy that leans toward simplification. The less complexity in my workflow, the better I am as an artist, a creator, and a hobbyist. Astrogranite is the perfect fit for this philosophy – it's no-fuss and requires minimal preparation time.
How to apply Astrogranite Citadel Technical Paint
Here's an example of how I use any Citadel Technical Paint. I'll show you my method for applying Astrogranite Debris using the Warhammer 40k miniature, Operative Umbral-Six.
1. Apply a primer
To apply Astrogranite or any other Citadel Technical Paint, I first prime my model's base (or whatever surface I want to use this technical paint). I often do this with a regular brush-on primer like Vallejo Surface Primer.
For the most part, I will also start with a dark primer, e.g., black or dark gray. I find using a dark primer to be more efficient and gives me cleaner results with less work.
2. Load up a texture brush or applicator
I take a texture brush, load it with a dollop of the technical paint, and slap on a good amount on my working surface. It's a thick paste and feels like toothpaste.
Yes, I lean toward using the Citadel Texture tool. But, any dental instrument or the sculpting tools from other brands like Army Painter work fine, too, and may be more affordable.
Of course, there's a trick I use with the Citadel texture tool. Because it's flexible, you'll have a much easier time working the technical paint into hard to fit areas. The plastic tool will flex when you apply pressure which also makes it easier to flatten bumps in the paste and create a smooth, even surface.
3. Naturally Spread and Shape the Technical Paint
For best results, I apply a thin layer of the technical paint–about 2mm thick. For reference, your finger nail is about 0.5mm thick.
Make sure to "sculpt" or shape the texture paste in a way that looks organic. Make it look natural, as though the ground itself experienced the ages and eons of whatever atmosphere you're envisioning.
Allow the textured paint to dry completely. It can take between 10-30 minutes for a layer of technical paint to dry depending on the ambient humidity and temperature of your room.
4. Drybrush and highlight (optional)
For a more realistic effect, I may dry brush a highlight color over the dried texture.
If you're like me, and want to add a bit more interest, sometimes I'll apply a wash or shade to darken the recesses. This adds contrast.
I know there are other Citadel Technical Paints available in different colors, textured formats, and even special effects, like Nihilakh Oxide.
But for the widest variety of applications and ease of use, I find Astrogranite to be my go-to. This is because you can paint over Astrogranite and make this texture any color you want.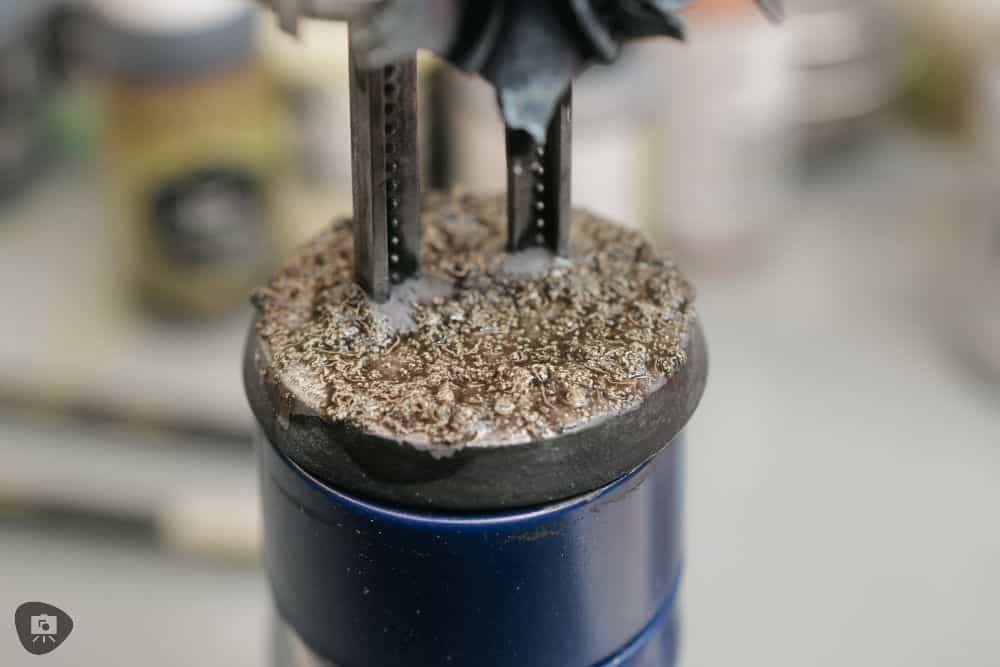 Versatility: The Many Faces of Astrogranite (You can Paint it a different color)
The base texture provides the perfect foundation for recreating dirt, earth, or desert sand-like effects. How you approach finishing your textured base with Astrogranite Technical Paint is up to you.
You can paint it with a single color, or you can layer different colors and even paints like Citadel Contrast Paints over top of the Astrogranite texture for more dynamic effects. In the latter, of course, you'll want to prime in a brighter color, e.g., white, light gray, or an egg shell tone.
---
Still Not Sure? Here's My Overview of the Top 5 Citadel Technical Paints
Remember to use these paints straight from the pot, without watering them down, to get the best texture effect.
---
Conclusion
In conclusion, creating a realistic and eye-catching base for your wargaming miniatures is an essential part of the painting process, and using Citadel Technical Paints can make the task much easier.
Astrogranite is one of the best and most versatile of these technical paints, allowing you to create realistic rock and stone textures with ease, and providing a great foundation for painting over and adding more color. Its texture is easy to apply and can provide amazing results without a lot of effort, making it a user-friendly option for painters of all skill levels.
I use Astrogranite all the time nowadays. Whether you're recreating an extraterrestrial landscape or a fantasy setting, Astrogranite is my top pick of the Citadel Technical Paints.
Did you find this overview of my experience with Astrogranite helpful? Even though there are a ton of other textured art mediums out there, in my latest work, I've reached for this pot of technical paint again and again. Give it a try; you won't be disappointed!
Good luck and happy painting!
Tangible Day on YouTube (Miniatures and More!)