The two best alternatives to Citadel Texture Paint are sanded tile grout or crackle paste medium. Compared to Citadel Texture Paint, these products serve as great replacement mediums. They are much less expensive, just as easy to use, and look great!
Read below to see my thoughts on the best replacement alternatives for Citadel Texture Paints.
---
Are the Citadel Texture Paints Worth It?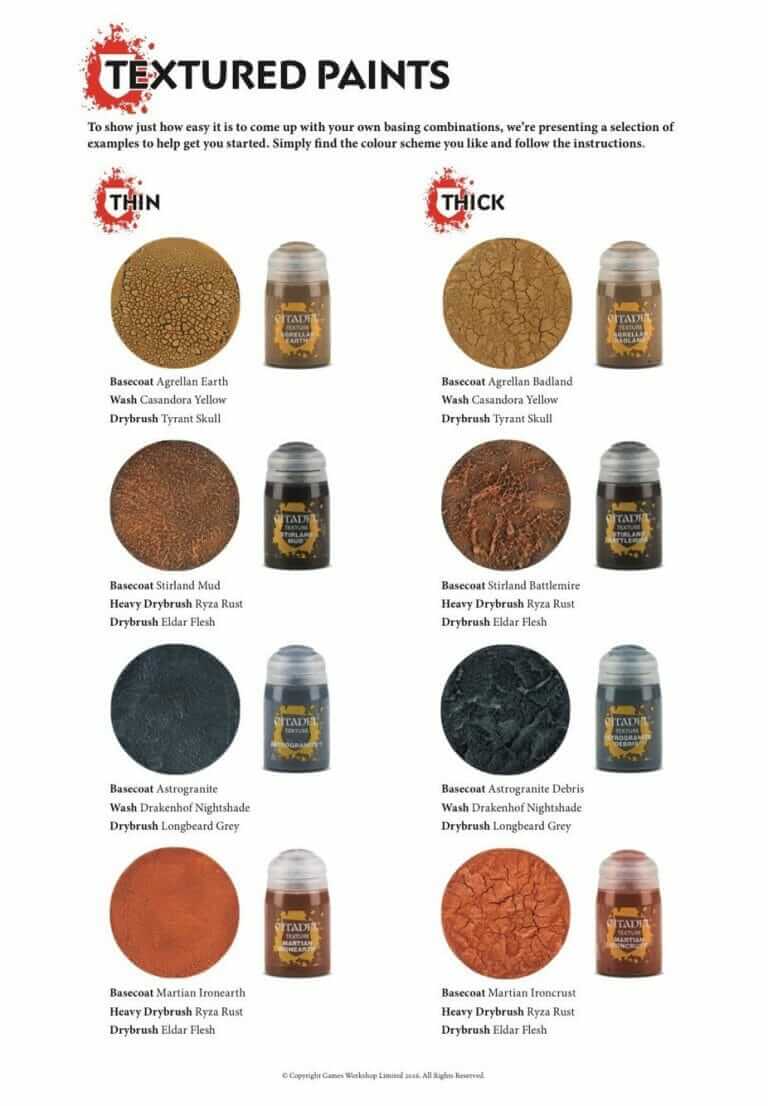 Are you trying to find an alternative to Agrellan Earth or Astrogranite?
Although I love what Games Workshop has produced for us hobbyists, I feel like in some cases, there are other ways get the same effect for less investment.
Maybe you're looking to find a cheaper replacement for Stirland Mud or my favorite, Agrellan Badlands.
In general, there are two kinds of Citadel Texture Paints. Games Workshop makes these two textures in different colors, but in general, they function in just two classifications.
READ MORE: 3D PRINTING BASES FOR MODELS
The kind that cracks as it dries (crackle effect) and the kind that doesn't (muddy/dirt).
---
Best Alternatives to Citadel Texture Paint for Basing Miniatures
The following two products reproduce almost the same effect as Citadel Texture Paint. They cost less, work similarly, and with a bit of wash or dry brush are perfect for basing miniatures.
In general, they will end up replicating the look of dirt, gravel, or dried cracked earth or concrete. It all depends, but these are durable materials and great medium for quickly getting the job done!
Mosaic Mercantile's Pre-mixed Tile Grout is intended for light-duty indoor applications where the space between tiles is 1/8″ (3 mm) or less. This water-based latex grout is already mixed to save time and measuring. – Mosaic Mercantile Pre-mixed Tile Grout – 8 oz, Black
Achieve amazing textures and patterns with Golden Crackle Paste. This thick, opaque medium cracks as it dries. Crack size increases with thicker application. It can be tinted with acrylic paints before application or painted over once dry. – Golden Crackle Paste – 8 oz jar
---
How to Make Models Look Great?
You are painting gaming miniatures from Games Workshop or Privateer Press. Or, you're a historical tabletop wargamer with a collection of miniatures from the Civil War era. It doesn't matter, you want your minis to look great on the table.
RELATED: PAINT FASTER WITH A DRY PALETTE!
The easiest way to make a painted miniature standout is to finish the base. There are many ways to do this. Games Workshop sells Citadel Texture Paints (~8$ per pot).
They are simply awesome!
I used to buy these Citadel Texture Paints all the time. I used them to quickly texture my 40k space marines. For painting commission work, the ease and speed of application was a huge bonus.
But, speed and ease-of-use comes with a cost. Each pot of Citadel Texture Paint is about $8 USD, which equates to finishing about twenty 35mm circular bases.
The math for me comes out to 40 cents per completed base, or $4 for two units for 10 infantry sized miniatures. I don't even use much of the texture paint on each base.
This can get expensive for those who collect a lot of miniatures.
---
Extend Your Hobby Budget!
In an effort to save money, I've tried a lot of different approaches to basing models. See my post on 3D printing bases.
Well, I've decided on the perfect alternatives for Citadel Texture Paints.
Why do I think these are the best alternatives to citadel texture paint? In general, these are easy to find at any arts and crafts store or online.
They come in huge buckets or containers, and are inexpensive for what you get. Unlike the conventional workflow that you might use, glue, sand, etc., these come mixed with adhesive inside their medium.
Just slap on your plastic base, and they stick. Let dry, then paint to your pleasure.
The following are more thoughts on each of the two types of alternative mediums you can use instead of Citadel Texture Paints.
---
Mud/Gravel/Sand/Snow: Use Sanded Tile Grout
Any local hardware or home improvement store sells sanded tile grout. You can also get it online (here).
The cool part about premixed sanded tile grout is that it already has the adhesive mixed into it. So you don't need glue or anything to apply it to your bases.
You might want a palette knife to smooth it on. Or you can use a plastic spoon. But a good metal palette knife will work best because the grout can be a bit thick.
Premixed sanded tile grout comes in many colors. If you don't want to paint your bases, you can simply buy the color you like. For example, you can buy an ivory colored grout for sand bases, or a white colored grout for snow bases.
Tile grout comes in many more colors than are available than with Citadel Texture Paints.
If you're on more of a budget (who isn't?!), then you can buy unmixed sanded tile grout. To use this kind of tile grout, you'll first have to mix in a bit of water. I've tried it, and it works.
But, I recommend simply going for the premixed sanded tile grout.
You'll save time!
---
Does Tile Grout Look Good?
The neat part about sanded tile grout is that it dries fast. In less than an hour, sanded tile grout can take primer and paint.
As mentioned above, you may not need to do this at all if you've chosen the grout color you like. So you can quickly go from basing your models to other tasks.
There are some examples of me using premixed sanded tile grout here.
In some cases, I mixed in different colors just to give some variation.
Cracked Earth/Ground: Use Artist Crackle Paste Medium
The other type of Citadel Texture Paint effect is crack earth or ground. This is particularly easy to do with the Citadel Texture Paint. Except you need to apply it onto the base in a thick layer.
For me, this got expensive!
So, I tried to find a better alternative to replace the Citadel Texture Paint.
The best stuff I've found as a replacement is Golden Crackle Paste. As advertised, the medium is a simple paste that cracks when it dries.
Crackle Paste like the Citadel Texture Paint works best when applied in thick layers. When the medium dries, the surface cracks.
I noticed that for durability with using this crackle paste, it helps if you apply a thin layer of watered down PVA (white glue).
---
Final Thoughts
In general, the best replacement for Citadel Texture Paint is the one you think replicates the effect you're looking for. I love experimenting with different artistic mediums.
1. Sand, Mud, or Snow – Use Sanded Tile Grout
2. Cracked Earth – Use Crackle Paste Medium
In this case, I've settled on these two alternatives for the overall general basing material that I use on my models. Works well — fast, easy, and inexpensive!
---
How do you base your models? Do you like Citadel Texture Paints? Let me know with a comment below!
Thank you for reading!
I have more thoughts and editorial articles (here).
Subscribe through email or follow us on Facebook and Instagram.
Tangible Day on YouTube (Miniatures and More!)