Are you looking for the ideal basing sand for miniatures and models? A finished base helps complete the overall look of a painted miniature or scale model. Applying miniature basing sand is quick, fast, and flexible. As such, I use basing sand often for my miniature painting projects.
Here I share what I use and recommend for basing sand for miniatures. If you're looking for an alternative for Citadel sand, then this article may give some good ideas. For Warhammer or other Games Workshop models, generic sand is a versatile and flexible way to create many kinds of thematic scenes, e.g., sand dunes, desert themes, or urban wastelands.
---
How to Base Miniatures with Sand
I've written a quick overview of how I base miniatures with sand (and other materials). To keep things simple, here are the basic steps for how I apply sand to my model bases. The key here is efficiency, while maintaining a realistic appearance.
8 Steps for Applying Miniature Basing Sand
Use a low viscosity or thinned-down white glue (e.g., PVA glue)
Prepare your sand (more about mixing different sand types below)
Apply the glue to the miniature's base
Dip the model's base into the sand, or gently sprinkle the sand over the wet glue surfaces
Clean up the excess basing sand with a soft brush or a puff of air
Apply a few drops of thinned glue over the sand to lock it into place
After the glue has dried, paint or ink the basing sand to your preferred color
---
Add Impact with Model Basing Sand for Miniatures
Miniature basing sand can be the final step, or the foundation for adding other materials to create the finished look you want. For example, use basing sand to create dirt or earth. Then, "plant" grass or foliage material into the sand. There are many products available for scale model grass or other organic materials you can use to add life to your miniature bases.
Alternatively, while the basing sand glue dries, you also have the opportunity for place rocks, terrain bits, and other debris on your miniature bases. You can recycle leftover empty plastic sprues by grinding them up and using this as basing material, too. I recommend using a bit of super glue for anything heavy or non-porous that you want to add to your bases.
RELATED: BEST ALTERNATIVES FOR CITADEL TEXTURE PAINTS
Remember, when you're done applying your miniature basing material, allow your glue to dry. For a secure bond, you can also coat your bases with a thin layer of PVA or white glue as a kind of locking seal, too. Finally, a good paint job over your based models will complete the look, especially if you want to create a sense of realism.
---
Best Basing Sand for Miniatures?
There is no best sand for basing your miniatures. All kinds of sand or crushed gravel materials will work. The key with basing with sand that looks good is making sure the material isn't uniform. In other words, for best results make sure your sand is made of different sized grains and shapes. This may require you to mix your own sand cocktail like I do.
Mix and match basing sand types as an affordable and unique alternative to branded hobby basing sand, e.g., Citadel or The Army Painter. You may want to use a seperate bucket or container to store your basing sand "cocktails". For my miniature projects, I use old restaurant take-out containers.
Overall, I think the only principle for what you should keep in mind with basing sand is to consider the scale you need. For example, you would use a finer grain of sand for 10-15mm scale models (e.g., Dropzone Commander). Whereas for larger scale models, i.e., Bolt Action, GW Age of Sigmar, or model railroads, you'd want to use coarser sand.
For realism, it is also best practice to mix your sand with particles of different sizes and shapes. There are a lot of ways to use sand to base your models and add ground work and atmosphere to your project. At the end of the day, using your imagination and experimenting with your medium will ultimately lead to your workflow for finishing your project.
My Favorite Basing Sand for Miniatures and Models
War World Scenics Army Fine Model Sand
War World Scenics Army Coarse Model Sand
Fine Sand with Rock Debris
Natural Slate Stone for Miniatures, Model Railroads, or Wargaming
Sand Miniature Basing Kit
Sanded Tile Grout
The Army Painter: Brown Battleground
Vallejo Sandy Paste (Ground Texture Acrylic)
Real Dirt, Gravel, and Sand for Miniatures
These basing substrates are not necessarily the best basing materials for anyone's project. But, they are some of my favorites that I've tried over the years. Read on to see a more of my thoughts for each of these basing sand materials for miniatures.
---
1. War World Scenics Army Fine Model Sand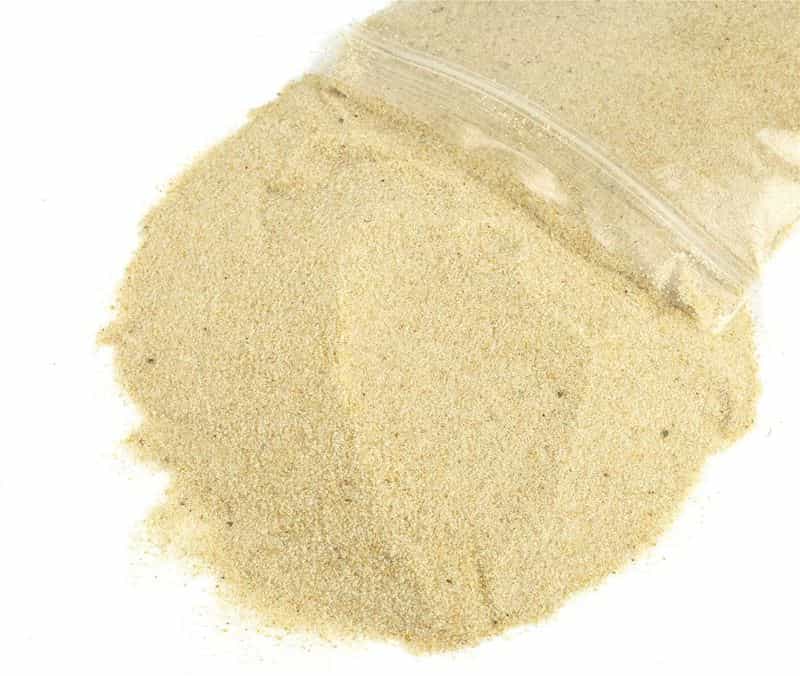 War World Scenics Army Fine Model Sand is your generic play sand, which works well for smaller scale miniatures (15-22mm). I wouldn't recommend using this basing sand for your typical wargaming miniatures, i.e., Warhammer or Warmachine, which are in the 28-35mm scale range.
Instead, you may want to consider this fine grain sand as part of a mixture of other coarser sand types. You could also consider mixing this with acrylic paste mediums to create a sandy paste that you can apply to models with a palette knife. This would add flexibility to your project, and allow you to add texture without worrying about the gluing step.
For the price, this is a very affordable basing sand for miniatures and comes in several package sizes. It pairs well with other modeling basing sands from the War World Scenics line.
2. War World Scenics Army Coarse Model Sand
War World Scenics Army Coarse Model Sand is uses a more heterogeneous mixture of sand and small gravel rocks. These are great for wargaming miniatures like Warhammer 40k, Bolt Action, Necromunda, Age of Sigmar, and many other tabletop models. I prefer using mixtures like this for other scale models and diorama projects I've done in the past.
As with other basing sands, however, I do recommend inking the finished base to tie-up the overall color scheme of your the painted model. For a natural dirt, or earthy appearance, I use Burnt Umber Acrylic Ink. You can see other inks that I recommend for painting miniatures.
3. War World Scenics Army Fine Model Sand with Rock Debris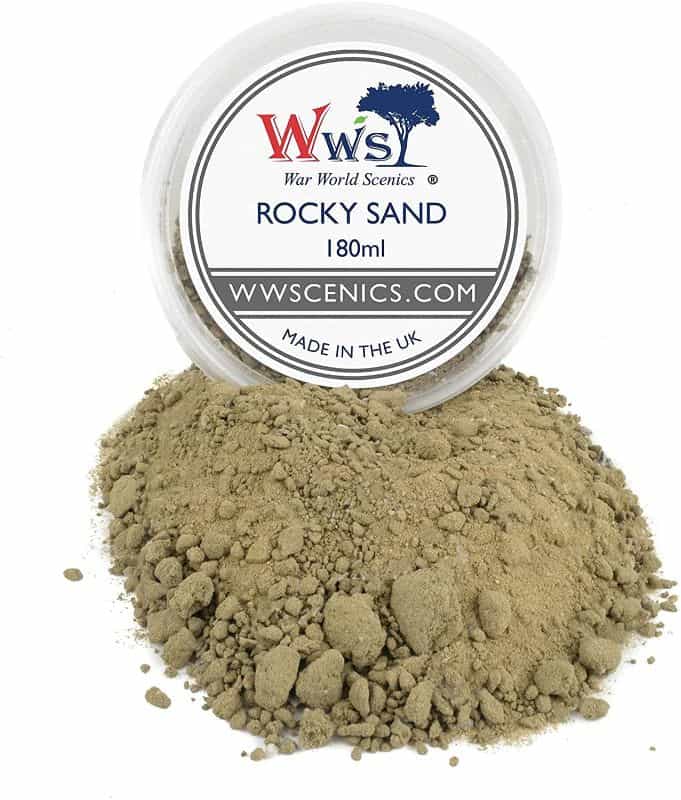 As with the above sand from War World Scenics, Fine Model Sand with Rock Debris is also a mixture of different sized grains, sand particles, and rocks. This mixture, however, is slightly different in that smallest particles are almost like a dust like powdered sugar. While at the same time, the larger "rocks" or pebbles are much more coarse in shape and size.
It comes down to the style and appearance you're aiming for in your miniature project. Basing a model with this sand may require several coats of glue to ensure the larger pieces don't fall away or break off with model handling during gameplay or travel.
4. Natural Slate Stone for Miniatures, Model Railroads, or Wargaming
I love the color and texture of this Natural Slate Stone for Miniatures, Model Railroads, or Wargaming. Though, I don't think I would use this alone on the bases of miniatures. I would mix this with a finer sand to ensure I had good coverage of the model's base.
On the other hand, I think this would look great on DIY terrain or plastic terrain kits where you want to add ground cover quickly and easily. Obviously, this would work great for HO-, S-, O- or even G-scale model railroads (see this reference chart for converting model scale).
Given that this natural color and texture look realistic already, I'd be remiss to suggest painting over this. At most, if you use this for gaming minis, you may want to ink this stone texture on your bases to give it a more cohesive appearance with the rest of the model.
5. War World Scenics Sand Miniature Basing Kit
The War World Scenics Sand Miniature Basing Kit is the most versatile collection of basing sands and materials you can buy in my opinion. For the price, you're getting a good assortment and volume of basing sand, pebbles, and rock debris that would work great for models of any scale and genre.
Wargaming miniatures based with sand can often look flat if you use the same kind of sand over and over. Here, you can add variety and additional interest to your model bases. For instance, you can use the finer grain material for miniature basing sand dunes or desert scenes.
Perhaps you need to model the banks of a bubbling brook or stream. The larger rocks and debris would look great peeking above a clear resin pour for water effects. Using your imagination, a miniature basing kit like this is always useful in your model basing collection of materials.
6. Sanded Tile Grout
I've touted the wonders of Sanded Tile Grout in another article as a great alternative to Citadel texture paints. You can use a sanded tile grout as a textured paste, like Vallejo Sandy Paste (shown below), or as a type of mortar or concrete that you can use to stick other rocks, bitz and debris into.
This makes Sanded Tile Grout a perfect medium for basing miniatures in many different ways. It's like the glue and basing sand are pre-mixed for you. All you have to do is take a spoon-, brush-, or palette-full and apply it to your bases like butter over toast.
The sand in the tile grout gives it texture when dry. But, I would keep in mind that the sand is very homogenous and could look flat if you spread it too thinly and evenly. My suggestion would be to stick other small rocks, pebbles, or other terrain bits into the grout before it dries. This breaks up the basing texture and gives your model's a more realistic foundation.
In a short word, tile grout is one of my favorite basing materials for completing any miniature painting project. It's inexpensive, and comes in many colors in huge boxes or containers that will last you forever. You can also find it at any home improvement store or online. Hint: There are non-sanded tile grouts that will finish smooth like icing on a cake.
7. The Army Painter Basing: Brown Battleground
The Army Painter Basing: Brown Battleground and similar products from The Army Painter are hobby-grade basing materials. As a basing sand for miniatures, this is a tad more expensive than your DIY sands or other products out there. On the other hand, there is a convenience factor built into the price of these hobby basing and flocking materials.
Simply apply your white glue to the model's base and add the brown battleground material over the glue surface. Wait for it to dry and you're done. Because The Army Painter makes many types of these basing sand materials, you can also probably avoid painting over these and still have a cohesive looking model.
For the wargamer who wants a no-hassle product that is easy to use and looks good with popular tabletop gaming scales (28-35mm), you can't beat basing sand and flock from The Army Painter or other modeling hobby companies like Gale Force 9 (GF9).
8. Vallejo Sandy Paste (Ground Texture Acrylic)
Vallejo Sandy Paste is similar to the sanded tile grout (shown in #6). You can apply Vallejo Sandy Paste like peanut butter on your model's base. After you allow it to dry, which only takes about 15-30 minutes depending on how thick you apply it and the humidity, you are done. The natural color and texture may already work well with your painted model or diorama.
Vallejo Paste lasts quite a long time for the size of the bottle you get (200ml). You can base several Warhammer 40k armies with a single jar. My only suggestion is to make sure you tighten the twist cover well when you're done. The formula in the paste helps the medium dry very fast. I've lost about half a jar by being careless with a loose cap.
For ease of application, you may want to consider getting small palette knife or sculpting tool with a flat end to help you spread this on a painted model's base. It is quite sticky and will want to adhere to anything it touches.
You can see this article where I used Vallejo Sandy Paste to weather and muddy the tracks of a 3D printed GW Warhammer tank.
9. Real Dirt, Gravel, and Sand
Did you know you can use real dirt, sand, or earth as basing material for miniatures? Model railroad hobbyists do it all the time! For basing sand for miniatures, you'll want to clean and sterilize the dirt or earth you collect from the environment. To do this, take your bucket or collection of outdoor sand and place it on an oven safe tray.
Bake this tray containing your earth/sand/dirt in your kitchen oven at 350F (or 177C) degrees for at least 30 minutes. The heat will kill off any organisms living in your sand material and burn off any organic substrates you don't want sticking to your miniatures. Allow the tray or pan to cool back down to room temperature.
If you're using magnets on your miniature kit, e.g., for different weapon attachments, then make sure to remove any iron or ferrite particles from the sand or dirt which will clog up your miniatures and abrade your model.
To remove metallic iron from your dirt, run a neodymium magnet through the sand. You'll see a lot of fine particles cling to the neodymium magnet. Keep doing this until you are satisfied the dirt and sand is clear of any contaminating metallic particles. If you want to filter out different sized grains, you can use strainers with different mesh hole sizes.
After you're done, store your freshly minted dirt or sand in a water tight container for safe keeping. Hopefully, you've made enough to last you a very time. The best part about making your own basing sand for miniatures is that it's 99.9% free!
---
Paint Your Sand Based Miniatures: It Looks Better That Way
For a more cohesive looking miniature, I recommend you try painting your basing sand after it has dried on your model. The natural color of your basing sand can look good. But, if left unpainted, basing material can also make a model appear incomplete.
There are two ways you can paint your basing sand. The quickest way is to use an ink or wash right over the raw sand. This tints and shades the sand in a realistic way that can help tie-in the rest of your paint job. The great thing about using this method is that it is fast and easy after you paint your miniatures. You can see how I do this in this base inking video.
The other way to paint your model's bases after applying sand is to use the same method as painting the rest of the miniature. Start with a good primer, followed by a base coat, a wash, and highlighting step. This is obviously a more challenging way of painting a base with sand on it because you'll want to avoid getting any paint on the rest of the model.
READ MORE: BEST MINIATURE BASING MATERIALS (IDEAS, TIPS, AND REVIEW)
The method that you decide to use will depend on the look you're going for and the type of sand you're trying to paint. I prefer to paint efficiently and so I use the washing/inking method.
However, the issue with the inking/wash approach is that sometimes your sand won't take up the color. This will happen if the basing sand you use is dark colored already, or you want a lighter color for your miniature's base. In this case, you'll need to paint using the slower, conventional method, e.g., start with a primer.
You can see examples of what my miniatures look like after I'm doing painting them in the gallery.
---
Conclusion
Well, there you have it, basing sand for miniatures in several forms, types, and brands. I also shared a few tips and thoughts about how you can use sand to base your miniatures for a completed look.
As with any creative endeavor, you'll want to use your imagination, find reference images, and experiment with your medium to find the workflow that works for you. The same goes for working with basing sand and other miniature basing materials.
I love basing models with sand because it gives me a solid foundation to work from, and a lot of creative space to finalize the atmosphere of my painted miniatures. If you've got any other ideas for how you base models quickly, inexpensively, and with great results, I'd love to hear from you! Let me know with a comment below.
Until next time, happy miniature painting and basing!
---
Tangible Day on YouTube (Miniatures and More!)