Are you looking for paint scheme ideas for a Tyranid army? The 'nids as they are often called are a space-faring species of xenos (non-humanoid aliens) that have entered their way into the inhabited regions of humankind. They are a intransigent force driven through genetic instinic to consume all of the organic matter in the Universe. The singular mission of the Tyranid species is survival through propagation and evolution. They feed, they breed, they adapt. As a xeno species in the Games Workshop Grimdark world, Tyranids are a playable race in the miniature tabletop game in Warhammer 40k. Importantly, the Tyranids are one of the most popular model kits available for collectors and players to build and paint.
In this article, I share my a series of reference images I've used to gather ideas for painting tyranid armies. If you're looking for easy tyranid paint schemes or learning the best ways for how to paint tyranids, check out the ideas below (with links and tips).
Find Your Base Color Scheme
RELATED: 5 SIMPLE WAYS TO CHOOSE AN ARMY PAINT SCHEME
From the lowly 'nid termagant to the majestic Biotitan (a Forgeworld resin model), you'll find a host of unique opportunities for an amazing color scheme. Flesh, bone and tooth, with a sprinkle of baked-in horror, you'll love getting to know your models.
You'll also want to choose wisely as fielding a Tyranid army often means place innumerous models on the tabletop to recreate the swarm tactics of this xeno army. In either case, a fully painted Tyranid army will overwhelm the senses, and place shock and awe in the heart of your opponent.
For simplicity, I categorized them into 9 color motifs. Use the Games Workshop colour schemes, mix and match, or find inspiration for an alternative Tyranid color scheme.
Red
Orange
Yellow
Green
Blue
Purple
Brown
Black
White
Here are the Tyranid Hive Fleets in the Warhammer 40k universe with their unique and basic color motifs (may not be official Games Workshop colors):
Hive Fleet Behemoth – red flesh and blue toned carapace armor
Hive Fleet Dagon – similar to Hive Fleet Behemoth
Hive Fleet Gorgon – green flesh skin with pale, beige armored carapace
Hive Fleet Hydra – purple or dark violet skin flesh and dark blue or black toned armored carapace
Hive Fleet Kraken – pale, beige or neutral flesh tone with red armor
Hive Fleet Kronos – black or dark-toned skin flesh and a reddish, warm hued armor carapace
Hive Fleet Leviathan – pale, white-tone skin with tints of pink and purple armored carapace; biomorphs are red
Hive Fleet Ouroboris – desaturated, or light colored brown flesh skin with green carapace armor
The bioforms of Hive Fleets have unique color schemes, but may differ in color tone and hues. The color of Tyranid biomorphs, which are biomechanical devices and evolved genetic mutations that give a Tyranid fighting advantages on the field against enemies, are also colored uniquely among Tyranid armies.
To give you more color ideas, here are images from previous Tyranid codices (download for full resolution):
Note that an easy way to create an alternative color scheme for your Tyranid splinter fleet is to use the main Hive Fleet colors as a starting point.
There are a lot of ways for how to paint tyranids. If you're looking for ideas for painting tyranids, check out the 9 color motifs for a Tyranid army paint scheme.
(I did my best to photo credit where I found images. Sources link to original source, if available)
---
Here are the 9 color paint schemes for a Tyranid tabletop miniature army:
Red
It's all about color psychology. When you paint miniatures, you're adding "emotion" and "feeling" to your models. An unpainted miniature is lifeless, like an naked mannequin. No one likes a mannequin in undress.
Whether you're in the belief that color psychology is bull sh#t, or embrace the color theory of emotion, painting your miniatures changes how you and others feel about them. Color is important.
READ MORE: WHY PSYCHOLOGY ISN'T SCIENCE
Red is the color of love, danger, and the thrill of romance, according to theoretical psychology. It is also a color you would associate with bold action, adventure, and power.
…and blood.
Tyranids are a fearsome race of aliens. Their ferocity in the Warhammer 40k battle spaces is unmatched. They care not for the individual, only the whole. But, this all-consuming identity (or antipathy) is embodied in Tyranid action and not appearance.
If you start with red, then remember that this paint color is only the start. You'll want to balance it out with further color accents to ground the roiling intensity that most red model paints bring to piece. Colors like Mephiston Red or Evil Sunz Scarlet can only take you so far, and can oftentimes become cliche (everyone uses these colors).
Take for example, reference images of real-life beetles and bugs. None of them are purely red. There are marks of black, blues and other cool tones that bring the entire look together. In biology, of course, the bright colors warn predators that this bug is dangerous, toxic, and should not be eaten (source).
No camouflage here.
I love using red with black. But to put a spin on it, I'll add a bit of blue or green to the mixture of black paint. You generally want to take away the extreme darkness of black (or brightness of white), by adding another color. This adds interest and provides are more natural, realistic look to a model. Pure black looks like bare primer to me.
A tip for red is to paint the base layers with simple techniques. Base coat, wash for shadows, and then highlight using the original red color. Read more about speed painting horde armies here. Bring the highlights up if you prefer, but try to avoid white unless you like pink as your brighter tone.
If you need more inspiration for red painted miniatures, think about what colors go well with red. Look at nature and the art around you (or online). Do what I do, search Google images or Pinterest (see my boards) for ideas. Final note on "red". As mentioned, I recommend taking a balanced approach for painting the color red.
RELATED: PAINT MINIATURES WITH COLOR-NEUTRAL LIGHTS FOR A MORE PREDICTABLE FINISH
Don't use red for everything. Use blues or greens (not too much, or too bright, otherwise you risk making the model look "cartoony"; though you may ignore this advice if you're aiming for the comic book style.). My favorite paints for general red undercoats is P3 Sanguine base and Reaper Master Series Carnage red. Both provide good coverage, mix well, and create a smooth finish.
---
Orange
Let's this out of the way. Orange is HARD to paint well. It's one of those paint colors that has generally poor coverage, mixes unpredictably (if you're new to miniature painting), and oftentimes feels too red or fluorescent.
On the bright side, orange stands out and puts a bit of punch into your miniatures. You'll have tons of fun making your model pop off the table when you paint with orange. It isn't hard with this color. In fact, you may find yourself trying to tone-down the impact orange will give your models.
RELATED: BEST PAINT SETS FOR PAINTING MINIATURES AND WARHAMMER MODELS
To paint orange well, you'll want to start with a bright undercoat. This will help with the coverage of the paint over those first few layers. I sometimes start with a zenithal highlight or a white primer base and use an orange ink wash over this to build up the color saturation.
Check out some of the great inks I recommend for painting miniatures here.
When you're painting with orange, though it's hard to use, stay optimistic. Orange is the color of hope and a bright future. Look forward to the citrusy goodness you can bring to your miniatures. Though Tyranids are a foreboding darkness in the Grimdark Universe of the 40k realm, you'll find yourself enjoying the dichotomy of orange color and horror on the tabletop.
If you're courageous and curious (a fearsome combination of artistic traits), then you may also find orange a great color to use along with advanced blending techniques to add hints of other contrasting colors. Subtle accents of blue, purple, or green will add interest and impact to an otherwise overwhelming flat orange space.
Use real life insect reference images with orange as a main color and see what other tones and hues hide amongst the crevices and textures.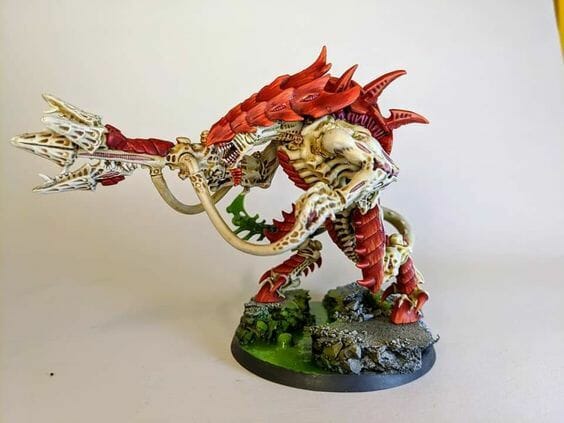 When painting orange, a good tip is to first start with a bright undercoat, and wash it with a glaze or shade. You can try using orange inks, which have color rich pigments. Here are a few affordable inks I use for painting miniatures. You can also add orange quickly with an airbrush. You can spray on many thin coats to slowly layer up your orange color.
Although there isn't a Tyranid paint scheme generator, like there is for Space Marines in Warhammer 40k, you can use a variety of coloring book line art to digitally draw your concepts before investing in the paint work.
Orange is an optimistic color that stands out on the tabletop. Harmonize orange on your models for an attention-grabbing Tyranid army.
---
Yellow
Yellow is another standout color, but rare as a main color scheme. You won't see many yellow Tyranid models on a tabletop near you. The reason, I think, is because it is a difficult color to match with other accent tones. Yellow also goes against the "dark", "terrifying", "grim dark" feeling most would associate with a Tyranid horde.
Here are some reference images of Tyranid models painted with a yellow motif. There aren't many, and I haven't painted a Tyranid army in yellow (though I'd be up for the challenge if called upon).
Though color psychology suggests that yellow has an association with logic and knowledge, there is no such concept in the base Tyranid psyche. In fact, I doubt psychology has any use in understanding Tyranid behavior at all. Maybe ethology or disease etiology does?
In either case, Tyranids painted in yellow make for a unique standing army for Warhammer 40k games. They look great in any public environment, will draw attention from bystanders, and garner all sorts of comments.
How do I know this?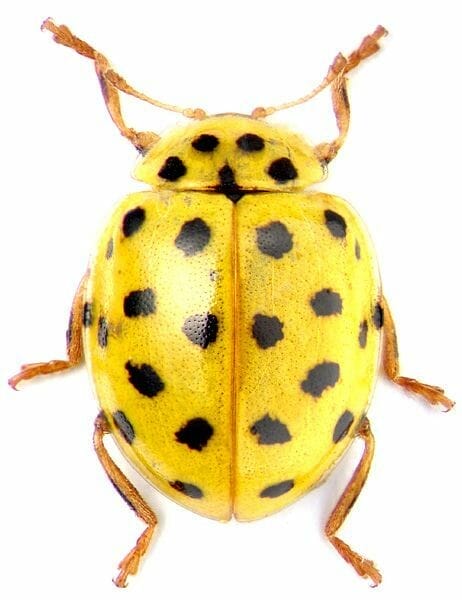 Because every other model that I've painted yellow (e.g., Imperial fists, Infinity Miniatures, and other miniature game models) have resulted in an dispropriate commentary from observers. Everyone has seen blue space marines, green dark angels, and the like, but yellow seems to bring out the pragmatic friendliness that we all enjoy from tabletop gaming.
It's a good thing, too. Yellow is a simple color that challenges you to engage, but chill out at the same time. For a gamer, this is deep down what we all really want; a good time with other people.
You'll be hard pressed to paint yellow, quickly. Coverage with most yellow paint brands is poor. You can use an airbrush or judicious use of Citadel Contrast Colour (reviewed here) to paint your Tyranid army with yellow.
RELATED: HOW TO PAINT YELLOW SPACE MARINES FAST
---
Green
Green is often associated with growth, renewal, and plants. The color green is unrelenting growth and expansion, like a forest that knows no bounds.
Does this make for a foreboding Tyranid army, whose encroaching swarm of biomass invades without remorse through the realms of Mankind?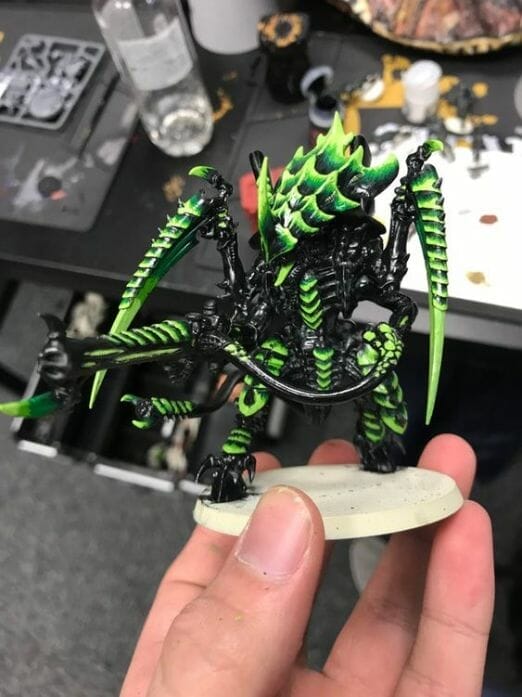 In the context of nonstop proliferation, green is a horrifying color. There aren't any Spring flowers or Kermits on lily pads. Instead, you've got death incarnate sweeping through a field like green locusts, or poison ivy in a neighborhood garden.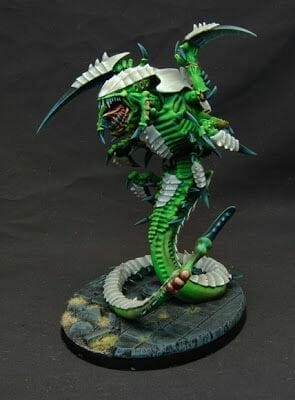 I love using green in a Tyranid army. The biomass, e.g., skin, sinew, and bones, of Tyranid sculpts work well with this color and provide you with many options for a unique color scheme. Though you may enjoy the typical concept of browns and other warm colors, green sits in that middle place where you can do nearly anything.
You can use color shift paints (even some metallics work well with a green tone) for the armored carapace. Put a bit of green shine with black undertones into your 'nid miniatures for an attractive, yet dark look.
Green is an understated color and for the most part, I think underutilized in many Tyranid models. The reference images here are some of the most creative uses of green in Tyranid models I've discovered in my image searches online.
Pictures of insects can provide you with great ideas for how to incorporate green into your Tyranid models.
There is a grounded, earthy vibe when painting miniatures with green. And, there are many ways to use green paint. You can layer and blend green paint using an airbrush, or simply dry brush your green tones for a more textured look.
As with my other color reference suggestions, do consider where your Tyranid models will be placed amongst tabletop scenery. Green can often camouflage your models on most gaming tables. If you want your models to stand out on the gaming space, then you may want to keep your contrast colors strongs.
Use brighter contrasting tones versus green, or apply black tones where possible to keep shapes from losing their structure when viewed from a playing distance (~3 feet or 1 meter away).
---
Blue
Blue is my favorite color. I drive a blue car, wear dark blue rimmed glasses, and try to use some blue paint in everything I paint for my army collections.
In nature, the color blue is everywhere. The sky is blue, and water, too. Twilight blue hour, before the night, is a most attractive photogenic color when placed alongside the orange horizon of the setting sun.
Blue is calm and tranquil. In a Tyranid army paint scheme, however, blue takes on a dimension of quiet fatalism. A blue 'nid emerges from the shadow as a stealthy grim reaper.
And, with time, the entire tabletop fills with a blue swarm. Blue takes over like a muddy flood.
The most common color in the Games Workshop miniature line is blue. You'll see different tones and shades of blue throughout the Warhammer 40k Universe. You can do so much with blue that you may as well just surrender to this color.
If you want to change up how your blue looks in you Tyranid army, you can try using pearlescent color shift paints that skew toward the blue hues.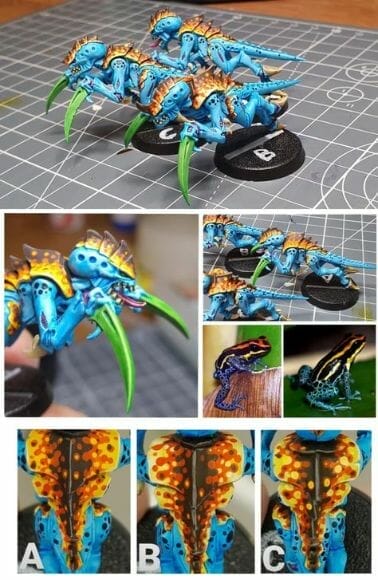 Go with a bright blue with oranges or yellows for a more tropical theme. Use reference images of reptiles, amphibians if you want to try a brighter Tyranid army color scheme.
Or, go to the dark side: the Grimdark side. Use oil paints (tips and tricks here) to weather and shade your tyranid models. Of course, make sure you keep contrast high to ensure your model stands out from the crowd!
Blue is a default color for most miniature army painters because a blue color scheme can look good without putting in much effort. Blue model acrylic paints are usually very easy to use, with excellent coverage, mix well with almost any other color, and allow you create a wide range of attractive hues.
Gloss or matte finish, or something in between, can look great with blue colors. It simply works. The spectrum of blues on anyone's palette will grant you endless options. Push your blues with reds toward purple; or skew to green by tinting with a bit of yellow.
Maybe you like teal or turquoise? I do. These are close cousins of the color blue. Run with blue for your Tyranid army and you'll be met with pleasing results.
---
Purple
Purple is a mystery. No, seriously. On Tyranid models, if purple is your choice for a color scheme, you'll encounter some hard choices. For example, do you go dark purple, or do you go with the more insidious (and arguably more unique) light purple with pink and magenta?
Do you like lavender or vanilla; maybe the odiferous melange of withered flowers in a glass pot over your toilet bowl?
I don't know about you, but Potpourri is the smell of death masking poop. That's the image when I think of the crazy mix of purple and pinks with ivory undertones in many model color schemes.
Yes, Potpourri is the smell of death masking the stink of fresh poop.

Me
Alright, I digress. Purple is a sexy color of Tyranid models. Take for example, some of these reference images that I used for my latest Tyranid army painting commission.
Black and regal purple, the kind of color pairing that only Kings and Queens (or insects in the natural world) would conceive to adorn on their bodies.
For a Tyranid army, I tend to prefer the dark purples with careful use of blue-blacks and reds. Not all purples are created equal, so you must consider purple with a light touch. Put too much blue or red alongside purple and you lose the purple-ness of the miniature.
A lot of examples of purple themed Tyranid armies don't even use purple as the overwhelming main color. Rather, black or blue is the primary color with purple playing second string. In this case, the painter orchestrates the pairing of colors through careful blending and strategic purple accent placement.
I love purple for the simple fact that it doesn't hate other colors. You can match purple with almost any color out there and it will look good. Think about that for a second….I'll wait.
Nope. Purple is like that stealthy doppelganger who becomes one with whatever it touches. Like tofu, but a color for art.
Color harmony is the pleasing combination of colors in a visual art piece. With purple, you have many fun opportunities to color harmonize with your other favorite colors. Even hard to paint orange or yellow hues work well with purple. The key to painting purple well is keeping contrast high and working within a range of values that allow you to keep highlights bright, and shadows dark.
---
Brown
The word brown starts with the letter "B". Do you know what other words start with the letter "B"? Bada$s, bombastic, and boring. Sometimes, brown is the color you choose when you have no idea what you're doing. So, you take a miniature, base it in some mundane color and give it heavy wash of Citadel Agrax Earthshade (formerly known as Devlan Mud).
A brown color schemed Tyranid army can look great or tedious. But it depends on whether you pair brown with other interesting colors. If you notice in some of the reference images, dark or light brown tends to work as a camouflage, hiding key shapes, silhouettes and visual elements that make Tyranid sculpts so uniquely insectoid.
If you do a little color psychological research, then you'll discover that brown is an Earth color, a grounded and solid color. Brown is the color of comfort. In the context of miniature painting, hues of brown are useful for shading other colors because it doesn't overwhelm or take over the richness of other wavelengths.
In fact, brown is a subtle mix of many colors: blue, red, yellow, for example. No wonder brown is a popular shading wash for many starting miniature painters. Brown washes (here's a popular one) take what you've already painted and help you add contrast without the extremes of using a black shade.
Although I may find the overuse of brown a bit tedious, even cliche, using brown on Tyranid models does make a lot of sense. You can create realistic skin tones, organic features, and use other colors alongside brown to produce intriguing pops of saturated color.
Brown is an easy color to paint. You can use most brown tones (dark or light, warm or cool) with great effect with simple brush applications. It covers well as a base coat or thins easily to make glazes. You can use zenithal underpainting techniques and use a brown wash or shade to add build up the color and contrast. The world is your oyster with brown.
If you really want your models to have tabletop presence, add bright colors through patterns, freehand design, or in other structural elements on the Tyranid sculpt. Biomorph weapons, glands, and sacs of whatever abomination the tyranid bioform has evolved would do well with other colors in addition to brown. Take it to the next level by adding these other color rich accents.
I tend to prefer painting my Tyranids with warm browns along with hints of red or purple. Then to balance it all out, I'll put a bit of green somewhere; perhaps as a subtle glaze on the skin or along the inner edges of bony protrusions.
For a more grimdark look in your Tyranid models, use a bit more black or charcoal color on your model. Take that contrast into the darker values and make sure you varnish the model with a matte finish. Taking reflections out of most of the model will help give it that grimdark appearance you might see in popular Tyranid concept art.
Although I recommend using Seraphim Sepia shade as a wash for golds and other brown hued models, e.g., Stormcast Eternals or the Seraphon Lizardmen, I may suggest avoiding this wash here for Tyranids. The color tends to add a bit more reddish hue to the shadows and midtones, which could make color harmonizing the rest of the model difficult. Of course, if you like this color as the primary motif of your miniature, then Citadel has the perfect sepia wash color for you (e.g., easy coverage with a quick matte finish).
---
Black
Pitch Black is a must-watch sci-fi movie for Riddick fans. Killer aliens come out only when there is no light, preying on anything caught outside in perfect darkness.
Black is the color you find in the absence of light.
The color of stealth and death unseen; you should use black wisely. In Aliens (released in 1984), the xenomorphs emerge from the shadows, the sheen of their skin barely outlining their otherworldly anatomy. They slither like lizards, carry an elegance like vampires, and yet kill like lions.
Is this reminiscent of the Tyranid? Games Workshop has borrowed a lot from pop culture, including some of the classic sci-fi thrillers we have come to recognize and love.
The color black in real-world nature (not movies) is not as common as you may think. The true absolute black color is rare, only found in burnt out charcoal of forest fires or in the lifeless craters of volcanoes.
To accurately paint a realistic black model, you need to be non-intuitive and add some color into your black paint. I never paint with pure black paint. I only base coat in black, then glaze over it with off-black paints. Somehow this tricks a viewer's brain into seeing black better than using straight black from a paint pot. In fact, when I see model painted with pure black, I tend to read that as bare primer (i.e., the model looks unfinished).
Take a look at references where "black" is the main color, and you'll discover something. The most compelling, attractive painted models that are black, aren't actually pure black.
To paint black well, you'll want to follow the "more than 50% rule". To make sure your surface looks black, keep more than 50% of the surface painted in black. You can use the rest of the visible area for highlighting and other effects.
To black paint, follow the "more than 50% rule".
The more surface you keep "black", the more black (dark) your model will appear. Black is an easy color to use because it pairs well with any other color. Black can always look good with other colors on a model. The challenge with black, of course, is keeping things looking black.
You can use some of the reference images here to show you how black may be useful for your color scheme. There are also tons of online reference image sources you can use, including Pinterest.
---
White
Take nothing for granted. White is the diametrically opposed color to black. Whereas black is the absence of color, white is all-color. Or, vice versa, depending on how to define visible light and color.
In either case, white is an extreme. And, as such, white can be difficult to paint well.
How do you shade or highlight white? This is a common question by miniature painters. The key to painting white is two fold: First, use the "more than 50% rule". In this case, to paint white, make sure you paint more than 50% of your surface white. Second, don't use pure white for anything other than your highlights. Mix a little color into your white. For an easier time, choose a neutral or desaturated color (e.g., gray or beige). You can use warm or cool colors to create your mid-tone white.
If you notice in the reference images, white isn't really used for everything. And, if you look carefully, even the white isn't "pure". The white has a tint to it. Models painted with pure white look unfinished.
I've not painted a Tyranid army in white, though I'd certainly be up for the challenge. White would be a unique color to see in a Tyranid army. Not only would a well painted white army look amazing on a grim looking battlefield, the individual personas you could create with subtle works of color could be fun too.
Did you know that in some Eastern cultures, e.g., Buddhism, white is associated with death. In Asian funerals, a tradition is to wear white. A roving swarm of pale xenos would be a procession of celebratory death.
Against almost any battlefield tabletop, a white Tyranid army would stand out well. In contrast to a black themed army of Tyranids, white would have the grim vibe without the stealth. White is the alternative to an overwhelming black death.
Termites are white… pale, translucent insects that consume and destroy. Though small, they are many.
White is a fun color to use because almost any other color can work well with it. But, white is a difficult color to paint because most acrylic model white colors have poor coverage. The easiest way to paint white is to spray it on with an airbrush or use a white rattle can spray.
Acrylic white paint is often too thick or too thin. Or, if you're too hasty, white paint will streak or clump up on your model. Pro tips for applying white paint include, spraying it on (as mentioned), or adding a bit of off-white paint to give your white paint some tooth to adhere to the surface. Once you get a few solid, even layers of the off-white color on your model, you can then layer up to a pure white if you so choose, e.g., dry brush or glazing.
It takes practice to paint models well with a white color. But, once you grasp the nuance of painting with white paint, a whole new world of modeling opportunities open up to you.
---
Conclusion
Of all the Warhammer 40k armies I've painted over the years, my most popular commission project request has been for Tyranids. Though I'm not surprised given how many models need to be painted in a given Tyranid army. More than this, Tyranid models tend to be superficially more challenging to paint well. Armored carapaces, bony bits, and textured skin with other xenomorphic features combine to intimidate most miniature hobby painters.
I do see why the Tyranids are such a popular army to collect. The lore and the look of literally hundreds of miniatures on a tabletop battlespace is a compelling reason. Even sitting on a display shelf, the sheer look of a fully painted Tyranid army would be amazing to show off.
You literally own a race of hungry, fearless xenos whose only mission in life is to survive by consuming the Universe. They lack the bore of politics and strife of other sentient beings. We love the Tyranids, though they fail to love us back. And, that is okay. We will paint them anyway.
Happy 'nid painting!
---
Tangible Day on YouTube (Miniatures and More!)