Are you looking for ideas for a Seraphon army color scheme? The Seraphon are a race of reptilian warriors in the Warhammer Age of Sigmar world (Games Workshop). The Seraphon miniature range from hulking scaled warriors and lizard beasts, to smaller, more agile troops. The models are gorgeous and, of course, deserve a good paint job.
In the pipeline of a long-term painting commission project, I was asked to paint a few of Seraphon models, including Skink and Saurus models. The cool part was that I was given some creative freedom to explore colors for the models.
RELATED: HOW TO CHOOSE AN ARMY COLOR SCHEME (5 EASY WAYS)
The Seraphon race of lizardmen are filled with all sorts of magnificent beasts. I would agree with my friends that they are some of the best miniature sculpts that have come out of the Games Workshop's art department.
In this article, I show you reference photos that I collected for this project. For clarity, I only show a few images, but separated them out into 9 color motifs:
Black
White
Red
Orange
Yellow
Green
Blue
Purple
Brown
Scroll on below for my Seraphon Colour Scheme ideas and personal thoughts.
(Disclaimer: the images below are from various sources including Google Images and Pinterest. Sources are provided, if available).
---
Here are the 9 color motifs with reference images for a Seraphon tabletop miniature army:
1. Black
The color black evokes ideas of "control" and "power". In color psychology, black embodies concepts of self-control, and discipline. In other circles, black is the color of mystery and intrigue, or of sacredness.
When you're painting miniatures for tabletop miniature games, black often matches well with any other color accent. Below are a few examples of a primarily black colored motif for painting your Seraphon Warhammer models. The color schemes could be broadly applicable for other miniatures as well.
Lizards can have a reflective or matte reflective scales. They may sheen in bright light or absorb light. For a high contrast paint job, I'd personally look for a matte finish that evenly reflects ambient lights.
On small objects, a black matte finish will often hide imperfection in the paint job (I am not saying you'll have an imperfect finish, but who knows).
I also like matching black with brighter, more vibrant colors, such as orange. On some of these lizard references, you'll notice that I've chosen "warm" accent colors. Black is generally considered a "cool" temperature, and contrasting black with something warm will help add interest to your paint job.
Obviously, if you're painting an entire army of Seraphon, it will be easy to add contrast via color temperature. For example, gold metallics are warm and will match well with any black scheme.
If you add blue to your black color-mix, you could go for an even cooler color tone. All of these lizard-like tones exist in nature and pulling references from real lizards has been useful for me to figure out how to mix and match colors for my own work.
2. White
White is the color of completeness, purity, and balance. When the human eyes see "white", they are essentially absorbing all the wavelengths of visible light. As such, at a technical level, pure white is the color "of all colors" and communicates concepts of impartiality, of neutrality, and independence.
Of course, painting white is difficult because on a small miniature, it is hard to create high contrast when the main color is the brightest "highlight" color value you can use. So, the best way to paint white is to not use pure white at all. In fact, you should paint a white model with an "off-white" color.
Hopefully, these lizard reference photos give you an idea of how you can do that: paint white without using pure white. Add gray, brown, or blue-green tones.
This ends up begging the final question: "How do you shade white?" Well, you have to add something darker, and black isn't always the best choice.
Personally, I find the best way to shade white models is to use a warm color, like beige or a muted yellow of some sort. The key rule here is to keep a model "white", you need to maintain more than 50% of the surface area as a white color. If you cover more than 50% of the visible surface with the shade color, then the model will no longer be a "white"-colored model.
3. Red
Red is a powerful color. Depending on the culture you're coming from, red is carries the ideas of "danger" or "energy" or "happiness". In color psychology, red is a color that may be associated with sexuality, passion, or anger. Blood is red (from most animals).
Love is often expressed with the color red.
Of all the colors you can paint miniatures with, red is one of the easiest because of how pigments provide coverage. Red paints are highly vibrant for the most part and it doesn't take much to paint any miniature with red. Airbrushes work well with many red paints from major paint brands.
RELATED: CITADEL CONTRAST COLOR PAINT REVIEW
Color schemes that use red, e.g., Warhammer 40k Blood Angels, are very popular.
My favorite colors to accent red-schemed models is teal or black. I try to avoid matching colors that may come off as cliche, such as red and green which evokes the Christmas season, or red and gold, which I think is too much hot-rod Iron Man for me.
4. Orange
I'm starting to like orange more and more as I paint miniatures with it. Orange is a bright, warm, and often optimistic color. If people painted miniatures with orange more, I think people would have less arguments over tabletop gaming rules. Yeah, orange is the color of spontaneity and optimism.
The problem I have with painting miniatures orange is technical. Orange is hard color to use. Most orange paints (for any of the major brands, e.g., Citadel, Reaper, Scale 75, or Badger) have poor coverage.
It takes a lot more layers of orange paint to evenly cover a model's surface. I don't know why, but orange is troublesome.
And, maybe this is why you don't see a lot of miniatures painted with orange (across genres of miniatures). It's simply a hard color to paint. But, if you're determined, orange is an amazing looking color on the tabletop.
A well painted orange color scheme "pops" like no other color. And, in my opinion, matching orange with cooler tones, such as blue or white, really bring models in the Seraphon model line alive. They feel like they are moving, with a dynamism that is only matched by the randomness of the game itself. This is where I think the Citadel Contrast paint line really has pushed the miniature painting field forward. It has made painting the orange color much easier.
5. Yellow
Yellow is the color of logic and knowledge. For those of us who collect miniatures with yellow color schemes (based on studio art), you know how much the yellow stands out on a game table. Yellow is color for those of us who like a challenge, but are thoughtful and inquisitive, maybe even stoic. We are not dreamers. Yellow is damn practical.
Come get some….yellow.
The best way to paint yellow is to start with a bright primer, e.g., white. Why? Well, yellow is an even worse color than orange when it comes to effective pigment coverage.
RELATED: BEST PRIMERS FOR MINIATURES AND MODELS
To cover a model evenly with a yellow paint (doesn't matter what brand), you need to apply it in multiple thin coats. The best way to paint yellow is therefore starting with a bright primer and spraying on the yellow paint. This, of course, means that when you choose yellow as your main color motif for a Serphon piece, you need to do some planning.
Adding details to a yellow model requires you understand that you'll have a lot of work ahead of you. Details need to be hand painted over the first yellow coat.
Shading yellow colors with orange or browns is often a good choice. Avoid blue accents unless you want to push your overall motif toward green. Yellow and blue often clash harshly in my opinion. Use blue colors on a primarily yellow scheme, sparingly.
6. Green
Green is my 2nd favorite color (blue is my 1st). Of all the colors on the visible spectrum, green is popular for evoking the idea of growth, Spring time, renewal, and nature. If you're a steward of art, green is an emotionally positive color.
Green is an easy color to play with when it comes to lizard creatures. The fan art for lizardmen, lizardfolk, and the entire Seraphon miniature line is filled with images with a green motif.
Whether it is the dark green of a forest, or the tropical bright greens of amphibious animals, it is a color well-versed with many living things we see everyday. A lot insects are green, e.g., grasshoppers.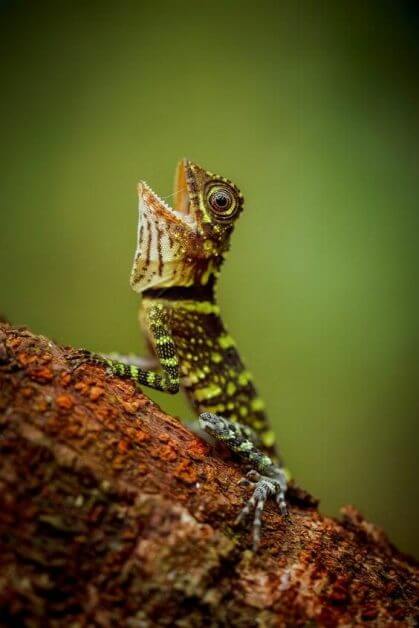 A part of this reason is for camouflage. Green mixed with brown is a common background in many natural habitats. When it comes to painting green for a tabletop miniature, however, be careful not to choose a green color motif that "hides" your model with the table. You want your models to stand out, to "pop".
As such, my suggestion based on my painting experience is to shoot for greens that aren't found naturally. I mean, try and choose a green-based color motif that is surreal, or slightly off from what you see in reference images. Yes, this is unintuitive, but you'll find your models will have more tabletop presence if you choose this approach.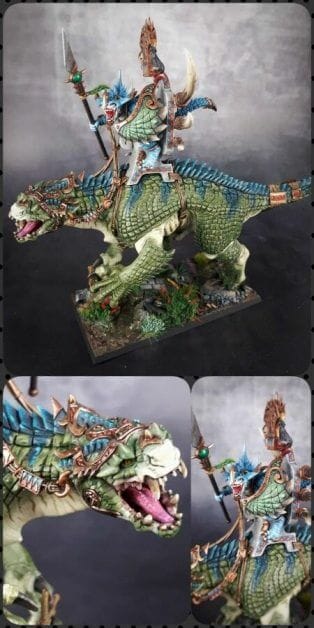 7. Blue
Blue is my favorite color in the visible spectrum. The clear sky is blue. Blue is the color of trust and responsibility. In color psychology, blue embodies peace and tranquility. Things that are blue are calm and relaxed. I love painting blue.
Blue has many shades and variations. Yes, I realize some of my references skew toward "teal", which is a greener version of blue. Teal and turquoise are spin-offs of blue that I find work really well for painting miniatures.
It is very easy to mix and match other colors with blue. I rarely find a problem painting blue. It's easy to shade and highlight using simple techniques.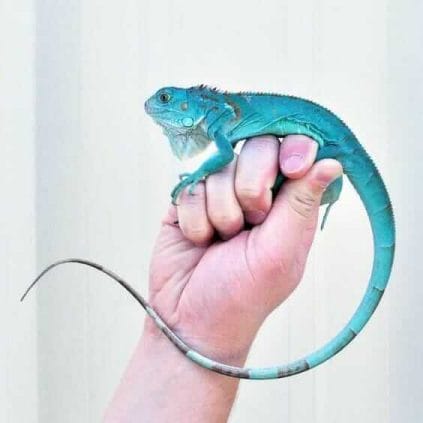 You don't need many other colors to make a blue model stand out. Blue is a great color by itself!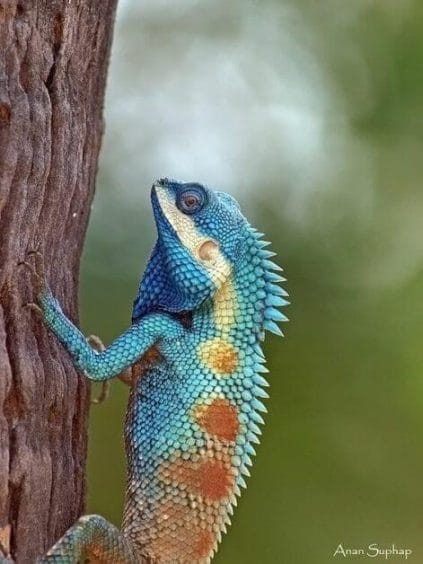 On lizard creatures, blue doesn't need to be bright. I have seen many examples where blue is mixed with black or faded into grays. The models look amazing on the tabletop. And, the best part about mixing blue with these other neutral colors, e.g., blacks, grays, whites, is that the models still look realistic. That is, blue mixed with other shades help remove some of the cartoony, comic-book looking aspects of a model.
8. Purple
Purple is the color of imagination and spiritual (source). I've read that purple is also the color of royalty, of kingship. Either way, purple is an enigma.
Purple is fantastic color for painting miniatures. From a technical standpoint, purple and its relative, violet, are easy to paint.
Purple colored paint has excellent coverage and blends easily using a number of advanced paint blending techniques. I also enjoy the fact that purple simply looks great on a table no matter how well it is painted. Miniatures and models with purple paint tend to have a natural presence on the table that other colors don't when the paint job isn't executed well.
This is not to say you shouldn't try your best to paint a model when using purple. But, it is easy to do a good job with purple.
Maybe, part of this fact is because purple goes well with so many other colors. The color purple sits between two very popular colors: red and blue.
Another way to put it: Purple is a natural mix of warm and cool colors (i.e., blue and red). As a result, purple is a good transition color between two extremes and acts as a balancing force on a painted miniature. Paint with a purple motif and you'll have a great time mixing and matching other colors with ease. This makes purple a very pleasurable color to use on any miniature.
9. Brown
Brown is a color of grounded-ness, earth, security, and structure. I love using brown in my miniatures. Brown paint adds form to a model without being overbearing. Take for example how useful Agrax Earthshade is for washing models. The brown tones works everywhere, even on white schemes.
When in doubt, use brown. This is my fallback color. When a client isn't sure what they want for their color scheme, I check out shades of brown.
Sure, I may skew toward orange for the vibrancy. But, at the end of the day, I think brown is a great base for any miniature painting.
Brown is secure and useful in so many miniature painting situations.
Technically, brown paints are so widely available that you probably already have a few versions of brown already in your paint collection.
For those of you starting out, I highly suggest you pick up a few brown tones. You'll find brown paints eminently useful across a spectrum of painting challenges. Again, check out this post about what my favorite washes are and you'll see why brown paint and media is an amazing tool to have in your arsenal.
Other Cool Seraphon Images
Are you looking for other references for Seraphon Colour Schemes, check out the images below and above. I love painting miniatures and find painting with photo references to be very helpful. For other miniature painting tips, check out what I learned from being a commissioned miniature painter for many years.
---
Final Thoughts
Miniature painting is a hobby that is best done within a community. I gathered the images and ideas above from various sources throughout the internet. This includes in my pinterest page. If you find ideas that you like here, let me know with a comment. I'm always looking for more inspiration for making cool art.
Tangible Day on YouTube (Miniatures and More!)