Are you looking for color scheme ideas for a Stormcast Eternals army? The Stormcast are the once-mortal champions of Order found in the Warhammer Age of Sigmar Universe. Stormcast Eternals are a fighting force created by Sigmar Heldenhammer, also known as the God-King or simply as Sigmar, the lord of the Realm of Azyr. The Stormcast Eternals miniature range from rank-and-file Sequitors or Liberators, or the majestic Celestant-Prime. All of the model kits are stunning in detail, and they deserve a good coat of paint.
Whether you're collecting Castigators, Evocators, or the Celestar Ballista war machine, the freedom to choose a color paint scheme is exciting, and daunting! Creative freedom is liberating and an inevitable burden. Games Workshop's art and sculpting department produce some of the best miniatures in the tabletop gaming industry.
RELATED: HOW TO CHOOSE AN ARMY PAINT SCHEME YOU LOVE (5 WAYS)
In this article, I show you a collection of reference photos I collected for painting my Stormcast Eternals. To keep things simple, I categorized them into 9 color motifs (or themes):
Red
Orange
Yellow
Green
Blue
Purple
Brown
Black
White
Continue reading below for my Stormcast Eternal paint scheme ideas and thoughts.
(I did my best to photo credit where I found images. Sources link to original source, if available)
---
Here are the 9 color paint schemes with reference images for a Stormcast Eternals tabletop miniature army:
Red
Red is a popular color motif for the fantasy genre of tabletop gaming miniatures. It is no surprise that a lot of Stormcast Eternal models incorporate some form of red shade or hue.
In color pscyhology, the color red is passionate, aware, and energetic. It is also the color of love and anger.
Are your Stormcast Eternal minis going into battle with vengeance in mind?
In either case, painting with red is a simple affair. Red matches common color motifs associated with fantasy. So, whether you're painting a unique theme for your Stormcast Eternal army, or simply spiffing up an elite or HQ model, red accents or full bright regalia in red will make your models pop off the tabletop.
Two recommended colors that go well with red are gold or black. Either of these colors are easy to match.
A favorite among historical gamers who want to enter this fantasy world is the use of motifs associated with ancient Roman soldier: red, gold, and white.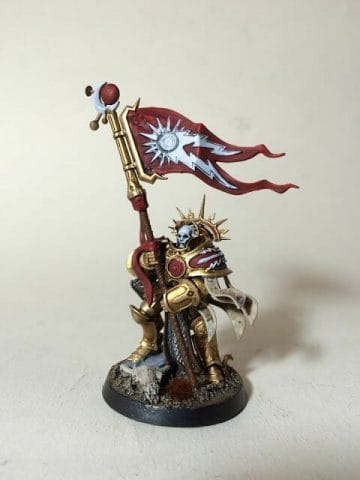 I tend to prefer a balanced approach; preferring to mix cool colors into models that carry a lot of "warmth". Red has an overwhelming effect if you use too much of it across a lot of surface area.
Some of my favorite red model paints include P3 Sanguine base and Reaper Master Series Carnage red. Both provide great coverage, mix well, and are very smooth.
---
Orange
Orange is a hard color to paint with. Many acrylic model colors in orange don't cover well, requiring several layers to coat a model. Orange also isn't a very popular color for Stormcast Eternals.
Though, it isn't clear why. Perhaps, it's because orange sits in the middle.
The middle of red and yellow!
But, therein lies the optimism. Orange is a bright, warm, and inviting color. If you paint with orange, you might be subtly welcoming people to join your game. You may also be expressing a bit of spontaneity and impulsivity.
In any case, realize that if you paint your Stormcast Eternals with orange as the main color, you'll stand out. It's a unique color motif to handle and display.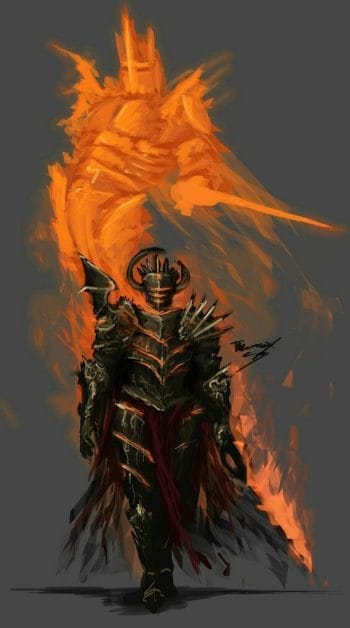 But, if you're successful in creating a harmonizing color palette with orange, you're almost guaranteed to receive nice comments about your fantasy gaming miniatures.
---
Yellow
Yellow is a great color for Stormcast Eternals. For those who like a bright golden army, yellow is where you start and end. Based on how much you want your models to stand out, a yellow golden metallic will put the perfect sheen on your minis.
Yellow, according to color psychology, is logical and knowledgeable.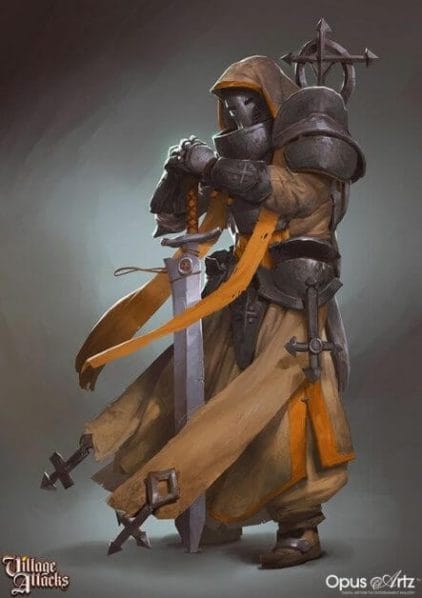 Yellow is a practical color that likes a challenging situation.
Does that sound like the theme of your tabletop army?
In the Age of Sigmar, the Stormcast Eternals are classically themed as a golden army, stoic and ready to stand up to a fight.
If you're a Warhammer 40k player, then you'll know the Imperial Fist Space Marine chapter is themed yellow. They are the stalwart defenders of Terra, homeworld to humankind.
Suffice it to say, if you're not sure what color to paint your Stormcast Eternals, yellow is a great standby default motif to work with. Match it with a variety of blues for a studio art scheme.
---
Green
Green takes no prisoners. There aren't many references to a green Stormcast Eternal army. You'll have to visit fantasy concept art for some ideas in how to paint your army green.
Of all the colors in the visible rainbow, green is one of my favorites (right next to blue). Green is Spring, a season of growth and renewal.
Take green and mix in shades of yellow or red and you can create some truly organic, tropical themes in your army.
Splash some teal or turquoise and you may have a beach jungle paradise.
Or, go with a dark green Stormcast army and evoke a deep forest.
Green is a positive-feeling color. We see green everyday wherever we go: grass, trees, and all the plant living things around us.
If you try and run with green for the your Stormcast Eternals, you need only look to nature to find other matching colors. Brown and green is a popular pairing. Just be careful you don't camouflage your models (e.g., if your table is colored with any greens, this could happen easily), if your intentions is to have them pop off the tabletop.
---
Blue
Blue is my #1 favorite color. This has been true since I was a child. Blue is the color of a clear sky, even at night (though much darker, of course).
To me, blue is as exciting as it is soothing. Take for example, race cars in a solid ocean blue. Fast, but calm.
Do you want your Stormcast Eternals to evoke that same emotional dichotomy?
Blue is your answer.
Blue has many shades and hues. The variations of blue are endless.
"Teal" may be green or blue. But, if you look closely, teal or turquoise, are primarily in the blue wavelength in the visible light spectrum.
Blue matches a lot of different colors. Another reason to paint with blue is that you don't have to decide much for how to add to it. Almost any color will work! You only need simple painting techniques to paint blue.
---
Purple
Purple is magical. To make purple, you mix red and blue. Depending on how vibrant you want your Stormcast Eternals paint scheme to be, use a bright purple (skewing toward pink) or a dark purple (moving toward black).
Throughout the ages, purple has been associated with royalty.
But, purple can be hard to paint. You may have to add more than simply white or black, to brighten or shade purple. White and purple turns into something a tad too pink. Black and purple, well becomes a drab purplish-gray.
To really add contrast to purple, my suggestion is to add other colors. For example, to shade purple, mix in a bit of dark blue. Or, to highlight, add a bit of bright teal (if you want to go cool). For warmth, you can highlight with a mix of your base purple and beige or ivory cream colored paint.
Purple is a mysterious color, both from a color psychology standpoint, and as miniature painter. If you're painting your miniatures with a lot of purple, you'll find it both hard and simple to match. In either case, purple is fun because it takes your models away from the "easy standards" of red or blue.
Brown
Brown is the color of dirt. It is the color of leather armor and skin. Look out, brown is coming…
No, in fact. People see brown as grounded and earthy. Brown paint is useful for painting miniatures because it can help you shade your models without becoming "too much", like a black shade would.
Brown works with many themes. But rarely have I seen brown as the main color on Stormcast Eternals. I've tried to find a few examples, but it's really just coming down to preference in what materials and sense you're trying to convey on your models.
Most of the Stormcast Eternal line is filled with armored troops. Brown "plate" armor is a bit hard to read.
On the other hand, if there's leather or other clothing, brown would work well. But you'll find that it may be hard to create an "brown motif" throughout your army.
For this reason, I do suggest you consider instead using brown for the beasts of burden you might find in your army, e.g., horses, griffons, and other furry mammals. Or the war machines, whose components may be former trees (i.e., wood).
Nevertheless, light or dark brown, you're taking your Stormcast Eternals army into a new direction with a brown motif. I find brown model paints to be an easy color to work with. They are some of the most reliable and consistent paints to work with (and I mean this across a spectrum of paint brands).
---
Black
Let's be honest. Black is cool. Stealthy, pitch black, black.
Black is the color of "power and control." No one dares mess with black; but, nobody can resist the attraction of black either.
You're all moths to an unlit flame, to the color black.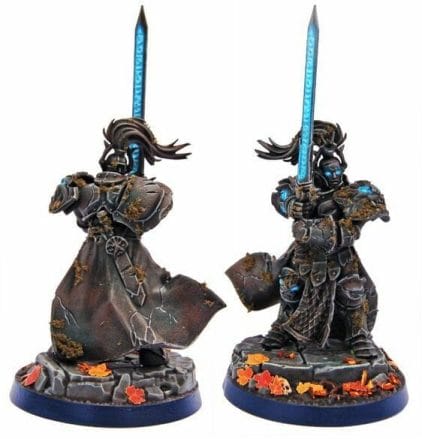 Black is hard to paint properly, however.
How do you shade or highlight black?
To paint black, remember the 50% rule. If you want your model to read "black", make sure that more than 50% of the visible surface area is colored black. You can highlight black with any other color, but remember to keep most of your model black.
I know some painters who add a bit of blue or orange to their black paint prior to using it. Their models never truly have a "pure black" on them. This adds of a bit of interest and keeps your model away from becoming "too flat", as they may have a propensity to appear with too much pure black.
Reference images (as those shown here) can guide you in ways to avoid having models that feel unfinished when too much black is involved. Add color to your black, if you can, to keep the finished look professional. Remember, the only things in nature that are pure black are burnt-to-a-crisp carbonized leftovers.
---
White
White is purity, completeness, and peace. When you see pure white, you might be feeling a bit unsure of yourself because you're paralyzed by indecision. That's the paradox of completeness. Your imperfect mind is not built to understand perfection.
A Stormcast Eternal, or any model in pure white is usually thought of as the "good guy". Why is that?
Painting white is nearly as hard to paint with as black, if not harder. Not only does pure white model acrylic paint cover surfaces, poorly, coming out powderly or splotchy, it just doesn't look great by itself.
To make white look good, you need to follow the same guidelines as painting with black. Add a bit of color. A touch of blue or beige to your white base coat will add tons of interest and make the entire process of painting white much easier.
You only need a little color in your white paint (just a dab), to turn your white into something "less complete". Use the reference photos here to see how you can match up your white main color with other harmonizing tones, hues, and shades.
Also, remember to give yourself a little wiggle room on your Stormcast Eternals for adding contrast. Your midtone white shouldn't be pure white. Reserve the extremely pure white for your highlights. And, finally, keep more than 50% of the surface area you want white, if you want your viewer to read it as "white".
White is a fun color to work with, but it does take practice to make it look compelling on a model.
---
Conclusion
Painting miniatures is great fun when you're able to share your work. I hope this article provided you with some ideas through images and my thoughts.
If you're looking for other Stormcast Eternals color scheme ideas, you can visit my Pinterest Page, or check out my post on ways to choose an army color scheme.
Tangible Day on YouTube (Miniatures and More!)