Are you looking for the best metallic gold paint for your miniature and modeling needs? Retributor Armour metallic paint as a base color in the pot is awesome. On the other hand, operate the spray version with caution (it's not worth it in my opinion). For miniature painting that require a warm gold metallic paint, definitely consider the base citadel gold metallic paint, Retributor Armour.
In this article, I review my favorite gold metallic paint: Retributor Armour Gold metallic base paint. I also share my thoughts about the metallic spray version of Retributor Armour Gold.
RELATED: BEST METALLIC ACRYLIC PAINTS FOR PAINTING MINIATURES
Continue reading for more details and two useful tips for painting with Retributor Armour gold metallic paint.
---
What is the Best Metallic Gold Paint for Miniatures and Models?
I've been painting a lot of Adeptus Custodes models from Games Workshop (GW) for a personal Warhammer 40k collection. I really liked the gold metallic theme, shiny and warm, with splashes of red, which reminded me of the ancient Roman military. So I went with the studio scheme using the box art as a reference.
RELATED: TOP 3 WEBSITES FOR HOW TO PAINT NON-METALLIC METAL (NMM)
But, what struck me is the use of Retributor Armour, a Citadel Base colored metallic paint ($6.50). This is the main color for the Adeptus Custodes army. Suffice it to say, Retributor Armour metallic paint is amazing!
In my opinion, Retributor Armour base paint is the best warm-toned gold metallic paint available.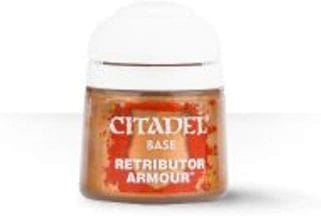 Metallic paints generally have poor coverage. Gold metallics in particular have been troublesome for me. It is both a yellow-ish color (which are generally hard to use already), and oftentimes don't carry the warm-hue and color saturation that makes gold feel…gold.
RELATED: HOW TO PAINT SWORDS WITH A NON-METALLIC METAL (NMM) STYLE
I know there are tons of options for metallic gold paints out there. Scale 75 has a line of metallics, which I think are great, but the gold lacks the warmth. Vallejo Model Air metallics also make a great gold paint that covers well, but also lacks the yellow-warmth. You can use inks or washes to add warmth; however, this process tends to remove a lot of the shine.
Either way, there are two things I look for in metallic paint:
Good coverage – the metallic paint doesn't require a lot of layering to build up a solid, even coat
Maintains shine or reflective properties – the metallic paint needs to keep its shine as its applied. Some metallics don't hold their reflective properties unless they are applied in a certain way. I think this is due to how the metal flakes are aligned within the paint as it dries on the miniature.
Retributor Armour paint has all of these properties, which have impressed me enough to bother writing an entire article about it. It's simply fantastic for gold metal bits on your miniatures.
I do think the Citadel base paints across the board are really good. But, this particular metallic is my favorite and I tend to use it for all the gold bits on various models.
What About the Retributor Armour Spray?
As much as I love the regular version in the paint pot, the Retributor Armour spray ($27-30) isn't as nice. You would think that putting the gold metallic in an easy to apply aerosol form would be a great idea.
But, nope. Not really.
Why? I've found that the spray doesn't give that same warm color. It lacks the color-saturation oomph that the regular Retributor Armour from the paint pot does. I'm not sure why, though I've read that other painters have discovered the same thing: Retributor Armour spray cannot be used interchangeably with the paint pot version. Admittedly, Games Workshop has stated the same.
If you start painting with the spray, you can't reliably use the paint pot version to touch-up your models. Bummer. It's kind of a frustrating experience when you first learn this.
Sure, there's a practical reason for using the spray version over the brush (speed), but they aren't really going to look the same. Lastly, for $27-30, the spray version of Retributor Armour isn't cheap and may not cover the same amount of surface area as the pot.
Can You Airbrush Retributor Armour (the paint pot version)?
The spray version isn't what we thought it could be. But, how about airbrushing the Retributor Armour from the paint pot? Can that be done?
Yes!
I've tried doing this with an airbrush (Badger Patriot 105) with a 0.3mm nozzle. You'll have to set your PSI to at least 25 psi, and thin the paint a bit with an appropriate thinner. I use the Liquitex Airbrush Medium ($9.50).
The thinner is mixed about 1:10 (more gold metallic paint to less thinner). It doesn't take much to thin the Retributor Armour paint. Make sure you shake your pot before you mix it with any thinners. The metallic flakes do tend to settle if the pot is left sitting around for a while.
You can either mix the paint and thinner together outside of the airbrush reservoir, or within the airbrush (not recommended). In either case, make sure you've got the solution mixed well.
Airbrushing is simple. Apply as you would any other color.
It'll take a few coats of airbrushing to get solid, even coverage. But it'll be easy going. Make sure you let each layer dry before applying the next airbrushed-layer.
Can You Dry Brush Retributor Armour Metallic Gold?
Yes! So I've tried this on a bunch of models. You can dry brush Retributor Armour like any other paint. Get an old brush, or use the dedicated dry brushes from Games Workshop, which I like.
RELATED: 8 MUST-KNOW MINIATURE PAINTING TECHNIQUES (INCLUDING DRY BRUSHING)
Get some of the gold metallic paint into the bristles; rub off the excess moisture on a paper towel until the pigment barely shows on the paper, then apply to the model surface with light back-and-forth strokes. Pay particular attention to edges and high parts of the model.
Final Word
I highly recommend Retributor Armour as the gold metallic paint that can handle almost all your gold painting needs (unless you're looking for a less-warm toned metallic). The paint pot version is superior in my opinion than the spray can version.
---
Do you paint a lot of gold in your miniatures? If there's a gold metallic paint you prefer, let me know in the comments. I'm always looking for better ways to get the miniature painting job done!
Happy metallic painting!
Tangible Day on YouTube (Miniatures and More!)