When I first started learning to paint miniatures–I mean really trying to improve my work–I searched everywhere on the internet for the best tutorials for how to paint non-metallic metal (NMM). NMM-style painting is the method of painting metallic-looking objects using regular paint that doesn't contain any reflective metal flake pigment.
Although, knowing how to paint NMM isn't the "end all, be all" of mini painting techniques, it is very useful to have the concept of NMM in-mind. Being able to see reflective surfaces that aren't actually on the model is a central aspect to painting NMM.
MORE: HOW TO PAINT A POWER SWORD WITH NMM
By practicing NMM techniques, you're broadening your ability to envision how light interacts with objects in the world. A non-internet resource for NMM instruction that I highly-recommend is this book by Angel Giraldez (more info below).
---
Recommended NMM Paint Kits
These are NMM paint sets I've personally tried (and still use) for my miniature painting.
As bundles, they are a fair bit cheaper than purchasing individuals paints. Some of them also include inks that help you glaze for a more convincing metallic surface.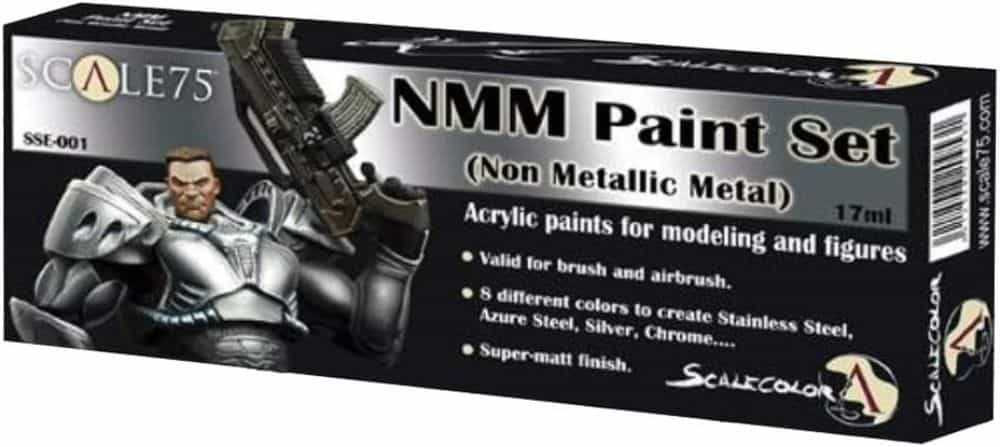 I kind of mix and match nowadays, but these are greater starters that give you the core colors you'll probably want to use for replicating metallic golds and steel. In general, I also tend to use the "layering and glazing" technique for painting miniatures with NMM.
For gold NMM, this is my choice. It comes with all the basic core colors you'll need to paint different types of gold non-metallic metal surfaces. From a dull, vintage looking gold, to a bright shining yellow gold, the few paints in this set will get you there.
A side benefit, too, is that Scale 75 paints are one of my favorite miniature paint lines out there. They are the best consistency and pigment density for layering and glazing technique. That, when done well, give some of the smoothest blends that I've achieved on a miniature. I also love that they dry matte (no shine), so any contrast that I've added will stay that way. Models pop with great contrast and color.
A bit more versatile than the Scale 75 set, this Vallejo NMM paint set allows you to paint steel and gold NMM. It doesn't have the sheer variety of tones you might find in a dedicate gold or steel paint set, but this Vallejo paint bundle has the core stuff.
Mix and match the neutral colors, and you'll be able to paint a generic stainless steel NMM surface. With the warmer tones, and the ink provided, you can paint that medium toned gold NMM surface. One thing I really liked about this Vallejo paint set, is that it came with an insert with step-by-step instructions on how to paint the NMM style paint jobs you'll see on Infinity the Miniature models. Specifically, the Cutter TAG model, which I personally love (you can find it in my gallery).
---
Here are the top 3 online sites I've found to be helpful for learning how to paint with NMM:
Some eye opening tips on how to paint using the non-metallic metal effect. The big piece of advice that I use now for my work is the concept of using four imaginary spots light above the model. These spot light become the reference light sources for building up your highlights and shadows that make the high-contrast NMM effect more realistic.
Although I don't play Relic Knights (the game), I have appreciated the anime style of the miniature line. This particular article on the Bell of Lost Souls provides an excellent step-by-step instruction on how paint of metallic surfaces across an entire model. The complexity of the approach is simplified through thoughtfully presented photos and text.
An obvious place where I personally wanted to put NMM into action was on swords and other weapons made of metals, e.g., axes, blades, spear tips. This particular site was very helpful early in my miniature painting career. It lays out the basic formula for applying highlights and shadows on the flat surfaces of blade weapons. It also gave me the inspiration of using more color in my NMM painting. Although, the tutorial focuses on the use of Citadel Paints, I've been able to use the basic premise with other brands.
---
And, here's an example of my work that incorporates the tips I've gathered across these websites and books (other resources).
---
A non-internet resource for NMM instruction that I highly-recommend is this book.
Angel Giraldez, studio artist for Corvus Belli (maker of Infinity the Game). The highly illustrated, step-by-step book is a clearly written and easy to follow guide for applying paint in a way that makes your models pop off the table. Although I've gone through cover-to-cover, I keep going back to the photos and instructions for reference. You can see some of my work that used the instructions from this book in my gallery (here).
---
Tangible Day on YouTube (Miniatures and More!)