So you're a tabletop gamer and looking for cool accessories to accompany your gaming journey. I often receive requests to review gaming products, but don't always accept given the time commitment it takes to fully vet a product. But, given our experience with Plydolex hobby paint shelving and storage, I was excited to check out their partner's Dice Tower offering from Smonex.
In this article, I give you my thoughts on the SMONEX dice tower. It's a multi-functional, lightweight and beautiful dice rolling solution for tabletop gamers. The main draw here is the design and construction: It's simple yet sleek, well-constructed, with just enough flexibility to accommodate all kinds of gaming scenarios.
Disclaimer: Smonex sent me a demo copy of this dice tower free of charge. However, as with any product review, I retain full liberty to share my honest opinion, good or bad, so you have all the information and perspective you need to make an informed purchasing decision.
Key Features of the Smonex Dice Tower
Maximized Randomness: Multi-level design with three falling paths ensures fair and random dice rolls.
Sturdy and Thematic: Combines natural wood and acrylic for durability, with engraved designs for a D&D atmosphere.
Three-in-One Design: Functions as a dice roller, tabletop tray, and storage holder in a compact, space-saving form.
Perfect Gift Option: Ideal for D&D fans and versatile enough for various tabletop games.
Immersive Sound: Unique construction produces a distinctive sound for an engaging gaming experience.
In a Hurry? Check Out 3 Other Great Dice Towers 🏆
CASEMATIX Portable Dice Tower and Tray Set (Best for Metal Dice)
C4Labs Hi-Tech Dice Tower (Popular High Tech)
Forged Dice Co. Grim Bones Grim Reaper Dice Tower (Heavy Duty)
To learn more about my experience with the Smonex Dice Tower, continue reading below.
---
Unboxing and First Impressions
Everyone loves opening a well packaged gift. Well, that's exactly what I got when the Smonex Dice Tower arrived! It was in simple, cardboard box with their branding on it. Inside, the dice tower was packed neatly with shredded paper packaging, the confetti type stuff.
Within this "paper nest", lay the wood and acrylic tower with its associated components. While there isn't any assembly required with this Dice Tower, as you'll se below, it came in several parts: The tower itself, the dice tray below that catches the rolling dice, and the interchangeable inserts (which also serve as functional, stylish drink coasters).
Overall, I was impressed with the packaging and the appearance of the dice tower. The laser cut MDF and clear acrylic composite material felt solid and durable. The clear acrylic, in particular, gave the entire cylindrical tower a modern, yet classical aesthetic, like the side of a old building with modern glass accruements.
---
The Secret to Random: Do You Need a Dice Tower?
No. You don't need a dice tower if you're looking to increase the randomness of your dice rolls. In this case, we define randomness as the unpredictability of the dice roll (source). When you throw dice across your dice tray, you won't be able to predict the outcome. There won't be a pattern you can follow or study.
For many tabletop games, including wargames like Warhammer 40k or TTRPGs like DND, random dice rolling is required to ensure fairness between players. Of course, this is true in casinos, too. In either case, for anyone to engage in a good game, dice rolls should have complete randomness.
And, thus, anything that "helps" make your dice rolls even less predictable, even the perception of random, could be an important tool in your gaming arsenal.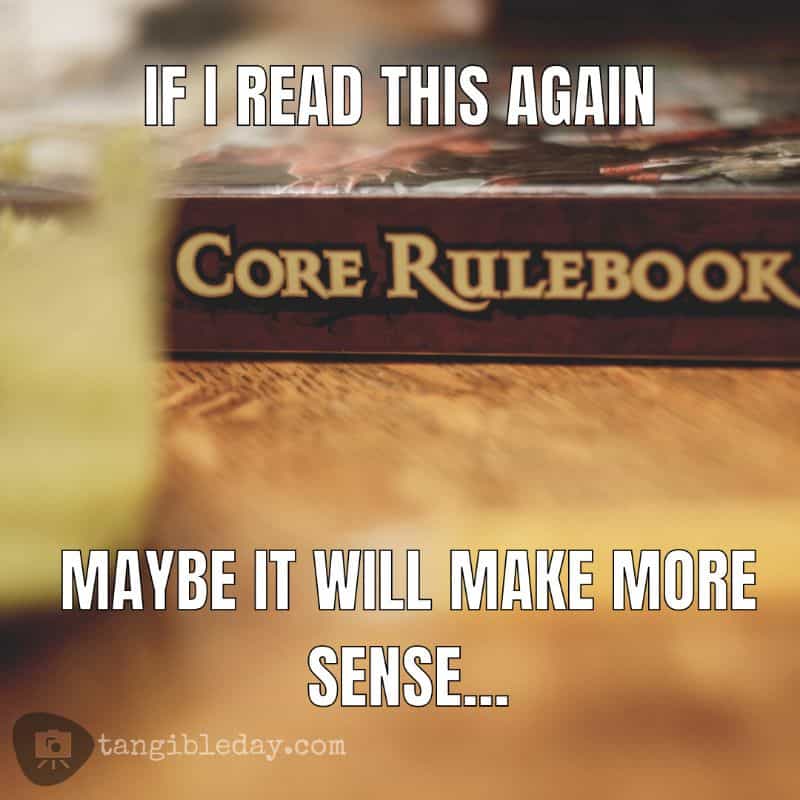 Enter the dice tower. Do you need a dice tower to improve the randomness of your dice? The answer isn't clear. As long as your dice do not roll with a predictable pattern, and you throw them without a particular bias, then a dice tower is likely redundant.
However, I would say that a dice tower can improve the perception that any particular dice roll is random. And, as human beings, our biases and perceptions can be just as important as empirical reality.
If you're the type of person who needs to feel a game is fair, or want others you're gaming with to feel that way, then a dice tower is great option to improve the overall gaming experience.
---
Pro Tip #1: Stop Buying Things You Don't Need
Before I dive deeper in my experience playing with and using the dice tower (and its associated features), I should give you a bit of my gaming philosophy when it comes to buying accessories.
RELATED: BEST DICE TRAYS FOR TABLETOP RPGS AND OTHER GAMES
"Don't buy stuff you won't use." Over the years, I've met countless gamers and hobbyists buy tons of gaming accessories on a whim. While it's understandable to be excited about a new "thing", you should always consider if said thing is necessary for your group or game session. See above for more about randomness and dice towers.
---
Does a Dice Tower Really Improve the Tabletop Gaming Experience?
It depends. I think a dice tower is one of those tabletop gaming accessories that add "flavor" to your games. It makes the experience different in that odd, eccentric way. Part of this is because of the extra time it takes for you to drop dice into the tower, allowing them to roll out, and then proceeding on with your game.
Those extra few seconds count. It slows down the game. Though subtle, dice towers have a real affect on the feel and function of a tabletop game, including DND, RPGs, or wargames like Warhammer 40k.
A dice tower is great in my opinion if the players around you enjoy this nuanced delay. The sound of dice falling through a dice tower, the extra-anticipation waiting for die to roll through, and the climatic result provide a immersion factor that isn't matched by other gaming accessories.
Sound, time, and style of gameplay are all important when you're deciding whether a dice tower is right for you.
And, finally, as I mentioned: a dice tower can improve the overall perception of the gaming experience by "hiding" any personal biases from the dice roll outcome. I personally love using a dice tower for the above reasons.
Read on for the rest of my review of the SMONEX's Multi-functional Dice Tower.
---
Construction and Durability
As mentioned above, the dice tower came in a five separate parts, packed neatly and securely in a cardboard box with excellent cushion packaging: the cylindrical tower, the rolling tray to catch the falling dice, and three inserts that let you change the floor design within the tray.
My immediate thought was how sturdy the entire package was put together. The tower itself is constructed with laser cut MDF and clear acrylic, which together create a sturdy, stylish design.
Form follows function
The scent of cut birch wood was the first thing that hit my senses along with the visual. It is a sweet, inviting smell, and quite pleasant. The acrylic and MDF were smooth and seamless with no blemishes or imperfections. I picked up the tower cylinder and was surprised to find that it felt surprisingly light; yet, solid.
The rolling tray was also made from MDF wood. It fits perfectly within the bottom of the tower with a slot-and-key attachment (see photos).
The inserts for the dice tray part of the tower give you a few design themes to choose from: a D20 insignia, an infinity dragon logo, and a DND Beholder illustration. The designs are laser engraved in a dark brown wood-like color and stand in stark contrast to the lighter color of the rest of the tower.
More than meets the eye
Note that the inserts serve a dual function: They provide a nice visual aesthetic to the dice tray and also serve as functional drink coasters.
In terms of durability, I know from experience that MDF is a very durable material. My portable Paint Case 2.0 workstation from Forged Wargaming and Plydolex paint racks are made from MDF. And, they've lasted years and years.
I'll make a bet that this dice tower carries that same level of durability, too.
In terms of looks and feel alone, this dice tower competes well. The quality is top notch; it will look great on any gaming table. But let's delve into its functionality and usability to really get a sense of how valuable it is for us, gamers.
---
Modular Features
The SMONEX dice tower is a multi-functional tool that provides gamers with ultimate convenience. From my standpoint, I see three standout main features: rolling dice, using as a tabletop gaming dice tray, and storing dice (within a session).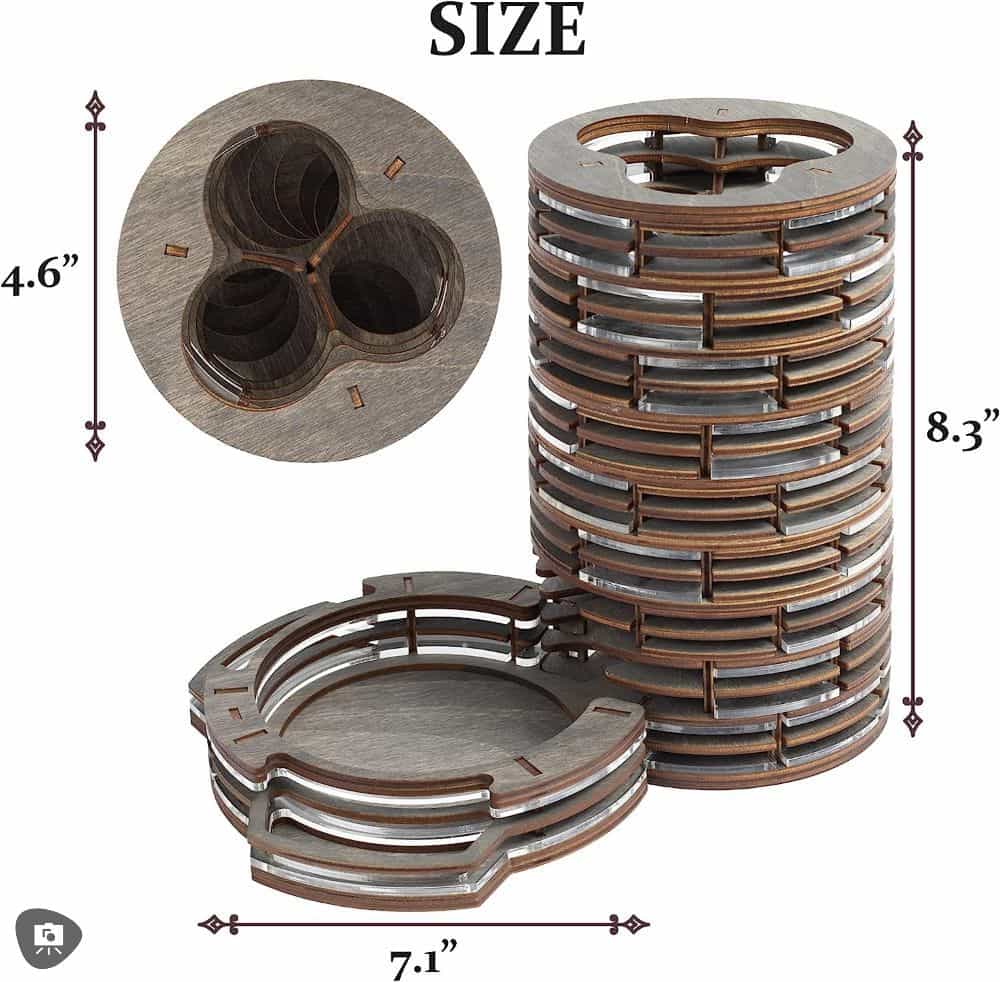 First, the dice tower can be used as a tool for rolling your dice. The cylindrical tower structure is designed to provide enough height to allow dice to fall a good distance (i.e., the tower is more than 8″ tall). But it is not so tall that it takes forever to get the result. And it is not too short, where you don't get that satisfying "rolling" sound.
Second, the set can be used as a perfect D&D dice tray for tabletop gaming. You can drop dice into the tower and let them roll across the rolling tray, which functions as a nice barrier between the tabletop surface and your dice. I've written about dice trays before, and while you may not think they are a big deal, a dice tray is one of the few tabletop gaming accessories I actually recommend everyone have at some point.
Third, you can store your dice during gaming sessions with its featured side-tray dice holder. Around the edges of the dice tray are compartment trays that are the perfect size to keep your best polyhedrals away from the main rolling area.
Keeping your dice organized and preventing them from rolling away unexpectedly in what could be a very cluttered gaming table is an unspoken convenience that will be appreciated by all.
---
Portability
This isn't the most portable dice tower you'll find on the market. That prize probably goes to the Casematix Folding Dice Tower or similar systems that collapse down and store easily in your travel bag.
But, the Smonex Dice Tower does come apart into separate components. So, if you're careful with the dice tray and the tower parts, you could place them in a box or hard case and take it with you, wherever your gaming sessions happens to occur. The whole system is lightweight, including the inserts for the dice tray.
In my use scenario, when I'm looking to travel to a game, I leave this dice tower at home and rely on a good ol' dice cup (if I even still have space in my bag).
---
Immersive Qualities: Sound, Sight, and Smell
Here's the fun stuff about dice towers. I've already spoken about the MDF scent. Well, that kind of fades over time, let's not rely on that.
But if you're already looking at the pictures, you can see how cool this thing looks. There's the layered clear acrylic and MDF build that provides a lot of visual interest. But when you add in dice, the entire tower just comes alive. The cylindrical shape and 3D construction of the tower make you want to handle the dice tower.
Touch me, tender
There's a tactile attractiveness to it that I have trouble putting into words. It's like the steering wheel of a race car–While you don't actually need to drive, you do want to put both hands on the wheel just to feel the power.
Well, this dice tower begs to be used. You'll want to throw dice down the chute.
And, speaking of the chute, you can see from the top-down view that there are three channels or tubes that dice can take on their way down. This tri-chute system is fairly unique in dice tower design. While I can't say this "improves randomness" anymore than anything else on the market (read more blurb about "what is randomness?" above), it does enhance that feeling that your dice aren't gonna produce biased results.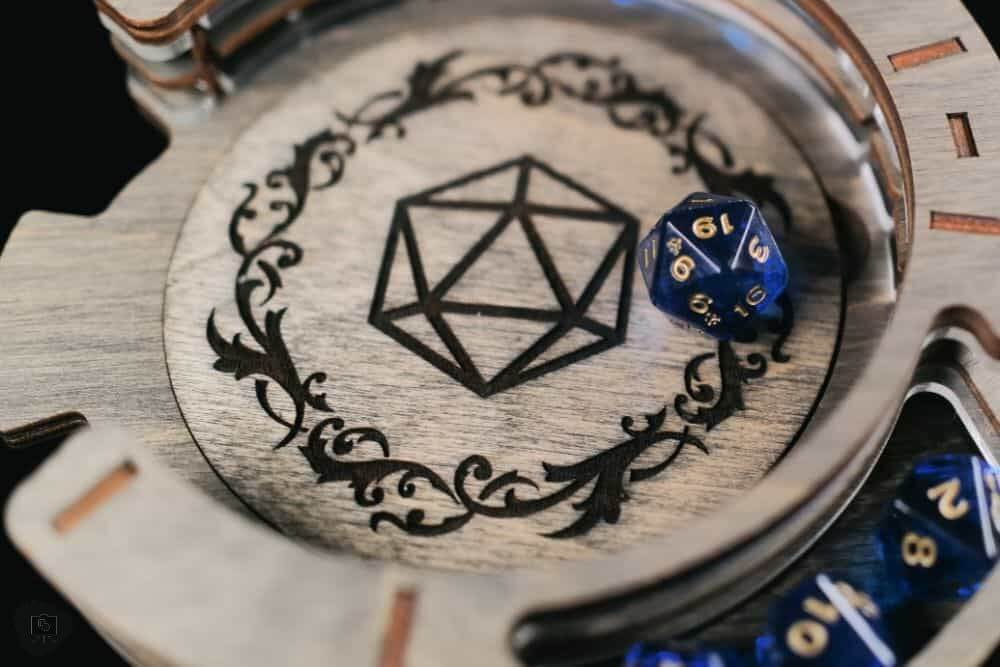 Of course, the sound that dice make when they clack, bounce their way down the tower is a pleasure that I'm sure I don't need to explain.
"Roll for initiative!" isn't just whistle to start a battle. It's a bell that causes all gamers to salivate. Now add in the sound of dice falling through an 8.3 inch tall dice tower and you've got a feast that will last all night.
---
Final Verdict: Is the Smonex Dice Tower Worth it?
The Smonex Dice Tower is one of those rare occasions that you get a mix of form and function. In terms of looks, I think the SMONEX dice tower is one of the best on the market. Its multi-functional features make it great for rolling dice at the table, as a dice tray, or even for simply keeping your dice in place without rolling away during a chaotic gaming session.
I think it's perfect for gamers looking for immersive qualities like sound, sight and smell that will add to their gaming experience. Take a closer took, if you want to roll your dice with a bit of fun and flair.
The only two downsides is that this isn't a very portable accessory and this is one of the more expensive dice towers in the market. But, if you're looking for a dice tower to leave on your gaming table and don't mind paying a bit more for quality and style, then the Smonex Dice Tower is worth every penny.
Pros
All-in-one dice tower and rolling tray
High quality construction
Attractive design
Immersive experience
Great as a gift
Changeable inserts serve as coasters
Cons
Not highly portable
Expensive
Might slow down gameplay
Not essential for randomness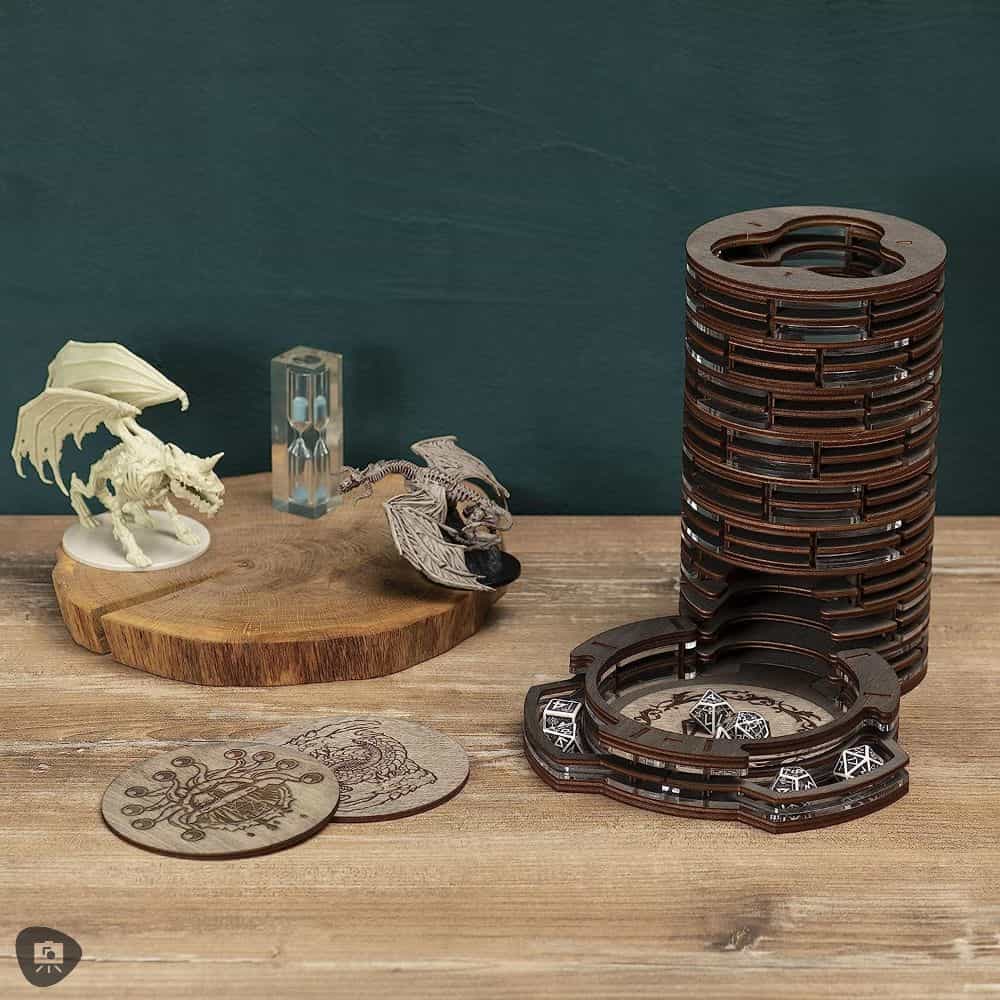 ---
Still Not Sure? Other Recommended Dice Towers 🏆
CASEMATIX Portable Dice Tower and Tray Set (Best for Metal Dice)
C4Labs Hi-Tech Dice Tower (Popular High Tech)
Forged Dice Co. Grim Bones Grim Reaper Dice Tower (Very Heavy Duty)
---
Frequently Asked Questions (FAQ)
What is a dice tower?
A dice tower is a gaming accessory designed to ensure a fair and random roll of dice in tabletop games. Crafted to elevate the gaming experience, a dice tower often features a multi-level, sloped interior with baffles, guiding the dice through a series of turns before they emerge at the base.
Most popular game that uses dice towers?
Dungeons & Dragons (D&D) is among the most popular tabletop role-playing games that involve dice rolling, and many tabletop RPG players use dice towers to enhance their gaming experience. Other tabletop games and board games such as Warhammer 40k, Age of Sigmar, and Catan also have communities that frequently use dice towers.
Best material for a dice tower?
Made from various materials such as wood, acrylic, or plastic, dice towers often boast thematic designs to complement different gaming genres. This essential tabletop gaming accessory can be portable, and sometimes features built-in storage for dice, making it a functional and stylish addition to any gaming table. Whether you're a dedicated gamer or a casual player, a dice tower can enhance your gaming sessions with flair and fairness.
Who should use a dice tower?
Dice towers are ideal for tabletop gamers, board game enthusiasts, wargamers, educators, families, individuals with limited mobility, collectors, game designers, and casual gamers, as they add convenience, fairness, and flair to dice rolling activities.
---
Conclusion
Well, there you have it–the Smonex Dice Tower and rolling tray. While I'm not one to impulsively buy certain gaming products just because they look cool–Umm, not exactly true when it comes to miniatures–I will try my best to get as close and personal to find out more.
In the end, I think this dice tower does beg a closer inspection. It certainly won't make you a better gamer, and isn't necessary for random rolls, but it elevates a standard gaming night to something a tad more immersive, if not different altogether. So if you can invest in a good quality dice tower, then Smonex Dice Tower could be on your short list!
I hope you found this deep dive into the dice towers and the Smonex Multi-functional dice tower useful and interesting. Please let me know if you have any questions or comments.
Until next time, thanks for reading! Game on!
Tangible Day on YouTube (Miniatures and More!)