Are you looking for paint color scheme ideas for a Necron army? The Necrons are a fully robotic "species" with humanoid form that wield technological power that is second-to-none in the Warhammer 40k Universe. As an alien race in the Games Workshop Universe, Necrons are a playable army of tabletop miniatures in the Warhammer 40,000 wargame. They are an ancient race of skeletal robots that have awoken from a deep slumber to take over the galaxy from other wordly inhabitants. Necrons are a miniature range from rank-and-file warriors to regal lords and psychic beings. All of the model kits are highly-detailed, but require a good paint job to really stand out on the table.
In this article, I show you a collection of reference photos I collected for painting Necrons. As a commission painter, I've had to paint quite a few Necrons.
Whether you're collecting Necron Immortals, Tomb Blades, a Doom Scythe or Doomsday Ark, the task of choosing a good paint scheme is thrilling and difficult! Freedom comes with responsibility. You will be fielding your Necron army and the way it presents on the tabletop will likely showcase a piece of your personality, too. This is truly a liberating and an inevitable burden for us to bear as tabletop miniature gamers and hobbyists.
RELATED: 5 WAYS TO CHOOSE AN ARMY PAINT SCHEME YOU LOVE
For simplicity, I categorized them into 9 color themes or motifs. Mix and match, or find inspiration for an alternative Necron color scheme. Either way I hope you enjoy looking through these images with my ideas and thoughts.
Red
Orange
Yellow
Green
Blue
Purple
Brown
Black
White
Here are the Necron Dynasties in the Warhammer 40k universe with their unique and basic color schemes:
Sautekh Dynasty – black with glowing bright green accents
Maynarkh Dynasty – black with glowing orange accents
Nihilakh Dynasty – black primary with teal or blue with cool green accents
Mephrit Dynasty – black primary with dark green and orange
Thokt Dynasty – black primary with purple, violet or dark blue accents
You can find more details about the color schemes for each Necron Dynasty in a simple online search.
Continue reading below for 9 color motifs for a Necron army paint scheme.
(I did my best to photo credit where I found images. Sources link to original source, if available)
---
Here are the 9 color paint schemes with reference images for a Necron tabletop miniature army:
Red
In dreams, psychologists associate the color red with romance, love, and danger. Red is also associated with power, boldness, and adventure.
When it comes to painting miniatures, particularly necrons with red as a primary undertone, you may have different ideas.
Red takes backstage to "black" in most necron color schemes.
But, if you look carefully at some other genres and army schemes, red can take center stage if you choose other neutral pairings.
Of course, painting with red is simple. Many other motifs combine red with gold or silver. Though you may think this isn't appropriate for your Necron army, you can find inspiration from fantasy genres, e.g., Age of Sigmar, Stormcast Eternals
Two very popular colors that I recommend clients when painting a Necron army are black or gold. They allow for the pairing of many different shades of red and they allow you to explore other advanced painting effects, such as object source lighting (OSL), or non-metallic metal (NMM) painting styles.
A favorite among comic book fans is to use styles associated with main antagonist heros and villans (e.g., Marvel, DC), and incorporate those color themes and styles into a miniature paint scheme.
For red, I tend to recommend that people also use a balanced approach and not use red for everything. Balance the heat of the color red with cool tones, e.g., like blues or greens (though not too much to avoid looking gaudy).
Red can overwhelm the look of a model pretty quickly if it is overused. My favorite red paints for general undercoats is P3 Sanguine base and Reaper Master Series Carnage red. Both provide good coverage, mix well, and create a smooth finish. Games Workshop Citadel Mephiston Red is another favorite, but will need some thinning for an even coat without leaving brush streaks.
MORE: GOOD LIGHTING WILL IMPROVE YOUR MINIATURE PAINTING
---
Orange
Orange is a surprisingly fun color to paint Necrons with (though it can difficult to use a lot of it; see why below).
The color orange is a fun, bright color that often symbolizes hope and optimism. Of course, if you're painting a Necron army (essentially robotic zombies come back to life to take over the Universe), then this may not be your intention with orange.
However, orange is a great color to paint with advanced blending techniques to create object source lighting (OSL) or glowing effects. This is particularly true if you're painting orange over a black or dark base.
Painting with orange paint is difficult oftentimes because most model orange paint has poor coverage. You will likely need several coats of orange paint to cover a surface. You can try using orange inks which have more pigment or dyes. Check out a few affordable ink brands here for painting miniatures.
When painting orange, a good tip is to first start with a white basecoat, and wash it over with an orange glaze. Another way to more quickly paint with orange is to use an airbrush. With an airbrush, you can apply many thin coats very quickly. If you don't have an airbrush, I can recommend a few top airbrush choices based on my experience.
Although there isn't a very good Necron paint scheme generator, like there is for Space Marines in Warhammer 40k, you can use a variety of coloring book line art to digitally draw your concepts before investing in the paint work.
Orange is an optimistic color, as I've said. But, more importantly, it's a color that stands out on the tabletop.
If you like attention, a well painted Necron army in orange is a good color that will draw a crowd. Paint with orange if you're looking for a color that few people will use for Necrons.
If you're successful in harmonizing colors with an orange-based palette, you're almost guaranteed to get good attention. Some of these photo references are examples of Necron models that I found used the color orange really well.
---
Yellow
Yellow is a great color for Necrons, but it's not very popular as a main color or an accent.
Though I'm not sure why. Here are few reference images of Necron models painted with your typical yellow shades and hues.
Yellow is associated with logic and knowledge, according to color pscyhology.
Interestingly, enough Yellow is also a color associated with pragmatism. It's a color that challenges you to embrace simplicity.
Is that what you're looking in your Necron color scheme? Simplicity?
Death cometh festooned in ribbons of yellow cupcake

Tweet
Odd though, given how yellow is also a hard color to paint with. Most yellow paints have poor coverage (like orange) and require many thin coats to properly cover a model surface.
Here is how I tend to paint yellow Space Marines, which you could use for your Necrons.
Of course, an airbrush or judicious use of Citadel Contrast Colour (reviewed here) can help you paint your Necron army with a yellow paint scheme.
If you play Games Workshop's Age of Sigmar, you'll recall that Stormcast Eternals are classically themed as a golden army, stoic and ready to stand up to a fight. You're already probably familiar with the Imperial Fist Space Marine chapter, who rock the Yellow color motif. They are the stalwart defenders of Terra, homeworld to humankind.
In contrast to these miniature army factions, however, Necrons are anything BUT the "good guys".
A yellow Necron army eschew the creepy, grimdark vibe, in favor of the brighter cartoony "death cometh festooned in ribbons of yellow cupcake".
---
Green
Green is an organic color that draws upon the idea of Spring, growth and renewal. The color green is resurrection.
Oh, does that sound like a Necron army coming back from a long slumber (e.g., the little death)?
Make no mistake, Green is a horrid color in the right context. No Spring flowers and lillies on a pond. Green is death incarnate when all it does is want to grow without stopping.
For this reason, I think this is why Green is one of the most popular color schemes for a Necron Army. Blended with black, green accents (or the reverse) create the classic Necron studio vibe we all associate with this Warhammer 40k faction.
You can use green to represent the mechanical as well as the arcane psychic aspects of a Necron fielded army. For many armies, I might suggest mixing your green paints with a bit of yellow to add that brighter hue into your work. It can work to your advantage if you're looking to edge highlight, for example, or want to create that unholy glow Necrons are famous for.
There are a lot of nice photo examples here and elsewhere online of how you can incorporate the color green (also known as the color of "envy") into your army.
I haven't seen a good Olive Drab color used in a Necron army yet. Maybe you'll be the first to try?
When you paint green, I might also warn you to avoid using colors that are similar to common tabletop scenery. You don't want to camouflage your models on the gaming table (unless you really do). For a good pop off look for most tabletop environments, try and keep your green parts of your Necrons bright, and the dark colors in stark contrast, e.g., try blacks, greys, or muted yellows or orange shades.
---
Blue
Blue is my personal favorite color across the entire visible spectrum. The color blue is everywhere we look. It is the color of sky and water. At night, dark blues and twilight take over the world.
To me, blue is tranquil as it is exciting to look at. My car is blue. I haven't had the opportunity to paint Necrons with blue, but I did collect a few reference images in preparation for a previous project.
Blue is a standout color for tabletop miniatures. I'm not surprised that the most popular Warhammer 40k army faction are not only blue, but also named after the color they are painted: Ultramarine.
Blue is your answer for a Necron army that you can't decide what color to paint. A blue paint scheme for Necrons is almost impossible to screw up. Blue is super easy to paint. Model acrylic paints in the blue range provide good coverage, thin easily, and result in a clean finish without a lot of hassle.
Paint with NMM paint styles (see reference image above), or wash your metallic paint job with blue transparent inks for a cool shiny effect.
Blue is an endless color palette, with many various shades and hues for you to play and experiment with. Glow effects work great with blue.
The other close relative of "blue" is "turquoise" or "teal". These tend to take your blues and push them toward green. Adding a bit of teal to your Necron army puts a bit of mystery and magic into your army. It takes the mundane out of the normal blues (which are powerful but often cliche).
Blue works well with almost any other color. For a Necron army, this opens up possibilities beyond simple black and grays.
---
Purple
Purple is a mix of red and blue and considered a spiritual and majestic color. Violet or lighter shades of purple are often associated with delicate or precious things, such as flowers and butterflies.
For a Necron army, I tend to prefer the dark purples with careful use of yellows, blacks, and greens as accent colors.
Most examples of a purple themed Necron army don't use purple as the primary color. Instead, black or gray is the main color with purple taking second string.
This sets the painted miniature apart from the studio scheme, while maintaining the primary concept of the original motif (e.g., green and black). In other words, purple is the easy and natural alternative color scheme.
My suggestion for adding darkening purple is to add other colors rather than mixing in black. For example, use dark blue for shading, or add deep orange to shift the purple to a darkened brown. For highlights, add ivory rather than white to keep your base purple from turning pink.
In terms of matching purple to other colors, you'll have lots of fun moving away from the standard "easy" colors of red or blue, or even black. Purple is a fun color puzzle. But, if you solve the scheme, you'll be highly-rewarded with an amazing looking army.
---
Brown
Brown is dirt or rust in a mechanical-based army.
That's the concept you'll evoke if you use brown as a main army color.
In color psychology, brown is like the earth and remiscient of the ground. It is a solid place to rest.
I've been fascinated with painting miniatures with brown hues and shades, especially mechanical parts.
You can use light browns and beige for your Necron army for large carapace armor plates while keeping the innards the mechanical silvers and dark metallics. This is probably one of my favorite pairings that differs from the usual studio art schemes for Necrons.
Though I'm starting to see more browns and rusty dark colors in the Necron paint schemes coming from Games Workshop.
As mechanical machinations come back to life, Necrons painted with browns that exude age and "oldness" are perfectly placed in the context of their lore.
In general, I did have a hard time finding good examples of brown painted Necrons.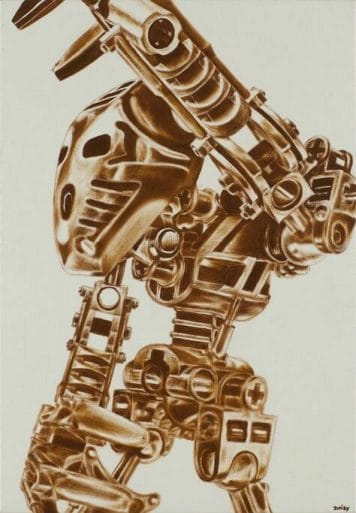 Sepia is a nostalgic type of brown hue that I would love to try and paint Necrons. I would paint the model with silver or a bright neutral toned metallic paint and wash it down with Seraphim Sepia shade. The result would be a lovely old, brown tin or bronze.
For someone painting with Brown, consider how the color could be used to add the idea of worn out, aged, or weathered to your models. The brown motif in a mechanical based army lends itself well to these color Necron concepts.
---
Black
Pitch black. The black of night. Black is stealth and death.
Black is associated with power and control. You don't mess with the color black, but you can't resist the draw of the absence of any color either.
Adding a bit of color (any) to a black Necron model will immediately add the jazz you need for a classic Necron force. Black is easy to match and probably the most popular of the primary colors that gaming painters will use for their Necron army.
If you keep more than 50% of the visible surface you want black, then you can be free to any other color as an accent or highlight. The more surface area you keep as black, the more "black-looking" your model will be.
Restated, to underscore how to paint black: You can highlight black with any other color, but remember to keep most of your model black.
You can even mix other colors into your black to avoid a "pure black" overcoat which can often look unfinished (like exposed primer).
Black used in this way adds more interest to your black painted Necrons and avoids the "flat" look.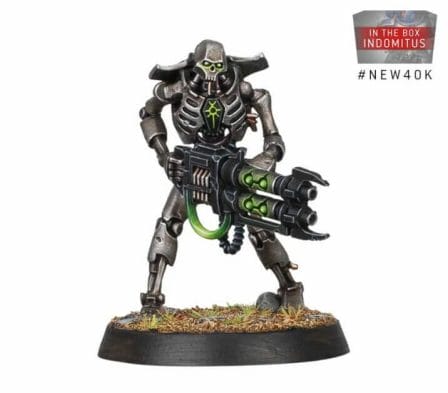 You can use the reference images here to guide you toward a black color scheme for your Necron army. Adding even a little color to your black themed army will help you achieve a professional finish.
---
White
In some Western cultures, white represents purity, completeness, and peace. In other cultures, such as in Buddhism, White is death. For example, in Asian funerals, a tradition is to wear white.
White is the color of bone stripped bare of living material. Necons in white are like an army of robotic skeletons emerging from a fog of doom….
If you're painting a white Necron army you using a color that encompasses all or no color (depending on your perspective). Necrons in a white paint scheme will of course stand out really well on a tabletop.
White is a great color alternative to black because it has the same grim vibe but takes it to the next paradoxical level. Are you the good guys or the bad guys? It is the color of paralysis and indecision…which is often what fighting against a Necron army does to you.
Although painting with white makes adding other colors easy, since every other color seems to work well with white, it is also difficult to do properly.
White model acrylic paint has the most troublesome coverage of all the colors. Most of the time it is too thick or too thin. Or, it clumps and streaks on models.
My tips for painting with white paint include 1) spraying it on with an airbrush, or 2) adding a little off-white paint mixed in, e.g., ivory, to give your white paint some "bite".
For a good white paint job on your Necrons, follow the same rule as I mentioned for black. Add a bit of color. Make sure most of the surface you want to look "white" stays white (more than 50% surface area in white paint).
You can use the reference photos here to show you how white might look on a Necron model.
Remember to give yourself room to add contrast to your white paint job. Your midtone shouldn't be pure bright white. Use pure white for your highlights only. For the midtone, mix in a few shades of something else to darken your "white". Notice in some of the reference images how most of the "white" isn't truly white at all.
Practice a bit with your white color scheme on another model before dedicating yourself to the entire army. It takes practice to paint with white paint.
---
Conclusion
Necrons one of my favorite army factions in the Warhammer 40k Universe, right after Tau.
I've painted a few Necrons as a commissioned miniature painter. Most of my work involves researching color theme ideas for the project and collecting references to work from. It's a good idea to plan out your painting projects so when you're bored, unmotivated or stuck, you can fall back on your "blueprint".
Army color schemes are hard to choose for many reasons. My hope here is that I've given you some ideas of what you could do with your Necron army as you decide what color(s) to paint them.
If you're looking for other Necron color scheme ideas, you can visit my Pinterest Page, or check out my post on ways to choose an army color scheme.
Happy Painting!
---
Tangible Day on YouTube (Miniatures and More!)