If you're a miniature painter, wargamer, or scale model maker, then you know that having good quality paint brushes is essential. There are a lot of options out there, but in my opinion, D'Artisan Shoppe miniature paint brushes are some of the best value brushes you'll find. They're synthetic and come in a variety of bristle tuft sizes and shapes. For general use, I opted to review the versatile size #1 point round brushes.
In this article, I share my full review of using the D'Artisan Shoppe Miniature Brushes after using them for a large painting commission job I did (e.g., Warhammer 40k models). I'll go over the pros and cons of the brushes, as well as some tips on how to get the most out of them.
Disclaimer: D'Artisan Shoppe sent me these brushes to review, but all opinions are my own.
---
Review Summary (TL;DR): D'Artisan Shoppe Brushes for Painting Miniatures and Models
The D'Artisan Shoppe Miniature Brushes are great for general purpose miniature painting. They're well made, reasonably priced, and come in a variety of sizes and shapes. As a synthetic paint brush with a very affordable price, you will find ways to use them that work.
They are best used for base coating, applying washes, and (if you have a light touch) some detail work. You may have to get comfortable with a more expressive, characterful style, but that's part of the fun!
If you're looking for Kolinsky sable quality brush character and utility, then you will need to look elsewhere. On the other hand, if you're like me and want a versatile, all-purpose miniature brush to tackle most of your basic painting needs, then the D'Artisan Shoppe Miniature Brushes are definitely worth a try.
---
D'Artisan Shoppe Synthetic Brushes (Size #1 Pointed Round)
Positives:
Well made synthetic paint brushes for hobbyists, artists, and modelers
Highly ergonomic handles, comfortable to use
Great aftermarket service
Variety of sizes and shapes (from D'Artisan Shoppe store or Amazon)
Quick shipment
Very inexpensive (under $3 per brush)
Negatives:
Not the best for fine detail work
Bristle tips may curl after a while, which is normal and workable
---
My Experience with D'Artisan Shoppe
Before I dive into the brush review, I will say that everyone has a different opinion. This means that you may find that a certain type of brush works great for you, whereas another person may not like it at all. The same goes for price–what one person perceives as expensive, another may see as being a great value.
Having said that, I have been using the D'Artisan Shoppe miniature brushes for a while now and have been very happy with them. They are a low-cost alternative to many mainstream hobby and art brushes on the market.
While they are not the top-shelf Kolinsky sable paint brushes, such as the Winsor and Newton Series 7 brushes, the D'Artisan Shoppe brushes are the rank n' file workhorses that I'm sure many of us could use for the day-to-day grunt work of getting models painted.
Here's a brief synopsis of the D'Artisan Shoppe brand
D'Artisan Shoppe is a small business located in New Zealand that specializes in art supplies for artists, crafters, hobbyists, and students. While I can only speak to a few things in their product line, the stuff I've tried are pretty awesome to have in your hobby arsenal (check out their amazing WetNDri Artist Tray palette).
The company offers a 100% satisfaction guarantee for all their products, and they spend a lot of time and energy on all their products to ensure a smooth experience for their customers. If you have trouble with anything you buy, ask for Chloe, who will do her very best to make sure your experience is a good one.
Now that you've got a bit of context, let's get on to the review!
---
Packaging and MY FIRST IMPRESSIONS
The first thing you'll notice when you receive your D'Artisan Shoppe brushes is the top-notch packaging. From what I hear, Chloe, the owner pays a lot of attention and takes pride in putting together a product that is professional in every respect.
The brushes come in a simple but elegant clear plastic sleeve with simple labeling with the company logo and information about the contents right on the front. The sleeve itself is handy for storing your brushes or other knick-knacks.
Inside, the brushes are securely held in place with foam pads. The presentation of these brushes suggest they would make a great gift for any painter or modeler in your life. And, you could do this on a budget even if you bought a few units at a time!
---
Brush Look and Feel
I opted to review the size #1 pointed round miniature brushes, as these are my favorite size and shape for general purpose use. The first thing you'll notice about the D'Artisan Shoppe brushes is the quality of the construction.
The handles are made of wood and lacquered with a warm-brown gloss clear coat. Near where you place your grip above the ferrule you'll find an ergonomic triangular "knob". This bulb shape on the handle feels good and I found its location in the best spot for comfort.
If you're someone who prefers a traditional brush handle with that straight cylindrical shape, then you may have to look elsewhere. For myself, I prefer the handling of these kinds of angular handles. Note that you'll find a similar tri-grip handle on the Army Painter Wargamer Regiment brush (see my full review of the Regiment brush).
Comfort, control, and confidence
In addition to helping your grip and control over the brush, the knob acts to serves to keep the brush from rolling away when you put it down on the tabletop. This is a handy feature to have, and one that I'm surprised isn't more common on other brands of brushes.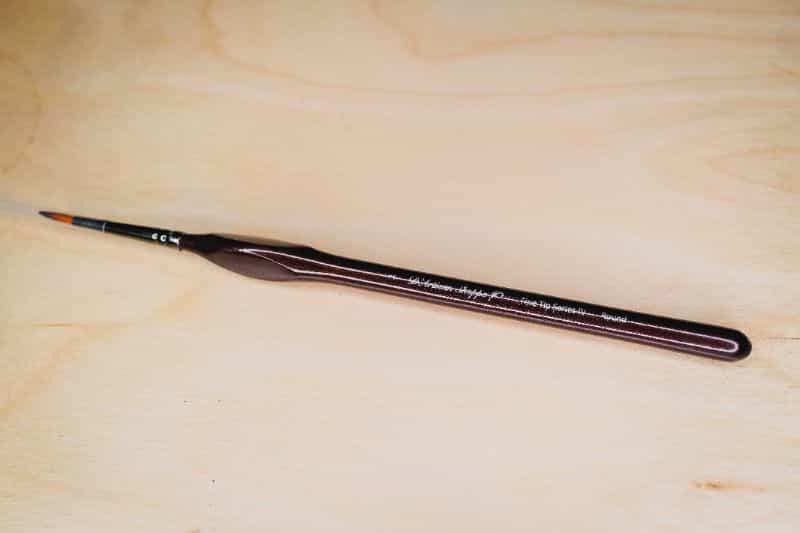 The ferrule of the brush is made of metal and is screwed on very tightly. The bristles themselves are made of synthetic taklon fiber (I think) and have good springiness/resilience to them.
They do not, however, have the same snap that high quality brushes have. This means that you'll have to use a light touch when applying paint if you want to keep that fine point intact.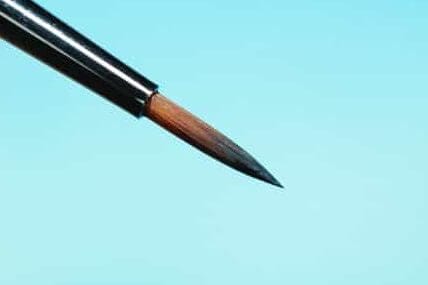 When the bristles are wet, the tips stay sharp, but easily spread if you apply too much pressure. I found I could get around this by using lighter dabbing motions and shorter strokes to paint details. More about this below.
Quick tip: When the brushes arrived, the bristles appeared to have a waxy shaper coating that helped protect them while in transit. Make sure you wash the brush bristles before you use them for best results.
Overall, I was really impressed with the build quality of these brushes. They look and feel great to use straight out of the package.
---
Bristles and Tufts
The bristles on these brushes are synthetic and made of made a taklon or nylon polymer fibers. I can't be quite sure, of course, but they feel soft and springy. They are much better suited to miniature painting than the stiff-bristled craft brushes you find in local stores.
The pointed tips stayed that way after I damped the bristles, and the resilience of the shape was enough for me to paint details with the point. The tufts are glued into the metal ferrule very securely. I had no issues with shedding or uneven bristle hairs getting in the way of each other (which can be super annoying in other budget paint brushes).
As noted above, the handles are made of a lightweight wood and are comfortable to hold for long painting sessions. Here, I think you'll find that the extra width along the entire brush handle is different than what you may expect from other conventional brushes. But, I found the thicker paint brush handle helped me adjust my grip and maintain more control over the brush while I was working.
As with most "cheap" brushes, I'm often concerned with how long the bristles last. With budget brushes, you may find that the bristles start to come out after just a few uses. This can be really frustrating, as you then have to constantly stop what you're doing to pluck them out or trim them down.
So far, I've used the D'Artisan Shoppe brushes several times and haven't had any issues with bristle durability. The metal ferrule is screwed on very tightly to the wooden handle. I found there's no wiggle room or looseness in the construction.
---
Why the Pointed Round Size #1 Brush?
I found the size #1 point round brush to be the most versatile out of all the brushes I tested. D'Artisan Shoppe produces a wide variety of brush shapes and sizes. But, for general use, I think the size 1 pointed round is the way to go.
For those looking for a bit more detailed brush control at the expense of paint capacity (which determines how often you have to load with brush with paint), then pointed round size #0 or smaller sized brushes are available from D'Artisan Shoppe.
The pointed tuft allows you to paint very fine details, while the round shape means you can also use it for larger strokes and washes. I also think the size 1 is a good choice if you're just starting out with miniature painting and are still getting a feel for how much pressure to use and what sorts of strokes work best.
---
What Are These Brushes Good For?
The synthetic brushes from D'Artisan Shoppe are best used for basecoating, layering large surfaces, glazing, and applying washes. You can use them for detail work, but it will take some practice.
I've found that the best way to use them for detailed work is by using lighter pressure and shorter brush strokes. Also, take advantage of the edges of the bristles to get straight lines of paint on convex surfaces, e.g., edge highlighting or painting sculpted hair.
I would not recommend these brushes for drybrushing or painting with thick paints, as the bristles are on the softer side and can splay out quite easily.
---
Brush Quality and Handling
The pointed tip is great for detail work such as painting eye lenses on Warhammer 40k space marines, done using the dotting method, or with layering techniques. I was able to get fine lines without any splaying of the bristles thanks in part to the firmness of the tufts (remember use a light touch).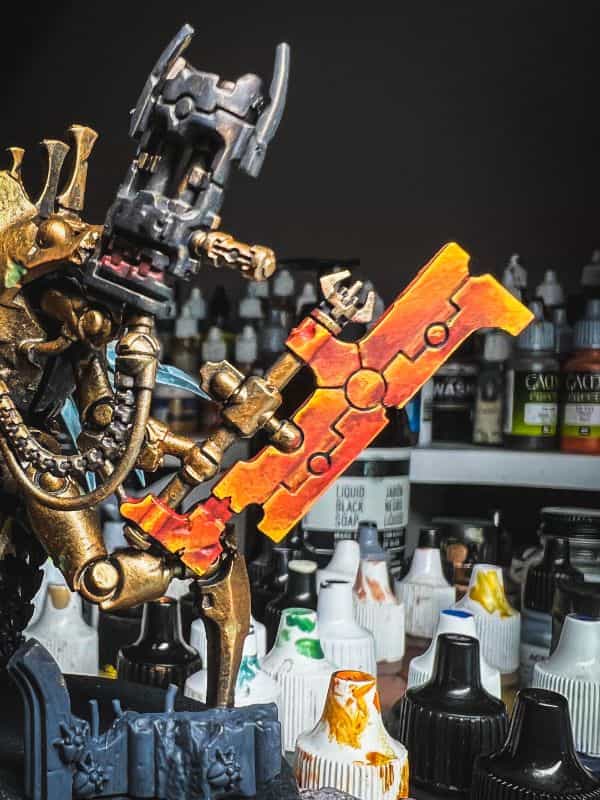 Because of their spring, you'll have a good time using them to paint larger surfaces without leaving brush strokes. For the smaller surfaces, I found that the brush strokes tended to have a "dagger" stroke appearance which gave my work a somewhat expressive style.
I found this brush character endearing and loved what I was able to create with them. The textured appearance made my work standout in a unique way.
Overall, I was really happy with the way these brushes handled. The bristles are soft, but not flimsy. They have good snap-back and don't splay out too easily with normal use. Read on below to see what I painted using these D'Artisan Shoppe paint brushes.
---
Value for Money
Are these the best "cheap" brushes you can use for painting miniatures?
If you're a new painter who wants to simply have fun and maintain confident, self-inspiring work, the D'Artisan Shoppe brushes are an affordable way to get started without breaking the bank. I also think that more experienced painters will find them to be a versatile addition to their brush collection.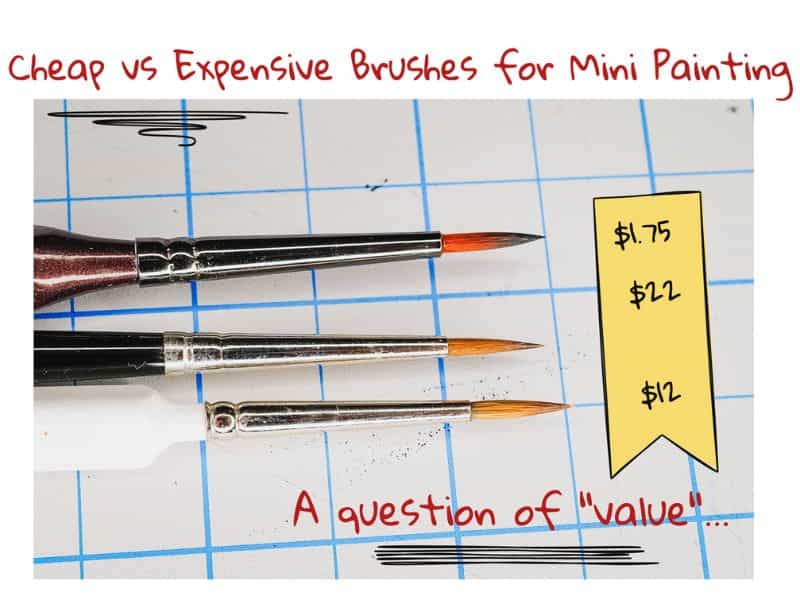 ---
What I Painted When Using the D'Artisan Shoppe Miniature Brushes, Exclusively
I've been using these brushes for general miniature painting and for commission work. They've performed really well. The fine bristles mean that I can get into all the nooks and crannies of my minis, and the brush handle stays comfortable even after extended periods of use.
The paint goes on smoothly, and I haven't had any issues with shedding or anything like that. All in all, I'm really happy with how these brushes perform.
I used these paint brushes with all sorts of fancy techniques including wet blending, layer and glazing, as well as performing some non-metallic metal (NMM) painting styles.
The best part about painting with these brushes is that I don't have to worry about the paint brushes losing their shape or shedding bristles. Because of the reliability of the brushes, I can focus on painting and enjoying the process, rather than having to worry about my tools.
(This particular D'Artisan Shoppe set comes with a pack of 4 brushes. While I didn't need to reach for the backups, it's nice to know that they're there if I do.)
---
How to Deal with Synthetic Brush Tip "Curl"
You can do 3 things when the tips of your synthetic brushes start to curl:
Toss out the brush (or recycle them)
Try to fix the curl (difficult)
Use the curled tips to your advantage
1. Toss out the brush (or recycle them)
This is probably the easiest solution, but it's not the most sustainable. If you're just starting out with painting, however, this may be your best solution since you'll want to spend most of your time learning the hobby rather than learning the other two solutions (below).
So, if you're struggling with the hobby and the curling tips are really bothering you, get a new brush. The D'Artisan Shoppe brushes are perfect for those looking to ramp up their skills quickly without worrying about the expense of high quality brushes.
2. Try to fix the curl
If you're determined to keep your synthetic brushes, you can try to fix the curl. This is a difficult process, however, and it may not work for all types of synthetic brushes.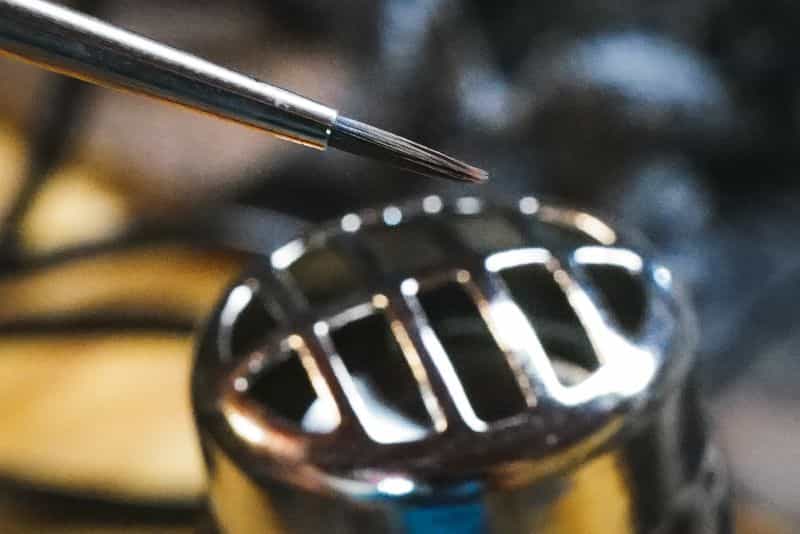 From what I gather and tried myself, you can try two things to re-shaped synthetic brush curling. Heat the damped bristle tips and/or use a brush shaper product and store the brushes in their original shape for a period of time.
3. Use the curled tips to your advantage
This is the solution I use most. With the curled bristle tips, you're actually able to do quite a few things.
I use curled synthetic brush tips for:
Precision painting hard to reach places
Controlled wash application (e.g., applying a pin wash around rivets)
Applying inks to panel lines (e.g., armored plates)
Stippling/dabbing/texturing
Interestingly, there are quite a number of other techniques that wouldn't be possible with a normal, flat synthetic brush. The key here with using curled tips on a synthetic brush is to play, experiment, and meet the challenge until you discover what works for you. Of course, you can always fallback on solution #1. 😇
---
Other Inexpensive Hobby Brushes
Here is a list of other inexpensive, popular paint brushes for painting miniatures and models (under $15). I've tested many others, but these three brands are at the top of my highly-recommend list. If you're looking for a daily workhorse brush that will get the job done in a wide variety of tasks and with different techniques, these could fill that general purpose role.
Check out the full review for the Army Painter "Regiment" and Blick Masterstroke brushes for miniature painting and other hobby work. I work with a lot of tools and enjoy trying out new products all the time. Part of the fun of the hobby is discovering how something new works and whether it can add a different flair, style, or experience to painting minis.
Take a look at this guide for a comprehensive overview about how to find the best miniature paint brush for your hobby work. There's always something new to learn and I think that article is a good start for those looking for primer or a refresher about miniature hobby paint brushes.
---
How to Use D'Artisan Miniature Paint Brushes
Now that we've gone over some of the reasons why you should consider using D'Artisan miniature paint brushes, let's take a look at how to use them. Follow these steps for best results:
Choose the right brush for the job
Prime your brush before using it
Load your brush with paint
Paint!
Clean your brush after use
1. Choose the right brush for the job
D'Artisan offers a wide variety of brush shapes and sizes, so you can find one that's perfect for whatever you're working on. For instance, use a smaller brush for painting details, and a larger brush for base coating or painting larger areas.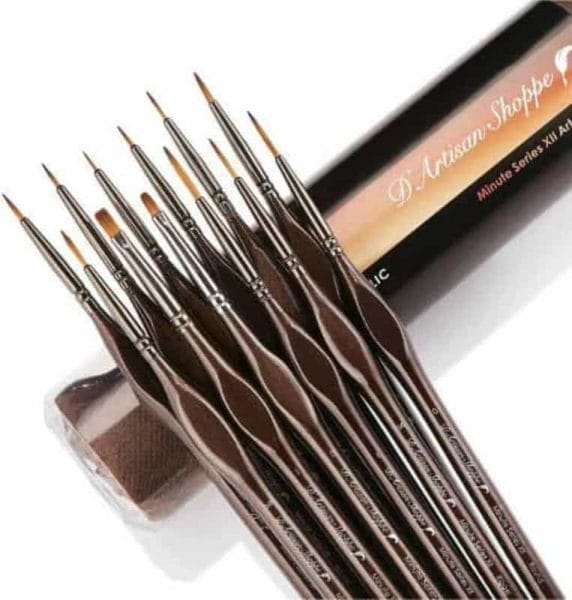 2. Prime (Wet) your brush before using it
This will help prevent paint from sticking to the synthetic bristles and will help color flow off while applying paint to your working surface. Simply dip the brush in water, then stroke it against a paper towel until the bristles are evenly dampened.
3. Load your brush with paint
Do this by dipping the tip of the brush into the paint pot, then wiping off any excess on the side of the pot or palette–Of course, I often end up using the back of my thumb of the opposing hand. You want just enough paint on the brush so that it's not dripping, but not so little that you have to keep dipping it back in for more.
4. Paint!
Use light strokes to apply the paint to your surface. If necessary, go over an area multiple times until you're happy with the coverage. I found D'Artisan Shoppe brushes work best with very light pressure, as both paint flow and low snap character make for an extra responsive brush-paint handling experience (as compared with other hobby brushes).
5. Clean your brush after use
Never leave paint on your brush overnight, as it will become harder to remove and could damage the bristles. Instead, rinse your brush in water (or mild soap if necessary) immediately after use, then stroke it against a paper towel or old rag until all traces of color are gone. Store your clean brushes in a safe place until you're ready to use them again.
---
Final Verdict
If you're looking for a good quality miniature paintbrush that won't break the bank, then I would definitely recommend checking out D'Artisan Shoppe. Their size #1 point round brush is versatile and perfect for general use, and the build quality great for what we need them for.
As you can see above, I was able to achieve some impressive results with these paint brushes alone. Some of the techniques above are quite advanced, and though there are limitations to the D'Artisan Shoppe brushes, I didn't feel like they held me back.
And again, for their affordable price, I'm quite pleased with the results and I had fun while painting. I'll definitely be using these brushes regularly!
I hope you found this review helpful. If you have any questions, feel free to leave a comment below and I'll do my best to answer them.
Happy painting!
Tangible Day on YouTube (Miniatures and More!)