---
10 Best Airbrush Spray Booths for Miniature Painting and Scale Model Hobbies
---
What About Do-It-Yourself (DIY) Airbrush Spray Booths?
If you're looking for ways to make your own hobby spray booth, there are a lot of plans online. Here's a simple, but robust homemade spray booth you can make yourself.
These DIY spray booth plans are from Starship Modeler, which is a site dedicated to providing information and other resources for science fiction, fantasy, gunpla, mecha, and anime scale model builders.
The estimated cost of these DIY airbrush spray booth materials is between $60-110 USD. In case you were curious, this cost is within the range you would pay for a commercial airbrush or aerosol spray booth you can buy pre-assembled (e.g., plug and play).
Though, of course, DIY spray booths have the added advantage of customization.
Need a bigger booth? Go for it! Want the best extractor fan for your DIY spray booth? Then use a high watt motorized computer cooling fan. If you're looking for a bench spray booth with fancy lights, add an inexpensive LED light bar.
And, if something goes wrong with your DIY spray booth, you know exactly how to fix the problem. Each part is replaceable. For the most part, the question of whether or not making your own tabletop spray booth is worth it comes down to how comfortable you are with making things.
If you're a hobbyist, making your own spray booth shouldn't be too difficult. You'll have most of the necessary tools and technical know-how already.
Here's a video tutorial about how to make your own airbrush spray booth for painting gunpla and other models.
---
Do You Need a Spray Booth to Airbrush Miniatures?
No, you don't need a spray booth to airbrush miniatures. You can airbrush your models without one, even indoors. If you're using a low PSI (e.g., air pressure), then the overspray will be minimal and manageable. At the very least, I'd use a respirator mask to keep your lungs free of atomized paint.
A good reason to use a spray booth is to avoid the accumulation of paint on the surfaces in your work area. Although the amount of paint that doesn't land on your model is minimal, the residual overspray that doesn't land on your miniatures will accumulate on the surfaces around your work area. After some time, you'll notice a fine film of paint on your hobby desk, the floor, the walls, and other exposed surfaces.
A drawback of having a spray booth is the space it will take up and the cost for maintenance. You'll need air filters, power, and work to clean up the interior of the spray booth after frequent use.
Are you a miniature painter looking for the best spray booth for airbrushing? I'd recommend a spray booth to anyone concerned about overspray paint particles getting on their belongings, working in a small space with little ventilation, and if you're spraying models with an airbrush on a regular basis.
In addition to the mess, paint dust can irritate your respiratory system, e.g., nose, throat, lungs. I would suggest wearing a respirator no matter what you're doing while airbrushing acrylic paint. It will protect you more than just using a spray booth.
---
Is Airbrushing Miniatures Safe?
It depends. Inhaling any kind of aerosolized paint is potentially harmful. To reduce your risk of health issues, make sure that you're airbrushing non-toxic, acrylic water-based hobby paints.
Here are a few recommended airbrush-ready paints you can use immediately. Although these paints aren't friendly to anyone's lungs, they are less problematic than other spray media.
Note that any air contaminant, even from atomized non-toxic hobby paint, can exacerbate breathing issue symptoms, like allergies or asthma. For some airbrush artists, a spray booth is a very important part of working comfortably and safely.
Always use proper precautions and have a way to bring fresh air to your work area.
As with any tool, airbrush spray booths are only as good as how you use them. Airbrush spray booths come in many forms, with different features, functions, and design specifications. Some airbrush spray booths aren't meant for certain applications. Check out the list below for great airbrush spray booths that I recommend for painting miniatures and other scale models.
I airbrushed miniatures for years wearing a regular respirator mask. I didn't use a spray booth. The mask wasn't expensive and much more convenient to use due to my limited work space. Because I was operating my airbrush at really low air pressure (<25 psi), the overspray was minimal for my painting situation.
READ MORE: AIRBRUSHING MINIATURES? HERE'S A COMPLETE GUIDE
Of course, if you have other people living with you nearby (or pets), you will want to take extra precautions. And, if you personally have respiratory problems, the extra ventilation with an active spray booth system will go along way to protecting your well-being and comfort.
---
Can You Use Aerosol Spray Cans in a Spray Booth?
I do not recommend using aerosol sprays in a hobby-grade spray hood indoors. A tabletop hobby spray hood is not large enough and lacks sufficient ventilation capacity to contain to an aerosol's overspray (which is more powerful than an airbrush). A typical hobby-level spray booth will not protect you from the harmful fumes and vapors from aerosol sprays (source).
Here's why: Most spray paints and primers contain what are called volatile organic compounds (VOCs). VOCs include a variety of chemicals that can have long-term adverse health effects, and are released by a number of products including spray paints, lacquers, and paint strippers.
Did you know that manufacturer's add a "rotten egg smell" to natural gas? Natural gas is normally odorless. The added "odor" (called mercaptan) is to protect you when there's a gas leak. When you smell natural gas, it's time to get out of the building and call for help (source).
These chemicals are not easily filtered and removed by standard filtration systems. The rule of thumb about volatile fumes/vapors is that if you can smell the spray fumes, you're already receiving a potentially hazardous dose.
An airbrush spray booth may or may not filter out these volatile compounds from certain types of paints. Make sure to refer to the manufacturer's instructions for your particular spray booth's capabilities. To avoid problems with harmful fumes that your spray booth may not be able to extract, I suggest airbrushing only with non-toxic water-based paints, e.g., model acrylics, until you gain more experience.
RELATED: HOW TO AIRBRUSH INDOORS, SAFELY
Finally, there have been reports of fires started inside hobby spray booths (source). VOCs and other vapors from spray cans are flammable. Paint particles mixed with flammable substances are hazardous in any enclosed environment. When aerosolized, tiny sparks or heat from spray booth electrical fans may ignite these paint fumes.
---
---
What Features to Look For In a Hobby Spray Booth for Airbrushing?
What Else Do I Need to Maintain My Spray Booth?
You'll want to change the filter in your spray booth regularly. A dirty filter will not only be less effective in cleaning the air, but it will also impede the ability of the spray booth to pull air away from you. When in a confined space spray painting, this could become problematic.
How often you need to change the filter on your spray booth depends on how often you airbrush, how often you paint spray, and the kind of paint you use.
My recommendation for determining when to change your spray booth filter is how much the fan motor strains to draw air. If you notice reduced air flow, then it is time to change filters.
MORE: BEST 10 AIRBRUSHES FOR PAINTING MINIATURES
You can also look at the filter to see if it changes color (from the build-up of paint). If the filter has noticeably changed color, start considering a replacement. Depending on your usage, you may need to replace your filter once a month, or only once per year.
All this being said, are spray booths worth their upfront cost? I think so. Spray booths are simple kits. The only moving part is the motorized fan. As long as the motor doesn't fail (very rare), you should be good to go for a long time. This makes a spray booth a good hobby investment. The upkeep cost is minimal after the initial purchase.
---
10 Best Spray Booths for Airbrushing Miniatures and Models
The following are my recommended top 10 best airbrush booths for spray painting miniatures.
The Master Airbrush Lighted Portable Hobby Spray Booth sells for about $150-160. This is in the ballpark about what to expect for a mid-end hobby spray booth. This is a good choice if you're looking for a system that is ready-to-use right out of the box with minor tool-less assembly. This model may come with white or black plastic accents, depending on the version you're getting; I haven't found a discernible difference in function between product releases.
The Master portable airbrush spray booth is able to fold into a compact suitcase shape. The booth packs down into a neat gray metal box the size of a medium suite case. It even comes with a carry handle and and doesn't weigh much. Included in this kit are LED lights built into the top of the interior of the booth.
Inside the spray booth is a turn table (7.5 inch diameter), which is great for accessing most if not all the surfaces of your models. The spray booth is powered through a standard 12 volt DC plug with a 110 V AC adapter. The extraction flow rate is about 4 cubic meters (of air) per minute, which is standard for hobby grade spray booths designed for airbrushing and water-based acrylic spray painting.
The overall size of the spray booth is 16.5″ x 19″ x 13.5″ (width x depth x height). For reference, a normal sized Warhammer 40k Imperial Knight is no more than 8 inches high and will easily fit inside this spray booth.
On the other hand, a Mars Pattern Warlord Titan (Forgeworld) is over 22 inches tall, and will not fit in this spray booth (not even sideways). If you're looking to airbrush very large models, the best way to do it in a tabletop spray booth is to paint each sub-assembly first.
Note that if you're looking for a more powerful version of this airbrush station (that is also a bit louder at 60db), you can check out the Master Airbrush Spray Booth with a more powerful fan and filter system with an extraction rate of ~8 cubic meters/min.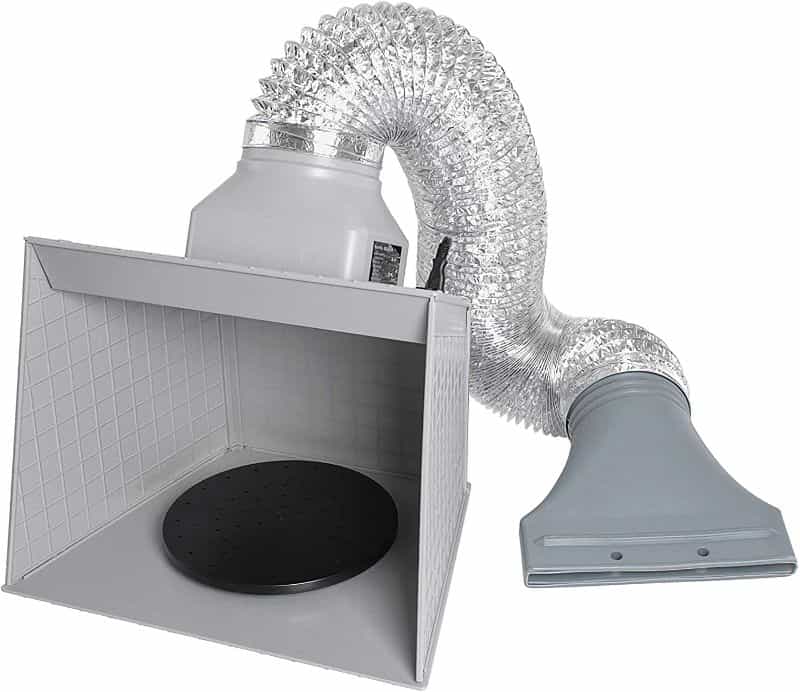 ---
The VIVOHOME Portable Paint Spray Booth Kit LED Lights sells for about $150, which is similar to the Master Spray Booth (shown in #1). The Vivohome spray booth comes with LED lights, a turn table, and a flexible duct system. The exhaust end will fit through a 1-inch gap in a window or door.
The Vivohome spray booth is portable. It can fold down into a standard luggage-sized suite case with a carry handle that you can transport or store. It will fit in the trunk of any car or under your desk. These portable spray booths can also handle light-duty spray can use. But, be careful as aerosols usually spray at much higher rate/volume than airbrushing. The replacement filters for the Master Airbrush Spray Booth will also work in this spray booth.
---
The WeChef Portable Airbrush Craft Spray Booth Kit is selling around $95-100, which is a great price for a hobby spray booth kit! For the hobbyist on a budget, but looking for a spray booth that will do the job, the WeChef Portable Spray Booth is my recommendation.
As with other portable spray booths, this kit will fold up into a small suitcase with a carry handle. When you're ready to paint, unfold the spray booth and you have a ready-to-use airbrush studio. The turn table fits neatly inside the booth and will help you airbrush all almost all the sides of your model.
The replaceable filter and sponge in the back of the spray booth will remove large to small paint particles. It is a two stage filter with a coarse (blue mesh) and fine white sponge material that traps paint dust. The fan may not draw a lot of air, as compared to its competitors, so use with caution when airbrushing at higher air pressures (30+ psi). I'm looking at you guys who use an airbrush to prime models with giant 0.5 to 0.7mm external mix airbrush systems.
Note that the system has no lights (see more details here). Given the small size of the interior of the spray booth, you may be able to get away with your room's ambient lights. The side walls of the spray booth are visually translucent so it wont be entirely dark inside. For more light, however, you'll have to supplement with a desk lamp.
---
The Master Airbrush Portable Hobby Airbrush Spray Booth sells for about $130. It is exactly the same spray booth as the booth shown in #1 (the Master Airbrush Lighted Portable Hobby Spray Booth), except this lacks the ventilation tubing and the interior lights. The airflow extraction rate is also similar at 4 cubic meters per minute. Some painters consider the system loud with a noise register that is higher than what is documented for this spray booth. But this may be true for all hobby spray booths with this kind of open back fan design. Adding the vent tube may dampen the overall noise register.
This portable paint booth starts out as essentially a boxed enclosure that folds open to reveal an interior spray area. The turntable allows you to spray your scale models or miniatures at every angle. In general, this is one of the most utilitarian spray extractor kits you can find with a reliable airflow rate that is ideal for hobby airbrush miniature painting.
For those who want to save $20 and like the simplicity of a portable spray booth, this is your best bet. If you want to light the interior of this spray booth, you can place a desk lamp nearby or clamp a swing-arm lamp on the side of your table.
---
The Paasche HSSB-16-13 Hobby Spray Booth is about $115, and the smallest of the Paasche line of spray booth. At 16 inches wide and 13 inches high, it is similar in size to other tabletop portable spray booths for hobby work, e.g., airbrushing. The darker color scheme with black accenting distinguishes this spray booth from many of its competitors. I kind of prefer the brighter gray and blue colors though. But of course, this is all personal preference and the aesthetics has no bearing on how well the airbrush spray booth operates.
Interestingly, the Paasche Spray Booth is modular. That is, this spray booth can be combined with another spray booth unit into a bigger booth. The system comes with adapter to add vent ducting if you need it.
The fan on this system is more powerful than the other spray booths listed above which uses a 115 volt motorized fan. But, the noise level is still fairly reasonable at 47 decibels. For reference, a normal human conversation is about 60 dB.
---
The Paasche AirBrush 16″ x 13″ Compact Hobby Spray Booth is a generic spray booth priced around $100 (plus shipping). You've seen this before. If you're price shopping this spray booth could he a good model for comparison. This is one of least expensive ready-to-use spray booth on this list.
Compared to other spray booths, this one has a unique design (a bit utilitarian if you ask me). It is designed to capture larger paint particles from the air. The extraction flow rate is 3 cubic meters per minute and could struggle to clear higher pressure or constant use airbrush overspray. As with most hobby spray booths for model painting, this is not recommended for use with dangerous chemicals, such as flammable or explosive paints or spray can aerosol applications.
For the miniature painter, this is a fully functional, compact spray booth. It works by drawing airflow back through the casing (with a decent 3 cubic meters per minute extraction rate) and pass a filter system. Although this has no tubing to vent the air through a window, this airbrush spray booth does come with the adaptor over the fan if you'd like to attach a 4 inch dryer duct to exhaust air outside.
The interior of the spray booth is standard sized (16.5″W x 13.5″H x 19″D). This may be an advantage for small projects, since it helps keep things brighter with ambient light (notice the semi-clear plastic hood). This has no interior lighting.
An included black colored turntable will help you rotate your models as you spray them. Are you're running an airbrush clinic or a painting class? A spray booth like this one could be really handy.
---
Notable Features
Interior size: 16.5" x 13.5″ x 19"
Air extraction rate: 4 Cubic meters/minute
Filter system: Two stage replaceable
Noise register: Moderate (47 decibels)
Lighting: Internal LED strips (lumen n/a, but they are bright!)
The OPHIR Portable Airbrush Lighted Hobby Spray Booth is about $130-150 with free shipping. This is my favorite tabletop spray booth kit which boasts an impressive array of features for the airbrush miniature painter. If you're scale modeling or customizing radio controlled (RC) cars, a spray booth like this one is perfect. The interior LED lights are surprisingly bright. The fan is on par with the more powerful table top spray booths, with an extracting airflow of 4 cubic meters per minute.
As with other portable spray booths, this folds up into a suitcase (as shown in the image below) and is lightweight. The carry handle makes it easy to move about and the size is great for storing under your desk or in the trunk of your car. You can see me use this spray booth in this airbrush guide.
The interior of the booth is 16.5″ x 19″x 13.5″ (width x depth x height) with durable translucent plastic walls. This is a really good space for most tabletop hobby work. For the Games Workshop/Citadel crowd, this will allow you to fit almost any model in the Warhammer 40k or Age of Sigmar range. Additionally, you can use this spray booth to airbrush and customize RC car body shells, scale models, e.g., trains, buildings, vehicles, and wargame models.
Subassembly painting will be helpful if you want to use this to spray booth to airbrush larger models. With the included flat pancake shaped turn table, this spray booth can handle almost all the needs of miniature hobbyists and scale modelers.
You can operate this spray booth as either a ventless system, or a vented system with the detachable hose. Impressively, the system is relatively quiet (~47 decibels). This kit comes with 2x extra fiberglass filters. Replacement filters are inexpensive and easy to find online.
---
The Master Airbrush Dual Units Portable Hobby Craft Spray Booth is about $250-270. Do you need more space to work? Are you making cosplay equipment and accessories? The Master Dual Unit Spray Booth may just be what you're looking for. It has a voluminous interior (inches: 33 wide x 19 deep x 13.5 high).
As with the Master Portable Spray Booth (shown in #4), this is a ready-to-use spray booth with some minor assembly. The dual spray booth setup is portable, folding down into two suitcases with carry handles. Because of the modular design, you can setup one or both spray booths (your choice).
Note, however, that the two spray booths don't connect seamlessly. There will be a gap between the two modules (as shown in the image below). Each module of this spray booth system has an independent fan system that extracts air at 4 cubic meters per minute.
Note that this spray booth system does not come with interior lighting. The semi-clear plastic spray hood will allow plenty of ambient lighting into the interior. But, if you want more lights, you'll have to supplement with optional lamp or lighting accessories.
Other accessories included in this spray booth kit are 2x turntables and 2x detachable, flexible tubing for exhausting filtered air. Overall, if you're looking for more space or a doubling of your spray booth work area, the Master Airbrush Dual Unit Spray Booth will provide you with that expanded capability.
---
Notable Features
Interior size: 22" x 20″ x 16"
Air extraction rate: 8 Cubic meters/minute
Filter system: Two stage replaceable carbon filter with exhaust hook up
Noise register: Moderate (47 decibels)
Lighting: None
The Paasche HSSB-22-16 Hobby Spray Booth is the enthusiast's spray booth (approximately $350-400). This is the medium size spray booth (22″ width) in the Paasche line of all-metal constructed spray booths. There is also a similar spray booth with a larger 30″ width.
The all-metal construction is a major strength for this spray booth for two reasons. First, the stainless steel metal is much easier to clean than plastic. Paint will build up easily on plastic spray booths. With metal, you can use stronger cleaning methods, e.g., soaps, detergents, scrubs, without damaging the interior surfaces. Second, the galvanized metal spray booth will resist rust and will be more durable that plastic constructed booths. You can expect this booth to last a very long time.
If you're a professional commission painter and have a lot of ongoing projects, then you'll find this spray booth is made for you. The spray booth is designed for a dedicated working space and will not fold-up for storage or portability like other spray booths. Set up the Paasche spray booth and get to work!
The interior of the spray booth is huge compared to other hobby spray booths. 22″W x 20″D x 16″H. It is much taller than other portable tabletop spray booths. You could almost fit an entire warlord Forgeworld titan inside (maybe sideways).
This is the perfect in-home hobby spray paint booth. The airflow extractopm rate is powerful. At 270 cubic feet per minute (or close to 8 cubic meters/min), this will easily remove paint particles from most heavy-duty airbrush spraying work.
Despite the powerful fan system, the spray booth operates without much noise (approximately 47 decibels; a human conversation is around 60). A duct adapter will allow you to hook up a 4″standard sized laundry dryer vent tube to exhaust filtered air. This spray booth is not intended for use with hazardous materials, flammable or explosive chemicals (try to avoid using aerosol spray cans here).
Although this spray booth does not include interior lighting or other spraying accessories, i.e., turntable, clip holders, etc., you'll easily fit any of these optional tools here (more about this below). The spray booth includes dual paint and carbon filters that will extract both fumes and odors from your spray work. This is the perfect setup for the professional or enthusiast who wants a dedicated spray booth.
---
The HomeRight C900146 Air Flow Spray Shelter is priced at $37. However, don't let this low price distract you. The Air Flow Spray Shelter isn't actually a "spray booth". It is only a flexible fabric shell that you'll need to add an optional fan and furnace filter, if you want active filter/venting.
As it is, the spray shelter is a step-up from using a bare cardboard box to shield your work area from overspray. The Air Flow spray shelter comes in 3 sizes: small, medium, and large. For the tabletop miniature hobbyist, the small size is plenty (35″W x 30″D x 39″H).
By adding the optional fan and filter, the spray shelter will work with most water-based applications, e.g., acrylic spraying, and even wood sanding to keep saw dust from going everywhere. Note the spray booth is not recommended with the fan when spraying flammable paints or materials.
The Air Flow Spray Shelter is very portable and lightweight. It will fold-down into a small flat package, and pop-up quickly when needed. You can place the shelter on a countertop or on the floor. Take it outside, too.If you're looking for a quick, compact system for protecting your surrounding area from airbrush or other spray applications, the spray shelter is a versatile, inexpensive option.
---
Lighting Accessories for Spray Booths?
Other Useful Accessories for Your Airbrush Spray Booth
Turntables
---
Summary Table: 10 Spray Booths for Painting Miniatures and Models
---
Tangible Day on YouTube (Miniatures and More!)