Are you wondering where tabletop wargames originated? As with many gamers, I love history and knowing what came before me so I can understand the current state and context of tabletop gaming. So, I did some digging to find out where this amazing pastime comes from!
I can tell you upfront that the wargaming hobby is much older, deeper, and more important to human history than you may have first thought!
---
The Ancient History of Miniature Wargames
Tabletop gaming has been around for a long time, with the first recorded occurrence being an Egyptian game called Senet. This board game featured 30 squares and 10 playable pieces. It's thought that the game was utilized as a means to keep people occupied while also having significant spiritual meanings.
In ancient Greece, a game called Petteia was played using small pieces that represented soldiers and phalanxes. This game was also believed to have been used for strategic planning as well as teaching important military tactics.
With the rise of the Roman Empire came the popularity of games like Latrunculi, Ludus Duodecim Scriptorum, and Tabula. While these games were similar to Petteia in that they involved strategic planning, they differed in the fact that they were much more complex, with many more rules and pieces.
---
Chess History: Not so Black and White
Over the centuries, new games and variations on existing ones continued to emerge, with one of the most notable being Chess. Of course, chess is just one of the most well-known and popular games in history.
This game was developed in northern India in the 6th century AD, and it was originally played as a two-player game with each player controlling 16 pieces. It has been played since at least the 16th century, although its rules have changed little over time.
The game of chess quickly spread throughout the world, and it remains popular to this day. It's even thought to have influenced other games, such as Shogi in Japan and Janggi in Korea.
RELATED: IS CHESS A GATEWAY DRUG TO MINIATURE GAMING?
---
A Teaching Tool or Hobby?
With the rise of the British Empire came a renewed interest in miniature wargaming. In the 19th century, British soldiers and officers began playing war games to help recreate battles and learn strategies, with many of them keeping their interest in the hobby even after they had left the military.
It is around this time in the 19th century that the modern tabletop wargame is generally understood to have originated. At this time, in Germany, there was a growing need for an organized and efficient military. As a result of the Prussian victory over Denmark, Bavaria had become a protectorate of the Kingdom of Prussia.
Military training became increasingly important to the king as he sought to enhance his country's military potential and expand its influence on European events. This is when Prussian military officer Georg von Reiswitz created a detailed set of rules and guidelines for his own personal use as a way to train his soldiers on battlefield maneuvers.
Noted here for clarity that the varied ways we define our terms regarding the identity of wargaming, it is nearly impossible to determine the "firsts" of anything. Thus, while Georg von Reiswitz may have been the first to establish a set of concrete rules for wargaming, there were undoubtedly others who played and engaged in similar "games" without such formal structure and yet resembled the modern wargaming genre.
In any case, what's essential is that tabletop wargaming as we know it today has a long and illustrious history that extends across centuries and civilizations. With that in mind, let's delve move onto the more recent history of tabletop gaming!
---
The Early-Modern History of Wargaming
Tabletop wargaming is a pastime that has its roots in antiquity, when armies would fight on real-life battlefields. However, it was only in the early 20th century that tabletop wargaming as we know it began to develop, such as historical miniatures war games like Carnage and Glory II (see showcase) or Warmachine/Hordes, one of my all-time favorite tactical tabletop games.
In the early days, tabletop wargaming was mostly a solo pastime, with players using small figures to replicate battles and playing them out visually and tangibly in order to enact and comprehend the tactical subtleties of battle. These early war games were used as training tools by professional militaries, and the hobbyist intrigued by the tactical mind games that could be played out on the table top.
It wasn't until after World War II that tabletop wargaming began to take on the more social aspects that we see today. In 1913, a British doctor named H.G. Wells wrote a set of rules for a Napoleonic-era miniatures game called "Little Wars". This set of rules included movement points and was designed to simulate the realities of battle in an entertaining, engaging way. It would be played on a full floor of the room and was probably the first miniature wargame with 3D scenery and models that looked similar to their representation of infantry.
"Little Wars" is widely considered to be the first time that a game was designed with mass appeal, setting the stage for countless other iterations and developments in wargaming that would follow.
Here, you can read more about the history of Little Wars and wargaming.
As with many other pastimes and hobbies, the boundaries of games like these were refined and customized by enthusiasts who were frequently members of clubs or organizations such as the Model Soldier Society in England. As individuals are drawn to people with similar interests, such gatherings develop, expand, and diversify.
Fast forward to World War II, tabletop wargaming became more popular and widespread among the general public as a method to connect with military history. The development of plastics and other materials during the war made it possible for people to purchase pre-painted and ready-to-use miniatures, which in turn made tabletop wargaming more accessible than ever before.
---
The Modern Wargaming Age is Defined by Diversity
In our contemporary era, we continue to witness a vibrant and flourishing community that is constantly evolving and enhancing the medium.
Some have gone a step further in their passion for history by writing complicated historical rules….or games with rules designed for a more general audience who are interested in the aesthetic and nostalgia of those eras.
To reiterate the point; one of the most interesting developments in the modern age of tabletop wargaming is that it has, in recent years, become more diverse and accessible to a wider audience.
For example, there are now many "historical" games designed for children or casual gamers who have an interest in the aesthetic and visual appeal of various historical periods but without the desire to engage in the more detailed and complicated rulesets of traditional wargaming.
RELATED: WHAT DOES WARGAMING IN THE GRIMDARK UNIVERSE LOOK LIKE?
Wargaming involving multiple players didn't appear to really take off until the 1960s, and by the 1970s tabletop wargaming publications and clubs began to proliferate. For example, "Strategy & Tactics" was first published in 1966 and is still being published today.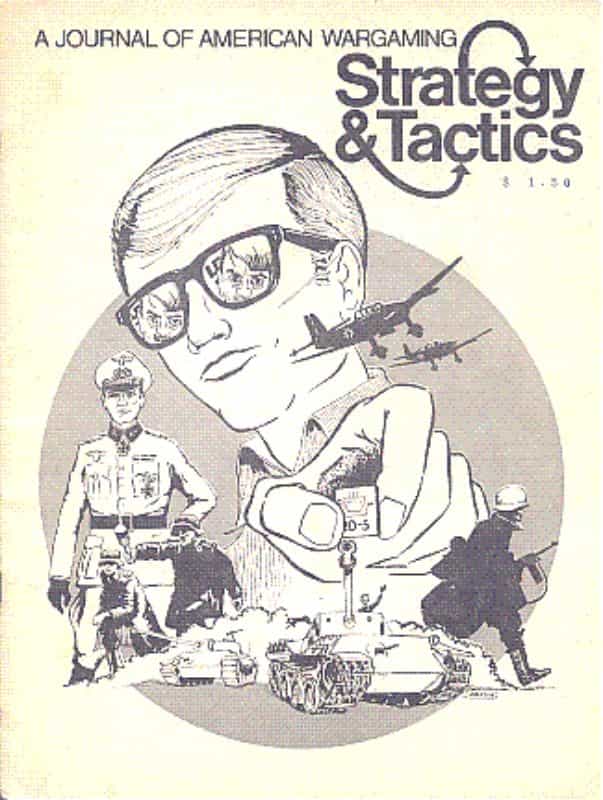 Interestingly, the miniatures used in these war games were originally made of lead and other "soft" metals. They were produced with time-tested methods of manual casting, but these were far from perfect and were painted using volatile enamel-based paints (e.g., acrylic hobby paints didn't exist as we know them today).
The late 1970s and early 1980s saw the release of some very popular wargaming and tabletop titles, such as "Dungeons & Dragons" and "Warhammer Fantasy Battle", which would go on to have a profound impact on the hobby gaming community.
Today, we see a wide range of miniatures produced in a variety of miniature scales.
It's fascinating to see how tabletop wargaming has developed and changed over the years, evolving from a niche hobby to a widely popular pastime enjoyed by people of all ages, of all cultures, around the world.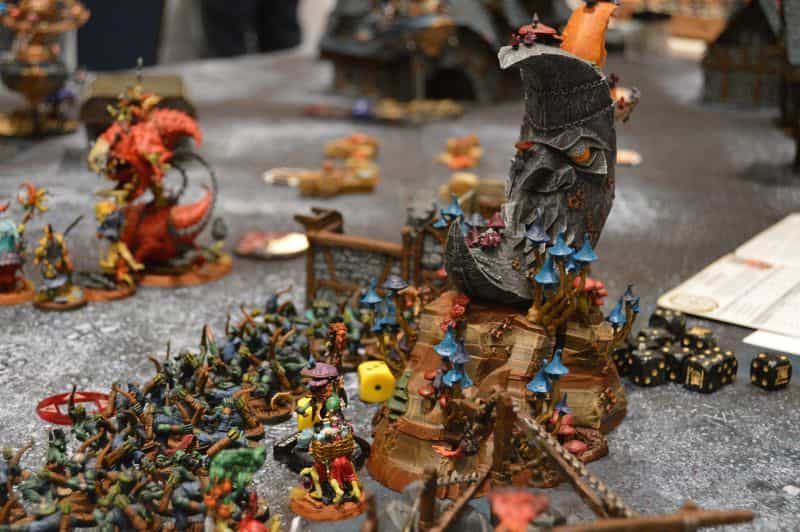 The best example, of course, of a diversifying wargaming culture are the games associated with the science-fiction and fantasy genres, such as Warhammer 40,000 or Age of Sigmar, which has managed to draw in millions of players with its elaborate and sometimes flamboyant miniatures.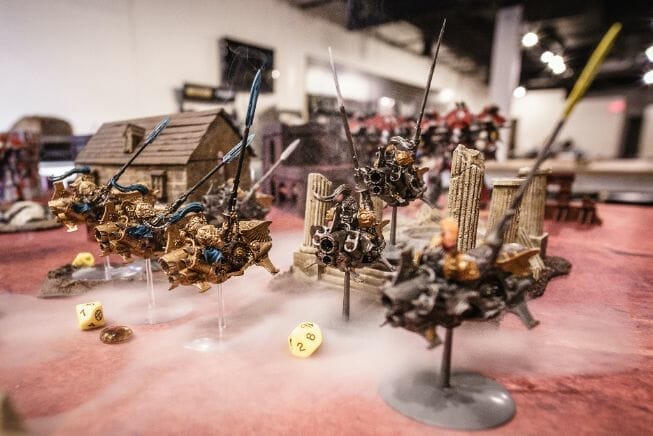 ---
The Rise (and Rise) of Warhammer
Let's dive a bit deeper. One of the most notable developments to come out of the rise of the "grimdark" era of wargaming is no doubt Warhammer 40,000.
This tabletop game was first introduced in 1987, and quickly became a sensation, spawning numerous spin-offs, sequels, and video games.
Certainly, both the Warhammer IP along with the explosive popularity of the Dungeons and Dragons (D&D or DND) role playing game led to the golden age of popularized tabletop wargaming in the 1980s.
The concept behind Warhammer 40k (and its earlier counterpart Warhammer Fantasy Battles) is simple: two armies, often of wildly different composition, do battle on a tabletop battlefield. The game is played with miniatures that represent the various troops, tanks, and other vehicles involved in the battle.
Players take turns moving their pieces around the board and attacking their opponents' forces. The goal is to either completely destroy the enemy army or capture victory points through achieving pre-determined (or random) objectives during game play. Once a player reaches a threshold number of victory points (or VPs), they are declared the victor.
Although relatively straightforward in its mechanics, Warhammer 40,000 is an incredibly complex game. The rules for gameplay are written out in a series of dense, intimidating manuals that can be overwhelming to newcomers.
Despite its somewhat intimidating ruleset, Warhammer 40,000 has managed to remain one of the most popular wargames in the world due to the depth of its lore (aka fluff, or background stories).
---
So, Why is the Popularity of Tabletop Wargaming Growing?
It's no secret that the popularity of tabletop wargaming has been on the rise in recent years. In fact, the hobby has seen a resurgence in popularity that can be attributed to several factors, including:
The growth of online communities and resources dedicated to wargaming (such as Warhammer 40K Wiki)
The rise in popularity of video games featuring fantasy and science-fiction themes, such as the wildly popular multiplayer online battle arena (MOBA) game "League of Legends"
The release of successful Hollywood blockbusters based on popular science-fiction and fantasy franchises, such as "The Lord of the Rings" trilogy, "The Hobbit" trilogy, and the "Star Wars" saga
The popularity of television shows with fantasy and science-fiction themes, such as "Game of Thrones", "The Walking Dead", and "Stranger Things"
The increased accessibility of wargaming due to the proliferation of 3D printing technology, which has made it easier and cheaper for hobbyists to create their own miniatures. (But, is it legal?)
The growing popularity of "casual" wargaming, which is seen as a less intense and more social alternative to traditional competitive gameplay.
The rise of "competitive" wargaming, which has seen a resurgence in popularity due to the increasing prize pools offered by competitive tournaments.
A growing number of tabletop wargaming and RPG conventions and events around the world, including GenCon, AdeptiCon, ReaperCon, and Dragonmeet (yes, I'm missing a ton of these conventions…let me know with a comment below!)
Indeed, the popularity of tabletop wargaming is on the rise and shows no sign of slowing down. As the popularity of tabletop wargaming continues to grow, we can expect to see even more innovative and exciting developments in the world of wargaming. It's an exciting time to be a fan of miniatures gaming and I, for one, can't wait to see what the future holds!
---
Conclusion
The history of tabletop wargaming is long and complicated, with a timeline that stretches back thousands of years. The hobby has undergone a number of major changes and developments over the years, with new technologies and innovations constantly reshaping the way we play.
Tabletop wargaming is an incredibly complex and diverse hobby, with something to offer everyone. Whether you're interested in the competitive aspects of the game, the social aspects, the creative aspects, or simply the act of blowing stuff up, there's a place for you in the world of wargaming.
So, what are you waiting for? Grab some dice, grab some friends, and jump into the wonderful world of tabletop wargaming!
Happy (war)gaming!
Did you enjoy this article? Let me know with a comment below!
Tangible Day on YouTube (Miniatures and More!)