Are you looking for a software-managed, accessible historical miniature wargame? Carnage and Glory II (C&G) is a historical tabletop wargaming system that allows you to engage in simulated armed conflict during the European gunpowder era (early-1600's to late-1800's). Carnage & Glory II is unique among other tabletop wargames in that it is computer-mediated with strong attention to historical accuracy. Software-driven details emerge in real-time during gameplay, simulating the effects of weather on every facet of the game, including projectile ballistics, the challenge of traversing mud-soaked terrain, and the decay of human morale.
In this article, Tim Drummond, a tabletop gamer and hobbyist, shares his experience and passion for historical wargaming in Carnage & Glory II. For this article, he captured all of these photos during an epic gameplay session in his basement.
Read on to learn more about this fascinating historical wargaming niche!
---
Introduction
My name is Tim, and I'm going to take you on a little stroll into the world of historical wargaming using the Carnage and Glory II (C&G) system.  Now, in the interest of full disclosure, you should know I count the system's creator, Nigel Marsh, as a close personal friend. 
So, please don't think of this as a totally objective evaluation, it really is just meant to be an introduction to genre, and to this system in particular. A system and genre that I thoroughly enjoy.
What is Carnage & Glory II?
Carnage and Glory II (or C&G) covers armed conflict of the European gunpowder era, with 6 separate rule sets spanning the early 1600's (Pike and shot) until the late 1800's (American Civil War, and the Wars of von Moltke). C&G also has a medieval gaming system in-development, and a longer campaign system that looks at the big picture over multiple gaming sessions.
C&G is unique among many other types of tabletop historical wargaming for two reasons:
C&G uses a computer mediated system for simulating almost all aspects of battlefield conditions, including weather, projectile physics, combat resolution, morale, and much, much more
The C&G game design also relies heavily on real historical data and thus retains a high degree of historical accuracy
---
Wait, What is a Computer Mediated Tabletop Game?
Let's talk about what that a computer mediated miniature wargame looks like!
As with any other tabletop game, you have terrain, army lists ("order of battle" or OOBs), and miniature figures that move around the table (which behave according to the rules of their capabilities).
What the computer does is roll the dice and track statistics for you. In the case of C&G, the main things the software tracks are casualty rates–whether they be from enemy fire, or men skulking to the rear (those cowards!)–ammunition levels, moral and fatigue.
Software for C&G also calculates the effects of weather (I guess muskets don't fire that well in heavy rain!), and how a stone wall might protect a unit from enemy cannon. The C&G software system is robust, simulating countless other nuances of the battle field.
Bookkeeping is kept to a minimum! No tracking stats on little cards. No rolling buckets of dice and counting the number of hits with 5's and 6's. The computer does all the combat resolution for you. The effect is lovely.
You end up feeling less like an accountant, and more like a general commanding an army.
---
What Does Carnage & Glory II "Feel" Like to Play?
Amazing. But, let's give you some more details.
What does the game look like in practice? Well pretty simple. Units have an identifier number, typically printed, cut out and adhered to the one of the stands (see picture).
Here's what happens during your turn. If you want to do something other than basic movement with your fighting unit on your turn, you tell one of the players (or game master) what it is you're doing. Your action is typed into the computer, which gives you a response about what happens (using a "behind the curtain" algorithm).
The results are presented to you on the screen, and the software tracks the progress of the game in real time. All you need to do is move the physical miniatures on the battlefield, as instructed by the C&G software. For example, this may require you to remove a model from the table, or move it a different place on the battlefield.
As an illustration, let's say you want model unit #103 to shoot at unit #507. You know the range to target is 75 paces, and has cover behind an obstacle. Your firing unit has moved (and thus has a penalty). If this was another wargame, you may have to look at spreadsheets or printed tables. But, not so with C&G!
In a few short seconds, you can get a result of that combat decision, simply by pressing a few buttons on the computer with the above information. The game is fast to play and efficient, because you don't need to write down anything with pen and paper. There are no hard copy tables or spreadsheets to flip through. I cannot understate how cool a computer driven wargame like this is!
Sure, like other tabletop games, I'd say a little extra prep is required to set up (e.g., numbering your units, building an army list in the computer system). But, all of these upfront time sinks aren't an issue with all the time you save just playing the game. Again, there is zero book keeping. Just play!
---
The Historical Accuracy of Carnage & Glory II, a Miniature Tabletop Wargame
So, let's talk big picture.
Games are always imperfect representations of what they attempt to portray. There are tradeoffs between balance and gameplay, and history or lore.
Even in fictional games like Warhammer 40k, the lore of what a Space Marine Terminator is like in the books may differ from how they behave on the tabletop. There is a compromise in making sure a represented unit isn't overpowered and plays well during gameplay.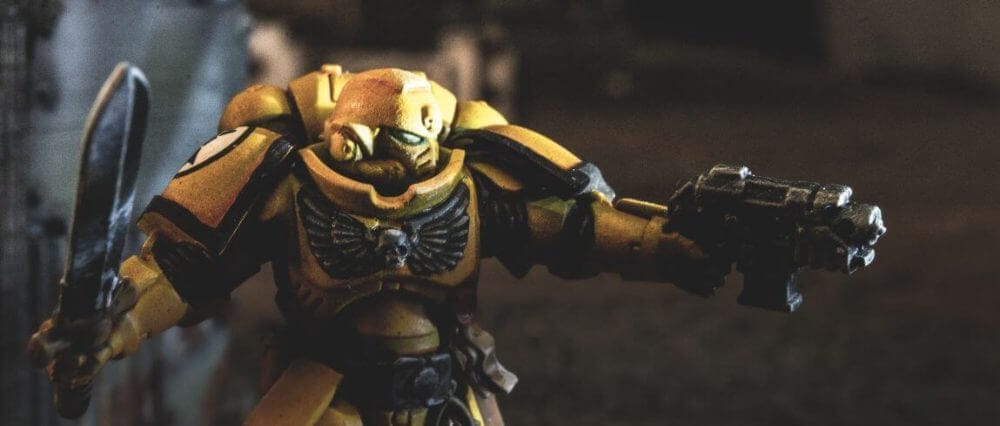 Compromises are also made for other considerations, like making sure games aren't overly complicated. Well designed games should be accessible to target audiences, or playable within certain time frames.
C&G is notable for its high degree of historical accuracy. This is for a couple reasons: First, the computer can track far more variables than would be practical for a non-computer mediated system. Second, the philosophy of the game is not about making a "balanced" army. Instead, it's about representing what has already happened in real history.
C&G embraces asymmetrical conflict, which is one of the game's defining characteristics and what makes this miniature wargame so enjoyable. Although most games are fictional homebrew pitched battles, C&G shines best if you take the "Orders of Battle" from a historically famous scenario. For example, you can choose to reenact the Battle of Borodino during the Napoleonic Era.
If you decide to play these C&G programmed scenarios, then you'll discover through gameplay how and why these battles resolved the way they did in history. To play, you'll create historically accurate army lists and setup on a tabletop with accurately laid out terrain features. Following the tactics of battle, you will likely see a very similar result emerge from your play session to what actually happened in history.
Here's the kicker: It's a blast trying to outdo famous generals of old, winning where they failed! Where did these leaders blunder? Will you make the same mistakes? Alternatively, you may learn that these generals really did lose in the best way possible. They made all the right choices, but still ended their day with a close defeat.
C&G is a game played by history professors that teach at prestigious military academies. It is also the preferred historical wargame played by authors of military history books, and by active and former military officers. C&G is played as a demonstration on military bases, as a teaching tool. Ultimately, this is a highly-respected game by people that study and know about warfare.
---
Gameplay Nuts & Bolts: The Human Elements of C&G II
So what's it like to play…Well, it makes you feel like you're a battlefield general.
Units don't always listen to you. A sudden change in weather may ruin your well laid plans. One of your subordinates could offer a rousing speech that inspires their men. Or, they could get drunk and demoralize them.
All soldiers in the game exhibit human limitations. They have morale that often shatters under extreme battle conditions. Your soldiers will experience fatigue, and you'll need to manage their ability to fight under poor weather conditions.
The great thing about C&G in this regard is that the computer tracks all of these issues for you. You outsource the effort and obtain realism.
To emphasize this point about C&G, the game system offers a high degree of battlefield complexity without burdening its players. Everything emerges from computer generated algorithms. All you do is play and think strategy. You can check out these after action reports.
Many tabletop wargaming systems take a "rock, paper, scissors" approach to balance, tactical engagement, and resolution. In contrast, C&G requires you to leverage the more realistic combined arms approach toward winning engagements.
Yes, Strategy! Same Surprises, But No Dice
C&G is about using maneuver and ruse to gain local superiority.
For example, you may want to use the threatening posture of your cavalry to instill fear in enemy infantry who respond by forming a compact, defensive "square"-formation. This makes your target vulnerable to subsequent artillery fire, at which point your shatter them with a follow-up infantry charge.
READ MORE: HOW TO DEFEAT A LARGER ARMY (TACTICS FOR GAMEPLAY AND LIFE)
Thus, your calvary can trigger a series of cascading events that leads to a decisive victory without doing more than simply positioning properly against an enemy unit.
In another example, you can threaten the flank of an enemy unit with cavalry to pin a large number of infantry so they can't redeploy and protect a city's center objective.
What about approaching and defeating cannon? You can't charge directly toward a cannon position. You have to be smart about rotating your units into and out of the cannon's firing arc. You need to wait for the cannon to tire, then hit the enemy artillery unit while they are exhausted and too tired to defend themselves.
Of course, even these examples oversimplify how C&G battles play out. Simple engagements like getting your infantry to form into a "square" formation isn't easy. Your newbie conscript troops may not know how to do this! While your elite veterans would do this assemble maneuver quickly in a flash.
If you command a unit with low morale to change formation inside a city, then you may lose 20 or more troops as they wander off in search of food, beer, or hide in safety. This kind of behavior was historically common whenever an officer or noncommissioned officer (NCO) wasn't nearby.
C&G is an elegant and wonderful game because it reveals realistic complexity. It challenges you to adapt your strategy with every decision you make in surprising ways. You truly feel like a general. You aren't just fighting the enemy. You're fighting to control your own troops, to manage their humanity, and deal with the natural friction that occurs on the battlefield.
Overall, if you enjoy tabletop games and have any interest in experiencing the challenge of controlling and experiencing the chaos of realistic battlefield scenarios, C&G is a must play.
---
Practical Facts of Historical Wargaming in Carnage & Glory II
Here are some practical facts about the C&G II tabletop game.
Table top units break down into 4 types:
Infantry
Cavalry
Artillery
Generals
Each unit can vary greatly in their capabilities, depending upon the era, their quality, and nation of origin.
You can play C&G at different model scales. The most common gameplay scales are with miniatures at 6mm (2 feet = 1 mile), 15mm (4 feet = 1 mile), or 28mm (8ft = 1 mile). This allows tremendous flexibility in the battle scale you're interested in playing. For example, you can recreate a smaller regimental or brigaded level conflict, or scale to a huge sized battle that includes multiple armies.
The different model scales also allow you to play within your allotted space and budget. For example, a 6mm miniature game is inexpensive, quick to assemble and paint, and a historically accurate battle will fit on a kitchen table!
You can buy miniatures like these Napoleonic figurines from a variety of vendors and aren't locked-into a single company, e.g., like Games Workshop or other hobby wargames. Check out Noble Knight Games or other places online. Here, C&G gives you space you explore your creativity within the storied boundaries of history.
---
Final Word
C&G is a blast to play. Really, that's the most important thing to know. It has a delightful degree of complexity, spans multiple eras, cultures and militaries, and is constantly updated by its creator, Nigel Marsh.
If you have an interest in playing, check out the Carnage & Glory II website, or leave a comment below and I'll get back to you!
Happy wargaming!
---
Tangible Day on YouTube (Miniatures and More!)