Lighting is a fundamental part of photography, whether you're a miniature photographer, a fashion photographer, or even a photojournalist. Using appropriate lighting techniques can mean the difference between excellent shots and boring ones. For the hobbyist photographer documenting their miniature collection, these lighting style tips can help you create a unique portfolio. Or, if you're writing battle reports, then consider how lighting styles and techniques effect your gaming photography.
In this article, I'm going to tell you how you can use different lighting to get the best shots.
---
Key Points
Lighting styles vary widely, and the more you understand them, the better your skill at capturing your best photographs
Your subject form and its composition in the photo frame will change drastically depending on the direction and quality of your lighting conditions
Artificial lighting equipment help you control light, but it is up to you to "see" what works and what doesn't
Read on to see how you can shape your miniature painting portfolio with these lighting styles and techniques!
---
Find Your Lighting Style
As a miniatures enthusiast, I always want to show off the detail on my work. Getting the lighting right is crucial to this. Here is a full explanation of the lighting styles and techniques you can use to take the best photos for your portfolio.
There are many styles of lighting in photography, each one with pros and cons.
When it comes to product photography and photographing miniatures, some techniques understandably work better than others. Every style, however, can be used to great effect—when you want to create a dramatic atmosphere, for example. You just need to know how they differ and why.
These six lighting styles are the most common, and best suited to taking the type of photographs you want in your portfolio.
Ambient light
Flat light
Broad light
Short light
Split light
Backlight
1. Ambient light
Ambient lighting refers to any light source that is not provided by the photographer—natural light from windows, for example, or indoor lighting such as tungsten lamps.
It might feel like using ambient light takes away your control to some extent, but the softness of this light source can work well when you want to avoid harsh contrast. You can experiment with the strength of ambient light too, and using thin curtains can diffuse sunlight coming through a window, or a blind may create a block of light that perfectly illuminates your product, diorama, or scene.
2. Flat light
Photographers make use of flat light when they want to shoot with minimal contrast: i.e., to lessen the contrast between light and shadow.
Flat light can be both accidental and deliberate, depending on the scene (or subject) and the preference of the photographer. It's achieved by positioning the light source in front of the subject and is also called "frontal shadowless lighting". It produces less dramatic images and is especially useful when you want to illuminate your subject evenly and avoid shadows.
In miniature photography, a flat lighting style will illuminate every minor detail of your subject.
Flat lighting can also contribute to creating even lighting, and is effective for keeping illumination soft and uniform. Sometimes, a combination of ambient and flat light provides the best result. This combination allows photographers to hone in on the tiny details with flat lighting and use the natural illumination for the background.
3. Broad light
Broad lighting requires the placing of a light source at an angle to one side of your subject. An example of broad lighting in portrait photography is when a subject's head turns slightly to one side, resulting in the illumination of the "broader" side of the face, while the side further from the camera (and light source) lies mostly in shadow.
This lighting technique is ideal for when you want to emphasize one side of your subject, and can also draw attention away from less "attractive" features. When photographing miniatures or other small objects, broad lighting can sometimes be a good choice, as it brings a little more visual depth to an image without creating too harsh a contrast between light and shadow.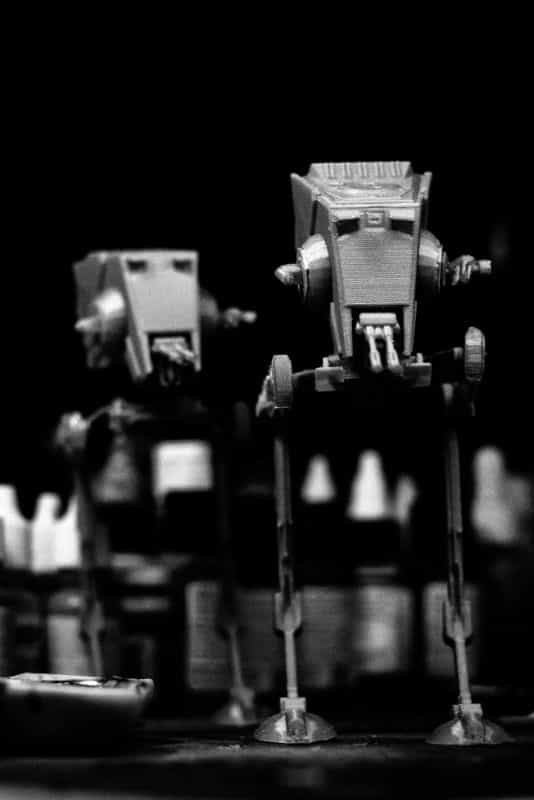 It gives inanimate objects more depth, and this brings them to life. This is useful when photographing an entire scene, especially one that features numerous facets, such as buildings, figurines and cars.
4. Short light
Short lighting is essentially the opposite of broad lighting. In this case, the shadow falls across a larger portion of the subject while the side furthest from the camera gets illuminated.
Like broad lighting, short lighting results in more dramatic images, which can again be an interesting option for photographing miniatures or other objects. Short lighting works well for creating a moody ambience and atmosphere, and for giving the impression of shooting at night. This adds an interesting dimension to your images and allows for a different perspective to the norm.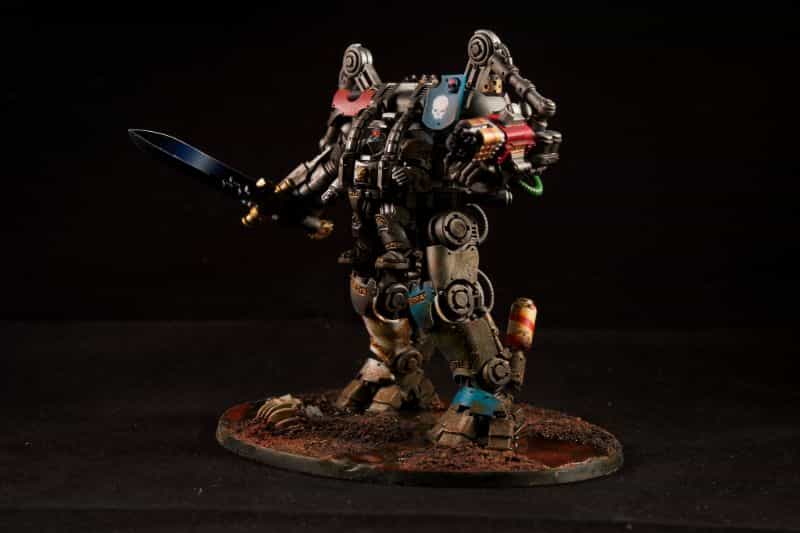 Whether or not this starker contrast is appropriate for your subject depends on the mood or feel you wish to achieve, as well as personal preference.
5. Split light
Like broad and short lighting techniques, split lighting lends itself to more dramatic photographs—avoided by many miniature and product photographers.
By placing a light source at a 90-degree angle to the subject, you can achieve a half/half split between light and shadow. This is often used in portraits when a photographer wants to create a striking image with stark contrast.
If you lack a background or simply want to highlight one specific section or part of a figure, this lighting option works well, as the viewer understands the intent, and doesn't feel like anything is missing. Sometimes, high drama works well, but again, it's down to personal preference.
6. Backlight
Backlight is exactly what it sounds like. The subject is lit up from a light source placed directly behind it. This isn't often used for product photography, as it creates a silhouette—hiding all the details of an object.
For miniatures this defeats the point somewhat, but it does have its place. For example, if you are photographing a scene with a skyline, or a model with unfinished figurines posed in an action sequence, it works well.
---
Use Lighting Techniques
There are many techniques used by photographers to achieve the ideal lighting conditions for each shoot. A wide range of equipment helps you to create the desired effects, including continuous lighting, strobe lights, softboxes, ring lights, reflectors, diffusers and lightboxes. 
Each piece of gear can be used in a number of ways to illuminate a subject. A few examples are:
Ring lights
Ring lights have become hugely popular with everyone from portrait photographers to influencers and tattoo artists as they provide amazing interference-free close-up illumination. This makes them ideal for miniatures and product photography.
A ring light consists of a circular fluorescent bulb, or a ring of smaller LED lights joined together. It provides a steady light that illuminates most of the subject from the front. While it can result in quite a bright, harsh light, it's easy to place it further away to achieve a softer light. Ring lights eliminate glare and make colors stand out too, so they tick all the right boxes.
Lightboxes
Photographing miniatures is made easy with the help of a small lightbox—a box with translucent white sides and a uniform white background. By placing an object in the box, you can get a detailed image with even lighting.
You can position the lights above, in front of, or to the side of the object to highlight the desired details.
The only downside of a lightbox is that you're limited in size, so larger dioramas and other products may not fit. But of course, there's nothing stopping you from making bigger lightboxes when you need them.
Continuous vs strobe lights
Continuous lighting refers to lights that are either on or off. When they are on they provide constant light, while strobe lights are essentially "flash" lights that emit extremely bright light for a millisecond.
Photographing inanimate objects doesn't require a fast shutter speed, which usually makes continuous lighting a better choice. Using a strobe light is perfect for freezing motion but results in a harsher contrast, which can almost erase parts of a subject through deep shadows.
Diffusers
Diffusers are extremely helpful for product and miniature photography as they disperse light more evenly, creating a softer feel with less contrast between light and shadow.
There are many types of diffusers, from DIY options to high-end gear for professionals. To achieve softer illumination, a diffuser filters light before it hits the subject, or acts as a surface where light bounces.
Conclusion: Practice and Experiment
Mastering all the different types of lighting takes practice. Much of the time, the best way to learn is to experiment. If you're building an online portfolio, you can regularly update your images as your shots improve. In time, you'll find the techniques that work for you, and your photos will show this.
Here are some examples of my images in my miniature photography portfolio (which I'm constantly updating).
Good lighting is the difference between an amazing photo and a mediocre one, but you have to go through the process before you master the art. No one gets it right the first time. Shooting miniatures and inanimate objects requires a specific skill set, but in time, you'll capture exactly what you see in your mind's eye with your lens.
All you need to do is get started!
Tangible Day on YouTube (Miniatures and More!)