Should I start playing Warhammer 40,000? Is Warhammer 40k worth the hobby expense and time? The popularity of Warhammer 40k runs decades deep into gaming history. Although some love Warhammer 40k, there are others who think it's a bad game. Warhammer 40k is a tabletop miniature wargame that pits various human and xenomorph (alien) factions against one another in a science fictional Universe of never-ending warfare.
In this article, Matt Locker, a talented musician and Warhammer 40k enthusiast, shares his unique perspective about why he has invested into the Warhammer 40k tabletop gaming hobby.
Summary: 5 Reasons Why You Should Play Warhammer 40k
Warhammer 40k is a massive gaming hobby from Games Workshop, comprising multiple hobbies under a single umbrella, e.g., books, lore, modeling, kit bashing, and miniature painting
The social aspect of hobby tabletop wargaming, that is Warhammer 40k, brings people together who would never have met in any other situation
The Warhammer 40k hobby and game is an avenue to obtain the deep human need for discovery, achievement, and personal acclaim
Warhammer 40k is a fundamentally deep creative experience
It's damn fun
Whether it's 1st, 2nd, 3rd, 9th or 10th edition Warhammer 40k, it's a game that has lasted for decades and the hobby will continue on for many more! Continue reading to see why we love this hobby wargame and the reasons you should play Warhammer 40k!
---
In the Beginning…Plastic
Why do I play 40k?
There I was, six hours into my stay at an overcrowded and dingy game store, slowly asphyxiating on the stench of my fellow gamers' unwashed bodies and deodorant-less armpits, staring down the barrel of a thousand dollars ($$$) spent on plastic, and countless hours spent assembling and painting that plastic to get me there.
What was I doing here, contemplating the plastic? Why was I playing 40k?
RELATED: NEED MORE WARHAMMER? CHECK OUT THESE AUDIOBOOKS!
---
What is Warhammer 40k?
Games Workshop's Warhammer 40k is, at its essence, a tabletop game comprised of armies of usually plastic miniatures that you buy, assemble, paint, and rally to do battle in the simulated warzones of the 41st millennium.
It is however, in reality, so much more than that, more than a wargame. Warhammer 40k comprises multiple hobbies under its umbrella. 40k is massive. If you thought that World of Warcraft, Star Wars, or virtually any other Sci-fi or fantasy universes were big, addictive, or could eat your life, then be forewarned.
There is so much to the Warhammer 40k hobby:
Playing the actual tabletop game is amazing, but let's also not forget to mention the dizzying array of spin off mobile, computer, and console games, too!
---
A Grimdark Road to Warhammer 40k
The road that brought me to that first full day tournament at a FLGS (or Friendly Local Game Store) was a long one. But, this road was paved a few months before with interesting turn of events, each marked by milestones only gamers like you and me can understand.
I first saw Warhammer 40k as a kid when I was probably in middle school. Some friends and I were into Magic the Gathering (i.e., MTG is a collectible card game). We had gotten wind of a local store that sold MTG, and went to check the vendor out in hopes of finding some cool new card decks we could incorporate into our collection.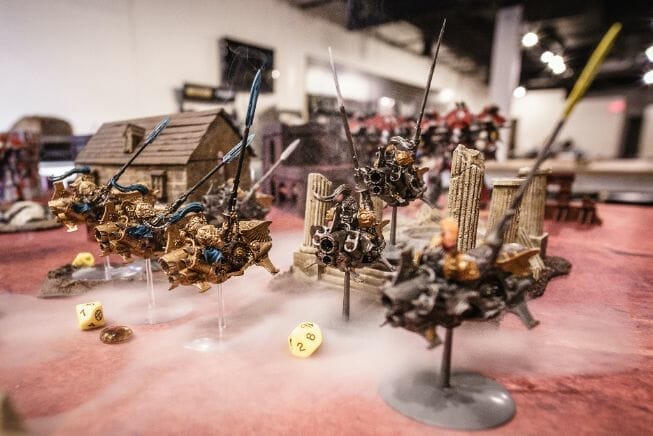 That store also happened to carry Warhammer 40k box kits. We were all mesmerized at that first sight. The displays, the art and pictures on the boxes, the miniatures and imagery in the codex books… We were kids in a candy store.
Let's Talk About the Plastic Candy
The visuals, the anticipation of imaginary conflict, invaded our boyhood minds and sparked our imagination much in the way that MTG, Star Wars, LOTR, and other infatuations of our youth had.
This was something different though. Something so much more. Warhammer 40k leaked "cool" in an intoxicating drink…We were ready to drink. The naked models (that is, unpainted miniatures) on display being turned into these fantastic armies of a horribly-fun, dark future with which we could do battle hooked us like hungry fish vying for a dangling worm.
In the sweeping campaigns of the 41st millennium, we wanted to start. It was incredible to think that the gaming seed planted in the dirt of that local store.
But, with any good drama, there is a tragedy….
---
The Warhammer 40k "Joy" is a Dish Best Served Cold: Especially, for Kids
We didn't know anything about assembling the models or how to paint miniatures. We knew even less about the lore or the history of the game. Oh boy, and we knew nothing about how to play the game. The 40k Universe was as foreign to us as the responsibilities of adulthood. We would get there, of course. It was just a matter of time.
We could kind of gather that you measured distances with tape measures; rolled dice and needed a line-of-sight to create firing solutions toward our enemy objectives. How do you proxy combat in a miniature world? Sure, we had no idea how to play or the enormous complexity of the real rules.
Unfortunately, our hopes and dreams of combat in the 41st millennium were dashed when we saw the price tag…
Well, That Sucks
The game, at least for us to play the way we hoped, was way too expensive for kids. Even of our middle class, suburban family support failed to afford the means to get us off the ground. Back in the day, and even now, you need a sizeable collection of models to play out large battles on a full-sized tabletop (i.e., a standard battle space is a 4 x 6′ square surface).
We would have to be content with hanging out in the store, daydreaming, and flipping through the codex of our favorite miniature army faction.
Suffice it to say, Warhammer 40k is a hobby built for adults with childlike imaginations.
Years later, as a young adult, armed with a real salary, a decent credit score, and a good head on my shoulders, I rediscovered the enormous world of Warhammer 40k. It didn't take long for me find the tabletop gaming hobby of my youth. I jumped in headfirst.
READ MORE: SIMPLE TIPS TO MARKET YOUR HOBBY FOR CASH
---
This is my Success Story: Why I Play Warhammer 40k
There is a social aspect to why people love Warhammer 40k and why you should try it out. It can also give a sense of pride unrivaled in most games, board or video game alike. You are playing with models and miniatures that you built and painted with your own hands.
There is no pastime that can give you the sense of pride and accomplishment like a hobby wargame. The fun doesn't end with glue sticking, paint drying, or even dice rolling.
Personal and tactile, the Warhammer 40k game itself is an incredibly engaging way to spend an afternoon. It is made all the more fun in that you are playing through these epic scenarios with your figurines, custom-built and painted the way you want them to look. You are their Creator (or Destroyer, if you so wish).
The Consummate Hobby Wargame
The customization aspect of modeling in Warhammer 40k is probably the most rewarding part of the hobby that really elevates it above any other.
Modeling, kitbashing, converting miniatures to fit your vision gives you a chance to be creative and escape from the real World, while still doing something constructive. The vast array of different factions and the unlimited number of color and paint schemes that you can try make it a wholesome experience.
In the Warhammer hobby, you grow as a craftsman, an artisan, a miniature painter. You are constantly learning new things, and the hobby grows with you. For example, as you paint more, the more you want to paint. It's a beautiful thing.
---
Warhammer 40k is Your Community
The community around the hobby is amazing. Most everyone in the Warhammer 40k is supportive and loves to watch others develop as painters and players.
You can really get lost in an almost "Zen like" state for hours while you paint up your armies. It has really helped many find something to deal with not only the stress of everyday life, but in a lot of cases has even helped combat Veterans and others deal with serious PTSD (post-traumatic stress disorder).
If that wasn't enough, when you are done you get to take your miniature creations and field them in a game that is an absolute blast to play. The hobby behind the tabletop game makes you that much more invested in the actions of the little figure on the board as they work their way through the scenarios of the tabletop game.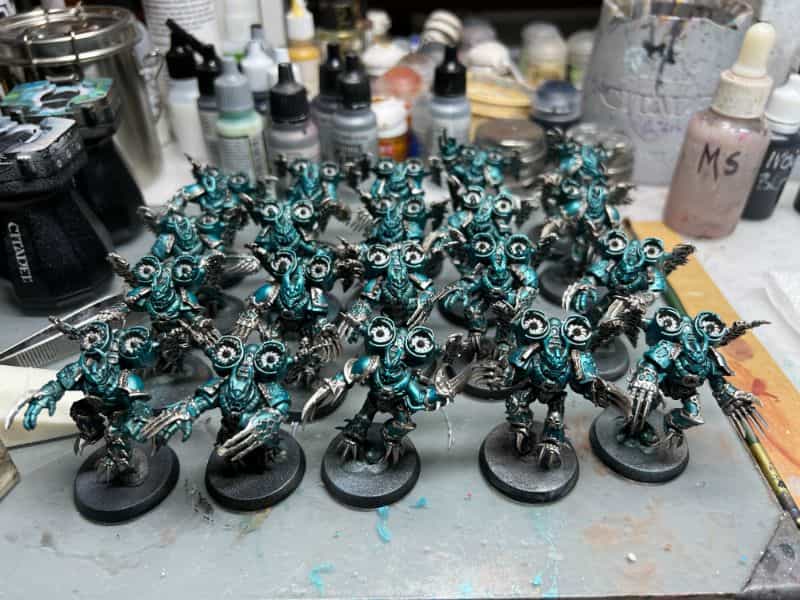 It is an in person and tactile experience that engages you in a way video games simply cannot. You can reach out and touch the battlefield in real life three-dimensions. Nothing beats the physical sensation of holding and touching sci-fi miniatures that fight on your behalf to the death….
…Only to return the battlespace time and time again.
Oh, and there are so many ways to win and lose in Warhammer 40k. Experience an legendary battle in the span of a single dice roll. There are so many opportunities to achieve immortal glory in a single weekend before dinnertime.
Boltgun Battles: From Tabletop Triumphs to Video Game Victories in the Warhammer 40k Universe
Hey, so there's one more reason that I thought of of why to dive into Warhammer 40k.
I thought of this as the recent GW video game "Warhammer 40,000: Boltgun" got released. Developed by Auroch Digital and published by Focus Entertainment, this first-person shooter transports players into the heart of the Warhammer 40,000 universe, battling against Chaos Space Marines and Chaos daemons as a Space Marine armed with the titular boltgun (source)​.
The game draws inspiration from classic first-person shooters of the 1990s, such as Doom, while incorporating modern gaming features. This blend of old and new provides an exciting and fresh way to experience the Warhammer 40,000 universe, and of course, to wield the symbolic Space Marine boltgun​​.
And, it is the Boltgun, I think that makes me think back to those early memories of the game and modeling part of the hobby. It's amazing how a boltgun, measuring approximately 35mm in miniature form, could make sure an impression.
The boltgun, with its legendary status within the game, becomes an object of personal achievement and acclaim for hobbyists, myself included. From the moment you unbox your first starter box miniature or when you digitally wield it against the Forces of Chaos, the unassuming standard issue for the Space Marine is a powerful tool that holds its own. From the barrel of an sci-fi "gun", emerges all the pleasure of escaping…well anything.
And, it's simple, really. The power of the boltgun is unique in its purpose, both visually and mechanically. It shoots things until they are dead. Its design aesthetic fits perfectly within the grimdark universe of Warhammer 40k: a short black barrel with a curved handle at the end for easy handling.
Really, Really, Simple.
Warhammer 40k, much like the famed boltgun, offers power to anyone obedient enough to wield it. Whether you're a tabletop war gamer or a video gamer, you're sure to find a home in the 40k universe. Do you dive in, guns blazing?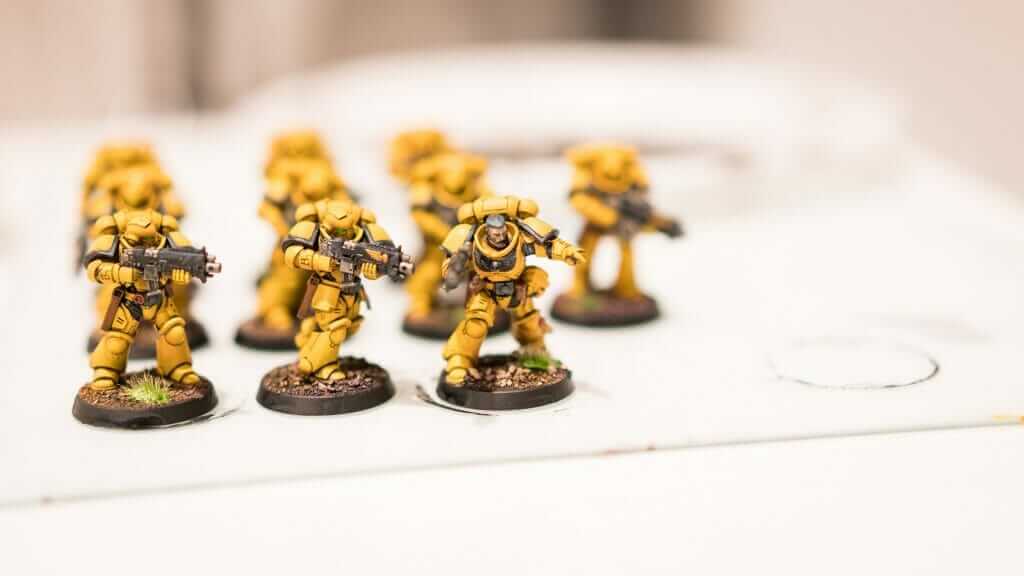 If you're excited by the thought plunging into a rich, layered universe of never-ending tabletop warfare (real or virtual), the answer is a resounding yes.
---
Final Word: Are You Ready to Begin?
The Warhammer 40k Universe is immense and well thought out. With literally a thousand books to explore, i.e., see the Black Library or Audiobooks, and days' worth of YouTube lore, you will never become bored. You will constantly learn and daydream about the World that your plastic army lives in.
To get into the all the aspects of the universe that is Warhammer 40k would fill volumes stacked to the height of Mount Everest. The Warhammer Universe is all out there for you to explore how you please. Dip a toe or dive headfirst. Free solo or go with ropes.
To say the least, I can't wait to find myself in many more, hopefully not so dingy, game shops surrounded by many more, hopefully not so sweaty, fellow hobbyists.
This game has given me so much more than a hobby or pastime. All I can advise you to do is go check out the Warhammer 40k universe. Find the faction that you think is the coolest (i.e., "the rule of cool" method is a highly respected way to start!), and grab a codex to begin your adventure.
---
About the Author (Matt Locker)
Matt Locker is a Saxophonist and Warhammer 40,000 enthusiast. He finally got into the hobby after a lifelong desire to do so with the encouragement of his wife, Sophia of Sophia's Miniatures. Matt plays Dark Angels, Tyranids, and just started a Genestealer Cult army. When not painting or list building, he can be found playing World of Warcraft or hanging out with Sophia and their two cats.
Tangible Day on YouTube (Miniatures and More!)
---