Are you trying to improve the way you take photos of your miniatures? One simple tip for taking better pictures of your models is to fix your image composition. The way you position your model in your image frame has a big influence on whether your photo looks average or awesome.
In this article, I show you how to quickly position your models in the ideal position in your camera frame to immediately create better photos. Check out my updated gallery for my miniature photography.
RELATED: 10 TIPS FOR TAKING BETTER PHOTOS OF YOUR PAINTED MINIATURES
---
Is taking photos of your painted miniatures worth it?
You've spent hours painting your miniature. Hours! Now you want to share your effort with the world. Obviously, you should take a photo. But, you hesitate because you feel you can't do your work justice.
Well, it's true that a lot of variables go into a great photograph, but the good news is that one of the biggest factors that make a powerful image doesn't rely on your equipment. Even a smartphone can take fantastic photos. Here's a comparison of smartphone photography versus a regular camera.
READ MORE: BEST HOBBY LAMPS FOR PAINTING AND PHOTOGRAPHING MINIATURES
---
What is photographic "composition"?
Composition refers to how you position your subject within the photo frame, and its juxtaposition with other elements in the photo. The way you compose your image affects what story you're telling with your model and where you want you viewer to focus their attention. For most miniature photography, you will have a minimalist composition, where the model appears by itself with a simple backdrop.
In this case, your composition is straightforward. You will only have 2 basic choices to make with an isolated, single model composition:
Center frame
Rule-of-thirds placement
For center frame compositions, you place your model dead-center in your image frame. This works well for a lot of photos for social media, because you can crop your images and adapt the image size for whatever you need. The disadvantage of this compositional strategy is that it's boring and flat. Your model will appear static, like a statue. Your viewer is less likely to "linger" around your photo.
If you use a rule-of-thirds composition for your model, e.g., placing it to the side (detailed below), you'll create a sense of movement. The subject you photograph will have "space" to move about the frame. Importantly, your viewers will engage with your image to a greater degree with a model placed with a rule-of-thirds composition.
Read on for why changing your composition is one of the easiest ways to improve your miniature photography.
---
How to improve your miniature photos through composition
In 1797, John Thomas Smith, the famous British painter, wrote down the compositional guidelines for "the rule-of-thirds" (also see this modern guide) (Figure 1). The basic idea of the rule-of-thirds is to keep the image dynamic; that is, give the viewer empty space to look around. Let the eyes wander.
A subject needs to breath.
Inhale. Exhale.
Give the subject space.
To move.
When you photograph your miniature, the easiest way to make it more interesting is to place the model toward the sides of the frame.
The problem with a center frame composition
The natural inclination for many new photographers is to center the subject. This is likely because most cameras (or smartphones) have an autofocus setup for the middle parts of the frame.
Improve your images using the rule-of-thirds
The problem is that if you take a photo of a miniature lined up in the center, then you'll get a "flat" feeling in the image (Figure 2). But, if you move your miniature to either side of the frame toward sides using the thirds as a guide, then you automatically add something else to your image (Figure 3).
In application, I've learned to incorporate the rule-of-thirds into photographing my work (Figure 4).You also don't need to do this while you're taking the photograph with your camera or smartphone. You can use the free software that comes with your computer to crop your photo like I did in Figure 4.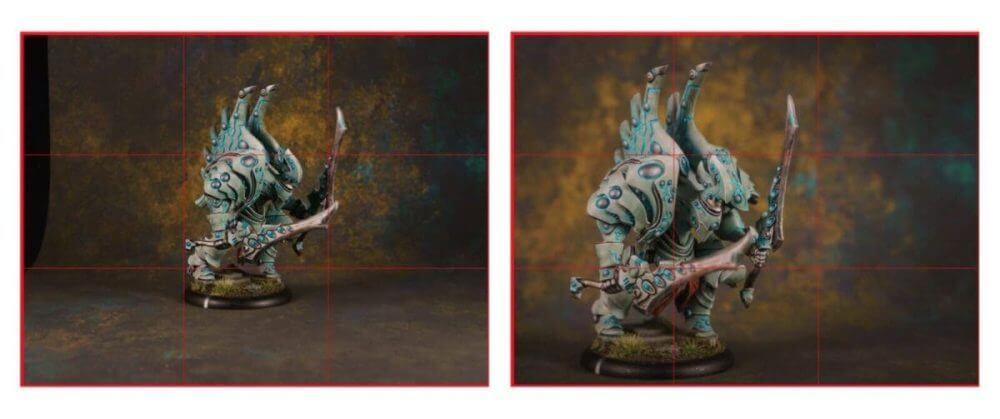 You can even zoom in on your model (i.e., fill the frame) while relocating the miniature's placement. A neat trick here is to also make sure that the model is facing the empty space. This way, the subject will feel or look like it's moving in that direction, toward the empty space.
Fun Fact: The interior design of jet fighters have dashboard layouts that follow a similar concept of providing proper visual space to maintain the pilot's focus and attention on what is important [1, 2].
Here are some examples of models I've photographed using the "rule of thirds"
---
Final Word
Photographing miniatures well takes practice. The more you take photos, the better your images will appear. Over time, taking great photos of your models will become second nature. You'll be able to see the best compositions without even taking out your camera.
After you spent all that time painting your miniatures, wouldn't it be great to take photos show off your hard work? I hope this article gave you some useful photography tips for taking your hobby to another level.
Happy painting and photography!
---