So, you're looking for the best wet palette for painting miniatures and models? Have you considered the new Everlasting Wet Palette from RedgrassGames (RGG)? A wet palette is a helpful tool for miniature painters. It keeps your acrylic paints from drying out, and it allows you to mix paints for different techniques at a leisurely pace.
In this article, I review the Redgrass Games Everlasting Wet Palette Painter 2 after using it in a variety of commissioned miniature painting projects.
Disclaimer: RGG sent me the Everlasting Wet Palette with a few accessories for this long-term review. As always, I'm free to express my opinion about any product. Here, you'll find what I loved, found awkward, or simply hated about this wet palette.
---
Summary (TL;DR): Review of the RGG Everlasting Wet Palette 2
The RGG Everlasting Wet Palette Painter V2 provides a small to medium working space for painting miniatures (Size: 16.5cm x 24 cm (6.5″ x 9.44″)). The larger Studio palette is also available for those who want more space to spread out.
The core Everlasting Wet Palette Painter 2 bundle includes:
Everlasting Wet Palette Painter v2 – Fire Red Color
15x Painter v2 Reusable Membranes
2× Painter v2 Hydration Foam – 3mm thickness
---
The Redgrass games wet palette v2 is all about its reusable membrane and sliding lock system for the dry palette and anti-spill paint pot holder (both sold seperately).
The plastic bottom tray and cover of the palette is a nice upgrade from the v1 version or painter lite, which required an elastic band to keep the palette closed. The airtight TPE seal around the cover edge fits snugly (maybe a bit too much) over the bottom palette tray. It's even water tight (or seems like it).
The included palette paper–the venerated "reusable" everlasting hydration membrane–is durable and provides multiple cycles of use before you need to replace it. The RGG palette paper does not crinkle, wrinkle, or curl as some baking paper may do when placed on your wet palette.
The semi-gloss paper surface also works well to wick water from the sponge below to keep paint consistency the same over time, and doesn't overly thin the paint. The hydration membrane is thin, flat, but holds a good amount of water.
I did find I had to refill the water tray on a regular basis even with the cover on–moisture is likely evaporating quickly when I'm painting. I did not have a problem with mold growth, but this can often rear its ugly head after a few weeks of non-stop use of the palette without cleaning.
My copy of the Everlasting wet palette included the glass palette surface. The glass palette is ideal for those of us who enjoy using other paint mediums, like oil paints, for working on our miniatures.
You can read more about oil painting miniatures in this article. The advantage of the glass palette is that it is easy to clean. Simply run soap and water over it and paint, debris will rinse off. You can use a straight edge razor to scrap any remaining dried paint off the smooth glass surface easily.
The neutral gray-colored glass palette fits perfectly into the bottom of the RGG palette tray; however, it makes so you can't use the normal wet palette hydration membrane or paper. It's an either/or situation of using the dry glass palette or wet palette function of the tray. Of course, you can use the glass palette outside the tray entirely, but you won't have the sealed cover function.
The slide-lock system is a great addition that works well to keep the palette closed during transport. I often take my wet palette with me when I'm traveling for painting events or conventions. It's nice to know the palette will stay shut even if it gets jostled around in my bag.
Overall, I'm very pleased with the Redgrass Games Everlasting Wet Palette v2. The reusable membrane and slide-lock system are great additions, and the glass palette is a nice bonus. If you're looking for a premium wet palette and have the budget for it, I would recommend this one.
If you're just getting started with wet palettes and want to try one out, I recommend the cheaper options on the market first to see if you like using a wet palette before investing in a more expensive one.
Read on for more information about wet palettes, or skip ahead to my full user review of the RGG Everlasting Wet Palette (version 2).
---
Alternatives to the RGG Everlasting Wet Palette Painter 2
---
Features to Look for in a Wet Palette for Painting Miniatures
Palette Size
Water Tight Container
Hydration Sponge or Foam (bottom layer)
Paper Palette Material (top layer)
Air Tight Cover and Seal
Mold Resistance
Cost
You can read about these wet palette features in more detail in this wet palette overview and use for miniature painters.
---
Best Wet Palettes for Miniature Painting
Here are a few of my recommended wet palettes for painting miniatures. Each have their pros and cons, and you can find my complete reviews through the links below. If you're in the market for a wet palette, or an upgrade from one you already use, check these out!
No matter your skill level with miniature painting, these palettes will help you in both preventing paints from drying out and advanced painting techniques.
See below for what I thought about using the Redgrass Games Everlasting Wet Palette in my ongoing miniature painting work. Is the palette worth the premium cost*?
*The overall price depends on the options you choose to include with the core wet palette bundle.
---
Unboxing and First Impressions
If you looked into the original everlasting wet palette that appeared first on kickstarter, it came with simple but effective packaging and branding. As with the first wet palette, I appreciated similar visuals.
And for those who wonder why care about this? Well, Redgrass games claims were ambitious with the previous palette. The core marketing promise included new hydration membranes that you could re use over and over; hence, the "Everlasting" brand.
Of course, this time around, you'll find that although this never appeared to come to full fruition, the quality of the new version of the everlasting wet palette continues to follow the same attention to detail.
Upon picking up the package, you can tell the material of the palette is dense, with a heft to it that surpasses the Masterson Sta-Wet palette. Opening the box, you'll notice the bright orange red cover.
In contrast to the original wet palette, this one does not require the elastic band to keep the cover closed. More about this below.
Included in the care package were the new wavy dry palette accessory for using liquid mediums you don't want to load onto the wet palette itself. I also had the anti-spill holder for Citadel paint pots. By the way, these accessories are purchased, separately.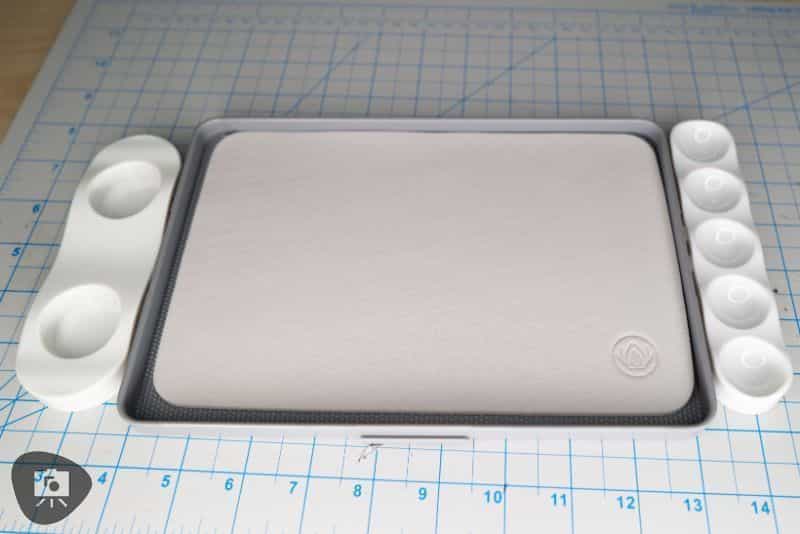 These additional accessories both lock into the side of the wet palette with a new sliding lock system. The locking system is a meaningful change from the somewhat unreliable magnetic attachment from the previous version.
Finally, inside the package was a handy tutorial booklet with the amazing work by Angel Giraldez, the former pro studio miniature painter for Corvus Belli (producer of the Infinity the Miniatures Game).
Overall, I was pleasantly surprised and impressed by the quality of the RGG Everlasting Wet Palette.
---
Look and Feel
I'm a huge fan of hobby products that look and feel good to use. I paint a lot and when I'm in my hobby space, not only does something have to work, it has to add value to my painting session.
Whether I'm painting miniatures for a simple or complex project, stuff just has to work and not frustrate.
When I picked up the Everlasting wet palette, I noticed how thin the red cover and gray tray were when sandwiched together. This is one of the thinnest wet palettes I've had my hands on (only about 1″ or 2cm tall).
Around the edge of the cover is a stiff, rigid rubber seal or gasket that locks into the bottom tray. I gathered immediately that this would be much more effective for making the container air and even watertight.
As compared with the older version and other wet palettes, such as The Army Painter Wet Palette, you don't need the elastic band for good closure of the palette lid.
Included with the main package were two sheets of hydration foam and the new paper membrane for loading your acrylic paints. The foam and new membranes came in plastic packs that felt pretty good.
---
Ergonomics of Use for Painting Miniatures
The larger size of the Everlasting Wet Palette V2 will give you more space than the RGG painter lite version, and less working palette space than, say, the Studio XL version. Of course, the latter is great for those needing a compact, portable palette for travel or working in a smaller hobby area.
On my hobby desk the V2 Everlasting Palette fit nicely where any other palette I've tested goes. The footprint is similar to The Army Painter Wet Palette or my all-purpose D'Artisan Shoppe palette.
While I'm not an advocate of all the detachable modular accessories that "stick" to the Everlasting wet palette (which was a theme in the original version), they do work and fit nicely together.
The wet palette is thin, which I love. The hydration paper and foam sit low inside the bottom tray but as a whole, it's almost as if there isn't an elevated palette at all. It felt natural mixing paint and loading my brush from the comfortable height of my desk and chair.
A notable limitation of the wet palette, or more of something that might annoy you (as it did me) is how hard it is to remove the lid of the V2 wet palette. That stiff rubber seal, while useful for keeping paint from drying out, will also make it incredibly difficult to remove the cover.
I had to pry open the lid using both hands every time I wanted to start painting. Whether or not the seal gets loose after using the palette for a while remains to be seen.
Is this wet palette the indispensable tool you're looking for? Well, I'll note right away that I could tell that there's quite a bit of competition against this palette, and a myriad of choices for us. And that's a good thing!
See below for more of my thoughts and impressions of using this ergonomically excellent palette.
---
Painting Experience with RGG Everlasting Palette
I always advocate trying to paint with a dry palette before using a wet palette. Learning how to get your paints to the right consistency takes practice to learn.
All acrylic paint behave differently on a wet palette, and that extra variable can stumble your growth and skill with paint handling.
Now, if you're here, then forget all that advice. When it comes to using a wet palette, the principles are the same. You dispense a bit of hobby paint onto the palette membrane and use that surface to mix, thin, and load your brush to paint your miniatures or models.
While a soft brush help avoid damaging the palette paper, I found that the hydration membrane for the Everlasting wet palette was very durable. This, of course, shouldn't be a surprise because as mentioned, this paper is supposed to be last a long time.
What's so special about the RGG long-lasting hydration membrane?
In contrast with other palette papers, or even baking parchment in DIY palettes, you should be able to re-use this hydration membrane over and over.
If you take a closer look at the included palette paper with the RGG palette, you'll notice that one side is semi-gloss, almost like the paper in a glossy magazine. This smooth texture in my hands felt almost water repellent, e.g., hydrophobic, while the other side was textures or matte.
And its this gloss vs matte texture on the paper that clued me into guessing how this unique paper works. While one side of the hydration sheet absorbs water or moisture; the other side repels it somewhat.
Together, you can keep paint on one side (the glossy side) from over thinning, while keeping the sheet moist throughout the working palette surface.
Anyway, that's my quick inspection of the hydration membrane.
How does hobby acrylic paint behave when using the palette?
Similar to any other wet palette I've tested, almost any paint color looks great against a white sheet. You can see the vibrancy and color value immediately against other tones with a white background.
Though as a testament to the utility of the unique palette paper, I found that my paint did not automatically thin from absorbing too much water over time. With other palettes, the hydration membrane can often overly saturate your paints and make them separate on your palette.
Suffice it to stay, my paints stayed consistent and predictable over a few days and I could come back day after day knowing that I didn't have to fuss around with paint thickness each time.
After one or two weeks, you may find that this will change as water evaporates from the bottom tray. And, in this case I'll just say that your mileage may vary (YMMV).
Because the absorbent foam was thin and flat, and the hydration paper stayed flat throughout my use. No major bubbles or wrinkles formed that disrupted my colors or workflow.
Does color bleed through the paper?
Yes, after one week I noticed that paint color seeped through the palette paper and stained the other side of the membrane as well as the foam underneath.
You don't have to worry about this, however, as colored pigment that stains does not effect your other paint colors. Also, you can probably wash most of it off the foam or the reusable membrane anyway (though most stains won't completely go away).
Mold growth?
I had no experience or observable mold or fungus growth on my palette paper or the hydration foam. Of course, I follow a few tips and tricks to prevent mold growth which you can read about in the mold-prevention guide.
Painting Scale Models and Miniatures
You can see a few examples of my use of the Everlasting wet palette for painting scale models and miniatures. These work in progress photos show you what you can do with any palette, but that the Everlasting wet palette is a great tool for painting.
In the long run, it will save you time, money, and paint. With practice, you'll be able to use it for any project and apply some pretty cool techniques that would be difficult with a regular palette.
Another Quick Word About the Reusable Membranes
Wet palettes typically come with paper sheets that are only used once and then thrown away. You'll need a new sheet every time you want to start again. However, RGG reusable membranes are just that, you can clean them off and start afresh (albeit the surface may have harmless stains).
You can reapply paint to the palette sheet and continue painting, knowing that you can scrub that paint off and start over again.
How often you can do this recycling will depend on how frequently you clean your palette. For myself, I may need a new membrane only every few weeks.
Some artists have had great success with cleaning their palette after each session, while others find that they can get away with every few days. It really is a personal preference, so experiment to see what works best for you.
To clean your palette, simply use soap and water (please do not use any harsh chemicals!). You can either use a brush or your fingers to lightly scrub the paint away until the palette sheet is clean. Once it is clean, go ahead and restart your paint layout.
RedgrassGames claims that several independent reviewers were capable of reusing these membranes more than 10x repeatedly. I know from my use that the hydration sheets will slowly deteriorate over a few cycles of cleaning, though its quality remains constant, e.g., no issues with paint behavior.
How to clean the RGG hydration membrane?
To ensure your RGG hydration membrane lasts as long as possible, it is important to clean it regularly and properly. Here are some of my tips on how to do so:
Rinse the membrane with clean tap water to remove extra paint.
Scrub the membrane with a soft brush. You can use mild soap to help remove dried paint and stains.
Avoid using harsh chemicals or detergents to clean the membrane.
Do not expose the membrane to direct sunlight for extended periods of time. This avoids discoloration of the paper, which could turn it yellow and degrade the fibers in the paper.
Store the membrane in a cool, dry place when not in use.
Following these simple tips will help keep your RGG palette membrane clean and working properly for a long time.
---
What Makes the Everlasting Wet Palette Unique?
Other than the features and painting characteristics of the RGG palette I detail above, you'll find other unique things about the RGG Everlasting Wet Palette. Some of these have backward compatibility with the older version of the palette, such as the hydration foam.
The Everlasting Wet Palette has a locking mechanism that allows you to slide-in accessories that add functionality to wet palette. Need a dry palette? Slide in the dry palette attachment. Are you someone who wants to avoid spilling your Games Workshop paint pots? Use the anti-splash pot holder attachment.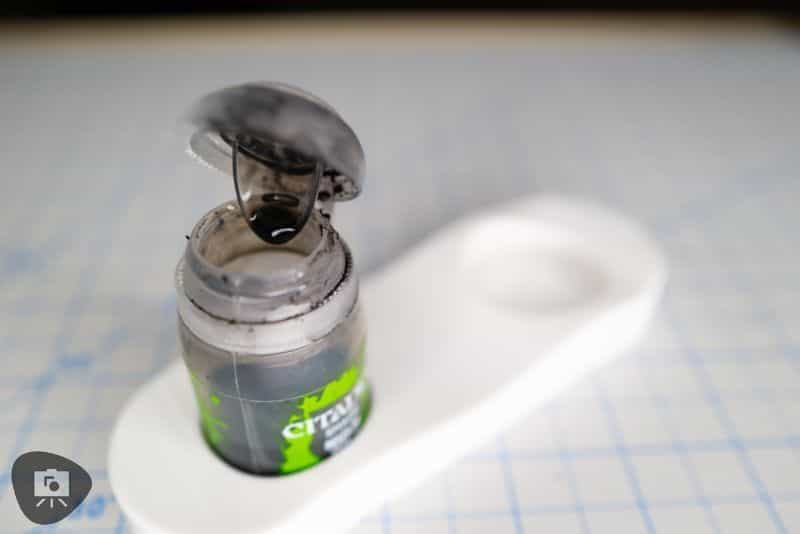 In general, these accessories add some value to your painting sessions if you find that you are prone to spilling your Citadel paints when applying wash or shade to your Warhammer models.
Of course, the round bottom dry palette is a neat addition, but I much prefer ceramic watercolor palettes for working with thinner mediums, such as ink, or metallic paints. They are much easier to clean and work with than the plastic palette materials, which tend to stick to dried paint much too easily.
The thick rubber TPE gasket that seals the top lid to the bottom tray of the Everlasting wet palette painter is fairly unique to this model. Even the original versions (any of them) of the everlasting wet palette did not have this sealing feature.
While I wasn't a fan of how tightly the lid stuck to the bottom tray, the seal does work really well. It is as airtight as you could imagine, like the lid of some quality kitchen Tupperware or the Chinese takeout soup containers.
You may even be able to turn your tray upside full of water and not have any of it leak out. Why you would want to do this defies logic, but if you're traveling, it would be possible to do so even while you have wet paint in the palette.
Taken together, the industrial design and functionality of the RGG Everlasting Wet Palette does make it stand out from the crowd. While it is pricier than most, if not all, of it's close competitors, and functions similarly, I think many of us pro or casual painters would love using this premium-looking, highly functional palette on a regular basis.
---
Slide Lock Attachment System: A Benefit and Limitation
The additional accessories (purchased separately, e.g., antispill paint holder and wavy dry palette) use a slide lock mechanism to attach to the side of the bottom tray of the Everlasting Wet Palate.
Although this is a much more secure system for locking the modules to the palette tray than the original version, it is prone to damage.
I can imagine accidentally knocking or dropping the palette tray and snapping off the sliders. They are made of a rigid ABS-type plastic, but I don't think breakage is outside the realm of possibility; especially if you travel or move around a lot with your miniature painting supplies.
Nonetheless, if you're careful and take care of your stuff, I think this won't be a problem for most of you. Just be aware that the modules will stick out from the sides of the plastic tray.
And More: A Glass Palette Insert for Oil Painting
RedgrassGames gives you an option to use a glass palette insert that fits within the bottom tray of the Everlasting Wet Palette. You'll have to remove the hydration foam and paper to use the glass palette inside the plastic tray. But the good news is that you can just use the glass insert as a standalone dry palette.
Although most of us in the miniature painting community use acrylic paints, oil painting miniatures is becoming a popular part of the hobby. Oil paints offer a unique way to paint models–you can see a few examples of my oil painted minis.
A glass palette is one of the best ways to use oil paints. Not only does the gray colored glass palette help me see my paint colors accurately, it also makes mixing and thinning my paints a pleasure. You can use a palette knife or razor to work with oil paints on the smooth glass surface.
When you're ready to clean the palette, you can use soap and water and rinse off the palette in the sink. Or you can remove most of the paint with a window scrapper, and wipe the residual paint off with a paper towel.
A Quick Note About the RGG360 Painting Handle v2
For those who don't know what these are, a painting handle is used to make it easier to hold your miniature while you are painting it. This can be helpful, especially if you are new to painting miniatures, as it can be difficult to hold the miniature steady when you don't have a good grip on it. A painting handle will also help you avoid getting paint on your hands.
The RGG360 Painting Handle v2 is a great option for those looking for a good painting handle. It is made of plastic, so it is lightweight and easy to hold. It also has a comfortable grip and an adjustable finger rest, so you can find the perfect position for your hand while you are painting.
You can rotate the paint holder top smoothly 360 degrees with a single hand/finger which gives you better access to all sides of the model as you paint it. In my use, I found it simple to use.
Although I'm not a big fan of the use of sticky putty to hold the model on the interchangeable cap, it does work.
I found the RGG360 Painting Handle v2 to be a great painting handle for those looking for an easy to use and comfortable grip while painting their miniatures. It is adjustable to fit a variety of different sized hands and fingers, and it is easy to rotate the top of the handle to get better access to all sides of the model.
For other options with different features, you can see my review of other miniature painting handles. Check out some other popular painting handles and holders that I've checked out. You can find my favorite there. Overall, if you are looking for a good handle to use while painting your models, the RGG360 Painting Handle v2 is solid option.
---
Pros and Cons of the Everlasting Wet Palette V2
Now that we've looked at some of the features of the Everlasting Wet Palette Painter 2, let's take a look at some of the pros and cons.
Pros:
The reusable hydration membrane is durable and is easy to clean (this could save you money in the long run)
The foam pad is thin, does not slide around, and holds a lot of water
The size of the palette is large enough to spread out your paint colors, but not so large that it robs you of desktop workspace.
A TPE seal around the lid creates a strong seal to prevent evaporation
You can use the glass palette insert as an oil painting palette inside or outside as a standalone dry palette
The plastic construction is durable and has a premium tactile feel when you hold the palette
You can use the sliding lock system to attach the "Wavy" dry palette (deep round-bottom wells)/brush rest, and the anti-spill paint pot holder along any length of the bottom tray
Cons:
The price is significantly more than almost all other wet palettes on the market with similar features
The lid's TPE rubber seal makes it nearly impossible to remove the lid with one hand
Accessory slide lock system is vulnerable to breakage
The "Wavy" dry palette and the anti-spill paint pot holder are not included, but must be purchased separately
---
Conclusion: Is the Redgrass Wet Palette Painter 2 Worth It?
Yes, the Redgrassgames Everlasting Wet Palette v2 is a great wet palette and is worth the price for those who can afford it. I would expect to get full use of this bundle, you'd want to buy the Wavy dry palette v2 accessory which does work well and extends the utility of the product.
If you are looking for a durable, easy to clean, and large capacity wet palette, this is a great option. The ability to use the glass insert as an oil painting palette is also a nice bonus. The only downside is that the glass palette can't be covered inside the palette along with the wet palette feature.
Alternatively, if you are looking for a wet palette with similar features but at a lower price, I would recommend the D'Artisan Shoppe WetNDri Artist Tray or The Army Painter Wet Palette.
Well, what do you think? I hope you found this review helpful. If you have any questions or comments, please feel free to leave them below. As always, thanks for reading!
Tangible Day on YouTube (Miniatures and More!)