Do your hands or fingers hurt painting miniatures? Have you accidentally touched a miniature that had wet paint? Each Citadel Paint Handle is a sturdy plastic tool with a spring-loaded clamp that holds the base of your models securely while you paint or glue them. At a price of $10-20, these miniature painting handles are inexpensive, similar to the cost of other ergonomic devices. Finally, these miniature painting handles provide a real improvement in painting and modeling comfort.
In this article, I review three Citadel Paint Handles for holding models, available from Games Workshop. Hobby supplies that make the painting process more efficient and comfortable can be game-changers for us, so I decided to review these handles and report on my findings.
Here are Three Citadel Paint Handles for painting miniatures:
The Citadel Paint Handle (Original and MK2 versions) – Great for all-around use for more comfort while painting your minis.
Citadel Paint Handle XL – For larger models that require a larger clamp.
Citadel Assembly Paint Handle – The most versatile painting handle for helping you assemble and glue small parts, or holding pieces for spray applications.
Read on below to see which Citadel miniature holder is right for you!
RELATED: MORE MODEL HANDLES AND GRIPS FOR YOUR MINIATURE PAINTING HOBBY
---
Avoid Pain and Discomfort with a Model Paint Handle
Pain is a common problem for miniature painters. This is especially true if you don't use an ergonomic painting handle to hold your models while you paint them. The odd and small shape of miniature bases make for a poor grip. Repetitive stress injury (RSI) seems to be a common thing among us painters (source).
RELATED: THE CITADEL WATER POT–IDEAL FOR BRUSH RINSING AND MORE?
Notably, a lot of the painting hobby requires doing the same motion over and over. This can lead to major discomfort, including muscle soreness, tendon and joint inflammation, and even chronic issues.
Medical problems like trigger finger, bursitis, and back & upper neck pain conditions are actually quite common for miniature painters. I've experienced these issues myself.
Holding an object steady for long-periods of time with a tight finger grip on a small surface is a problem waiting to happen. The solution is to take frequent painting breaks or improve ergonomics. Attaching a "paint handle" to miniatures can solve the problem of pain and discomfort.
1. The Citadel Painting Handle (Original and MK2)
The Citadel Painting Handle is one of the best miniature painting handles you can buy. It is a simple design and practical. It consists of a plastic handle and a spring-loaded clamp. The clamp can hold round or square bases of many sizes. The Citadel painting handle comes in two designs (the original and a version 2, or MK2).
In general, both painting handles versions work the same. They are both high quality plastic constructions with a spring-loaded clamp. The only main difference is in the shape of the grip. For more details about the Mk2 Citadel Painting Handle, see further below (or skip ahead here).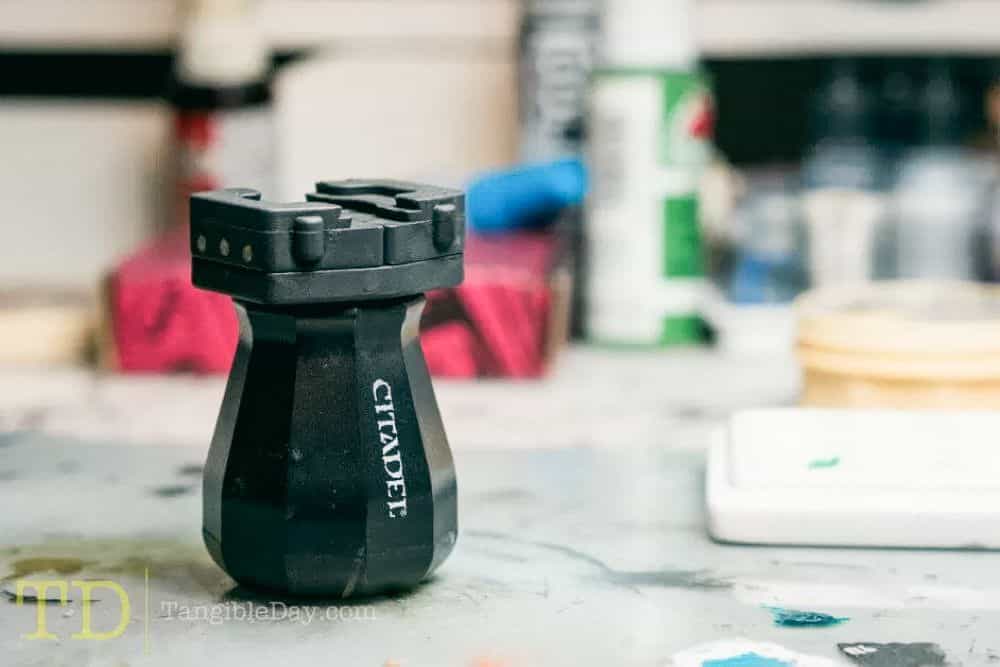 To keep things simple, the following is a review of the original Citadel Painting Handle shown in the image above. All of the Citadel painting handles have a beveled edge in the clamp itself, which acts to wedge the base of a model securely. This is a unique feature.
Ease of Use
The spring loaded clamp is strong enough to allow you to manipulate the miniature in any direction without it shaking loose. But, the spring is easy enough to use to allow easy insertion and removal of a model with a single hand. The flat bottom of the miniature painting handle also allows you to place the whole thing down on the desk without worry of it tipping over.
In actual use, I found the painting handle to be very comfortable! I could paint for many straight hours without cramps in my thumbs or fingers. I was also able to paint miniatures without worry of it falling off, and could turn the model around in every direction; upside down, sideways, etc. This is incredibly important for getting your brush into the nooks and crannies.
Of course, I purchased three of these painting handles so I could paint multiple pieces at the same time, or let a model's paint dry while I continued with another project.
Finally, the painting handle can hold miniatures with many base sizes. These include 25mm to 40mm round bases, as well as 60x35mm oval shaped bases. This means the painting handle will work for models produced by many companies, including Games Workshop, Privateer Press (i.e., Warmachine), Corvus Belli (Infinity), and even board game miniatures.
For the Painting Handle's utility, it has strong value and is well-worth its price. If you're in the market for other tools to help you paint miniatures, here are a few other must-have goodies.
Citadel Painting Handle MK2 (a quick word)
The MK2 Citadel Painting handle is reviewed just as highly as the original model. And, in many respects this is because the MK2 Citadel Painting Handle is functionally the same as the original model. The new Citadel Painting Handle also features an ergonomic design, making it suitable for both for casual and serious modelers and painters.
The upside-down shaped wine glass shaped bottom provides a more stable platform when placing the handle on your desk. The plastic has a slight matte finish, which is pleasant to hold for long periods of time, even with sweaty palms (that often plague the miniature painter). This non-slip surface is a welcome upgrade from the original version.
If there was a limitation to the new design, then it is the slight increase in cost. As well as the inability to hold larger model bases, or those bases with weird shapes. You know how odd it can be hold some of those Warhammer 40k models with XYZ-sized mm oval bases can be.
Importantly, as with any of Citadel's Painting Handles, you will likely need to glue/attach your model to its base before painting. I know some people who prefer to finish painting and flocking their bases before gluing the model on top. In this case, you may want to explore other painting handle options.
Check out this article for the best alternatives to the Citadel Painting Handle.
2. Citadel Painting Handle XL
For larger miniatures, there is the XL Painting Handle (XL stands for extra-large). This handle holds miniatures with bases up to 100mm.
In the miniature wargaming scene, you'll find that larger miniatures are often used for characters, lords and heroes. The XL Painting Handle makes painting these large miniatures much easier as it provides a secure grip while you work on them. It's also easy to maneuver the handle around the miniature, allowing you to access hard-to-reach areas with ease.
Is Bigger Better?
All the features are the same as the smaller model. Perhaps the only issue I might have with this handle is that the base of the handle is a bit small for the larger models. When you have a big model clamped on top of this handle, the whole thing feels top-heavy. But, functionally while painting, it is very comfortable to use.
Interestingly, a possible solution to the 'top-heavy' issue could be solved with a simple "hack". You can remove the spring-loaded clamp from the handle.
And, the screw that holds the two parts together has threads that are the same as those used in camera tripods. This means that if you wanted to, you could use a tripod with just the spring-loaded clamp.
A desktop camera tripod could add more stability. Alternatively, a larger regular tripod could allow you to paint standing up, or elevate your working surface. I'm sure there are a lot of different 'hacks' out there for the Painting Handle that have yet to be revealed. Importantly, although top-heavy, the XL Painting Handle fills a niche by being able to securely hold larger-based miniatures.
3. Citadel Assembly Painting Handle
Of the three painting handles, the Citadel Assembly Painting Handle is the most versatile. The two articulating arms have alligator clips that are spring-loaded to hold small parts or even the entire miniature. I was quite pleased with the stiffness of the arms. They don't flop around. Rather, they are rigid enough to stay in-place wherever you want them to be. Above all, I found this handle useful for many reasons.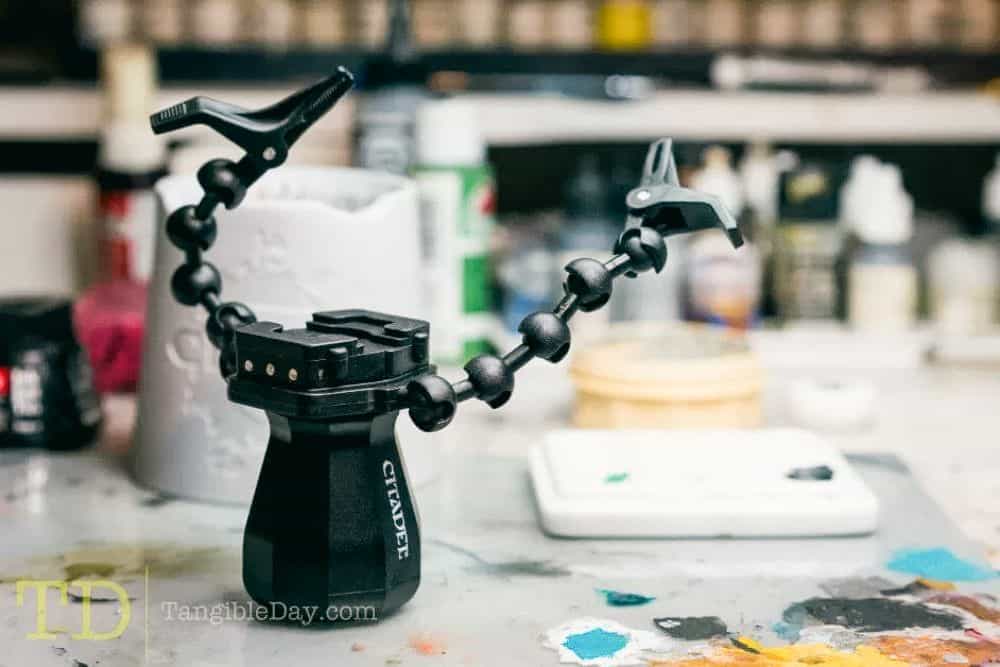 Stop Fumbling Small Parts
The Assembly Handle can be used for its namesake to assemble models. The clips are precise and strong enough to hold small bits together while glue is drying. I have always struggled keeping pieces together in their position while glue cured. This handle solves this issue perfectly!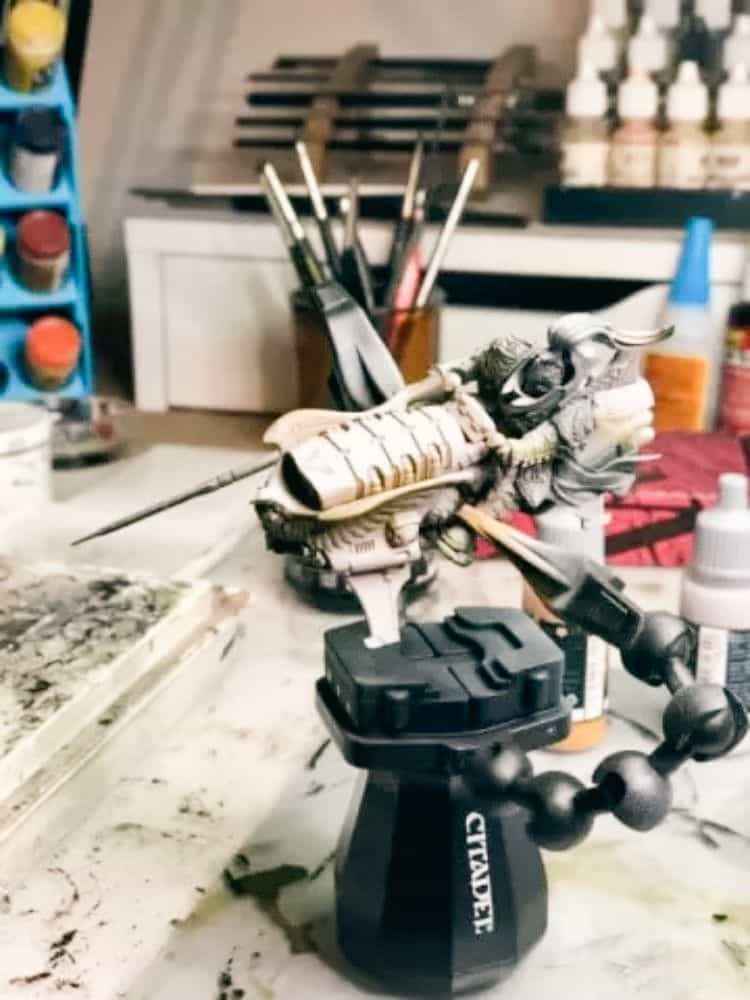 RELATED: THIRD HELPING HANDS FOR HOLDING MODEL PARTS FOR ASSEMBLY AND PAINTING
In addition, I found that because of the strength of the clips and the rigidity of the arms, the handle could hold up entire miniatures that might not yet be attached to a base.
This is great for airbrushing!
You can airbrush sub-assemblies before attaching them to the model, or the full model itself. For example, this was useful for flying-type miniatures that I wanted to airbrush, but that I didn't want to get the clear-acrylic stand painted.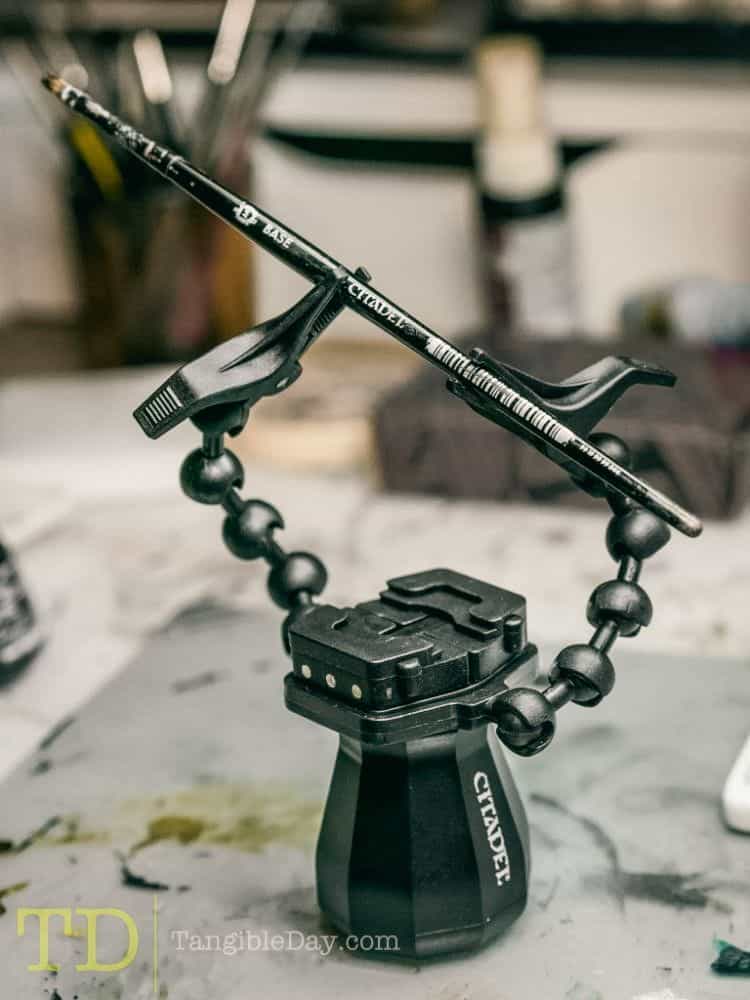 I'm sure you may find other uses for these articulating arms. Maybe a glorified brush holder, or use it for soldering electronic parts? As with the other handles, the Assembly Handle is very comfortable to use. Finally, the two arms can be removed to become the regular painting handle.
This is the reason that if I only had the choice to buy one of the three types of Citadel Painting Handles, I would choose the Assembly Handle. It can do the most jobs in a single package.
---
Limitations with DIY Painting Handles
There are many other solutions for better ergonomics for painting miniatures. DIY and commercial products are all available.
However, they have three common issues:
Poor adhesion
Limited base holding capacity
Uncertain durability
Before Games Workshop created the Citadel Painting Handle, I used a variety of do-it-yourself (DIY) items to help me paint more comfortably.
This included the ubiquitous spray can cap that comes with aerosol primer. It works great for small and large models. The problem with the spray cap is 1) the difficulty in securing models to the cap, and 2) removing the models whenever we need or want to. Yes, you can use glue or sticky-tack, but these adhesives are too strong or too uncertain. The spray cap was only a stop-gap measure.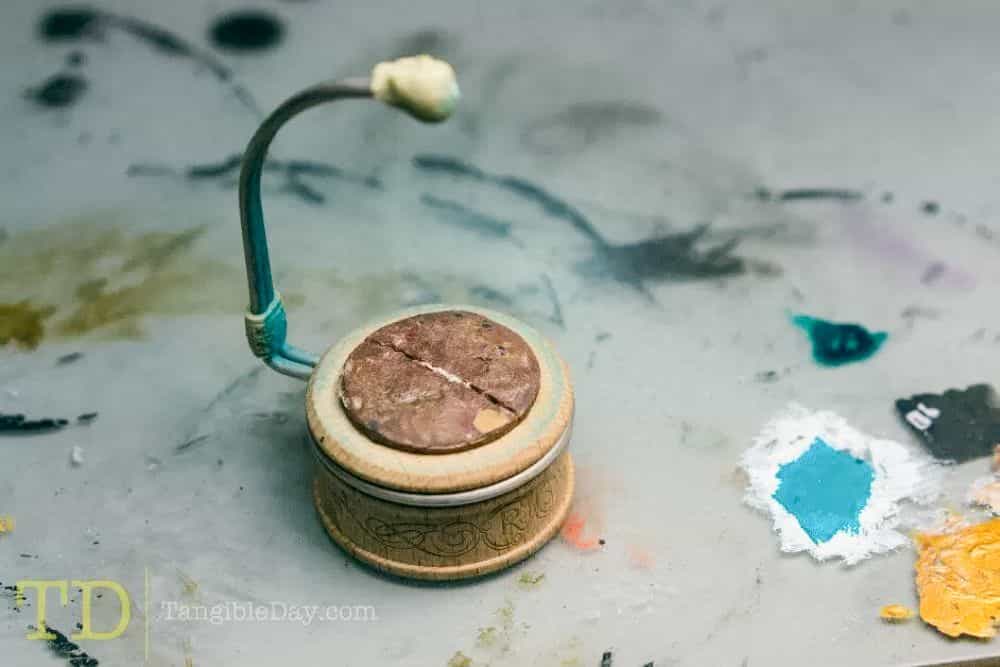 There are also cork-based solutions, including those made by RathCore.
However, I found these to be limited as well. They can only hold miniatures that are pinned (by inserting the metal pins into the cork), or miniatures with specific base sizes. Cork is also a material that breaks down over time, so it will need to be replaced on a regular basis with routine use.
Other commercial options that I have not detailed here have similar limitations with model adhesion, limited base-holding capacity, or durability. All of these products are between $10-50, which is similar in price to the Citadel Painting Handles.
---
Conclusion
Is the Citadel Painting Handle worth it?
Yes, all of the Citadel Painting Handles are now indispensable tools on my hobby desk. My constant use with these Citadel Painting Handles has proven how well built they are, durable and effective for increasing comfort during my frequent and lengthy miniature painting sessions. I reach for these painting handles all the time! I use them for commission painting projects and for more leisurely hobby work. For those who sculpt miniatures, e.g., epoxy putty sculpting, you may also find these handy.
The regular painting handle is priced well for its utility, design, and durability. For larger models, the XL painting handle allows you to paint larger-based models. Whereas the Assembly Handle with its articulating arms and clips has an unsurpassed level of versatility.
Because of the unique spring-loaded clamp design, all of the handles are compatible for miniatures from different brands and companies. Beveled or round-edged bases all fit securely in these clamps.
Personally, after using the regular Citadel Painting Handle for a few weeks, I was so impressed that I ended up buying several of them. I also purchased the other two, the XL Painting Handle, and the Assembly Handle, which have become indispensable in my miniature painting workflow.
I highly-recommend all of these Citadel Painting Handles. They are well-worth their price because of their ease-of-use, versatility, and tangible improvement in miniature painting comfort.
---
Tangible Day on YouTube (Miniatures and More!)
---