What kind of backdrop color should you use in your photography of painted miniatures? Black or white backdrops each have their advantages and disadvantages, depending on what type of atmosphere you're trying to capture for your miniature photography. Black backgrounds are associated with feelings of mystery, fantasy, or sophistication. A black background can also be used in social media posts where color and contrast need to stand out. White backgrounds, on the other hand, will communicate perfection, purity (in the sense of being flawless), and novelty. This makes white backdrops the preferred color for product photography, or general showcase images of your painted miniatures.
In this article, I will show you the benefits of using a black or white backdrop for your miniature photography.I like to use them interchangeably depending on my mood and what type of scene I'm trying to portray as they both have their own unique merits. However, there are some people who prefer one over another.
---
Key Points: Black or White Backdrops for Miniature Photography
There are pros and cons to black and white backgrounds.
This is particularly relevant for you if you want to take pictures of your painted miniatures, e.g., Warhammer 40k, Age of Sigmar, and other tabletop gaming models.
I hope this inspires you to think about what might work best for your miniature photography: black or white.
Pros and Cons of Black and White Backgrounds in Miniature Photography
The color wheel is an artist's way of understanding how colors are related to each other. Strong contrast enhances the color and makes it appear brighter. So black paper with red paint will show more contrast than gray paper with red paint.
RELATED: HOW TO PHOTOGRAPH MINIATURES WITH AN INFINITE BLACK BACKGROUND
Different people like black and white backgrounds for different reasons.
The Background Color "White"
The white backdrop is perfect for showing off the details of a dark color painted miniature. The contrast between light and shadow is much more pronounced against this type of background, but be aware that it depends on how you model was designed as well as your lighting setup during photo sessions.
A white background will allow a viewer to focus on colors that are less intense. Black tends to emphasize highly saturated colors on a painted model. This has the collective effect of allowing white backdrops to create a sense of natural color tone, hue, and contrast on the subject, which in turn improves the perception of realism. For example, less vibrant colors, such as human flesh tones, may appear more realistic with a white backdrop.
Finally, white backdrops are also helpful when photographing miniatures that are still works-in-progress (WIP), because black backdrops may conceal unpainted surfaces and distort shapes. Of course, this could work to your advantage if you wanted to hide parts of your model in shadow or shade with a black backdrop.
The Background Color "Black"
Black backdrops have several significant visual effects of photographic subjects. A black background often communicates the visual concepts of elegance, sophistication, and mystery. Black can add a sense of foreboding, or present a viewer with the "grimdark" atmosphere, depending on the subject.
A black backdrop in photography has the ability to make colors pop more than they would on a white background. In a related sense, a strong and commanding look is achieved with black backgrounds because it can make the painted model within a photo recede slowly into darkness, and allow a viewer's imagination to run free within the shadows.
If you're familiar with black and white photography, black is the preferred backdrop color because of how it emphasizes the subject and pushes them to the foreground. In this case, your painted models may look more "3D" with a black background, especially those with a brighter or a more vibrant color scheme.
Finally, black backgrounds can help make the miniature stand out from the crowd of other photos you find on social media, which always seem to be against a bright value background, e.g., white or gray.
Black and white backgrounds are often debated in the design world. Some say that black is more professional, while others prefer a starker white background with subjects popping out of frame. The only way to know which one you like best is to try each color for yourself!
What Do Other People Say is Better: White or Black Backdrops for Miniature Photos?
After hours of searching through Facebook groups and Reddit about painting miniatures I found some more opinions about the black or white photography background debate.
People had different opinions (obviously). If I had to sum up every opinion I found, here's what it would look something like this. Some said that black backdrops look better, but are harder to photograph. So, they don't bother with trying to make pure black backgrounds in their photographs. Others argued that white backgrounds made their miniatures stand out better. But, that they didn't really compare their images against other backdrop colors.
…and, that's about it.
There's not much out there regarding what backdrop color is better for photographing miniatures, when comparing white to black backgrounds. It seems that for the most part, what people choose comes to style preference and technical capability, e.g., trying to photograph miniatures with a "true infinite black" backdrop is harder.
How Do You Choose Between Black, White, or Other Styles of Backdrops for Miniature Photography?
There are many other factors to consider when choosing the best background for miniature photos: What color is your miniature? If you share pictures on social media, do you want colors and contrasts to show up in black or white backgrounds? (Hint: color theory can help you decide).
Here's a summary of the differences in visual effect of black or white backdrops for photographs of your painted miniatures and models:
A pure, true black background is hard to photograph with miniatures
White is a more common background color for miniature photos
Black backdrops create a more unique style of miniature photos, which may help your images stand out from the crowd on social media
White backdrops may help you sell your painted miniatures because they will look better on websites for prospective buyers, e.g., eBay,based on sales and marketing experts
Black communicates sophistication and mystery; whereas white communicates novelty and perfection.
Recommended for Miniature Photography: Black and White Photo Backdrops
This black velvet cloth is one of my favorite backdrop materials. It helps create a very matte feel and appearance. When used with studio lighting it helps eliminate any glare from flooring or white walls. This creates a much softer look and with the right camera settings can help you achieve the infinite, true black background look for your miniature photos.
Best of all, this is a huge piece of fabric (5×10 feet), which is more than enough for photographing any scale model size, including huge terrain pieces, warmachines, or your entire army collection. Drape this over a tall chair, hang it from a wall with clips or tape, or use a stand.
---
A white photography background is versatile. You can use it for photographing miniatures or for a universal backdrop for product photography. I have one of these white backdrop cloths hanging in my closet for when I need it. Note that you shouldn't fold this white backdrop as it will crease and create unwanted shadows in your images.
When I'm not using a photo lightbox, I prefer using large backdrops for photography. They give me room to compose my shots of the models without worrying about framing off the edge of the material. You'll need to hang over a tall chair, TV stand, or tape this to a wall, or you can get a portable backdrops stands.
---
Not sure what is better, black or white? Get both! These are two small panels (11.85 x 11.85″) that are perfect for "smaller" miniatures. Each side of these acrylic panels has a different reflective surface. One side is matte, and the other is glossy. Depending on the style you're going for, this could be a fun way to exercise your creative muscles.
RELATED: BEST PHOTO LIGHT BOXES FOR PHOTOGRAPHING MINIATURES AND MODELS
There's quite a lot of things you could do with these in your miniature photography. They're easy to clean and convenient to set up, making them perfect for taking great product pictures indoors without a photo light box, which have pros and cons.
Conclusion: Black or White?
We all know that black and white photography is a great way to communicate a mood and style, but what's the best color backdrop for miniature photos?
Choosing a black or white background for your miniature photos will depend your personal experience and preference for what you want to convey, as well as where you plan on displaying your images, e.g., social media or product sale websites, such as eBay or Kickstarter campaigns.
White is likely better for displaying less vibrant/saturated color more accurately and realistically than black backdrops. On the other hand, black backgrounds may have the advantage of emphasizing and pushing color contrast to the foreground (e.g., creating the "3D" look). Black backdrops are perfect for creating mystery, while white backgrounds communicate purity. The list of pros and cons of each can go on and on….
One thing's for sure: there is no right answer when it comes to black or white background choices. The best course of action is keep experimenting and take more pictures!
Do you take photos of your miniatures or scale models? What do you use as a photo backdrop?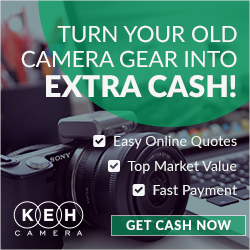 Tangible Day on YouTube (Miniatures and More!)