A paint carry case allows you to transport your painting supplies with ease, so you can paint miniatures anywhere! Whether you're a dedicated painter or just starting out, there are plenty of great paint carry cases available to suit any budget.
In this article, I'll show you how I found my ideal painting case for traveling to conventions, or simply to organize and store my stuff without worrying about where everything is located.
Read on to learn more about some of the challenges of taking your hobby paints with you, how to overcome those issues; and importantly, the features, and pros and cons of each of the top 10 recommended paint carry cases.
---
Paint Carry Case or Portable Workstation? Yes, There's a Difference!
Paint carry cases and portable miniature painting workstations are both great for taking your art and painting supplies with you, but there are some key differences between the two.
A paint carry case is typically a "case or box" that is designed to hold paints and a few brushes or tools for ease of transport. These cases are usually lightweight and compact so they can be easily carried around from place to place. They also tend to be very affordable, and great for the budget conscious.
On the other hand, a portable miniature painting workstation is much more than just a way to store and transport your supplies. Certainly, there's overlap between a portable paint station and a carry case.
But you'll find that a portable hobby workstation usually has more capacity for hobby things; and likely consists of several extra components. The Frontier Wargaming Case is an example.
These may include actual table-top work surfaces, e.g., cutting mat, dedicated storage modules, e.g., drawers, shelves, and sliding compartments, even built-in light fixtures, and an overall sturdier construction that allows you to properly unpack and set up your miniature painting workspace wherever you go.
This makes a portable hobby workstation ideal for longer trips or the hobbyist who want to be serious about their work wherever they are. If you're looking for a dedicated, travel-ready "hobby workstation" check out this article. Otherwise, learn more about the my suggestions for useful paint carry cases for the minimalist hobbyist on the go.
---
Hobby Teleportation: A Paint Carrying Case is Sentiment on-the-go
If you've been in a hobby for long enough, then you may have discovered something. The activity itself has become a part of your identity. You might have a favorite brand, type of brush or color palette. You are connected to your hobby at a personal level.
When you leave your workspace, or find yourself in a situation where painting miniature figures would be convenient, you feel antsy, agitated. Being near a hobby desk may be comforting to you (not all of you).
But I know that for an artist, a miniature painter, the activity of working on something exciting, inspiring, is soothing in a way that's hard to describe. There's a comfort, an almost instant gratification of seeing your work come to life.
But, it's not just any hobby or painting supplies that will do the trick. You need the stuff you're familiar with. That's where the paint carrying cases or boxes come into play.
The challenge? Finding a case that meets all of your needs while still being affordable and easy to transport. Fortunately, you have a wide selection of options available, each offering features and benefits which will help make it easier for you to transport your gear.
---
Must-Know Bottle Types for Hobby Paints and Art Media
When you're shopping for a case to take your paints and other supplies with you, it's a good idea to know what will fit. Do you know the dimensions of the bottles, pots, and other doodads you're planning to travel with?
Depending on the type of paints you're going to travel with, you may want to choose a case that can accommodate them easily. In other words, you want them to fit!
For example, Vallejo dropper bottles may fit well in a MDF cut shelf or compartment, but jostle around in a box designed for larger diameter Citadel flip top pots.
For those with a mix of different bottle and pot styles, you may need a more flexible, modular, or versatile solution. This could be a typical "tool box" type art box, such as the Pro ArtBin (which lacks compartmentalization, and precludes any sense of good organization) or a "pluck foam" hard paint case, like the Casematix hardcase.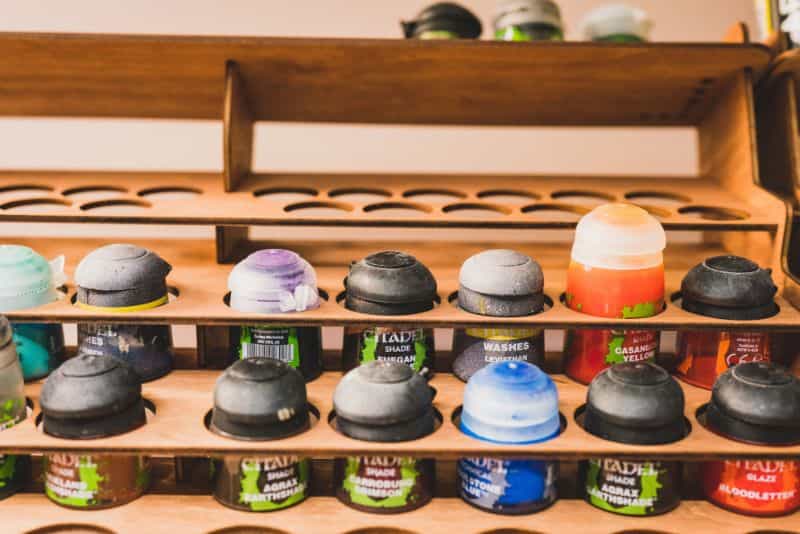 What About Paint Tubes?
Hobby paints and media in tubes, i.e., the toothpaste approach, are the most cumbersome design and I have no idea why any company would go this route for dispensing paint. Though, I think this is because thicker viscosity paint is easier to package and use when they are in tubes.
Suffice it to say, oil paints and acrylics such as those from Scalecolour, use tubes which fit in the same category. You'll need something either pretty specialized, or as above, use a toolbox style container.
If you're like me most of the time and just want a do-it-all paint carry case, I highly recommend that you look at a cosmetic train cases. See more about this below.
Cosmetic makeup train cases come in a variety of sizes and configurations, are highly organized, some are waterproof, and more importantly, look absolutely professional!
Some have wheels you can roll around (if you're really taking your hobby stuff with you). They also tend to fit under the seat of airplanes, overhead storage bins on public transport, and carry well usually with a shoulder strap or durable handle.
---
What Should You Put in a Paint Case?
A quick note about what I tend to suggest people bring with them on the go when traveling with their miniature painting hobby, scale model project, whatever.
First off, bring paints! This may sound obvious but choosing a paint case is also about what type of paints you plan on traveling with. As above, some paints are easier to transport than others.
Here's the breakdown from my vantage point. Vallejo Model Color and Game Color (Air version or not) are great for airbrushing and come in dropper bottles. These are usually easier to travel with (vs. the Citadel/Games Workshop/Privateer Press pots).
Next, I suggest having at least one form of cleaning solvent with you. Simple Green, Windex, glass cleaner, rubbing alcohol, etc. are all great ways to clean your brushes in a pinch. For those of us who use oil paints and media like me, bringing some mineral spirits can make all the difference.
I also suggest bring some form of easy to clean palette so you can mix paints on the go. For those who use wet palettes, where are some great wet palette options to choose from. A small container of water for brush cleaning is highly recommended as well.
Paint brushes? Tools?
Finally, be sure to bring your favorite brush. Here's the brush I use most for 90% of my miniature painting work nowadays. You shouldn't need too many brushes…though it all depends on what you're planning to do with your hobby when you're away from home.
---
The Makeup Train Organizer Case is one of my favorite choices for taking paints and hobby supplies with me. There is a problem with it that I'll mention in a moment.
Most cosmetic train cases are incredibly durable and constructed with durable materials. In this case, the organizer case shown here is formed with an aluminum frame and siding. It'll protect your hobby contents from bumps, scrapes, and drops. Of course, there's a limit to all of this. The Makeup Train Organizer Case is somewhat heavy and could be cumbersome to carry because of its size.
On the other hand, this case has an extendable cantilever 6-tiers tray structure which opens up and out. This gives you visible direct access to your most commonly used paints, hobby instruments, and brushes. The storage compartment on the bottom of the case is spacious for your other hobby supplies. You can fit entire spray paint cans, for example, in that roomy bottom space. Things like varnishes and primer aerosols will tuck in nicely.
For carrying convenience, the handle has a non-slip texture for easy transport. There's a stain-proof plastic film on both trays and the bottom compartment to protect from spills and scratches to items. You can add foam trays (purchased separately) if you also want to transport miniatures in the case, too. Finally, the entire case locks with a key for privacy and security. While I would never leave my hobby stuff along for long in a public space, it's a nice option for peace of mind.
The Makeup Train Organizer Case is not only highly functional but also aesthetically pleasing. Take a closer look!
---
The ArtBin Dropper Bottle Storage Carrying Case is a great paint carry case for miniature painters. It will fit any of the dropper style bottles from popular hobby brands like Vallejo Model Air or Game Color, Army Painter, and Reaper Master Series paints.
With pre-fit plastic trays, it will help you organize, store, and display 0.5oz bottles of ink, paint, or other similar sized screw cap bottles of art media. Specifically, the included trays hold up to 32 individual bottles each, and are designed to store the bottles upside down for easy flow of paints, allowing users to easily and quickly identify their bottles.
When you're ready to work, simply pull put the trays, lift the stands for displaying your colors, and get to painting. I found this works best when you need to see the color of your paints without reading their labels.
The carrying case is made from durable and easy-to-clean plastic that can withstand wear and tear. It's the same stuff you might find on those impervious pencil cases you used in school. In addition, the 2 snap-tight closures ensure contents stay secure during transportation and the sturdy plastic handle makes it easy to carry around. This product measures 15.25 x 14 x 3.5 inches and comes with two trays (64 bottle capacity total).
---
The Miniature Paint Carrying Case for Ink and Paints is a bit more versatile that the ArtBin Bottle Storage Portable Carrying Case (shown in #2), but not by much. It'll hold a wider range of bottles and pots in a foam tray that lets you squeeze slightly larger, oddly shaped bottles. Generally, you should be able to fit up to 60 bottles of typical 15-17ml sized dropper bottles, e.g., Army Painter type paints, making it a great choice of the hobbyist who use these colors.
The foam and zipper case combination makes it lightweight and compact. Its size makes it perfect for travel as it has a handle for easy carry and is small enough to fit into a larger bag or box. I'll note that from my perspective that this case is a step-above from DIY options. Grab foam egg trays and put that in a similar type of suitcase or zipper case and you may have something similar for much less cost.
Nonetheless, this is a cool looking, functional way to take your hobby paint colors in a stealthy, durable, and compact package. This paint carrying case is uses the stiffer EVA foam for inserts within a zipper enclosure. The interior is lined with soft velvet material to keep your paints from bouncing around while traveling.
The textured exterior can withstand wear and tear. Exterior measurements are about 14″x9″x3″, while the interior foam insert tray has 60 1″ inch wide holes to keep paints in their place. As mentioned, you can get slightly larger bottles to squeeze in and hold. You're mostly limited by the height of the bottles (no more than 2.8-3″ tall).
---
If you already have a collection of Vallejo hobby paints, or similar style of bottles, then take a closer look at the Vallejo Hobby Range Carry Case. While company branded, it can carry any dropper bottle with similar dimensions as those of the Vallejo paint line.
Specifically, this plastic carry case has 72 spaces for 17 ml (or 0.6 oz) bottles. For obvious reasons, the packaging does not include any paint. It's just the carrying case.
There's not much else to say, except that it works well. It keeps paints organized and safe during travel or storage. It is lightweight yet strong enough to protect the contents inside from getting knocked about, spilling, etc. Plus, it comes with a handle so you can easily take it on the go.
---
This is a bespoke paint carry case designed specifically for Citadel paint pots from Games Workshop. This case is designed specifically for 0.6 fl oz (17ml) pots, and will not fit the taller, larger 0.8 fl oz (24ml) pots will not fit. If you have the larger GW paint pots, then it would be possible to transfer your paints to the smaller containers for this carrying case.
Note that this is a custom made-to-order case, so read vendor's description carefully before ordering. I'm checked this case out before and there are quite a few features you may want to know about. Its a product that crosses into the portal workstation territory, given the different modules it contains. Take a closer look for the different ways you can customize this carrying case for your paints and other hobby things.
Overall, this storage and carry case provides miniature painters with great portability and convenience while keeping their paints secure and organized.
---
I'm not 100% sure how important a hard case paint travel case is to you. But if you're looking for something that resembles the popular Pelican hard cases for taking your paints with you when you travel, then the Casematix hardshell paint travel case may be it. The Casematix Hard Shell Paint Travel Case offers a overkill (imho) solution for miniature painters who need a reliable way to store and transport their supplies.
This case has a hard shell exterior, making it perfect for safeguarding against damage from knocks or bumps, as well as offering waterproof, spill-proof and leak-proof construction to protect the paint bottles inside. Inside the case is a soft, shock absorbing foam interior with customizable pluck foam interior so you can customize how you store your paints.
Note that this will allow you to store and travel with paint bottles and pots of almost any size and shape. Even taller bottles of Badger or P3 paints will fit easily in this case. Because the top lid presses down, you also won't need to worry about lids flipping open while in transit.
Plus, with two sets of padlock rings on the outside, you can feel extra secure about traveling with your supplies. All in all, this is an excellent choice for miniature painters looking for top-notch protection and convenience.
---
This is similar to the paint carrying case shown in #5, except this miniature paint case will hold Vallejo, Reaper Style, or Army Painter dropper bottles.
Other details you should know about this carrying case include an insert made of 1/8″ tempered hardboard, which has a dark brown color and is perfect for direct paint application. While not an ideal solution as compared with a porcelain glazed palette, you can use this hardboard surface as a dry palette for mixing acrylic colors.
This hobby art-friendly box measures 13″x16.5″x4.5″ and is ideal for securely storing paint bottles with a diameter of around one inch and up to three inches long. The Reaper Master Series dropper bottles that I tested here fit well, and I do prefer this kind of system over the rugged foam cut inserts some of the other cases use.
While some of you artists may be concerned with the durability of wood, or laser cut press board materials, which could warp, the case is a classic solid wood material, e.g., birch, that that can handle the rigors of travel. Note that orders for this case include options for custom graphics or keeping the simple stock exterior. A good tip for those with questions is to inquire directly with the vendor before ordering this carrying case.
---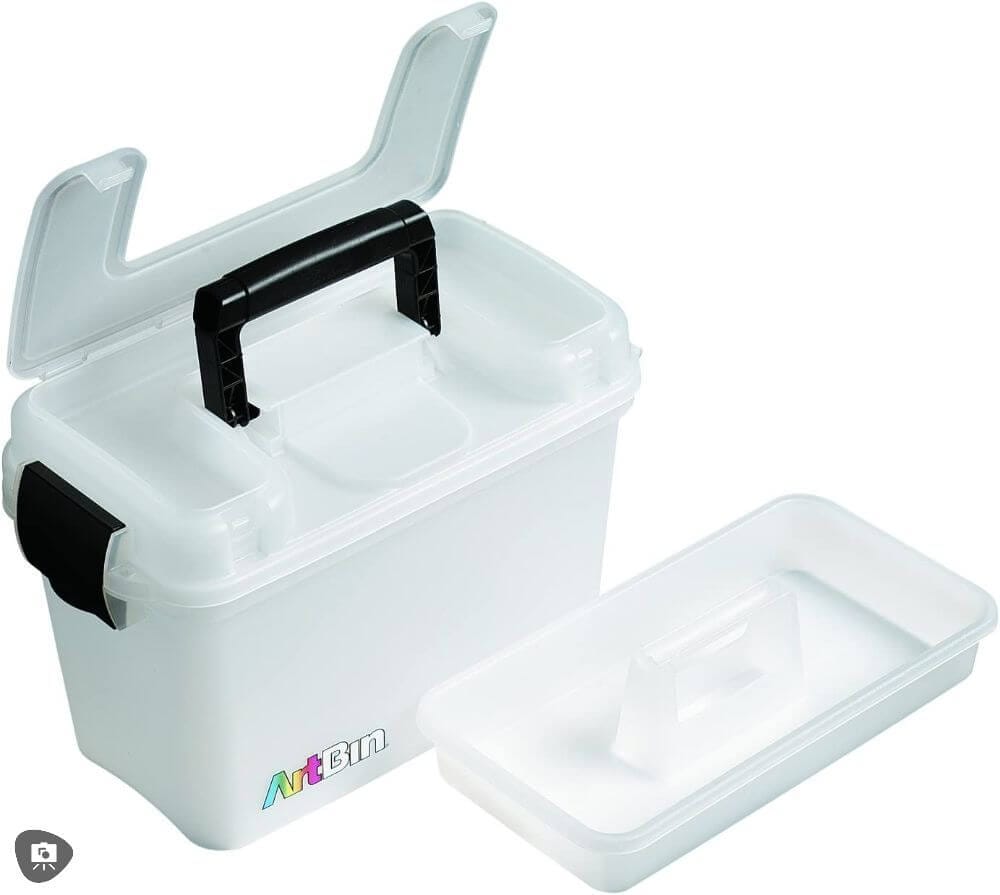 When you are searching for an effortless storage solution to keep your miniature painting materials secure and organized, the ArtBin Sidekick Storage Bin is unquestionably a great choice. It's the all-in-one way to take your stuff with you. Busy? In a rush? Throw your stuff in there and go.
This is my dependable plastic hobby art box that I tend to toss things in when I don't know what I need and kind of just want to get out the door. There is a top tray under the lid that you can keep your tools, glues, or other common instruments you need organized. The bottom compartment is where I would put paints and things.
Be careful, however. Your paints will get thrown about and if your lids aren't snapped on tight, things can open up and you'll have a mess on your hands. I do like the latch system as there's quite a tactile locking feeling when you open or close it. It feels secure and I'm comfortable carrying the entire bin from the carry handle. At 10″ x 15″ x 7-3/4″, it's big enough for medium to light duty hobby paint travel needs.
---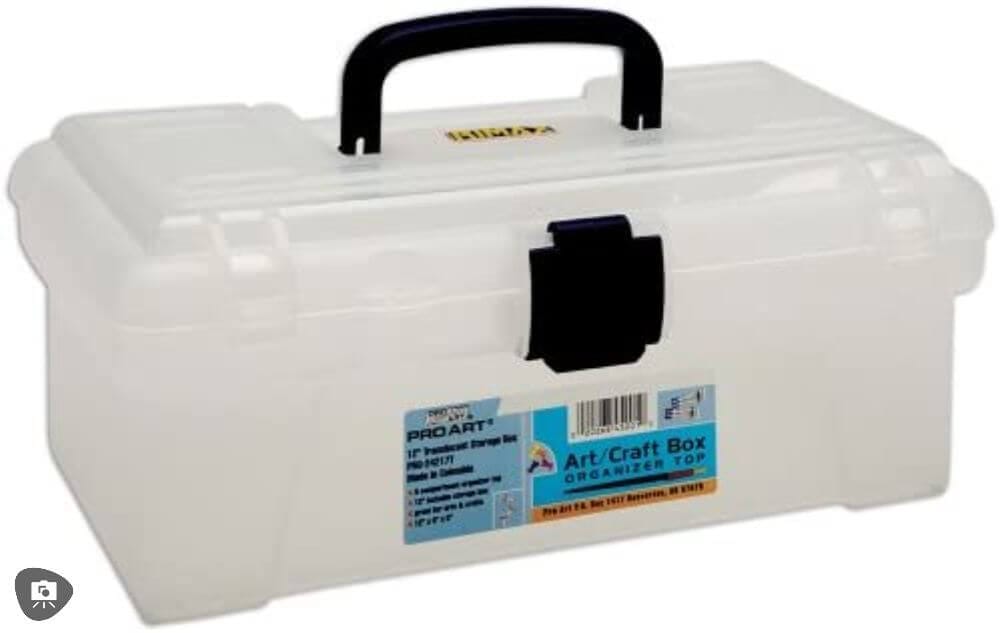 If you're in doubt about what will work as a paint carrying case for you, then I suggest going with one of these types of boxes. The Pro Art Plastic Boxes are strong, function well enough for taking art supplies with you. They are lightweight, affordable, and you have easy access to what you need. Because some of the models are translucent and you can see through the plastic, you may not even have to open the box to see what's inside!
Most of these designs give you easy access to frequently used items like brushes, tools, and glues while a larger bottom compartment is perfect for storing larger or oddly shaped items. Tips for traveling with oil paints or acrylic paint tubes is that they will fit in one layer over another, if you lay them down on the bottom of the box or, depending on size, stack the tubes upside down (e.g., cap down). You may also discover some models that have shoulder straps making them more convenient to carry around when running errands.
---
The conventional Tool Box is an all-purpose, master-of-none option for miniature painters and the traveling hobbyist. There are literally hundreds of models, designs, and types of tool boxes. Take your pick! The one I'm showing you here is the the prototypical you'd find online at a price most of us would consider affordable without sacrificing quality of construction.
In this case, the Tool Box with Tray shown here has a good balance capacity and portability. It comes with a divider tray (similar to the ArtBin boxes shown above) that allows you to easily organize your tools and brushes and keep them neatly organized. And its robust construction means it can handle plenty of wear-and-tear.
The box is made of plastic with a gray color. It's dimensions are 16"L x 7.5"W x 9.5"H, making it pretty compact and lightweight. It comes with low profile heavy duty latches and handle for easy carrying, as well as two removable interior organizers with snap close lids for added convenience.
---
Still Not Sure? Here are 3 Recommended carry cases for Paints and Hobby Media
Make Up Train Organizer Case (Most Versatile)
ArtBin Bottle Storage Portable Carrying Case (Quick and Easy)
Citadel or Vallejo Style Paint Storage and Carry Case (Bespoke, Custom)
Tangible Day on YouTube (Miniatures and More!)