So, you paint miniatures and your hands cramp up, fingers stiff? The human hand is the best tool you have for interacting with the world around you. But it's got limits, too. Holding small objects for extended periods of time can be painful for muscles, tendons, and joints. A painting handle increases the surface area you hands have to securely hold miniatures for extended periods of time. This can make your mini painting experience more comfortable and enjoyable.
Here, I share my experience using the A-Case Painting Handle for working with tabletop miniatures, scale model sub-assemblies, and wargame models. If you're a mini painter who spends hours at your craft, the A-Case Painting Handle could be the perfect instrument to make your work easier. Go get creative!
Disclaimer: A-CASE provided a copy of the painting handle for this review. As with any product review, I maintain my liberty to share my honest opinion and real experience in order for you to make an informed purchasing decision.
Read on to learn what I loved about handle, and what I thought could be things that could use improvement.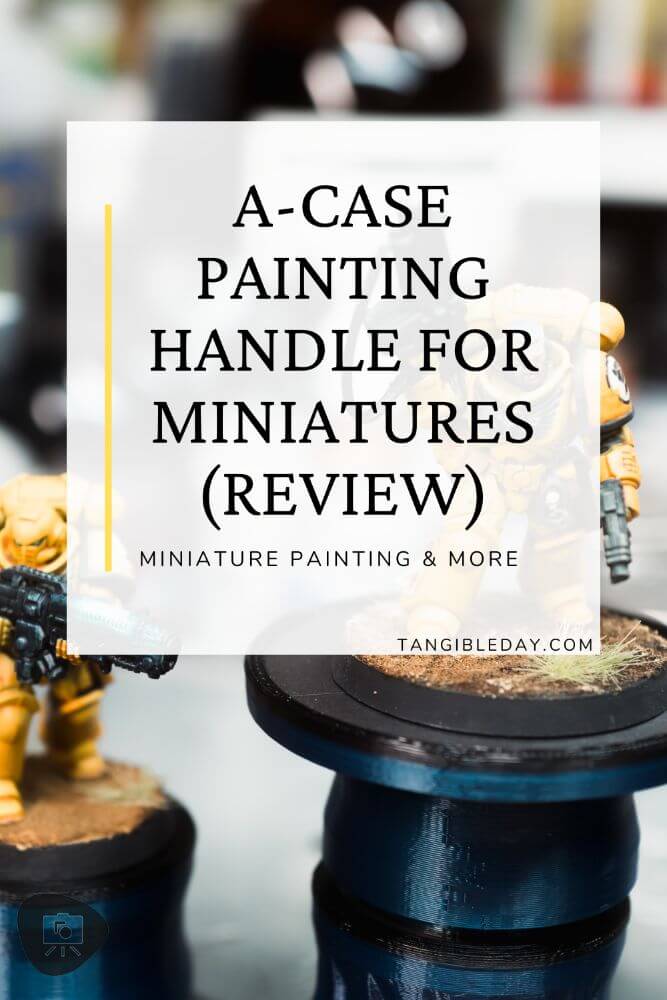 ---
REVIEW Summary (TL;DR): Is the A-Case Painting Handle Worth it?
The A-Case Painting Handle is a unique take on the painting handle tool, allowing for modular parts that fit together with a magnetic locking system.
It can be used as one large tool or multiple smaller tools to help batch paint several models at once.
The handle is 3D printed using PLA plastic and has ergonomically sculpted knurls and knobs around the working surface which allow it to spin 360 degrees.
To get the most use of this product, neodymium magnets must be attached to model's bases; these are available online or on Amazon.
Despite being expensive at face value, its construction materials and features make it worth considering when needing quick painting of numerous miniatures with less discomfort compared to DIY alternatives or other commercially available holders/handles for miniatures.
Pros
Ergonomically designed and comfortable to use
Durable construction with 3D printed ABS plastic
Multiple attachment options available, including magnets and sticky tack
360 degree swivel capability
Handle is designed for 28mm – 32mm miniatures
Cons
A tad pricey
Not ideal for painting large based models
Relies primarily on magnets glued to a miniatures' base to work (though other options work)
---
Who is A-Case (the Company and Brand)?
A-Case is a company whose claim to fame is their top-of-the-line miniature storage cases. They have a metallic-tray slide and drawer system that is designed to keep your miniatures safe and organized in one place while allowing you to easily transport them wherever you go.
With magnets attached to the bottom of your favorite gaming miniatures and painted models, you can easily keep them in place while stored in the A-Case carrying case, backpack, or messenger bag, and ensure that they don't get lost or damaged.
The A-Case Painting Handle is another product the company offers that builds up their magnetic system for securing models while you work on them. Read on below to learn more about my experience using the A-Case Painting Handle for painting miniatures and models.
---
Unboxing and First Impressions
The A-Case Painting Handle, magnets, and bottle of super glue arrived safe and sound in a very well packaged box.
Inside the package I found a packing slip, excellent bubble wrap packaging, and a few pieces of other materials to protect the handle from any jostling in transit.
---
What's in the Box?
First impressions upon unboxing this tool was that it looks very professional and well made. The handle itself is 3D printed with ABS plastic, and you can feel the quality in the production. In total, this is what I got with my order.
A-Case Painting Handle
Packing slip/invoice
Set of Magnets (ordered separately)
Bottle of A-Case Super Glue (excellent for attaching magnets)
When you order your painting handle, you can choose from a number of colors. I went with my favorite color, blue, as it pops with the other colors in my miniature painting setup. All my tools tend to get lost in a pile if I don't colorize things I leave on the hobby desk.
---
Feel and Function: The A-Case painting Handle in Action
The A-case miniature is a unique take on the painting handle tool, which in principle helps you hold your model comfortably while you paint it. Given the diversity of hobby products on the market that can help you this, including DIY options, the A-Case stands alone as the only one with modular pats that fit together with a magnetic locking system.
When it comes construction, the A-Case handle is 3D printed using the durable ABS plastic that is often used in functional parts. The surface of each piece has a smooth texture, feels dense enough to give off an air of quality (instead of that hollowness you may feel in PLA printed parts), and comes with ergonomically sculpted knurls and knobs around the working surface.
Human Need is Dynamic
The modular components give the A-Case Painting Handle versatility in the size of the models you can paint, how you'd like to secure the miniatures to the handle, e.g., magnetically, with sticky-tack, pins, and even how the handle feels in your hands.
In the latter, for example, you can make the handle taller or shorter merely by attaching or removing pieces from the A-case handle. It kind of works like stacking Lego bricks.
The modular approach of having multiple pieces that stack or work individually is that you can use a single A-Case Painting Handle as a single tool, or multiple smaller tools to help you batch paint several models at the same time, e.g., batch painting.
Methods to Secure Miniatures to the Painting Handle
To secure models to your A-Case Painting Handle, you have several options. You can use the built-in metal/magnet bases inside the painting handle along with glued/attached magnets to your miniatures, sticky tack, or pins with optional cork holder module.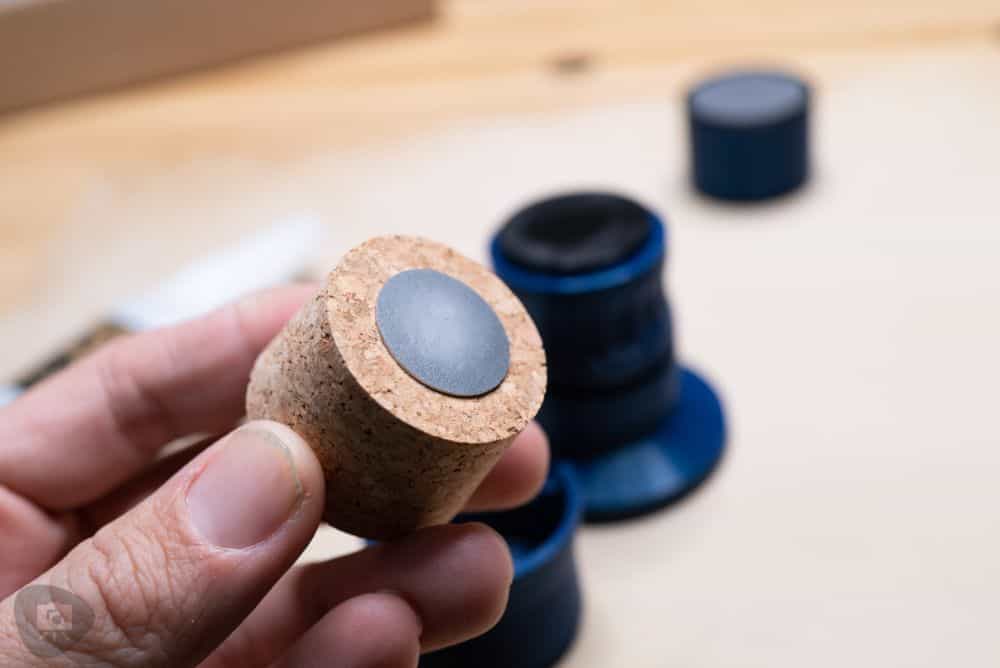 More Than Wine Bottles…
To use the cork module, you'll need to pin your models' feet or base, then insert the other side of pin into the cork like you would attach a map into a cork board. This works great from my experience, but I'll note that the cork will wear out over time and need replacing.
The cork size for the A-Case Painting Handle is tapered from 35mm (or 1.38″). You can use bigger wine corks, but it'll be snug fit. This is a good alternative cork set you can use as spares or replacement. You may want to use sticky tack or other method to secure the cork into the painting handle.
A small bottle of cyanoacrylate glue (aka super glue) is an option along with magnets. Of course, you can find more powerful and affordable neodymium magnets online or on Amazon.
The magnets you can get from A-Case are rare-earth magnets, which are made of the neodymium magnet family of super-duper strong…well you get the point. A single magnet glued to the base of any Warhammer 40k model (up to the large circular ~50mm size) is powerful enough to hold the mini on the metallic plate in the A-Case painting handle.
Bend or Break? Flexibility Allows You to Adapt
Note that while the A-Case Painting Handle works well for a multitude of tasks, it's primary reliance on magnets for securing models may not be ideal for some hobbyists. It takes some prep work to attach magnets correctly to a model's base to make this part of the system work.
Of course, the A-Case Painting Handle is designed to hold miniatures of all sorts and sizes. While mostly a magnet-based system for securing miniatures to the handle, there are other options you can use with the included "modules". For example, you can use sticky tack or museum wax (which I highly recommend you try) to hold models to the A-Case Painting Handle.
For those who don't know what museum wax is, it's a wax product that has a very, very tacky consistency. Art museums use it to hold precious paintings, sculptures in place without damaging them. The wax won't damage delicate surfaces and is easy to wash off.
A small dab of museum wax on the base of any miniature (the lighter plastic version) is more than strong enough to hold the model in place while you paint it.
Combine Attachment Methods
Hint: For an extra secure bond, use museum wax in conjunction with magnets to hold your models in place on the A-Case Painting Handle.
This can be especially helpful if you're painting a larger miniature that may not fit comfortably on the handle itself or if you need to make sure your model doesn't move even slightly while painting. And its better than sticky tack in my opinion because its much cheaper and easier to use.
Once you've attached the model to your handle, e.g., magnetically or otherwise, you're ready to prime, paint, whatever!
If you're going with the magnets, you'll have an easy and enjoyable time with the A-Case Painting Handle. Just be aware that you'll likely need to continue purchasing extra magnets as your miniature painting collection grows.
I'm impartial to the magnets for securing models, as I prefer to simplicity of not bothering with gluing tiny magnets to my models before getting started with any paint job. Though, my mind changes depending on the season….
I tend to let the miniature project needs guide my overall approach. "Be like water, my friend", Bruce Lee once said, meaning to be flexible in both mind and body.
And, if you think about it, the A-Case Painting Handle is exactly that. Its overall design allows you a lot of flexibility to approach how you secure and handle your models while you work on them. You're not stuck with a single way to work and play. I like this philosophy.
---
A Word About Magnets and Miniatures: Pros and Cons
Magnets can damage models, depending on their strength, weight and what they are attached to
Attaching magnets is easy but adds another step in the assembly workflow and will increase costs
Magnets make miniatures easier to paint with a painting handle with magnet-friendly hard points, as models will stick whenever needed without mess or additional adhesive required
Swapping out any model is easy without having to detach a stick or clip; making it possible for batch painting multiple models at one time
If you've been in the tabletop wargaming community for a while, then you already know about the use of magnets for hot-swapping various parts onto your miniatures, such as attaching different weapons and ordnance types to your models, e.g., Warmachine Warjacks, 40k vehicles, as well as for quick and easy disassembly/assembly for storing or transporting models in your magnetized carry case.
Though, you should be aware that magnets have many strengths and weaknesses for our hobby.
Magnets can damage your models, depending on their strength, weight, and what they're stuck to. For example, if you drop a miniature on another one in your collection, the magnet could chip paint or break off fragile parts. Magnets also tend to "get stuck" to other magnets and if you have a bunch of models close together, they may automatically crash into one another; which is another damage risk to your stuff.
Attaching magnets to your miniatures is simple enough. But this adds another step in your assembly workflow. I err on the side of simplicity for my work; though I'll admit that I like working fast and getting to the more enjoyable painting part as fast as possible.
Because magnets aren't reusable once attached to model, the cost of magnets will always add up. Every time you bring a new model or unit into your collection, you'll need a new set of magnets.
On the other hand, properly installed, magnets make miniatures easier to paint with the painting handle with magnet-friendly hard points. Your models will stick whenever you need them to. There is no messy tack to clean up. No requirement for additional adhesive or worry that your model isn't secure.
As with the A-Case Painting Handle, you can easily remove or swap out any model without having to detach a stick or clip. That makes it easy to batch paint multiple models at one time and check on their progress without taking them off the handle.
---
Other Painting Handle/Holder Notes and Thoughts
The A-Case Painting Handle itself is a multi-piece unit. Each module serves a purpose alone or united with the other parts. A closer examination of the modules reveal metal plates on one side and hidden magnetic system (under the black panel in the photos) to "stick" each module to another, or to a magnetized miniature's base.
Depending on the size of your model, whether your miniature already has a base or bottom plate attached—or not, you may need one or another attachment method to the painting handle. The good news is that the A-Case handle can accommodate nearly all of your possible needs, except for the very, very large models (in which case you don't need a handle at all!).
The knobs feel like those on a beefy water faucet and allow you to turn or twist the handle 360 degrees. Here, the ability to spin your model with a single finger or thumb could come in handy when you're working a miniature and need to access multiple angles of the piece.
For those with larger hands, the ability to lengthen the handle by attaching multiple modules together may be useful. With my medium sized hands (based on the disposable gloves I tend to buy for other needs), I was content with 2-3 modules stacked on one another when painting for long periods of time.
One of the modules acts can act as stand, as you can see in the photos, or an extra wide base plate to hold larger miniatures. As a stand, the handle may come in handy for taking photos or when you're airbrush spraying your miniatures in a spray booth, for example.
Overall, the versatility of the A-Case painting handle is nearly unmatched by other miniature painting handle products I've tested.
---
Final Thoughts
Is the A-Case Painting Handle worth it? It's expensive at face value. But if you have a bunch of models and want to paint them with less discomfort, it could help you.
The excellent construction materials, the plentiful options for attaching your miniature, and how comfortable I found using it to paint models of all types and sizes are things that set this handle apart from DIY alternatives. But, be aware of the hidden cost of magnets…
On the flip side, it can be conveniently broken down into smaller pieces which is ideal for batching models quickly and efficiently. Hot swap models on and off without blinking and worrying about adhesives. Given the flexible design and the breadth of features of the A-Case Painting Handle, I think any serious miniature painting can find value in this tool.
I hope you enjoyed this article and found it helpful. Are you using a painting handle at the moment or looking for more information? Check out other miniature painting holders and ways to make things a bit easier for yourself.
Let us know what you think! Leave a comment below.
Thanks for reading!
Tangible Day on YouTube (Miniatures and More!)