The task of painting miniatures is often difficult due to the difficulty in seeing what you are doing. The two solutions that I have found to be most helpful for this problem are a magnifying visor or a lamp with a magnifying glass. These magnifiers both have their pros and cons, so it can be difficult to decide which one is best. For me, the decision came down to how much space I had available and whether or not I wanted something that would put light onto my miniature while also being able to see it clearly at the same time.
In this article, I will explore these two different optical tools to help you paint fine details on your miniatures and models. Which is the best for painting miniatures and models?
---
My Top Recommended for Magnifiers for Miniatures and Models 🏆
The best wearable visor magnifier for miniature and model work is the Donegan OptiVISOR Headband Magnifier
One of the best and strongest magnifying lamps is the Neatfi XL Bifocals 1,200 Lumens Super LED Magnifying Lamp
Continue below to see my review of what I think these magnifiers are are best used for with miniatures and models!
---
What is a Magnifying Visor? Magnifying Lamp?
A magnifying visor is a small optical device that fits over your eyes like safety glasses. Here are a few recommended visors for painting miniatures. There are two magnifier lenses, one for each eye, that work together to give you stereoscopic vision or visual depth. You wear magnifying visors like a hat, with a headband around your forehead. For painting, art, and hobby work a magnifying visor is great because they are quick to put on and free both your hands to work
A hobby magnifier lamp is an lighting system for holding a lighted magnifying glass near your work surface so you can see what you are doing more easily. Here are a few recommended hobby lamps with built-in magnifiers. This type of lamp tends to have a stand on which it sits on top of its base, or have arms that allow it to be suspended near the work surface so you don't need to hold it.
If you're painting miniatures, magnifiers are incredibly helpful for enlarging small details. This not only helps with miniature painting small surfaces and intricate details, but also reduces eye fatigue and strain. Lamps with built in magnification or visor type magnifying glasses give you a hands free ability to work on whatever your hobby needs.
Pros of a magnifying visor
The advantages of a visor with magnifier is that they have a stereoscopic magnifying lens design that give you a more 3D look to your magnified surface. In contrast to the magnification lamp that has a single built-in lens, a visor gives you a more natural appearance to your working surface.
If you wear glasses, most quality visors will be easy and comfortable to use because the distance from lenses to your eyes will remain constant. In my opinion, this is the easier system to use for new painters because you don't have to "learn" about keeping the optimal distance of your eyes to the lenses. All you have to do is keep your model or miniature you working on at the best focal length from your visors.
Another notable advantage of a magnifying visor or headband is that they are compact and lightweight. If you have limited space in your hobby room, or wherever you work with miniatures and models, a visor is easy to store away. Traveling to a convention or some other place you want to work on your miniatures? Take your magnifying visor with you!
Finally, a magnifying visor is affordable. You can get several types of magnifying visors (add link here). Usually, the more expensive, quality magnifying visors use glass lenses rather than plastic lenses.
Cons of a magnifying visor
The best magnifying visor has no built in light. Sure, there are some models that have a small LED that you can attach to the visor, but these are incredibly dim, and I find nearly useless for painting miniatures. You'll need a supplemental light source if you get a magnifying visor. Indeed, if all you're after is sufficient magnification for painting miniatures and models, then a magnifying visor is perfect.
Of course, some people don't like wearing magnifying visors because they can get uncomfortable when you use them for a long period of time. The only recourse you have for this problem is to try a few models to see what fits you properly and find one that is comfortable. Scale modelers often complain that visor are also harder to use because they get in the way when less magnification is needed.
For example, you can't simply move your head to see "the big picture". Instead, you have to remove the visors, flip them up, or tilt your head and look below the lenses to keep working. The kind of takes away from the hands free aspect of using a headband visor for magnifying work. With scale modeling or working with miniatures, you may be going back and forth between needing magnification and normal vision, so this could get annoying.
Finally, headband visor often only come with a single focal length or magnification strength. The best magnification strength (or diopter) I find for visors is about 2-2.25x (or around 4-5 diopter). But, you may want more or less magnifying strength for your work. Here, a hobby magnifier in a swing arm lamp may be more versatile and flexible for you, since you can often adjust the magnification by moving the lens to and from your working surface.
Magnifying Visors
Stereoscopic dual lens design gives you a more 3D look to your magnified surface
Easy to use because the distance from the lenses to your eyes will remain constant
Compact and lightweight
Totally hands free allowing you to work with both hands while viewing the magnified surface
Some people don't like wearing magnifying visors because they can get uncomfortable when you use them for a long period of time
Headband visors often only come with a single focal length or magnification strength
Pros of a magnifier lamp
Magnifying lamps provide great illumination and magnification of your work surface. Because most magnifying lamps operate on a swing arm that you clamp to your desk or table, you can adjust the angle of the light. For painting miniatures, moving your light source and magnifier lens around can be really useful.
The change in contrast of shadows and light on your working surface can reveal imperfections, such as flash or mold lines, or gaps that you need to fix. While you're painting, moving your light around can also help with painting contrast and other technical effects on your miniatures and models.
When it comes to comfort and usability, magnifier lamps are often touted as more comfortable than visors. But, this is personal preference. I find that with time, you can get used to wearing a visor and not notice it's there. Of course, with a magnifying lamp, you don't need to worry about the weight of wearing a visor.
With any magnifying lamp, you have both hands free to work on your miniatures and can move the light and lens where you need it to go.
With the best magnifying lamp with a good lens diameter, built in bright LED lights will provide diffuse and strong illumination on your desk or table. The focal length of a magnifying desk lamp is also usually ideal for miniature work with enough space for a paint brush between the lens and your working surface.
Also, there's no need to worry about getting used to wearing glasses if you wear them already because most magnifying lamps are simple to use once you have it setup at your desk.
Like headband magnifiers, magnifier lamps also come in several strength levels or diopter: 2-2.25x (4 to 5 diopters), 3x and 4x (6 to 8 diopter).
Cons of a magnifier lamp
The disadvantages of a magnifying lamp is that they aren't really portable. There's no way to easily take the lamp with you if you want to work in another room or share your workspace with someone else.
Even when a magnifying lamp is built on a swing arm, you have to have an extra hand free to move it around. Moving it around to work on different projects can be more cumbersome than with a headband magnifier.
Magnifying lamps are also usually more expensive. But, this is less of a problem since they can last you decades and do more than just magnify your models. For miniature painting, a magnifier desk lamp is an investment and gives you more versatility than a simple desk lamp.
The LED lights in most budget magnifying lights are also fairly dim, so be aware that even if it comes with a full spectrum bulb, you may still want an extra desk lamp to help you see better.
A fully adjustable magnifying lens with a swing arm attachment doesn't require much space on your desktop. But, a swing arm lamp does move about your table. If you're like me, the boom arm can knock things over when you're making adjustments, such as tall bottles, or larger models if you're not careful.
As noted above, a magnifying lamp is hands free, but not as much as a visor. You still need some ability to move that lens around and get your focused light source where you want it.
My recommendation here is to get a desk lamp to work alongside a magnifying lamp. This provides you with both bright light for painting miniatures, and the ability to the best magnified view of your miniatures.
Magnifying Lamps
Provides you with both bright light for painting miniatures, and the ability to have a magnified view of your miniatures
Fully adjustable magnifying lens with swing arm attachment does not require much space on your desk
May not be as easy to use since the distance from your eyes to the lens and to the model surface varies the focal plane
May be more comfortable for some people to use than compared to a wearable visor magnifying glass
Not portable
Swing arm lamps can knock things over or get in the way
High quality magnifier lamps are expensive
Which One Should You Use for Painting Miniatures? The Magnifying Visor or the Hobby Magnifier Lamp?
Whether you get a desk lamp with magnifier or a magnifying visor is mostly personal preference, but there are still some things to consider
For miniature painting, the best magnifying system depends on your personal comfort. For miniature hobbyists and scale modelers, magnification is essential for working with small figurines, getting better control over your painting or precision detail work.
The position of how you work under magnification affects your ability to work with fine detail. This is where the magnifying visor shines. It's hands free. You can use both your arms to paint miniatures and position the magnifying visor over the table where you're working on miniatures or scale models.
The best magnifying visor provides a lightweight system that allows you to place it over your table and get into a comfortable sitting position while working on miniatures. The headband makes a great magnifier for tabletop wargaming, model trains and other hobbies where you're sitting at a desk or table.
A magnifying desk lamp, on the other hand, provides a hands free experience that's ideal for miniature painters and scale modelers who want to stand or walk around their workstation. This is especially helpful if you're working on multiple projects and don't want to wear your headband magnifier all day long. This can be great for artists and hobbyists who work at a drafting table or need to sit and stand as they work, e.g., change posture or locations.
In my experience, the best magnifying lamps use glass lenses with the clamp on versions on swing arms. Bright LED bulbs alongside a glass lens built into a magnifier desk lamp is a great choice for precise, fine detail work with miniatures and models. Overall, I find that a lamp with magnifying glass with bright LED bulbs and a 4-5″ diameter glass lens will give you a tad bit more versatile magnification than a single wearable visor can.
All in all, what magnifier you choose is going to depend on your need and working style.
How to Use a Lamp With a Built in Magnifier?
Here are the basic tips for how to properly use a magnifier lamp:
Don't slouch.
Do arch your back (feel that stretch in your lumbar region)
Keep your face at a normal viewing distance from the lens
Make sure you have stereoscopic 3D vision by keeping both your eyes open when painting
Keep your lens clean
---
Recommended Best Magnifiers for Miniatures and Precision Work
(Best Budget Lamp)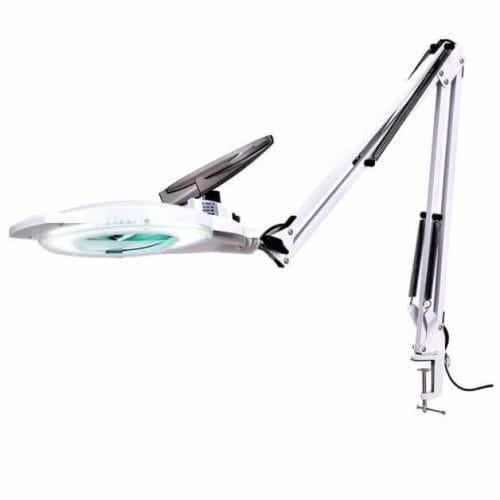 With this NUEYiO Full Spectrum Magnifying Lamp, you can have ultimate clarity at various distances. The 4″ diameter glass lens enlarges your view to 2.25x magnification and has a powerful output of 2,200 lumens so the material being viewed lights up instantly without having to squint or strain eyesight.
You can move the swing arm any which way with its handle, so viewing anything from that Warhammer 40k Titan to a tiny freehand detail you're painting on an Eldar model. This model also comes with a clamp-on feature for securing it onto table surfaces which saves space. Now those precise assembly or miniature painting jobs don't seem as difficult anymore!
Key Points:
4″ diameter glass lens at 2.25x magnification
Very bright at 2,200 lumens
Clamp-on swing arm lamp
Handle for moving the lens with cover
Fairly priced
---
(Best Value and Versatile Magnifying Lamp)
You've likely experienced that sinking feeling when thinking about using your old magnifying lamp, squinting in the hard beam of light that makes it harder to see what you are doing. The Neatfi XL Bifocals 1,200 Lumens Super LED Magnifying Lamp with Clamp is here to change all that.
This model offers bright adjustable lighting which eliminates eye strain and frustration. If you want to be able to see even finer details right up close in every last detail in a way that just wasn't possible in the past, then this lamp is for you! The bifocal lenses gives you the option of general magnification or high power views of your miniature or model.
Key Points:
Large 6″ diameter lens at 2.25x or 6x magnification (bifocal lens)
Bright at 1,200 lumens
Clamp-on swing arm lamp
Long lasting variable color temperature LEDs
Brightness adjustable
---
(My Favorite Magnifying Visor)
Shine on, and take your magnifying business to the next level with the precise clarity of the crystal clear glass lens of this wearable visor. This lightweight and comfortable headband magnifier offers a good fit with a adjustment knob that will enable you to customize it to any head shape without distraction from headaches or discomfort.
The practical focal length of 8-10″ at 2.25x magnification power is perfect for miniature and model hobbies. The visor is lightweight and compact enough to easily carry in your army travel bag or portable painting case. When not needed, flip up the visor for quick convenience! It's time to step up those miniature painting and modeling skills and get real close!
Key Points:
Crystal clear glass lens for improved focus, clarity, and reduced eye strain
Headband size-adjustment knob for custom fit
Lightweight and compact
Visor flips up out of way when not needed
Long focal length for an excellent working distance
---
Frequently Asked Questions (FAQ)
What magnification do I need to paint miniatures?
The stereoscopic dual lens in a visor or the magnifying glass lens built into a magnifier desk lamp will give you magnification for painting details, sculpting texture or precise forms that may require better control over your instruments and hands.
Your naked eye may thank you for reducing the strain as well.
To sum up the magnification you'll need to paint miniatures and models, my recommendation is to use a magnifying swing arm lamp or visor with 2-2.5x magnification. This gives you a focal length with about a 8-10″ working distance between your model and lens. This is the perfect magnification for working well with fine details.
What is the strongest magnifying lamp?
The strongest magnifying lamp is the highest magnification is the Neatfi Bifocals 1,200 Lumens Super LED Magnifying Lamp, which has a built-in high 20 diopter (or 6x) glass lens. The higher diopter in this lens magnifies an object up to 500%. The higher magnification may come in useful in case you need very precise control and lighting.
This is one of the best magnifying lamps with extra light brightness that works great for miniature painting and provides a full spectrum light (e.g., daylight color temperature) for color accuracy. The flexible neck or swing arm on this lamp also make this lamp versatile, allowing you to play the lens and your subject under good light without worrying about where it is clamped to your desk or table.
What is the best diopter?
As mentioned above, for miniature painting, the best magnifying lamps will have a magnification power of between 2-2.5x. This means that the best diopter for your magnifying glass or visor will be around 4 to 7 diopter. For painting, this is more than sufficient for enhancing details and gives you a lot more control to focus on working on those fine details.
For those with low vision or have a hard time focusing on a single position of a surface, desk lamps that have good lighting with glass lenses are likely the most useful. In this case, the best diopter for you will likely be higher than 7. Just be aware that lighting at these higher magnifications may be distorted by the lens and you'll have less distance to work under the lens.
How do I choose a magnifying lamp?
There are a lot of things to consider when choosing a magnifying light. The best magnifying lamps use glass lenses, bright LED bulbs, and have a swing arm attachment that clamps to your desk for good ergonomics. For painting miniatures, you'll want to lighting brightness that is also diffuse and soft so you avoid eye strain. Almost all lighting with LED lights will use a softer kind of light. So, all you need to be aware of is color temperature which is in the full spectrum range, which mimics natural daylight. This will give you lights that produce accurate colors on your miniatures and models.
As mentioned above, the best magnifying lamp may have 2-2.5x magnification with 4-5″ diameter glass lens. The higher the magnification of the magnifying glass in your lamp, the closer you'll be able to look at something without crouching down at your desk or table or near your model surface.
What's the difference between lumen and watts?
A lamp or light with sufficient brightness to paint miniature will likely use LEDs instead of the conventional light bulb. When you are looking for a hobby lamp, you'll often find the brightness of LEDs listed in lumens rather than watts.
Lumens is a unit of light based on the International System of Units. It is "…equal to the amount of light given out through a solid angle by a source of one candela intensity radiating in all directions." (source).
For professional level work, look for anything over 800-1000 lumens, which is close to the brightness you would find on 60-100 watt regular bulbs. Check out the chart below for a comparison between lumens and watts.
| Lumens | Incandescent light bulb watts | Fluorescent/LED watts |
| --- | --- | --- |
| 450 lm | 40 W | 6-9 W |
| 600 lm | 40 W | 10 W |
| 900 lm | 60 W | 15 W |
| 1125 lm | 75 W | 18.75 W |
| 1500 lm | 100 W | 25 W |
| 2250 lm | 150 W | 37.5 W |
| 3000 lm | 200 W | 50 W |
Lumens Watt Equivalent Chart
Conclusion
If you are looking for the best magnifier to use when painting miniatures, make sure to take into account how much magnification power is needed and also what would be most ergonomic.
The Neatfi Bifocals 1,200 Lumens Super LED Magnifying Lamp offers a lot of great features that will help with your hobby or professional level work including good lighting brightness and diffuse soft light which won't strain your eyes.
Although it's not as versatile as some options because it can only attach to one location on your desk at a time, this lamp provides all the intensity necessary for miniature painters at an affordable price point.
For magnifying visors, the best option is the Donegan OptiVISOR Headband Magnifier . This magnifying visor offers a lot of versatility by not needing to attach onto your desk or table and can be worn over your head even if you wear glasses. I find this visor to be very comfortable for working with miniatures and models for long periods of time. In fact, I own two: each with a different magnification power depending on what I need.
I hope you found this article helpful and gave you some ideas of which magnifier system may fit your needs best. Which do you prefer? A magnifying visor or lamp? Let me know with a comment below.
Happy Miniature Painting!
Tangible Day on YouTube (Miniatures and More!)