Are you looking for the best Citadel paints? There are Citadel paint sets, but they are small and often incomplete. Maybe, you want to branch out your paint collection with the most useful and versatile colors in the Games Workshop paint line. Of course, there are many model paint brands, including Vallejo, Scalecolor, and more. But, to keep things simple, especially when you're planning to paint up your Age of Sigmar or Warhammer armies, using Games Workshop's Citadel paint color line makes things easy when it comes to color choice.
Here, I outline some of the best (priority) paints you should pull off the Citadel paint rack or buy online if you're starting out in the miniature painting hobby.
Here are my top recommended 26 Citadel paints for your collection (not in priority order):
Continue reading for my thoughts on why these may be the most essential Citadel Paint colors to start or expand your paint collection for your miniatures and model hobby. This may be especially helpful if you're on a budget and want to only get the most versatile and useful paints for miniature painting. For the savvy online shopper, you can probably pick up all of these paints for under $75 and paint almost anything.
---
What are the best Citadel miniature paints?
Define it anyway you like, the best miniature paint are the paints you find the most useful for your current project. There are a huge number of model paint brands for hobby painters. Check out this article for a review of the best miniature paint sets. If you're looking to focus your choices on the Citadel brand, you'll find a lot of color and formula options!
Citadel has 9 paint types, including:
Contrast Paints – a line of paints that help you paint models quickly using semi-transparent pigmented paint. Check out the full review and guide for Contrast Paints here.
Base Paints – a pigment rich formula of paint designed to help you base coat your models in the fewest coats possible. Smooth and easy application make these paints a must-have for those looking for a quick start to painting gaming miniatures.
Shade Paints – also known as a "wash", shades are a more fluid paint formulated to help you shade or darken recess over your miniatures quickly. For a detailed guide about washes and shades, and how to use them, see this article. These are also likened to inks, which are described in more detail in our article about using inks to paint miniatures.
Dry Paints – dry paints are a much thicker, and drier form of pigment that you can use to facilitate the technique of the dry brushing technique.
Layer Paints – these are conventional model acrylic paints and form the bulk of the Citadel Paint line. These paints come in a huge variety of colors, tones, and values. You will likely end up owning more of these paints than any of the other paint types.
Air Paints – these are airbrush-ready paints that are pre thinned for use in an airbrush and should provide you with similar color matching with layer and base paints. Here is an article with a review of Citadel Air Paints alongside other airbrush-ready paints.
Technical Paints – technical paints are "special effect" mediums that you can use to create unique effects, like blood splatter, glowing gems, or toxic sludge. They are useful for adding a bit of novelty and interest to your miniatures that would be difficult to do without mixing up your own medium.
Metallics – these are simply acrylic based paints with metallic pigments or flakes. You can use these to mimic metallic surfaces on your miniatures. When dry, metallic paints produce a reflective colored surface that can often reproduce a similar look as real metal (with some exceptions).
Sprays – for convenience when painting large models and surfaces, Citadel sprays help you paint quickly over large areas using similar colors in the conventional base and layer paint lines. These sprays also include primers and varnishes.
In total, there are over 340 "paint mediums" that you can buy from the Citadel product line. And, I'm sure there many more forthcoming. They comes in all types and colors. Each behaves differently and may be formulated for a different purpose. Remember to always start your project with a suitable primer.
Okay, so which of these hundreds of Citadel paints should I get first? If you're just starting out or want to expand your current paint collection with the most useful, versatile, or even fun paints available from Citadel, continue reading for info that may help you make your decision.
---
What paints should I prioritize for painting miniatures?
I've chosen 26 Citadel paints as essential for anyone's paint collection. Here's why:
Let me start by saying that the best way to get a good paint collection going is to get a starter set. Here are my top 10 recommendations for starter sets for beginner miniature painters. If you're in a hurry, I would definitely consider picking up the "Learn to Paint Core Skills" set from Vallejo. Games Workshop doesn't really make a great starter paint kit for most people. They tend to focus on small paint sets designed for a particular army, e.g., Dark Angels or other niche collection.
---
Here's a breakdown of must-have Citadel paints:
---
Shades and Washes
Here are my favorite 7 best washes for painting miniatures and models (tips and reasons). If you're only going to stick to a budget for a few from the Citadel product line of miniature paints, these would be my recommended choices for washes and shades.
Agrax Earthshade is the go-to for nearly every miniature painter when they first start learning to paint. Formerly known as Devlan's Mud (for the long time painters), Agrax Earthshade continues to carry the moniker "liquid talent". Easy to use, a single application of this shade over a painted miniature quickly shades recesses and dries into a smooth, matte finish. For most tabletop quality paint jobs, this single application of shade will be the final step for completing a model. The brown hue matches well with nearly every color palette, which makes this one of the most versatile paint shades to have in your paint collection.
Nuln oil is a black colored shade or wash,. It is a fantastic way to quickly darken recesses and crevices on a painted model. This is especially useful for shading metallic paints, bringing details to the forefront, and creating a lovely contrast that makes steel or neutral colored metals pop. If applied properly, you can use Nuln oil as a black liner to help distinguish different elements on a model from each other. For more details about how I prefer using Nuln Oil check out this article.
Reikland Fleshshade is best applied as a wash over painted skin and flesh tones. You'll want to experiment with this shade to find the right application for your work. Overall, this shade has a reddish-brown tone that you may find helps to add contrast to other elements, too, like gold metallics or as a rust effect over other metallic surfaces. I have mixed Reikland Fleshshade with brown paint to help me paint earthy colored bases. It's a wonderfully rich shade that you can use for many different things on your models. Suffice it to say, Reikland Fleshshade is great for painting flesh, but you'll discover many more uses for this paint wash.
Seraphim Sepia is by far the easiest and most versatile way to add contrast to gold metallics. It pairs well with even coats of Retributor Armour, for example (mentioned below). You'll find that Seraphim Sepia adds a warmth to any surface, casting a subtle orange, glowy hue that filters underlying colors. If you're bored with using Agrax Earthshade over everything, you may enjoy experimenting with Seraphim Sepia as a way to add contrast to your models. As with any Citadel Shade, Seraphim Sepia is easy to apply and dries in a smooth matte finish. And, as a pro tip for best results, try not to thin any of the shades with too much water.
Paints
Abaddon Black is the best base coat black you can find for painting miniatures. I'm 99% sure you'll agree that if you need to cover a model's surface in black paint, Citadel Base Abaddon Black is a great choice. Sure it's a standard black acrylic paint, but compared to other brands, e.g., Vallejo, Reaper, Scalecolor, Citadel has the perfect foundation black paint for everyone. You can easily thin this paint with water and it will retain most of its coverage. This is the black paint to get for all your black painting needs.
It is hard to find a good white paint that will cover a surface evenly and completely without applying a lot of layers. White Scar is a one of two white paint colors from Citadel, and is the purest white you'll find in any model paint brand. Reaper Master Series paint has a pure white paint color that is comparable. If I had to compare White Scar to other whites, then I'd say that for most white painting needs, you can't get anything with better coverage and utility. Well, you can, but other white paints tend to be chalky and clumpy. Citadel White Scar is a smooth, gel like blend that you can use straight from the pot thinned with water, or use it to tint other colors. It mixes well with any acrylic paints, and further adds opaque qualities to those colors.
Mechanicus Standard Grey is the most neutral gray. What do I mean by neutral? Well, mix pure white and black paint in a 50/50 ratio and you'll end up with Mechanicus Standard Grey. I recommend this color for everyone as it works to either shade pure white, or acts as an easy way to highlight black surfaces. As a base paint, this is formulated to cover quickly and evenly. The opaque qualities of this paint make basing your model in a gray surface super easy. Simply thin with a dab of water and apply it in 1-2 coats. Gray is a color you can match with almost any color motif and theme. Paint rock as easily as you paint armor or terrain with this gray paint color.
Celestra Grey is a subtle blue light gray paint. As a formulated base paint, it has excellent coverage and thins well with water. You'll find this lighter, cool gray paint useful in many applications where you want to highlight without changing underlying colors, or as a smooth base layer for light colored miniature elements. If you're painting a wintery scene, for example, or need a mostly white surface, start with this gray paint as the foundation. For those who prime black, you can also use Celestra Grey as a quick way to build up toward brighter paint colors. Everyone should have a pot of Celestra Grey paint.
Averland Sunset is the perfect yellow base paint. Yeah, I said it (but I also show you a reason why here). For most acrylic yellow paints, you'll find that coverage is poor and splotchy. You'll take your yellow paint and try to apply it to a model, only to discover streaks. In contrast to this hassle, Averland Sunset paint will create a smooth even coat of yellow paint in 1-2 layers. Thin with a dab of water to keep the paint flowing off your brush and apply it with ease. I never bother trying to paint yellow on anything without starting first with a good coat of Averland Sunset. It is a beautiful yellow color by itself, or you can use brighter yellows over it to highlight, or darker browns/oranges to shade.
For most miniature pieces I paint yellow, I use Yriel Yellow as my highlight for yellow surfaces. I've painted nearly every Imperial Fist space marine piece I own with this paint as the main color. For highlighting Averland Sunset (above), this is the perfect choice. Mix the two paints together for a nice midtone transition. To paint fire effects, you can use this yellow as the transition between the orange and the white parts of the flame. I don't use any yellows brighter than Yriel Yellow, lest I allow my viewers to think I used a highlighter pen on my miniatures. This is a must-have yellow paint along with Averland Sunset.
Mournfang Brown is the most versatile brown paint for painting miniatures. Just think about what things are brown, and you'll direct your mind's eye toward brown hues that have Mournfang Brown in them. For example, leather cloth may have this brown as a darker shade or as the main color. For bases with dirt and dark earth, Mournfang Brown takes center stage. If you're into non-metallic metal (NMM) painting, and need a darker hue for your gold or brass NMM, you can use this brown. This is a multipurpose brown. Use Agrax Earthshade to quickly add contrast to this base brown color. Highlight Mournfang brown with orange or white hue mixtures, or use Rakarth Flesh (see below).
Rakarth Flesh is another base color that provides you with many versatile applications. Start with this color as a basecoat or use it as a highlight layer paint. Solid opaque coverage can be had in 1-2 coats. A small bit of water will help it flow off your brush. I use this paint color for lighter skin tones, for painting parchment papers (e.g., purity seals, anyone?), and as a dry brush highlight color over browns and dark grays that you may often find on model bases or terrain bits. This is a lovely paint that I recommend for its many uses.
Bugman's Glow is the best color in my opinion for tanned skin. I mean this for humans or non-humans, beasts, and what-not. You'll find this matches perfectly with Rakarth Flesh, Mournfang Brown, or even Yriel Yellow, for painting fur, flesh, and other organic elements. For earthy dirt tones on bases, Bugman's Glow works alongside reddish and gray hues to add a bit of warmth to your miniatures. I've also seen this paint color used in NMM painting styles for brass and copper. Bugman's Glow is formulated as a base paint and therefore has pigment rich opaque qualities that help it cover your model quickly and smoothly.
Khorne Red is your standard red paint. It is brighter than Mephiston Red, which makes Khorne Red more useful. It is hard to brighten red paint, so starting with the brighter Khorne Red helps you avoid that hurdle. Khorne Red is my go-to red paint for anything requiring the prototypical red coat of paint. You can use Agrax Earthshade or Reikland Fleshshade to quickly add darkening contrast to a base coat of Khorne Red. Or, you can be a bit adventurous and use Kantor Blue as a shade (below), playing with color temperature. For an easy highlight, Evil Sunz Scarlet (below) will pair well with Khorne Red, and is a popular color for edge highlighting this base red color.
Evil Sunz Scarlet is a semi-bright red-orange paint color. I use this paint to highlight almost all of my red painted elements, either using edge highlighting or dry brushing techniques (see here for the 8 must-know techniques for blending model paint). Evil Sunz Scarlet is incredible versatile in this regard and works great with many red or orange hues, e.g., flame effects, glowing barrels, and helmet lenses. Evil Sunz Scarlet is a layer paint formulation and will be a less opaque than the Citadel base paints. It may take more than 2-3 layers for complete coverage of an underlying color. I recommend thinning this paint with a bit of water to keep pigments flowing and avoid a splotchy, uneven finish.
Kantor Blue is a dark blue paint. As a Citadel base paint, you can use it as a base coat layer for other brighter blue paints, or as a shade for other colors, like red (an adventurous way to harmonize your color palette and add contrast). I paint almost all my blue-glowy powerswords using Kantor blue as the base layer. Mixing this dark blue with lighter blues, i.e., Alaitoc Blue, or white brings up the gradients. Smooth application with this paint will also help you add a bit of cool metallic sheen to your NMM painting. For those working on Warhammer 40k Ultramarines, this is the blue I use to shade Macragge Blue.
Alaitoc Blue is a light, baby blue paint color. This is my favorite blue for highlight almost any blue hues, including Kantor Blue. Use this is a midtone color in glowing lightning power swords and weapons, or as part of the reflections you paint in reflective lenses. Everyone needs a light blue paint in their paint collection. I highly recommend Alaitoc Blue for this reason. For equivalent light blues in other paint brand ranges, you can check the color conversion chart here.
Calibran Green is a fairly dark green base paint. Coverage and application is excellent straight from the bottle. A drop of water will help you smooth out any streaks from your brush onto your model's surface. 1-2 coats of Calibran Green will be sufficient to cover most miniature surfaces without much trouble. For painting armor, e.g., Dark Angels, or for foliage or reptilian scaly skin, Caliban Green is a fantastic foundation paint to start with. A largely ignored aspect of Citadel paints is how easy they are to thin and use as glazes or dry brush mediums. For more about techniques to help you layer and glaze paint, check out this article.
Of all the green paints in the Citadel Paint line, Waaaagh! Flesh is the green paint color that made me take a second look. It's not really a bright green or a dark green, but somewhere in the middle. Waaaagh! Flesh is a base formulated paint designed for easy 1-2 layer coverage and smooths out evenly when dry. It works great as a main color paint for green skin tones, e.g., orcs and goblins, or as a highlight for darker greens and even browns when mixed properly with warmer color hues.
You can use Waaaagh! Flesh thinned down as a glaze to help you add a bit of lichen and moss to stone ruins, rocks, and terrain. Tint this green with white paint and you can create some interesting, mystical glowing effects on fantasy miniatures, e.g., Age of Sigmar. For a Skaven army, I used this green a lot for painting the rag clothing on clanrats.
Warpstone Glow is a bright, almost fluorescent green that you can use to highlight other green paint layers. I along with others have used this to create glowing effects, e.g., object source lighting (OSL), by adding more and more white paint.
Metallics
Leadbelcher is a highly pigmented metallic paint. You'll need shake the bottle to properly mix the paint before use. As a base metallic paint, Leadbelcher is my favorite metallic for anything I need to paint steel or iron. This has the best coverage of all the metallic paints, except for perhaps Vallejo's Model Air metallic line (which you can see the review for here). In general, I use Leadbelcher for nearly every metallic base coat paint job. If I need to brighten this metallic paint, I may mix in a bit of silver metallic paint. Nuln Oil works great as a shade for Leadbelcher.
Stormhost Silver is a bright, silvery metallic paint. There's not much to say except that this is probably the best metallic paint for highlighting steel metals you can find in the Citadel line. A comparable metallic paint would be Vallejo Steel Paint, which may not apply as easily to sharp edges. I tend not to use this bright silver as a base metallic paint because it doesn't have the best coverage. But, with a bit of patience, you will find this eminently useful as a highlighting metallic paint for brightening up metals, even golds.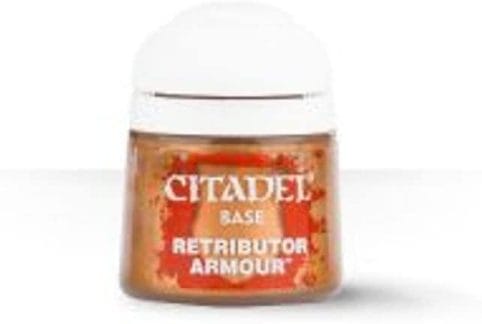 Retributor Armour is the absolute base gold metallic paint (here's my in-depth review of this amazing gold paint). Gold metallic paint, like yellow paint, have had a bad rap for having poor coverage. They are often hard to use and frequently result in a splotchy finishes. Not Retributor Armour. This gold paint covers any well-primed surface in 1-2 coats, easily, creating a prototypical beautiful gold reflective finish. You can either use it as the primary gold metallic, or shade it with Reikland Flesh or Seraphim Sepia. Use a purple wash, and you turn this gold into a copper metallic (see a more thorough overview of working with metallic paint among others in this article). You can edge highlight this gold with a bit of Stormhost Silver, and give it a bright specular sheen.
Technical/Texture Paints
You can use Nighthaunt Gloom many ways. Its indicated use is for creating the ghostly blue glow on miniatures. You start with a white base coat of paint or primer and apply Nighthaunt Gloom (undiluted) in a fairly thick coat over this surface. As it dries, Nighthaunt Gloom acts as a glaze. It will add a gradient filter over the white undercoat paint in a way that looks like the surface is "glowing". It's quite effective!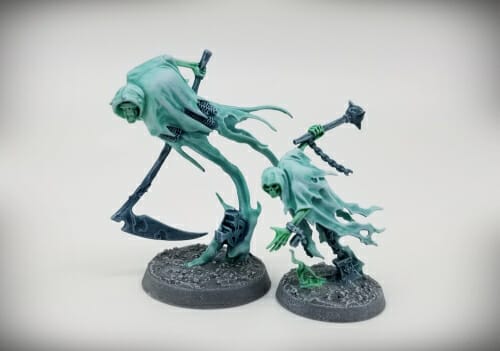 You can continue to paint over this glow effect with other paints to adjust the look to your pleasure. The reason I think everyone should have a bottle of this paint is because these glowy effects would be very hard to reproduce without knowing how to mix other paints to create this transparent effect. You would need to use glazing art mediums or similar products mixed in the correct ratio. Also, I think this is one of the most fun technical Citadel paints you can play with. It has the potential for adding novelty and impact to your miniature paintings without a lot of effort.
Agrellan Earth is one of several technical paints designed for basing your models. A thick coat of this paste material on a base will dry into a cracked, desert looking surface. If you're looking for a quick and compelling way to finish the bases of your miniatures, these technical paints are the best. Sure, there are more affordable options, but Citadel has created the easiest and least labor intensive ways to create these looks.
Agrellan Earth and the other technical texture base paints are nearly foolproof. For new miniature painters starting in the hobby, this is as close to plug-and-play as you'll get. You don't even have to paint over the base surface when it's dry.
RELATED: CHEAPER ALTERNATIVES TO CITADEL TEXTURE PAINTS FOR BASING MINIATURES
Armageddon Dust is a texture paint you apply to create a minimalist look for your bases. It is a simple paste material you slather onto your base that dries into an sandy, dusty surface. You can dry brush the surface to pull up details, using paints like Screaming Skull or other bone colors.
You can wash the dried surface with shades, such as Agrax Earthshade to darken the texture, too. Contrast is king, so play with different techniques to make your surfaces appear crisp.
---
Conclusion
At some point, you're going to collect way more paints than you'll ever need. I have piles of miniature paint bottles and pots that I've collected over the years. Hundreds. Some haven't been opened in a long time.
Here's an interesting point I learned the hard way. The more paints you use, the more you'll realize how few paints are necessary. As Oliver Wendell Holmes, a US Supreme Court Justice once said, "For the simplicity that lies this side of complexity, I would not give a fig, but for the simplicity that lies on the other side of complexity, I would give my life." In other words, your understanding of simplicity only comes after fully experiencing complexity.
I hope I've helped simplify your search for the ideal paints you may want in your collection. I've focused on the Citadel brand as it is arguably the most popular and accessible to most people. Of course, I missed a ton of favorites. But, I think you'll find the paints I listed are the most versatile across a large spectrum of miniature painting needs.
Let me know what you think in the comments below!
Happy painting and hobbying!
---
Tangible Day on YouTube (Miniatures and More!)