If you're an avid gamer, then you know the importance of having a proper gaming table. You already know that you'll want a table that is the proper size for your favorite game for a great experience. The best wargaming tables are not just about size, however; you'll find that amazing gaming tables may also have cool features that provide additional function for your gaming experience. Check out this post for more ideas and information about great wargaming tables for RPGs and other tabletop games.
In this article, we'll take a look at 10 different wargaming table ideas to inspire how you may find one that works best for you. There is no one-size-fits-all approach to game room design. Everyone has a different idea of what their space would allow, the sort of game they like to play, and different requirements for their specific game, such as an RPG or a miniature tabletop game.
---
Do You Need a Wargaming Table?
You certainly don't need a wargaming table, but it would sure be helpful wouldn't it? Your dining table is the standard go-to place for most household games. The playing area of most standard tables is often all you need.
RELATED: FAVORITE GAMING TERRAIN FINDS ON ETSY
But, if you're looking to play wargaming tabletop games with miniatures, then a dedicated gaming surface would be really helpful. A gaming space that you can devote to wargames or roleplaying games (RPGs) would go a long way to enhancing immersion, especially if you use terrain.
Whether you're using a foldable game table, modular gaming table tops or a simple 6×4 gaming table, this is your neutral ground.
Tabletop games rise and shine with the quality of the models–Why not display and use them on a gaming surface with the perfect size and shape?
---
Standard or Specialized Game Table: What's the Difference?
A standard table is any tabletop you already use in your home. Whether it's a dining table, a computer desk, or folding picnic table, these are all useful places to play games, e.g., board games, wargames, and more.
A wargaming table (or gaming tabletop) is any flat surface you convert into a miniature battlefield or game playing surface. You may envision a wargaming table as a specialized piece of furniture with built-in features like cup holders, digital monitors (for displaying RPG maps), or storage compartments, such as drawers, or folding writing and book holder trays.
On the other hand, you could also consider those standard tables as wargaming tables as long as you use them for wargaming or your favorite RPG.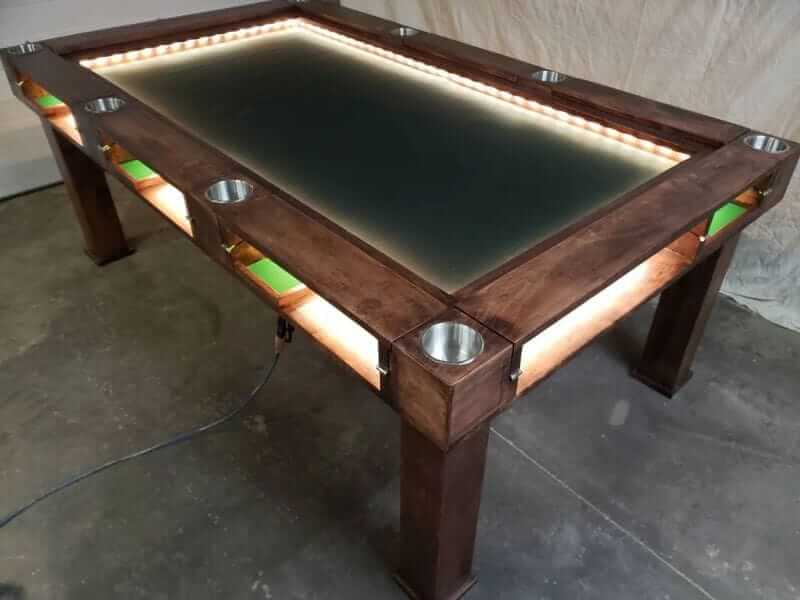 Really, any table can become a TTRPG table. I remember turning a cheap coffee table into a bonafide D&D gaming table back in my small apartment in New York City. It worked because it's all I had!
---
Wargaming Tables with Dual Purpose?
When I lived in my small apartment, there was only two places you could play any game requiring miniatures: the floor or the table we ate food on (i.e., some would have called this a 2×2′ plywood board "a dining room table" without the dining room).
RELATED: BEST DESKTOP SETUPS FOR PAINTING MINIATURES
But, as we moved to a larger space, it became clear that hosting my friends over to play card games, board games or Warhammer 40k, required a larger tabletop. Even more, I wanted one that I could dedicate to wargaming and role playing games (RPGs), where I can spread out the models, terrain, and battle mats.
Most of us already have great tables gaming, except they are often the same tables we use for dinner or other meals. Maybe you're looking for a gaming tabletop that you can place on a table you own already–a gaming "topper".
Or, maybe you are looking for a tabletop that folds up and stores away easily. There are even tables that "transforms" seamlessly between a standard dining room table and a gaming table.
Continue reading for ideas for finding your ideal gaming tabletop for miniature wargaming and RPGs.
---
What Features Should You Look For in the Best Gaming Table?
The best gaming tables have should be sizable and fit the space you have available. You want to make sure it's not too big, but also that there is room for all of your miniature figures, scale model terrain, battle maps, and player widgets, e.g., digital tablets, character sheets, game books.
The ideal wargaming tabletop will also accommodate all of your favorite games. For example, if you're playing Warhammer 40k, Age of Sigmar, or Warmachine/Hordes, you'll need a playing surface of at least 6'x4′ feet for full-sized games.
If you can get a larger space than the minimum you need to play your game, or add a sideboard, this would give players room to layout their gaming accessories, e.g., cards, books, tokens, dice trays.
Of course, if you're playing DnD or other RPGs, the size of the table isn't as crucial unless you're using large battle maps and/or model terrain features. Of course, you'll want to accommodate the number of players who will sit at your table. Some tables are wonderfully crafted for the style and aesthetic of RPGs, i.e., Wyrmwood tables. But, they can also be very expensive.
In general, it's not just about tabletop size, your gaming table has to be functional and fit in the space you have available!
Ten Must-Know Features for Choosing the Best Wargaming Table
Table surface area
Durability
Storage
Style
Tabletop materials
Tabletop height
Kid-friendly
Modular table
Extras
Cost
Table surface area
You want to make sure it's not too big, but also that there is room for all of your miniature figures on it. For example, for a standard game of Warhammer 40k, you'll want a tabletop with a surface area of at least 6 feet by 4 feet. If you can afford more space, this will allow your players to spread out and make gaming more convenient and enjoyable.
Durability
The best miniature wargaming tables are made with a durable surface so they can withstand repeated use, e.g., the throwing of dice, playing handling and use, and the constant movement of miniatures and terrain. If you're gaming with your favorite beverage, it is also inevitable that you'll spill liquids on your gaming table. Make sure the surface you're gaming on is easy to clean and resilient to liquids.
Storage
Is there extra game storage anywhere? It will help you keep everything you need in one place and won't require going back and forth to find everything you need. Some dedicated gaming tables have built-in drawers and shelves under the playing surface. Card tables and other custom built gaming tables have places to store dice, cards, tokens, and gaming chips. For wargaming and RPG play, storage is often an overlooked feature of a game table.
Style
The style of your wargaming table could be conventional, appearing as a standard table, or thematic, with a fantasy motif. The wargaming or RPG table style could match the appearance of the room its in, or your personal taste. If you're devoted to a particular game, the game table could match the style of that game. There are so many gaming tabletop styles to choose from that only you can decide what works best for your space.
Tabletop materials
There are many different materials available for miniature wargaming tables such as plastic resin, PVC board, and more. A gaming table should also offer a surface for miniature figures or terrain features that is sizable and easy-to-clean so you can be confident that the table will last. Playing surfaces may also have a soft cloth material, such as neoprene, leather, or felt, which can help dampen dice roll bounce and noise and protect the table furniture itself.
Tabletop height
There are three tabletop heights you can choose for your gaming tabletop. First, a game table may be short, requiring players to sit or kneel on the floor. Second, a standard dining room table height is around 28-30 inches, which allows you to comfortably use chairs around the tabletop.
Finally, you can use a bar or pub tabletop height, where players stand around the gaming space. These bar height tables are around 36-40 inches and are common in many local game stores for gaming tables.
Note that just because you use a high, bar counter-height tabletop for games, doesn't mean you and your players have to stand. You can also use bar counter stools or high chairs to sit while around these taller gaming tables.
No matter what table height you choose, don't go too tall, otherwise you'll make it hard for players reach across the table for miniatures or other gaming accessories.
Kid-friendly
Stability and strength of the table is the most important features when you have kids around. A miniature gaming table should be sturdy so it can withstand being jumped on by young children or pets and won't topple over if someone bumps into it. As mentioned above, the table surface should also be resilient to spilled liquids.
You can also find gaming tables with height-adjustable feet will let you shorten or lengthen the height of your table to accommodate gamers of different stature. Adjustable legs may also help you prevent wobbles when using the table on uneven flooring.
Modular table
If a miniature gaming tabletop doesn't fit your space, then instead consider a table that has modular boards to extend or contract the playing surface so you can use the table in any space available. A modular wargaming table gives you the flexibility to do other functional things with the tabletop surface.
Some tables also fold or collapse which allows you to store them away when not in use. Large folding tables are also great for deploying when you need the extra gaming space for additional visiting gamers to your home. If you're traveling or want to go to a gaming session away from home, then using a lightweight, folding table is a great option, too.
Extras
Some wargaming tables come with chairs and other extras. Other dedicated RPG tabletops come with cup holders, fold out trays, or book holders that are useful for playing all types of games.
There are ingenious wargaming tables with top panels that you can remove to reveal a recessed playing area. When you place the topper back over the table, the play space is covered, and the surface looks like a normal table again. You can check out some of the cool extras in the tables reviewed below.
Cost
The cost of a table varies from dirt cheap to luxuriously expensive (>$3000). Most of the cost in any gaming table is in the quality of its material and construction. Hand crafted, custom wooden tables constructed with hardwoods can range in the thousands of dollars.
While budget friendly game tables may be under the $100-200 price range. For example, get two of these folding tables, place them side-by-side and you'll have a great tabletop space for your largest Warhammer games.
Do you have your own table? To save money, you may also opt for table toppers that expand the size of your playing surface area of your own table. There are also do it yourself (DIY) wargaming table instructions for building and fulfilling the basic requirements for your particular gaming needs at low expense.
For an overview of great miniature wargaming tables and ideas for creating the ideal space for your hobby games, continue on below!
---
10 Best Wargaming Tables for RPGs and Tabletop Games
The basic requirements for a gaming table for wargames or RPGs will vary according to the available area of the room and the needs of the players. Getting the space of the right size should provide you with enough room to play your game of choice. The best wargame tables also often have a dedicated surface material boundary, such as a play or battle mat, that helps you define the gameplay area. This adds immersion and clear sense of gaming space where the action happens.
This height adjustable activity table is a sturdy and versatile surface for gaming. Stay focused on the task at hand without getting distracted by your surroundings or feeling like you're all bunched up in a cramped space. Combat chair territory-grabbers, nosy neighbors, and environmental disturbances!
For larger games, two of these tables side-by-side will give you enough surface for your standard Warhammer 40k or Age of Sigmar games. Get ready for epic battles across this 1″ thick laminate surface that will last for years to come without scratches or stains. Adjustable legs allow you to move the tabletop down or up for the perfect height. Some assembly is required.
This sturdy Double Folding Table from COSCO is designed to make gaming life a little more convenient! With a folding table that will collapse down to just 3 inches high, you can easily transport and store your wargaming table anywhere. The comfortable handle lets you carry the 25.5 pound table with ease.
If tables have been difficult to set up in the past then rest easy knowing this table has got you covered for year-round tabletop gaming. With a durable polymer surface (plastic), you can play games anywhere, indoors or outdoors, without fear of ruining its lightweight design. No assembly required.
This White Granite Folding Table is a perfect solution for any space-constrained wargaming or RPG event. Similar to the COSCO table (above), this table is lightweight and easy to store. The best part? The foldaway design allows it to be stored neatly in the provided bag when not in use. For those who need more space, you can get two of these to create that epic battle space. Check out this folding table for playing RPG and wargame campaigns.
4. Restoration Hardware Inspired Pool Table
I've always thought that pool tables with their felt lined surface make great wargaming tables. They are large, spacious and the perfect height and size for wargaming with miniatures. With a side-board that runs around the entire table, there's plenty of room for your accessories and books.
If you're careful with a custom cover, you could protect the felt surface of the pool table and keep it for its original intended use, too. Here, the 8′ Otis Pool Table is truly a spectacular piece of furniture. With its distressed brown finish and it's charming barn-style touches, this Restoration Hardware Inspired Pool Table will bring the character to any room.
Of course, it's expensive–very expensive–but this isn't just a piece of IKEA furniture.
The Stakmore Traditional Expanding Table is a conventional table for dinning rooms in anyone's home. Of course, as a wargamer or for playing RPGs, this table is also a great option. The expanding design will increase the tabletop surface area to suite whatever your gaming needs.
With this type of conventional height tabletop, you can host a small dinner party, play a board game, or execute that skirmish wargame, e.g., Kill Team or Warcry. It may be a tad too small for larger wargames or those epic pitched battles, but the solid wood construction is sturdy and could support toppers, e.g., large planks of plywood or other specialized gaming toppers, for more expansive miniature adventures.
The solid wood construction provides sturdy support that will last for years to come. Make sure you bring extra chairs!
You've been looking for that one piece of furniture that can double as a board game table and fit into your kitchen design or dinning room space. This functional game table may fill this need immediately!
The Board Game Table with Removable Topper is an awesome tabletop for gamers. Finally, you can play boardgames, RPGs, and smaller sized wargames without having to have a separate table space (or sweeping clear and disrupting a used one). With this gaming table, if dinner needs a little more attention, just turn it into a standard table top in minutes. Check it out!
The Wyrmwood Prophecy Table is the ultimate gamer's table space. The Wyrmwood Prophecy is a masterpiece of RPG gaming furniture. With its 6-10 player capacity and built to last for decades, this table will be your home's centerpiece furniture set. The Prophecy has two innovative components: a lift mechanism and industry-first spill resistant dining topper.
The lift mechanism on this thing in particular is pretty useful You can raise he playing surface to play a tabletop game; but, then lower the gaming surface down for dinner and hide your gaming surface under a the wood paneled cover. After eating just go back into gaming in moments by lifting the surface again. Dungeons & Dragons or other roleplaying games was never so convenient.
The Prophecy Topper features integrated rubber gaskets which guards against spills that could ruin your gaming surface while you're dining over the playing surface. An innovative magnetic rail system that runs around the table allows you to add or remove accessories, e.g., cup holders, trays, and drawers, at a moment's notice, without having to use tools or awkward assembly work. Take a closer look at this amazingly cool table on Wyrmwood's site.
Get your favorite board games and card games off your living room floor and onto this Board Game Table Topper! The table top is 58 inches by 35 inches and has a 2.5-inch drop, mimicking the height of most dining tables, so you'll be able to use it for dinner just as easily as playtime.
With 4 built-in cup holders (and 6 pairs of recessed areas for holding cards, game tokens)—why use a coaster again? There are a lot more optional features you can add for your table.
Need to take a break from all that winning—the neoprene mat is double sided and easy to remove for quick clean up after any water spilled drinks before getting straight back to the table top!
With four anti-slip supports, this convenient table can support up to 45 pounds – so you don't need worry about anything too heavy on the surface during your next game night–except maybe an errant toddler or overzealous adult.
As one of the most popular modular gaming tables on the market, this is great for all kinds of games. But, best of all doesn't take up too much space. It's also easy to put away when your non-gamer company comes over (or conceal without the neoprene mat). Check it out!
9. Custom Board Game Table
Take your game nights to a higher level with a custom made board game table. The tables are made from solid 3/4″ maple with removable tapered maple legs to make delivery and moving easy. The playing surface of the table sits at 28.5″ from ground level, which within the standard height for a dinning room table.
The maximum size for this table surface area is 84″ long x 46″ wide, which is nearly what you need for most standard 6 x 4′ surfaces for wargames like Warhammer). For board games or RPGs, this is perfectly spacious for hosting larger parties. The 2″ recessed playing surface is upholstered with speed cloth on top of 1/4" padding, so you can spend less time wiping down sticky surfaces and more time gaming on this furniture oasis.
I noted that the channels on all four sides of this table are deeper than most other tables, which means you can easily fit any optional accessories, e.g., cup holders and shelves, anywhere along the perimeter. Speaking of easy-to-move components, each accessory stays snugly in its designated channel so you don't have to worry about anything toppling over or sliding around while playing, making this table not only practical but also stylish!
Are you tired of drinks spilling on the table during Game Night? End your days of panicked and frustrated gaming with this Gaming/Dining Table. With a removable top that has an undersurface built in for game night, it features a groove running along the under lip that provides space for customized drink holders to keep the gaming surface free from spills. Dice tray attachments help your players stay organized.
The two unattached sides also have little cubbies where you can tuck away and store all your gaming gear or any other items needed to be close at hand. No more rooting through bags or drawers! Made from gorgeous Red Grandis wood, this table will standout in any dining room setting. Fits up to 6 people around the sizable gameplay space. Take a closer look!
---
Frequently Asked Questions (FAQ)
Can I just use an existing table as a game table?
Yes, of course you can use any standard table you own. What makes a regular table into a "game table" is merely how you repurpose your existing furniture. As long as whatever table to choose to play your games on has enough space, size, and is comfortable for you and your players, you'll find you may not need to get a new dedicated space after all.
What are gaming mats or playing surface mats?
Play surface mats or battle mats are large pieces of material, often neoprene, felt, or other soft-textured fabrics, placed on the gaming area where miniatures and other game pieces are placed.
If your table has no designated space for gaming or are sitting on an office table, a mat may be a good investment too. It help define your playing world and keep everything within a set boundary.
Basic tabletop requirements for popular wargames and RPGs?
Popular wargames or RPGs like DnD, Warhammer 40k, Warmachine, or Flames of War require players to have a flat, surface for miniatures and terrain features. A basic tabletop size ranges from a minimum surface area of 3 x 3 feet to 4 x 6 feet. Larger tabletop surfaces give players room to spread out accessories, e.g., game pieces, books, smart phones, tablets, tokens, and cards.
Do I need to buy specialized mats for my RPG or wargame?
To help define the area of a game, specialized mats may be purchased to perfectly suite the game being played. A gaming mat is often printed with artwork inspired by the wargaming theme, a desired aesthetic, or may act as a dry-erase board for RPGs where dynamic campaign play out.
---
Summary: Best Wargaming Tables for RPGs and Tabletop Games
| Image | Product | Best Features | Price |
| --- | --- | --- | --- |
| | Rectangular Grey Thermal Laminate Activity Table (Height Adjustable) | Versatile game table with adjustable height for any type of tabletop game, including wargames and RPGs. For larger games, use two tables side by side. | Check Price |
| | COSCO Deluxe Fold-in-Half Blow Molded Folding Table | Large folding table with sufficient surface area for miniature skirmish games, board games, and host RPG campaigns. Adding additional tables will allow you to play larger games. | Check Price |
| | White Granite Folding Table | A low cost tabletop for those with limited space, or want a storage option. Multiple tables will give you the option for epic battles, or hosting larger gaming parties. | Check Price |
| | Restoration Hardware Inspired Pool Table | A repurposed pool table makes a wonderful wargaming tabletop. The size and height are perfect for epic wargame battles. | Check Price |
| | Stakmore Traditional Expanding Table, Fruitwood Frame | A conventional dining room table with expandable panels for those larger games. Solid wooden construction give this tabletop durability that will last years. | Check Price |
| | Board Game Table with Removable Topper | A two-in-one table that easily converts between a board gaming tabletop and a normal dining room table. A wide side board around the playing area gives players room to spread out while playing. | Check Price |
| | The Prophecy Gaming Table | A top-of-the-line tabletop for gamers who want the best money can buy. Feature rich, beautifully constructed, and styled for immersive gaming, this is a best tabletop choice for those who can afford it. | Check Price |
| | Board Game Table Topper with Shelves | This gaming table with topper and side shelves is as practical as you can get without sacrificing the features of side boards, cup holders, and dice trays. An ideal board game table for any space. | Check Price |
| | Custom Board Game Table | A spacious table with a recessed gaming space and top panels for converting into a conventional dinning room table. Great for board games, RPGs, and smaller skirmish sized war games. | Check Price |
| | Gaming and Dining Table | A dedicated board gaming or RPG tabletop for those who want to save space with furniture. Beautifully constructed and practical, this convertible, modular table includes useful accessories like cup holders, dice trays, and side boards. | Check Price |
---
Final Thoughts
I hope you found this article helpful for getting ideas for your next wargaming or RPG game table. There are so many options out there, designed and styled for anyone's particular needs. I personally love minimalist tables that can serve multiple purposes, such as eating a meal, playing board games, as well as those epic pitched battles between miniature armies.
Where do you play your favorite wargames or RPGs? Do you use your dining room table, a DIY gaming tabletop, or something specialized? I'd love to know. Leave a comment below.
Until next time, happy gaming!!!
Tangible Day on YouTube (Miniatures and More!)