Are you looking to hire a miniature painter? Maybe you're looking to hire a painting service, but don't know where to start. Well, then you already know that miniature hobbies are much more fun and exciting when the models are fully painted. Painted miniatures make your games and the entire hobby come alive.
If you're new to the process of hiring a miniature painting service, or you want to avoid a bad experience, then this article is for you.
---
What is a Commissioned Miniature Painter?
Miniature hobbies aren't for the faint of heart. Most models and miniatures for tabletop wargames and board games don't come painted. The miniature pieces are usually in a kit, which you need to assemble before you paint. As such, naturally, miniature painting also extends to fine scale modeling. These might include model trains and other collectable scale hobbies, e.g., cars, planes, military vehicles.
A commissioned miniature painter is a freelance artist who specializes in painting miniatures. As with any professional service industry, there is a wide spectrum of business models. Some commissioned painters work alone, painting models for clients as a hobby and a little side cash, or as part of a larger company (or studio). In either case, the principle is the same.
A transaction is made between a commissioned miniature painter (or studio) and client who wants one or many models painted to a particular standard or quality. Of course, with any service you may either pay for a deliverable that meets your expectations or severely disappoint you. Although miniature painting is often disregarded as a real business transaction, you should still follow the consumer axiom: buyer beware.
As you read below, I highlight some information about what you should look out for when considering the process of hiring someone to paint your miniatures. I hope that my experience as a commissioned painter will help guide you toward making an informed decision on how to get your models painted through a paid-service.
Should I Commission a Miniature Painter?
Yes!
But, you want to proceed with caution. Hiring a miniature painting service is similar to finding the right mechanic for your car. You want to hire someone that will approach you with honesty and clarity when it comes to painting your miniatures and meeting your expectations.
4 Key questions that you should ask yourself before you decide to hire a miniature painter:
Trust: When I hand this painter-for-hire my hard-earned money, will I receive in return the full value of what I expect from the paid service?
Expectation: Will my models look beautiful? Will I be satisfied?
Durable value: Will this painter deliver a painted product that you feel satisfied with in the long-term, or even excited to show off?
Affordability: Can I afford to pay the commissioned artist what they are asking for?
If you can answer "yes" to all of these questions, then you should hire that miniature painter.
What is the Most Important Lesson I've Learned as a Freelance Miniature Painter?
If you've read this far, then you're already interested to know more about hiring a miniature painter. I've learned a lot about painting miniatures. At a technical level, I'm pretty good at knowing how long it would take me to paint a miniature to a tabletop quality or even much higher (see here). I also think that I'm able to guesstimate the quality of a miniature paint job by looking at it based on a few widely established criteria (see here).
Because of this, I'm pretty confident that I can communicate to someone whether the project they want to hire me for will be impossible at any reasonable price point. And, I'm not afraid to admit that my skills aren't up to par.
If someone wants me to freehand an elaborate festooned cape on a 75mm scale miniature, and have tribal tattoos adorning bare flesh on manly pectorals with realistic non-metallic metal (NMM) pauldron armor pieces, and offer me $100 for the job—not only will my eyes glaze over, I might cackle just a bit.
As a commission miniature painter, I've picked up many insights into the business of painting minis professionally. I've poured thousands of hours into painting other people's miniatures. And, for the vast majority of these projects I've had a great time painting up a variety of models. There are some miniatures that I would have never seen in-person if it wasn't for people's painting needs. I've been fortunate to do what I enjoy (see here for a fun story about why I enjoy painting miniatures).
The biggest lesson I've learned about being a commissioned miniature painter is the need to manage expectations. Every project is unique and every person I work with has specific expectations. My goal is to deliver something that meets or surpasses whatever those needs and expectations are. To avoid confusion, I always try to be clear in upfront communication about what I am capable of in a specific time frame. I also maintain a constant flow of information during a project, including photos of work-in-progress (wip), so that there's an open line of communication. Any good service-style business is about engagement and maintaining a relationship.
Good communication is vitally important.
How Do Miniature Painters Make Money?
As you might be wondering, "what about the money?". Well, like in any business that provides a service, the formula for making money as a commissioned miniature painter is the same. A laborer invests time into a particular trade, meeting a consumer's need, which is rewarded with an acceptable currency (this could be a barter for product or other service of equally perceived value). In short, a miniature painter converts time into money.
Importantly, as with any business model, to make a profit a miniature painter will usually price their service to include the overhead for painting your models. This cost would include supplies like paint, primer, varnishes, and the general upkeep costs of various other things, e.g., airbrushes, 3D printing supplies, cleaning agents, brushes.
How Much Money Does a Commissioned Miniature Painter Make?
It depends! And, let's clarify what it means to make money. As I said above, time is converted into money. So, for a miniature painter, we would measure how much someone could make through the unit of an hourly wage (or rate). Note that this doesn't mean that a commissioned miniature painter actually charges by the hour. In fact, most painters charge by the model or entire project.
For simplicity, I'll present information as the total income a miniature painter makes as it is spread over the actual time it takes a painter to finish a project.
If I'm reading the market right, the average commissioned miniature painters make about $10-12 per hour. At the slightly higher end, if a painter is painting models that are slightly more complicated, but not necessarily harder or slower to paint, they may be able to push this hourly rate up to $15-20.
An artist who has won multiple miniature painting awards (e.g., Crystal Brush, ReaperCon) and/or has worked in a highly-respected, miniature company's studio may command much higher prices (upwards of several hundred dollars per model or miniature)—the sky's the limit.
Overall, I imagine the whole landscape of commission miniature painting like a pyramid. The top few make big bucks; while the vast population of miniature painters-for-hire make much less money.
Here's a word of warning; in contrast to other business models, in the art world of miniature painting, you don't always get what you pay for. Choose your hired service or painter wisely.
What Should I Expect to Pay a Miniature Painter?
When it comes to your typical commissioned miniature painter, I would say that you could expect to pay about 1-1.5 times the MSRP of the miniature you want painted. For example, this means that for a Games Workshop HQ model that might cost you $30 USD for the kit might also you cost an additional $30-45 to have it painted to a fairly high tabletop standard (see this article for what this standard paint job means).
Of course, the cost for painting a miniature depends highly on the the artist or painting studio you're hiring to do the work. As the reputation and recognition of the miniature artist goes up, so does the overall cost to paint a particular model.
If you want someone famous to paint your miniature, expect to pay top dollar. Part of the reason these artists can command such high commission prices is due to their level of skill, recognition, honed painting style, as well as the real possibility that whatever miniature they paint may increase in intrinsic value as a collectable.
As a client looking to hire a miniature painting service, you are ultimately beholden to the "Quality Triangle." The Quality Triangle describes the relationship between a good, fast, or cheap job. As a client, you only get to choose two.
As you see in the graphic above, your choices determine how your miniature painting service will fulfill the hired project.
We will come back to this Quality Triangle later in the article. It helps describe some of the issues you should avoid when you're looking for the right commissioned miniature painter.
What About Miniature Painting Levels?
Miniature painting levels are artificial quality levels that some painters or studios place upon their "service offerings."
Painting levels similar to the tiers of buying a car model. You can get the low tier model that comes with the standard power train, transmission, and useful things like powered windows, a key fob, and a car alarm. Alternatively, you can spring for the mid-tier model with leather seats, or go to the elite model with auto-pilot, rear facing cameras, and holographic heads-up displays. More better, more money.
Tiered miniature painting levels could be detrimental to a miniature painter, because ultimately holding to a strict painting quality level artificially causes the artist to "hold-back" from doing their best work.
The same goes for some studios or painters who offer "tiers" of painting with levels of quality that accompany an increase in price. For example, a painter might offer a service quality of 1 to 5, where 1 is a low-level tabletop quality (e.g., base coat and 3 other colors, which may look good if multiple models in a unit are arranged together). A level 5 painting service may be a display or competition level miniature paint job (e.g., advanced techniques applied to the model, including free-handing, non-metallic metal style painting 'NMM', and other special effects, such as Object Source Lighting 'OSL').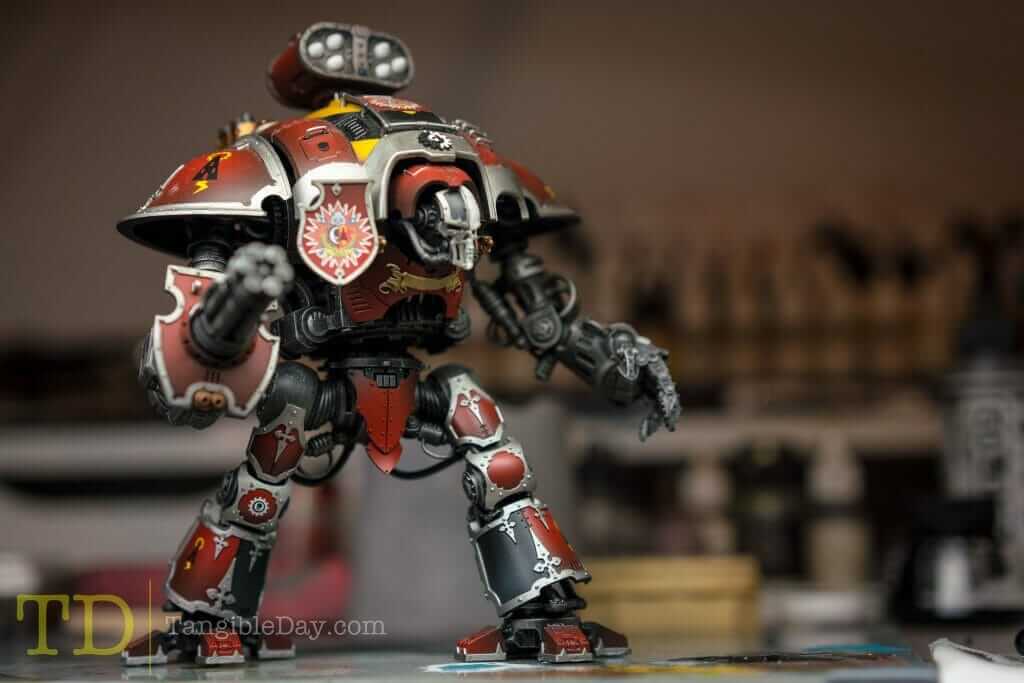 Here's my perspective about miniature painting levels. When it comes to miniature painting levels, I think they are a reasonable model when they are offered from a miniature painting studio or company that employs several painters of diverse skill and experience.
Here's why: when you want to pay less, you merely request a lower tier painting quality. The said studio then assigns a particular painter to the project, in this case, it might be a less experienced painter. On the other hand, if you wanted the highest quality paint job, the company might assign your project to a veteran painter who has the skill and experience to provide you with the best end-result available.
However, when it comes to most miniature painters-for-hire, I think miniature painting "quality levels" could be a viewed as a re-skinned version of a prototypical "sales funnel" (see image above). In this case, I'm not a huge fan.
Alright, let me explain. Miniature painting levels work because they attract a larger customer base (e.g., those who want to pay a budget price for a budget paint job, and those who want a high-, competitive-level paint job and are willing to pay for it) than a service that only offers a single painting quality. Essentially, miniature painting levels are designed as a way to enlarge the top of the sales funnel to capture the widest consumer audience.
Tiered miniature painting levels could be detrimental to a miniature painter, because ultimately holding to a strict painting quality level artificially causes the artist to "hold-back" from doing their best work. For any freelance business, it is usually a good idea to always put your best product forward. Every job a painter completes, whether they like it or not, becomes a part of their growing portfolio.
Think about it, if you went to a mechanic for your car and they offered a tiered service for the quality of a repair job, would that make you think twice? If you engage with a miniature painter who offers a tiered painting service, ask yourself whether you're ready to pay for an artist to go half-way with their skills.
Of course, there are exceptions: if you're on a tight budget but want or need models painted and don't mind a tabletop quality paint job, then a painting service with a budget system is the way to go. In this case, I suggest that you consider a larger studio where there may be more consistency in the paint job work (with internal accountability).
How Do I Commission Someone to Paint My Miniatures?
This question comes up a lot: "Where do you commission a miniature painter?"
There are 3 keys places you can find a miniature painting service:
Local game store (LGS) – you can ask the owner or employees at your local game store if they know anyone who is offering a miniature painting service. I know that in my LGS, there is a sign board where miniature painting services hang their printed signs with contact information. If you're a part of a gaming club or other hobbyist community, then you could simply ask around. Word of mouth is usually a good way to find a miniature painter you can trust (more about this below).
Social media/forums – this is probably the broadest way to find a miniature painter/service. There are literally thousands of miniature painters out there offering painting services for money. Facebook, Instagram, Pinterest, and Twitter are some of the most popular places you can solicit a miniature painter for getting a job done. Reddit and other similar community forums are also great places to find miniature painting services. Take note that some sub-reddit groups have strict rules on soliciting or offering miniature painting services. In general, shop carefully and make sure you find someone you feel comfortable working with.
Conventions – game conventions and trade shows are actually a pretty good way to find the highest-skilled miniature painters. At many of these larger meetings, a lot of miniature game companies and studios will send their artists to meet fans. Some of them may moonlight as commissioned painters. This could be your opportunity to get your models painted to the highest production standard available. In some cases, some freelance studio artists may attend as guests or along with sponsorship from a vendor. Networking at a convention may allow you to connect with an artist whose work you highly admire.
As a commissioned miniature painter, I've generally found my work through local channels in the community. I have obtained a smaller number of projects through social media connections, including a few from game companies. Most of the reason for this is because the people who've reach out to me have seen my work in-person, online through my social media postings, or have been referred through word-of-mouth. No matter the case, I've made great friends through the miniature painting hobby.
If There's a Contract, What Should Be In It?
Sometimes you may want a contract with the miniature painter. In today's digital world, email can act as a contract. In fact, you should treat all communication via email as full legal documents. If there's a contract (email or hard copy), here are a few of the things that could be in it:
Your name and the miniature painter's name
Date of the agreement regarding the project
What you are specifically hiring the miniature painter to do (i.e., what is the scope of the work? Is it a single model or an entire army collection?)
If you are planning to use the painted miniature in a commercial setting (not just for personal use), then make this clear in the agreement. Copyright or license issues could arise. Essentially, what rights are being purchased along with the miniature paint job?
Milestones, including dates for work-in-progress updates (i.e., when you'd like progress photos, etc.)
Cost for the project—this might include a breakdown if needed for things like assembly, or multi-unit miniatures. Shipping and handling costs should be a part of the cost for the project.
How the transactions will be completed—when will the final payment be made to the miniature painter, and by what method of payment.
5 Potential Mistakes When Commissioning a Miniature Painter
I've had a lot of questions from the community about how to find someone to commission for a miniature painting project. Along the way, I've also heard horror stories; miniatures coming back incomplete (or poorly painted), super late delivery (or not arriving at all), and unexpected costs.
The following are common pitfalls that you should consider avoiding when you're looking to hire a professional miniature painting service.
1. Hiring Your Friends
When you first start looking for someone to paint your miniatures, the easiest place to look is to the people around you—usually your friends or club members. This is a potential mistake if you (and the potential painter) aren't on the same page about what to expect from the other party. Clear communication about expectations might save you from some discomfort.
In other words, when you engage in a trade/barter/transaction for a service with someone, especially one that involves money, the relationship changes from friendly to slightly more business-like, where a small wall (even a tiny bump) might arise between the two of you. If you're not aware of this possibility, it can creep up on you and make change the "atmosphere."
For example, you have some miniatures that your friend painted that look great. Amazing, actually—The models pop off the tabletop or board game. You say to yourself, he would do a great job painting my miniatures. But, in fact, that person might not be as widely skilled and reliable as you think.
Remember the "Quality Triangle" we described above? Your friend might be really good at painting at a high quality, but would either under- or over-charge you (unintentionally causing him/her, or even yourself, to feel a tad uncomfortable with the situation), or fail to deliver the model back to you in a timely fashion (i.e., they paint painfully slow). Of course, you might be okay with the drawbacks in any of these cases—It's your friend after all. A friend is someone you can trust and this transcends all simple definitions of value.
However, if your goal is for a professional paint job that you can rely on that will finish in a reasonable timeframe as a fair-market value (see my thoughts about pricing above), then you may want to avoid going to a friend who just happens to paint well.
2. Being Impulsive
Acting on impulse is doing something without forethought. Many of us miniature hobbyists, despite our patience within the hobby, actually love seeing results happen quickly. In this case, if you're excited to get your miniatures painted, you might not be spending enough time doing the background research for choosing the right miniature painting service.
Do you look at only one or two images and decide that this particular painter/studio will do the job? It's more than skill and aesthetic. Sure, the models that a particular painter shows off on their Instagram feed look amazing. That's their best foot forward.
But, can this painter/service paint your models, which might not be the same kind, complexity, or aesthetic as what this person might be used to painting? Certainly, painting a GW 40k space marine is a different task than approaching a Kingdom Death board game model, or a Dropzone Commander unit of vehicles.
Also, take your time and see if there are testimonials about a particular painter's work ethic and professionalism. Even if they are super talented at painting models, a miniature painter may be slow or lazy when it comes to delivering what they promise.
It's a sad but a true fact of any service business. Some service people are duds. Look at it like this: Do you just flip open the telephone book (or whatever you use in this digital age) and choose the first home contractor you see at the top of the listings to re-do your bathroom? No, you find out how reliable they are, and if they've done a good job for other clients.
Take your time and really consider what you're investing your time and money in when you're looking for a professional miniature painter. Outside the exceptions where your expectations are low (i.e., your friends in your club—but see point #1 above), you want to make sure your transaction is smooth and painless. Ultimately, it is you who has to live with the expense of getting your models painted, looking good on the table, and admiring them (or not) on your shelf.
3. Expecting a Professional Painting Service to be Cheap
Painting miniatures is a hobby, right? So, why would you pay someone a lot of money to do something they have fun doing anyway?
Yes, it's true that many miniature painters who accept commissions for work started as hobbyists and continue to paint for fun. However, they are also people who are working to turn their personal time into another useful commodity—money. Money allows professional miniature painters to continue doing their hobby (or other pastime), or even simply living a life with bills and other responsibilities.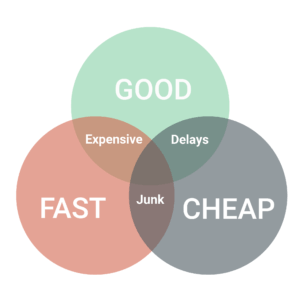 Although it is possible to find a truly budget painting service that can deliver quality paint jobs for your miniatures, it is rare. Moreover, many of these services are located in foreign countries (e.g., Southeast Asian countries and others) where the cost-of-living is much lower, and the tax/business laws are less strict and regulated. Obviously, these places will likely provide a cheaper miniature painting service, but because of distance and locale, there is the risk of your models disappearing entirely.
In addition, many services require a fairly high deposit upfront before work can begin on painting your miniatures. That carries other risks, too (see below). Finally, if you remember the Quality Triangle, time-to-delivery may be sacrificed for that budget tabletop standard paint job. It could take months for a project of only a few models to finish.
In general, as mentioned earlier in this article, you can expect a miniature paint job to cost between 1-1.5x the MSRP of the model or more. This means that to hire a miniature painter with professional service (timely delivery, reliable quality, and fair price), you can expect to essentially purchase your models twice to have them painted up.
4. Putting Down a Large Deposit
A deposit is a sum of money you pay as a first installment toward a miniature painting service. It is a pledge from you, the client, that you are committed to the miniature painting project's final cost as agreed upon. When a project is completed, the residual amount of the project is due to the miniature painter.
If a client decides to cancel the miniature painting project, then the deposit is forfeited to the painter/artist. In some cases, the models that the client has delivered to the artist may also be forfeited because paint has already been applied to the miniatures. As you can imagine, this is a particularly bad place to be for both the client and the miniature painter.
In general, a large deposit would be about 50% of the total cost of the project, or more than 20% MSRP of the miniature. A reasonable deposit would be closer to 10% of the entire project's total. This amount keeps the agreement between the client and miniature painter on good terms (see more about this below). For the client, this is a good chunk of money relative to the project's size, and for most miniature painters, this covers the cost of supplies should the project proceed, and then prematurely end. So for a project that would cost you $1000, you should expect a reasonable deposit of no more than $100. Don't forget that the miniature painter will have miniatures that you purchased (which also have a value on the used market and could be considered a "material" deposit).
Of course, there are exceptions: maybe you're asking the miniature painter to purchase the models and paint them as part of the project. In this case, the miniature painter is holding a proportionally higher cost burden until the project is finished. In this case, you may be asked to leave a significantly higher deposit.
Here's why you may want to be cautious about leaving a large deposit: For you, the client, leaving a large deposit and your models with a miniature painter leaves you exposed to much more loss should you decide to halt a project (even if you didn't want to, unforeseen circumstances may arise, i.e., job loss, health emergency, etc.). Also, if you're requesting the services of a foreign painting service overseas, a large deposit leaves you exposed to unnecessary loss should a project "disappear," or if you change your mind unexpectedly at the thought that it could take months for you to receive your painted miniatures.
For the miniature painter, unless the overhead is huge and they've invested a lot upfront for a particular client, there is less financial risk involved with a canceled project. In fact, asking for a large deposit before a project initiates could be a bad business practice. Let me clarify: Asking for a large cash deposit communicates that you're not comfortable with the client's commitment toward a specific project. And, I tend to think that good business etiquette still rests on the axiom "the customer is always right." A miniature painter who engages well with their client, ensuring good communication, and forming an amiable relationship, will be successful in the long run.
5. Expecting the Painter to Read Your Mind
Even the most experienced miniature painter won't know what you expect from the paint job. If you hand miniatures over to a miniature painter and say "be creative," you are certainly taking a leap-of-faith—and if that is your intention, this is a great gift to the miniature painter. Most miniature painters love trying out new techniques and experimenting, so when they get a project where "play" is the expectation, then hallelujah!
But, if you're looking for a particular style or look to your models—a specific color scheme, for example—then at the very least provide the miniature painting service clear written instructions or a set of reference photos of other models that carry a similar feel and appearance. That way, the miniature artist knows how to approach the project and can communicate back to you whether they think they can carry out the paint job to your expectation.
Along these lines, request that the miniature painter keep you updated on progress. This way if something goes off-target a bit, you can communicate that a course-correction may be necessary. In many cases, a miniature painter might take that initiative as a courtesy to make sure that you are up-to-date on the project's progress.
Finally, be aware that "revisions" aren't guaranteed unless stated clearly, preferable in writing, before a project is started. During those progress updates (mentioned above), make sure you mention as early as possible that something isn't meeting your expectation or instructions. A miniature painter hates nothing more than finishing a model's paint job only to find out that you want half of it changed. Also remember that with acrylic paints, revisions can often be difficult to do. For example, after a cape or piece of clothing is shaded, it is very difficult to change one color without altering the appearance of those nearby—it is much easier to darken a model than it is to lighten one.
Revisions are a normal part of any miniature painting project, but they can add unexpected costs to the overall project if you're not careful. To avoid this problem, be very clear of your expectations of the project—use written instructions and provide as many photo references as you can. All of this helps to make the process of commissioning a miniature painting project seamless and enjoyable for both parties.
Final Thoughts
In general, you should approach a miniature painting service like any other service industry. Although miniature painting is your hobby (and likely that of many miniature painters), commissioning a miniature painter should be approached wisely. You should expect professionalism, a good level of communication (throughout the project), and trust throughout the process.
I have painted all kinds of minis. The miniatures have come from many companies, big and small. My painting portfolio includes models produced by Games Workshop, Privateer Press, Cool Mini Or Not, Fantasy Flight, Corvus Belli, and other miniature companies. I've also painted up miniatures from board games, such as Zombicide, Mansions of Madness, and Cthulhu Wars.
If you found this article helpful or interesting, please let me know. Your feedback is encouraging and helps keep me going to make this the best site possible.
Thank you for reading!
---
Tangible Day on YouTube (Miniatures and More!)