Do you want to write better battle reports? Are your adventure logs lacking narrative flair? Maybe you've played a memorable tabletop game like Warhammer 40k or Warmachine/Hordes, or are simply keeping a campaign record for your Dungeon and Dragons group. Either way, you're looking for ways to spruce up your writing with some pictures.
This article describes the 5 important camera shots you should consider for your next write-up.
---
Three Items You Will Need
Tripod – I've dabbled with using different setups. Generally, the tripod is great for when you need it, but it's not really necessary unless you're doing video work, or don't have the extra hand. A tripod may provide more stability for a few of the more creative camera angles (read below for more). The one we recommend is the Gorillapod by Joby, especially the smaller one that can hold your smartphone (see it on Amazon). 
Overview of the 5 Camera Shots
We show you five important camera angles. But, they aren't all necessary for every situation, and you'll find with time whether or not they work for you.
You may have already discovered that you like certain images better than others from your write-ups. We'd love to see them (please leave a comment with a link to your reports).
For those interested in video, the camera shots in this article could become part of your shot list.
Shot #1 – The Scene Setter
Where are you playing this game or campaign? What kind of building are you in, a house or a local club? Your players are traveling to this location, that that might have been a part of the overall experience. Show it.
Place your audience in the action of your entire day.
Take a photo that captures the feel of where everyone is playing.
Shot #2 – The Medium Shot/Overview
This is the most common type of camera angle for most battle reports. Here you start to hone in on the action.
For the tactical minded-gamer, this is the overview shot is the one you can't miss. It will provide you and your viewer with all the information of the game during each round or turn.
RELATED: RECOMMENDED LIGHTS FOR MINIATURE PAINTING
There are models on the table and they are all jiving for board control.
Or, you're in the midst of your role playing game, and there's about to be an encounter. When the dungeon master (DM) cries "roll for initiative", that's your cue to switch on your camera.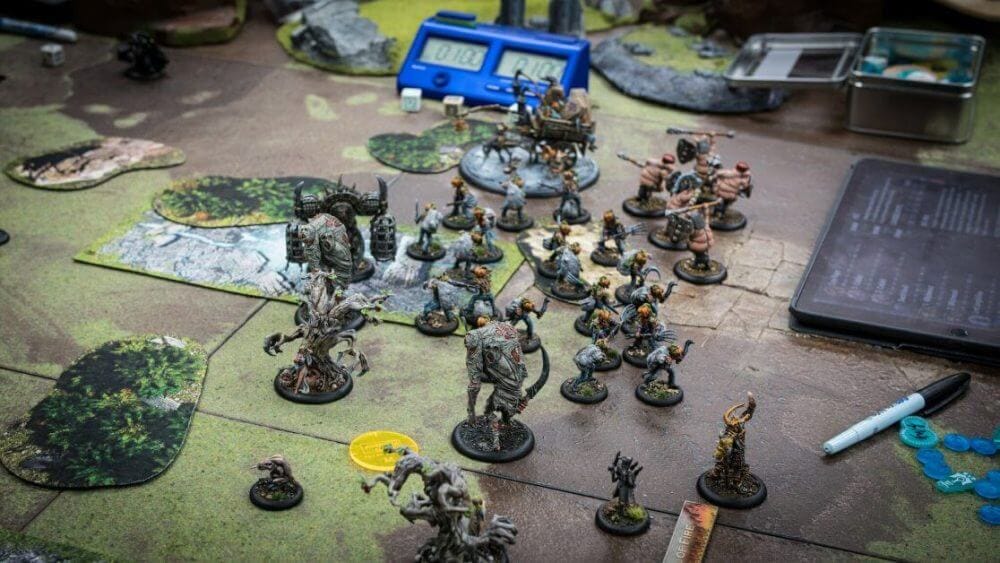 In general, you are looking to provide your reviewer with a closer view of where you subjects are (in this case the miniatures).
The medium/overview shot narrows your story's viewpoint and brings everyone closer in.

Shot #3 – The Portrait
In many games, the miniatures are personalities that express themselves through play. They are the avatars and characters that drive the action and story. This is the portrait.
These photos could be close-up headshots, half-body views, or full-length photos of a miniature in game. A wider-shot will show the model's surroundings.
In each case, the purpose of a portrait is clear: one photo, one subject.
It's always best to take a variety of portrait shots, as photos of your subject will probably be used more than once in a good audio/visual presentation.
Shot #4 – Capture Detail
This is the camera angle that everyone forgets.
Don't ignore the details!
Detail shots work extremely well for transitions between other photos, especially in narrative write-ups. These detail images also have powerful story-telling impact as well.
What color are the dice players are throwing? Are the tokens well-made, or are they crappy pieces of paper? What does the terrain look like up-close? Is there food lying about like pizza and soda, or Chinese take-out?
All of these bits of information tell us more about our game, the individuals involved, and the overall experience of playing.
Details are great elements to have in a photo essay or multimedia presentation.
Shot #5 – Capture Action
The action shots show your miniatures doing something. In this case, this also probably means the players are doing something, too.
Action photos are important for more impactful battle reports because they convey an atmosphere of interaction by real humans.
This is the shot that is probably the most difficult to get right. You have things happening spontaneously, and you have no control unless you ask your players to hold-still while you take a photo.
You might take a dozen or more images of dice being thrown or tape measures being extended, and still not be happy with them.
The key here I think is to anticipate where you might get a good shot. When in doubt, fill your frame with your subject. Get close and wait for the action to happen.
Anticipate, then take the shot.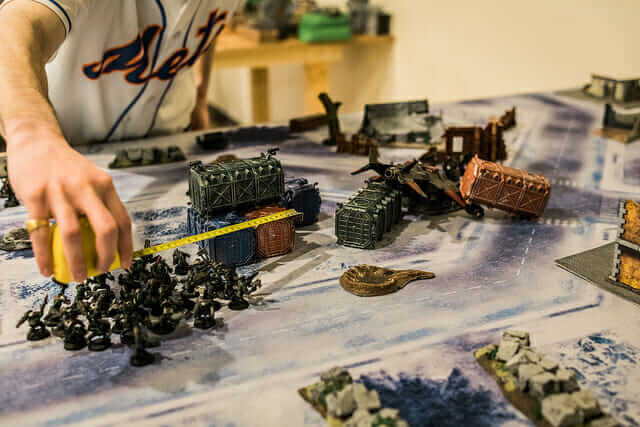 The good news is that if you get the other four shots, and fail to get the action shot, you still have a powerful photo essay-like battle report.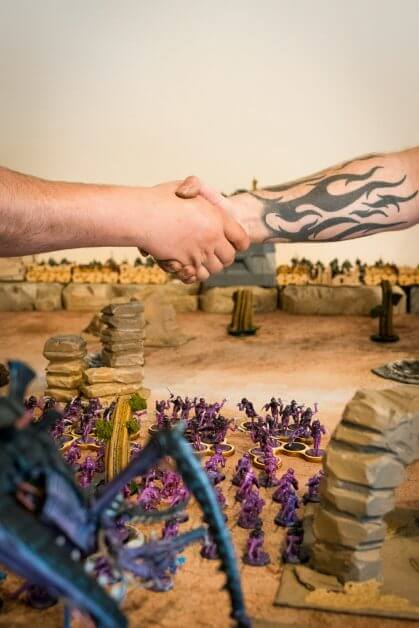 More Quick Tips for Better Photos
Watch your background – keep your background free of distracting elements, e.g., an open bathroom door, a flickering television, other stuff.
Check your corners – you'd be surprised how much extra stuff gets into your photos that don't need to be there. Look around the entire frame.
If it doesn't belong, crop it out – if in doubt, crop until you show only what you want to show.
Try black and white – If you don't like the colors, or models aren't painted well or at all, try converting to black and white. Color can be distracting and may not always communicate what you want.
MORE: HOW TO TAKE BETTER PICTURE OF YOUR PAINTED MINIATURES
Summary
Overall, I find that 4-10 pictures is enough for a really good battle report write-up. Focus on getting the first 4 shots at the very least, then work on getting the action photograph.
This way you have a solid foundation for your battle report, and if you get the action shot, then it's just a bonus.
With a bit of planning, some skill with a camera, and some luck, you'll have an amazing photo gallery to go along with your battle report.
---
Tangible Day on YouTube (Miniatures and More!)