Are you looking for a cool office lamp for your workspace or hobby spaces? A stylish desk lamp can help you focus, immerse you in a better mindset, and stimulate your imagination. Choosing the right office lamp color may even reduce stress and anxiety, and keep you calm through that high pressure task. As with many of us, working from home is part of our routine and how you setup your home office space is a key to a productive day.
In this article, I review 15 cool desk lamps and lights for a unique, immersive, and productive work or hobby space.
---
---
Best Color Light for Work and Play?
The kind and quality of light affects how you perceive everything around you. The yellow-orange glow through a sunlit window can make a space cozy, bright and pleasant. A soft, warm light from a good lamp softens contrast on book pages and helps reduce eye strain. Using lamps that lack the blue wavelength colors also helps you fall asleep faster at night (see here).
If you're looking for a lamp to reduce stress, yet helps you stay focused and energized, then a cooler toned light is the best color for a desk lamp (source). The cooler tones from blue colored lamps may even help fight depression and anxiety (source).
For a more balanced approach, a full spectrum daylight lamp is highly recommended (e.g., a neutral color temperature is around 4000 Kelvin). This is especially true for more accurate, precise work, requiring color accuracy and clear surface contrast (see recommended lights for painting, scale modeling, and other hobbies). If you already have a fancy desk lamp you love, but want to convert it into something more useful for office work, there are color neutral daylight bulbs you can get. Some smart bulbs even have adjustable color temperatures and brightness settings.
Why You Should Know About Color Rendering Index (CRI)
Color Rendering Index (CRI) is the measure of any light source to accurately reproduce the color of the surface that the source lights up. CRI has a scale of 0-100 (with the best CRI lights scored at 100). In general, CRI is mostly used for scoring artificial white lights that are meant to reproduce natural daylight, such as LED lamps or fluorescent lights. Scientifically, a CRI score reveals how well an artificial light source matches the ideal color representation of objects lit by natural sunlight.
A great desk lamp for an office will have a higher CRI and will help reproduce your environment better. For photographers or artists displaying their artwork, this is especially important. As a point of reference, a great desk lamp for an office or hobby space with a CRI above 80-90 is really good.
---
Desk Lamp Features You Should Know 💡
Here are 6 features of cool desk lamps and lights:
Lamp Style
Desk Lamp Size
Shade Accessory
Light Color
Ergonomics
Other Unique Features
1. Lamp Style
Desk lamps come in all shapes and sizes. The best office lamp for your desk is a personal choice as much as any other preference for your work or other home spaces. You can get a desk or task lamp with a gooseneck, swing-arm, or vertical stand. Some desk lights have organizers built into their stand and have USB charge ports. Tabletop style lamps sit on your desk, e.g., using a weighted base, whereas some lamps have clamps that lock the lamp onto the side of your table and swivel over your work area. This is a space-saving feature that you may find handy when you want more flat surface available on your desk or table.
Unique, fun desk lamps may also have a thematic style with a cool industrial design. The color, form, and industrial design of a cool desk lamp may help add flair to an otherwise utilitarian space. The substrate in the construction of a fancy, stylish lamp will change the way you interact with the light. Sure, you can disregard aesthetic consideration of a desk lamp. But, that's like saying the color of your car doesn't matter. You'll use your lights everyday!
2. Desk Lamp Size
The size of the lamp matters. How much desk space are you willing to devote to your office lamp? Certainly, tabletop desk lamps take up more surface area on a desk than a light that clamps to the edge of the table. However, you may find that a tabletop desk lamp is just cooler to have nearby. Also, a tabletop desk lamp that sits near you may have other use features built-in (see more below). An advantage of larger desk lamps is that they generally provide more light across a bigger surface area. So, if you want more light in a single desktop lamp, then getting a bigger lamp is a good choice.
3. Shade Accessory
A shade takes the harsh, bright light of a lightbulb and diffuses it. A shade softens light so you don't have a to deal with hard shadows and the distraction of a super bright bulb. Of course, the shade is also part of the "look and feel" of a cool desk lamp. When you're coming up with ideas for your ideal desk lamp, consider how the shade handles along with the lamp design. For example, can you move the shade around to shift the light illumination on your desk surface? Does your desk lamp even come with a shade? Most LED desk lamps do not need a shade as the light housing keeps the light facing in the right direction.
4. Light Color
The light of an office desk lamp may differ in color temperature depending on the bulb or LEDs in it. For most LED desk lamps, make sure you choose a lamp with a high CRI value (greater than 90) for the best color representation. If you're looking adjustable warmer or cooler light, then look for the best LED desk lamps with adjustable color temperature. Some of these desk lamps have lights with dimmable switches, too. In my workspace, I use a mix of warm and cool lights depending on my mood or work task. For light office work, I prefer warm light. When I'm performing a more precise task, e.g., assembling model kits or drawing, I'll use a brighter neutral light (see review the Neatfi XL task lamp).
5. Ergonomics
Ergonomics deals with the science of human interaction with tools, devices, and other physical objects. Good ergonomics helps us maintain comfort and productivity when using these objects. A great desk lamp will have great ergonomics. For example, you will want your office desk lamp to have a light switch that is not only within easy reach, but also has a good grip so you can operate it without struggle. Do you prefer a button, a toggle, or a pipe knob? All of these ergonomic factors come into play when you're choosing the best desk lamp for your office or hobby workspace.
6. Other Unique Features
A cool lamp will have other helpful features. For example, if you need to charge your smartphone, your desk lamp may have a USB charging port or wireless charger built into the stand. When you're looking for a unique way to operate your desk lamp, consider touchless operations, such as gesture control (see the amazing Otus Architect lamp). If you need to magnify your work, e.g., for reading fine print, hobby work, sewing, then consider a desk lamp with a magnifying glass lens (here's a review of the best magnifying lamps for artists and modelers).
---
Continue reading for the review of cool office desk lamps!
---
Unique, fun, and utilitarian Desk Lamps for Office or home
The Glass Banker's Lamp is a modern take on a vintage styled desk lamp. The light source is a T45 bulb (2700K warm white light) that casts a 60 watt equivalent soft glow over your table. Illumination is perfect for general use and produces a cozy ambience that I've come to appreciate. Two USB ports allow you to charge any devices you may have. The entire lamp metal surface is touch control surface, allowing you to dim or brighten the light.
Notable Features
Touch control
Soft diffuse light bulb included
Stylish vintage lamp with modern features
2 USB charge ports
---
An art deco style lamp constructed with wood in the form of a puppy dog. This modern cute lamp for any desk has moveable arms and joints so you can place the light whenever you need it to shine. The LED is produces a bright 2700K warm white light that you can adjust to 3 brightness settings. This unique desk lamp is environmentally friendly, using sustainable materials, low energy LEDs, and built to last. Highly rated and reviewed for anyone looking at some whimsical to their desk tops.
Notable Features
Wood construction
Energy saving LED light
3 Brightness settings
Adjustable posture
---
This is a cool office desk lamp for any workspace. The matte brass finish and vintage motif adds to the style of this lamp. With an adjustable rotary light head and height, this lamp is a highly practical task lamp for any office. The lamp does not include a bulb, but works great with any LED light bulb that fits your preference for brightness and color. Check out these long-lasting, energy saving LED bulbs.
Notable Features
Vintage styled lamp
Long power cord (56″ or 1.46 meters)
Fits any standard light bulb
Adjustable lamp housing and height
---
Make your co-workers jealous with this Industrial Steampunk Lamp. Loft style bronze pipe and metal stand with a bare light bulb speaks volumes about how see your work spaces. This office lamp is fantastic for a work desk, a living room, or even a kitchen. This certainly a fancy desk lamp meant to spawn ideas and spurn the imagination. This is a minimalist design desk lamp with great presence. Although no bulb is included, the socket will fit any 60W equivalent light bulb. For the best look for this unique desk lamp, you'll want to use an "Edison retro bulb". Here's another version of this steampunk industrial style desk lamp.
Notable Features
Industrial design with steampunk motif
Real metal pipe construction
Simple on-off switch, minimalist style
Add a retro light bulb
---
This cool table lamp is great for anyone looking for a way to light up their desk for studying, reading, and working, or simply to create an attractive space. The minimalist style is inspired by Scandinavian form. The wooden swing arm has multiple adjustable knobs so you can move the light to any angle or height you want. As a tabletop lamp you'll find this to be very practical light for any surface where you want soft and simple illumination. The included 4W LED bulb will last a long time. For more power and brightness, upgrade to a 25W bulb.
Notable Features
Minimalist design
Best office desk lamp for small desks
Adjustable swing arm
LED bulb included
---
Are you a hobbyist, scale modeler, fine detail painter or artist? If you do needlework or other crafts, then the Dr. Lite Magnifying Desk Lamp is perfect for you. See more magnifying lamps and lights. The weighted base holds an adjustable ergonomic swing arm attached to a crystal-clear 3 diopter magnifying glass lens, housed in a light right. An included clamp also allows you to switch the base out and attach the lamp to the side of your desktop table. This 2-in-1 base or clamp-on feature is incredibly practical for a variety of tabletop spaces. There are two color modes, a dimmable switch, and flip cover to protect the lens.
Notable Features
Magnifying glass lens (3 diopter or 1.75x power)
13″ focal length
2-in-1 tabletop stand or clamp-on attachment
Full metal construction
---
The best office desk lamps are practical. This LED lamp has 5 color modes (3000K to 5000K) with 7 brightness modes (up to 650 lumen), and includes a USB charging port on the base. You can use the auto-timer to shut off the light after 30 or 60 minutes. This light is great for many general use tasks, such as reading, working at a computer, or arts and crafts. The touch controls are within easy to reach and you can angle the light housing and vertical arm independently. The swing arm also swivels 360 degrees, so you can place the light wherever you need it.
Notable Features
Feature rich
Automatic shut-off timer
5 color modes and 7 brightness settings
Memory function to recall prior light modes
---
This Otus Architect LED desk lamp is a popular lamp for those looking to take work and play seriously. The lamp is tall, highly-adjustable, and bright (up to 1,200 lux, or 1,200 lumens over a square meter surface). Basically, this light will brightly illuminate a very large surface area wherever you shine the lamp. The coolest feature of this lamp is the gesture control system. Wave your hand over the desk lamp to turn it on or off. Very sanitary as you don't have to touch any surface to control the light. There are 12 brightness settings and 3 color temperatures for the long-lasting, 50,000 hour lifespan rated LED bulb (you'll never need to change it).
Notable Features
Touchless gesture control
12 brightness settings and 3 light color modes
Long-lasting LED bulb included
1,200 lux illumination, e.g., brightens a large area
---
Want to lighten up a space with something unique? This Vintage Table Lamp bring something different to your work and office spaces. The black metal pole construction with a marble lamp base and metal wireframe style lamp shade come together to create a unique aesthetic. This cool table lamp is great for anyone looking for a way add a bit ambience to a room. The lamp base is only 5.5″ (or 14 cm) and will certainly fit on smaller desktop tables. Although a bulb is not included, you can fit any bulb you like up to 60 watts. For the best look, try using a retro-styled light bulb.
Notable Features
Metal construction with weighted base
Retro style
Small footprint for desktop tables
Unique ambience
---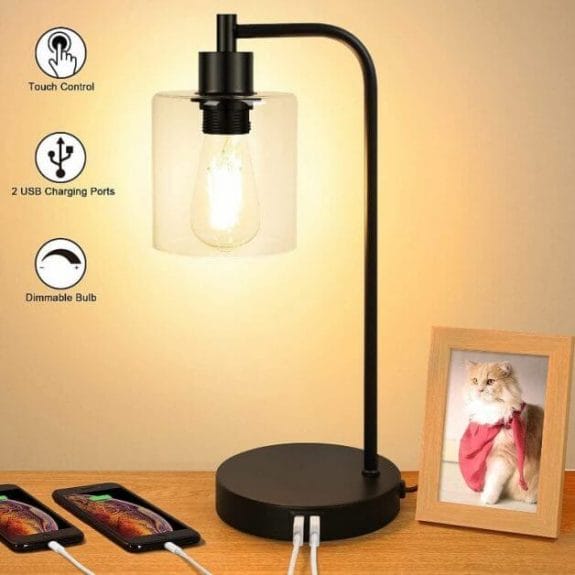 If you're looking for a cool office lamp that stands out, this Industrial Touch Control Table Lamp may be a fun option. The lamp uses touch controls where any surface on the metal base is a tap-touch switch. The light offers 3 levels of brightness with each tap on the base. Use this tabletop lamp as a desk task lamp, or as an accent light for a dark office or room. The replaceable glass shade is non-reflective and clear.The lamp comes with 2 USB charging ports and includes a vintage Edison LED bulb (rated at 60W). The 2700K filament will provide a glare-free natural illumination suitable for any office task, reading, crafts, or art.
Notable Features
Unique industrial design
Glass shade with vintage bulb
2 USB charge ports
Touch controls
---
The TaoTronics LED Desk Lamp is highly-recommended for a variety of desktop tasks. A TaoTronics desk lamp is great for office work, hobbies, and more. The LED is gentle on the eyes, providing a flicker-free light that is bright and soft. The lamp has 5 color modes (warm to cool) and 7 brightness levels. A USB charging port on the base allows you so keep your accessories charged up and ready to go. The swing arm is adjustable and will let you place the light where you need it. If you need to move the lamp around or store it, the lamp will fold down and has a small, lightweight form factor.
Notable Features
Functional, simple
Compact, adjustable swing arm
5 color modes and 7 brightness settings
Long-lasting LED bulb
---
Take your cool factor up a notch with this Tiffany Style Banker Lamp. This 13″ (or 33cm) tall lamp with large shade will comfortably illuminate a large area of your desk or tabletop with a bright and diffuse light. Although no bulb is included, the lamp accepts a variety of bulb types (up to 60W), including LEDs, to suit your color and brightness preference. Try a multi-colored smart LED bulb! The pull chain turns the light on and off with a satisfying click.
Notable Features
Solid metal construction
Metal and glass Banker lamp style shade
Universal bulb socket (accepts up to 60W)
Fun pull chain on-off switch
---
There is a reason banker lamps are popular. They are functional and styled for a productive office environment where you want to get things done. This LED powered banker style lamp is no exception. The metal construction of the base and stand are weighted for stability. The green glass shade produces a unique, inviting ambience to any office or desk. Of course, other shade and metal stand colors are available. The pull chain switch clicks the light on or off. A 10W LED bulb is included and is replaceable for more power or color temperature preference.
Notable Features
Solid construction
Warm ambience
On-off click pull chain
Swivel shade for a pleasant light cast
---
Look no further for one of the coolest desk lamps you can get with a rustic, industrial style aesthetic. The task lamppost and lamp shade is made completely with iron metal that has undergone a slightly distressing process, and accented with hand painted bronze and gold finishes. You can adjust the lamp height for a variety of needs and spaces. The lamp housing swivels up and down to create room space illumination (pointing up), or to light up a desk surface (pointing down). A bulb is not included, but the universal socket will accept any bulb you like, including recommended retro Edison bulbs for a unique aesthetic look.
Notable Features
Tall, versatile lamp
Rustic aesthetic
Full metal construction
Universal bulb socket (up to 40W)
---
This classic gooseneck architect desk lamp is simply cool. You can get the metal lamp in multiple colors, use the included stand or the clamp (for attaching to the light side of your desk), and swivel the swing arm in any direction you need illumination. A bulb is not included, but any bulb you like will fit including long-lasting, sustainable LED bulbs up to 40W. . Check out this simple, functional, and cool office desk lamp.
Notable Features
Multiple metal choices
Simple and functional
Lightweight swing arm, solid construction
Use the base stand or table clamp
---
Final Word
The kind and quality of light can really change the spaces where you work and play. I'm sure we missed other cool options for desk lamps. These aren't even the most wild options, but chosen because they are practical and look great, too. If you're looking for a cool office lamp for work or play, I hope this article gave you some enlightening ideas!
Thanks for reading!
Tangible Day on YouTube (Miniatures and More!)