So you went to the gaming convention at PAX Unplugged? What cool swag did you find? Well, I'm here to tell you about my adventures in shopping the vendor hall at the 2019 PAX Unplugged tabletop gaming convention.
In this article, I (Eleni Stamos) highlight 7 cool products and accessories shown at the best tabletop gaming convention for nerdy gamers and role playing enthusiasts, e.g., Dungeon and Dragons (colloquially known as D-N-D). While you're here, check out my Etsy store.
Let's begin, shall we?
---
1. Game Envy Hobby Holder (Ergonomic Painting Handles)
At the top of my list is Game Envy Hobby Holder. I found this years ago and was happy to see that the company has expanded and grown.
It is a staple in my miniature painting and I love how comfortable it is to hold, while also being easy to work with and flexible to use.
Their table was loaded with a multitude of other painting accessories such as colorful brush cleaning pucks and helpful brush stands.
"The Hobby Holder (patent pending) is the only all-in-one miniature painting handle and grip and is hailed as the best on the market by painters all over the world."

Game Envy
The company claims that this is the most versatile and customizable painting handle available, and I believe it!
"Attach minis on or off bases of any size mounted on bottle caps or pinned to corks for easy touch-free miniature swapping (no fiddly clamps requiring two hands)"

Game Envy
The Hobby Holder's closest competitor is the Games Workshop Citadel Painting Handle.
RELATED: FULL REVIEW CITADEL PAINTING AND ASSEMBLY HANDLES
---
2. Mischief & Misadventure Campaign Planner (Gaming Journals)
The next item on my list is from The Rook and the Raven. They have created an incredible tool for both DMs and players alike.
For the DM, they made a campaign planner. This isn't your normal, run of the mill, notebook. This is an incredible notebook with sections for planning your campaign easily.
Included is a section for NPCs and their stats, grid guides for map planning, story arc planning and more!
Certain sections even have a dry erase compatible page so you can reuse a section – perfect for encounters!
The book is bound with large, plastic discs and the pages are all cut in a way that you can even remove and reinsert them without damage and without bothering with annoying rings.
The book itself feels high quality and feels like it would last a long campaign with no issue.
They also have a version of the notebook for players, so if you're looking for a high-quality campaign diary, I strongly recommend having a look at their store.
---
3. Caged Aluminum Dice (Bespoke Gaming)
The next product is more luxury than anything, but wow! Level Up Dice produces beautiful gaming…dice.
I spent maybe an hour and a half at this section of the expo hall. The store itself looked like a high-end jewelry store, with beautifully lit up displays of dice rotating on platforms.
They have everything from metal, wood, bone, gemstone and even pure crystal dice.
More affordable, "normal" dice don't compare!
These are all your high-end style dice, but what drew me in the most was their collection of caged aluminum dice.
"Our Caged Aluminum Dice are cut from a single piece of metal, with the first steps following along the other aluminum dice of CNC machined and Anodized, but they then go through an extra step. Small slivers of the dice are cut away until the dice appear to be "caged." This process alone can take several days per dice!"

Level Up Dice
These are truly special dice and feel unlike any other. They jingle in your hand with a satisfying clang, but weigh next to nothing. Level up dice maintain a solid feel but wiggle in their cage in a delightfully bouncy manner. They come in solid, dual, tri color and pollock.
The coloring comes from a chemical reaction so the paint won't fade like most metal dice. If you order the dice online, you can request a certain color variation from them (more blue than black, for example) and they will do their best to meet your needs.
RELATED: FUN DICE SETS FOR YOUR NEXT TABLETOP RPG
The prices range from $173 to $247 but I have no doubt these dice will last forever and the tactile experience will never get old.
---
4. Game Topper (Tabletop Gaming Mats)
Pax Unplugged is the perfect place to find the best, high quality gaming tables. Unfortunately, my wallet does not agree with that notion.
I yearn for the day when I can afford a $5000, perfectly lit-up gaming table with custom nooks and crannies, but that day is not today.
Or tomorrow…
….or probably ever to be quite honest (maybe).
Instead, the guys at Game Toppers have created a gaming table that sits on top of an existing table and can be taken apart and stored conveniently.
They have a railing system that goes through the leaves for durability. Certain models have a magnetic system so that you can customize your setup with their many options.
They range from $399 to $1399.
You can pick and choose dice trays, cup holders, player sheet holders, etc. There is a rubber bottom of the topper so that it won't scratch up the surface of the table you lay it on.
The topper has a sturdy feel to it and doesn't feel inexpensive.
It's a great solution to the problem of needing a gaming table without paying ridiculous amount of money for it.
---
5. Sidequest Decks: After the Total Party Kill (aka TPK)
Next up is one of those things you don't know you need until you hear of it. They are a deck of cards with post-party wipe story outlines.
Wait, what!
Brought to you by Inkwell Ideas, this is the equivalent "get out of jail free card" for DM's who TPK their players.
Let's say you are running a campaign and your party encounters a battle they do not win (bless their hearts, they tried), you don't want them to hate you for deleting all their hard work and emotional commitment to their characters!
You can see more reviews and buy Sidequest Decks on Amazon.
Instead, you can take out this deck and draw a card and run with it.
"This deck has over 50 ideas, such as: The party must fight their way out of a version of Hell. The PCs are judged by a deity and if they prove themselves, they are returned, perhaps with a boon. Forces down the time stream know the party's quest is essential and step in to help. The PCs arrive in a version of the modern world as people who were magicked to a fantasy realm. They must find their way back into the fantasy world. A task must be performed by the PCs for Death or some other benefactor, then they are returned. The PCs are animated as undead and must break the curse to be truly resurrected."

Inkwell Ideas
This is a great utility for continuing a campaign without destroying the players' morale.
---
They are dice rings.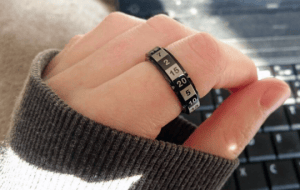 CritSuccess makes a few different versions of their ring. I picked up a black d20 ring for myself and a blue hit location ring for my boyfriend and DM.
As a player, it is a wonderful alternative to rolling d20 dice and has a very satisfying spin to it. I catch myself fiddling with it like a fidget spinner that's actually useful for all my gaming needs.
As a DM, my boyfriend uses it for helping him decide where our hits land.
He has a bit of ADHD so it also helps him in his daily activities for preoccupying his hands and helping him not bite at his nails as much.
They're attractive rings and I find myself being proud to demonstrate my nerdom by wearing one.
Other cool D20 rings on Etsy!
---
7. Syrinscape Ambient Sound Board
Oh boy, I actually don't know where to start with this one.
I was wandering around PAX, attuned to the usual shops – dice, dice trays, games, minis, books, gaming tables, etc.
Syrinscape developed the perfect way to immerse a DnD group into the world they've decided to explore in. Beautiful, rich and dynamic sounds surrounded us in the review booth.
This was the only thing at this event that was like it.
We wandered up to a tall booth and were welcomed in by the lead sound engineer.
An iPad was propped on a pedestal and we were guided through a demonstration that blew our minds.
The engineer proudly described how he altered his voice to create the snarl of a vicious dragon, how he painstakingly developed the sound of an arrow hitting its target.
He showed us how easy it is to customize your sound board and utilize the thousands of sound options they have created.
Transitioning between a peaceful town into a full-blown dragon attack was downright cinematic. The sounds cycle in a way that never sounds artificial and your brain is tricked into this auditory reality.
My DM was preparing for our next Curse of Strahd campaign and he was demoing the sounds he wanted to use.
I asked him to stop because it was creating such a foreboding atmosphere that I nearly had an anxiety attack sitting at my computer desk.
This system makes it easy for a DM to take their campaign to the next level. I can't recommend it enough!
---
---
Final Word
Thank you for reading about my favorite RPG finds at PAX unplugged. The amazing thing about the tabletop RPG hobby is the huge swath of peripheral gaming accessories you can use to customize your experience. I'm always in awe with the cool stuff that people come up with to help us, gamers, enjoy our sessions in our unique way.
If you have any other ideas or things we can review, please let us know with a comment below! Do you have any favorite RPG gaming accessories you want to mention?
Until next time, happy gaming!
Tangible Day on YouTube (Miniatures and More!)
---