Addiction is a word that is thrown around a lot: I'm addicted to coffee; I'm addicted to this/that. Whether it's an innocent Privateer Press, Games Workshop, or an elicit legal activity, all are habit forming and puts us (humans) at risk for becoming addicted. Anything that deeply rewards us for partaking has the potential to capture us in a cyclical trap.
Now, for the most part the word addiction is imprecise and most doctors would rather use words like dependence or abuse instead. The clinical definition of substance dependence/abuse is located in the Diagnostic and Statistical Manual of Mental Disorders (version 4 or DSM-IV).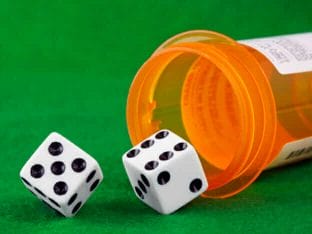 To keep us on track, I won't go into much of the nitty-gritty, but essentially it is safe to (perhaps enlightening) use the criteria for Alcohol Abuse and Dependence as a framework. And if we use that, then this is how we'd probably modify the criteria for Tabletop Wargaming Abuse/Dependence:
Wargaming Abuse
A maladaptive pattern of playing war-games, leading to clinically significant impairment or distress, as manifested by at least one of the following occurring within a 12-month period:
Recurrent use of pewter/plastic models results in a failure to fulfill major role obligations at work, school, or home
Recurrent pewter/plastic model use in situations in which it is physically hazardous
Recurrent pewter/plastic model legal problems
Continued pewter/plastic model use despite having persistent or recurrent social or interpersonal problems caused or exacerbated by the effects of war gaming
Wargaming Dependence
A maladaptive pattern of playing war-games, leading to clinically significant impairment or distress, as manifested by three or more of the following occurring at any time in the same 12-month period:
Need for markedly increased amounts of wargaming sessions (or models) to achieve a buzz or desired effect; or markedly diminished effect with continued use of the same amount of gaming
The characteristic withdrawal syndrome for war gaming; or losing a lot of games (or using other games) to relieve or avoid withdrawal symptoms
Wargaming in larger amounts or over a longer period than intended 
Persistent desire or one or more unsuccessful efforts to cut down or control gaming
Important social, occupational, or recreational activities given up or reduced because of gaming (Wait, was this us already?)
A great deal of time spent in activities necessary to obtain, to use, or to recover from the effects of gaming (e.g., surfing the forums for tactics, reviews, commentary on lists, watching YouTube battle reports)
Continued gaming despite knowledge of having a persistent or recurrent physical or psychological problem that is likely to be caused or exacerbated by gaming
Of course, I'm being facetious, but it's a wonder how close many of us walk the line.
---