Are you looking for a way to rebottle your paints into dropper bottles? It's no secret that GW paint pots are the worst. The Citadel bottle design is simply bad engineering. The extra tall, narrow pots for washes and technical paints are particularly offensive. In my opinion, it's either lazy design or a money grab in the hopes that the majority of you will spill your Agrax Earthshade or Reikland Fleshshade.
Have you wondered if GW is trying to sabotage your hobby cost-saving efforts? Have you ever spilled a Games Workshop wash, like Nuln Oil? Or, maybe you've spilled citadel pots of various colors, and now your desk looks like a Jackson Pollock masterpiece.
In this article, I show you evidence of bad Games Workshop paint pot design and what you can do about it.
Here are 5 simple steps for how to decant (rebottle) your GW paint into dropper bottles. The best part about transferring citadel paints to dropper bottles is that it makes your hobby a lot less prone to dumb mistakes. Check them out below.
---
Wasting paint, sucks.
I hate wasting paint. And, it's more than money. It's also an environmental issue. I'm one of those miniature painters who tries to save as much paint as possible. This also includes other hobby consumables, like artist mediums and flocking material. For paint, one way to prevent paint waste is to use a wet palette, or simply using a glazed ceramic palette with deep round wells (like this one).
But, simply, I hate GW pots. Ugh. They aren't easy to open with your thumb without a careful grip. The size of the bottle also makes it clunky to close with one hand. Pushing down on that cap with a finger or thumb, until it 'clicks', also risks tipping the entire pot. They are top heavy!
As a side note: The GW paint pots also don't close tightly either. Part of this problem is because paint dries up in the rim and clogs the lip. This contributes to the awkward way the paint pots close. The dried paint jams up the closure, and to get a good seal, you are required to apply more downward force. This equates to greater spillage risk. Just bad all around.
---
Not everything Games Workshop makes is poor design.
Their plastic model kits are the best in the miniature industry. In recent years, entire Games Workshop product lines have advanced in leaps and bounds. This is why it is so confusing why the company still relies on an antiquated, obsolete paint bottle design. In fact, most miniature painters prefer dropper bottles.
RELATD: AN EXAMPLE OF GREAT DESIGN: THE GW WATER POT
Competitor miniature paint companies use dropper bottles (see brands from Vallejo, Reaper Series, and Army Painter).
---
3 Solutions to Stop Spilling your Citadel Paints
There are 3 ways you can stop spilling those Games Workshop paint pots.
1. Reduce Risk
Reducing risk means acting and thinking in a way that decreases the chance of a bottle tipping over while open. Formally, this means creating a standard operating procedure (SOP) for your hobby.
For example, only use two hands when you're opening a GW paint pot. Or, only open a paint pot if you are sure it's secure on the table. This could be done with something that prevents tipping, like this 3D printed stand, or a simple DIY option.
2. Use Custom Paint Holders or Racks
This follows from the first point in reducing risk. As mentioned, there are products that can help prevent you from accidentally spilling a paint pot. If you browsed the photos, you'll have noticed that some people have tried to use sticky-tack on the bottom of the paint pots.
This works for a while, but given how much dust and debris is on a typical hobby desk, the sticky-ness wears off fast.
RELATED: BEST PAINT RACKS FOR STORING AND ORGANIZING MODEL PAINTS
Bottom-line: If you want a more permanent solution, you'll have to get something that works all the time. Maybe find a paint rack where you can open the paint lid and have the bottle sit close to you?
Here's a bunch of low-cost paint racks I found on Amazon.
3. Decant (Re-bottle) Paint from the Citadel Pots into a Dropper Bottle
Transferring paint from Citadel pots to dropper bottles is a bit of work. This is especially true if you've got a large collection of Citadel paints. But, if you're truly concerned about spilling your paints, decanting to a dropper bottle is great idea. Of course, you might be a miniature painter who prefers dispensing paint from a dropper bottle and therefore any effort is worth the trouble.
You do need to be careful about how you go about decanting Games Workshop paints into a dropper bottle. When you decant from a GW bottle to a dropper bottle, even the most meticulous of us will waste a good portion of paint.
Below are 5 simple steps for how to decant your GW paints into new dropper bottles.
You'll need a few items, which I list below. There are other sites that can show you how to decant in detail. But, in general this is what you'll want to have to transfer your collection of GW paints into dropper bottles.
Stuff you'll need to decant paint from Citadel pots into dropper bottles
| Image | Product | Reason |
| --- | --- | --- |
| | | Dropper bottles, the final paint destination. These are the most commonly used bottles for miniature paints |
| | | If you're as careful as I am, these will help you keep paint from spilling as you make the transfer |
| | | Sometimes the GW paint needs a bit of thinning to help it flow into the new dropper bottle. This thinner works better than water and other mediums for this purpose. You only need a few drops. |
| | | Some of my paints are too thick to pour. So, give them a good shake. This helps. |
---
Other dropper bottle sizes and shapes (they all work)
---
How to Decant GW Paint into Dropper Bottles in 5 Easy Steps
To transfer your Citadel Paint into Vallejo dropper bottles follow the steps below:
1. Reduce surface tension of the paint in the original pot
Put a few drops (2-3) of a flow-improver (a surfactant) in the original pot. I use Vallejo airbrush flow improver for this purpose. Don't put too much otherwise you'll overly dilute your paint. We're trying to keep the original viscosity.
All we want to do is ease the paint out of the original pot by a reducing surface tension. DO NOT do this step if you're decanting shades or washes. These technical paints are thin enough to pour out easily.
2. Homogenize the paint in the GW pot
Make sure the cap is tight, then shake. Shake very well until all the colored pigment and binding medium (the clear/cloudy liquid you see on top when paint settles too much) is mixed thoroughly. This can take a while for thicker GW paints, or no time at all for washes and shades.
To help you along, you can use a motorized model paint shaker or mixer like those reviewed here.
3. Pour the paint from the GW pot into the dropper bottle
Using a mini funnel to prevent spillage, pour the paint from the Citadel pot into the dropper bottle. To reduce risk of any tipping of the open dropper bottle, use double-side tape (or sticky-tack) on the bottom of the dropper bottle.
Keep pouring from the Citadel pot until paint stops coming out continuously. The paint transfer from the pot to dropper bottle should only take a minute or two. Take a clean, but dampened brush (I prefer using a flat-headed bristle brush), and scoop/scrape out the residual paint from the inside of the cap and sides of the GW paint pot.
4. Deglaze the GW pot to minimize wasted paint
In cooking terms, deglazing is a technique for removing and dissolving food residue from a pan. You can deglaze the GW pot using the same surfactant in step #1. But, instead of dripping the flow improver into the now nearly empty GW paint pot, use the clean brush (mentioned in #3).
Dampen the bristles with the flow-improver and stir up the sides, careful to get into the corners, and pull the paint out. Sweep the leading edge of the brush along the sides of the funnel, too. Then, scrap the bristles over the rounded edge of the open dropper bottle. Rinse and repeat, until you're satisfied.
Cap the dropper bottle.
5. Recycle the GW paint pot label onto the newly filled dropper bottle
Using a hobby knife, find the edge of the plastic pot label, and carefully peel it back. The label should still be tacky enough to stick to the dropper bottle. If not, affix the label to the dropper bottle with clear scotch tape. Easy!
---
Exhibit A: Citadel Paint Pots Are Poor Design
<trigger warning: the following images may disturb you>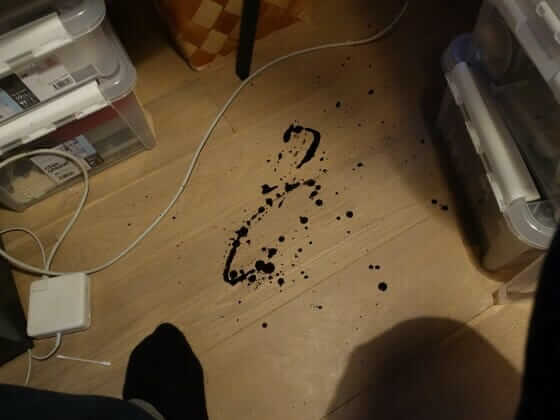 ---
Final Thoughts
The idea that Games Workshop paint pots is bad design is controversial. But, let's face it. The risk for spilling a $5-10 pot of good paint hurts everyone. I hope this article has given you some entertaining ideas about how you can reduce the risk for yourself, save some paint, and make some aspects of the hobby less stressful.
How to decant your GW paints into dropper bottles in 5 steps:
Reduce surface tension of the paint in the original pot
Homogenize the paint in the GW pot
Pour the paint from the GW pot into the dropper bottle
Deglaze the GW pot to minimize wasted paint
Recycle the GW paint pot label onto the newly filled dropper bottle
I love painting miniatures, and I don't decant many of my Citadel paints. It's work I'd rather not be doing….But, it's not hard to decant your paints.
Follow the simple steps above, and if the risk of spilling top-heavy pots bothers you, then you'll have better peace of mind.
And, isn't that one of the reasons why we're in this hobby, anyway?
Happy Painting!
Do you hate GW paint pots? Have you joined the ranks of those who've spilled a Nuln Oil wash? Let me know with a comment below!
Tangible Day on YouTube (Miniatures and More!)