Ever have a lazy mini painting day? I wrestled with the lack of motivation to paint a group of Blood Angel space marines during a bad snowstorm. Forced indoors, there wasn't much to do, except watch TV and maybe catch up on some other responsibilities, e.g., work and chores. But, as I walked past my hobby desk, I noticed a pile of unpainted space marines. And, they were a commission painting job…so, fighting the uncommon urge to shovel snow, I decided to stay warm and paint.
I'm glad I did.
---
When the motivation disappears, that's when you push harder…
In college, I joined a rowing team, only to find out that I was the shortest teammate. I stood a good half meter shorter than the next guy. This meant I had to pull twice as hard during each stroke to generate the same power output as my taller teammates. It worked out okay, since after a few races, I quit after I realized my grades were suffering and my tution (or physical prowess) wasn't sending me to the olympics.
(For the record, I hate quitting anything.)
Anyway, I learned a lot during my time in college sports. My coach was unrelenting in his pursuit to grind us into rowing machines. We woke up at 4:30am every morning, including weekends, to hit the water (or the gym). We worked out for 2-3 hours until breakfast. Those were dark days, literally. By the time the sun rose, we were already more than halfway through our routines and exhausted.
The daily motivation to get up and workout till you were nauseous came from two places. First, your teammates relied on you. We rowed in 8-man hulls with 4 starboard and 4 portside rowers. If someone was missing, you couldn't hide and the lopsided rowing wasn't pretty. Second, we had a coach who had the lungs of a drill sergeant who would bring on the pain for those who didn't get their workout routines in: endless laps around the track, nasty crazy "8's", and barbell weighted lunges (feel the burn!).
We trained with a harsh discipline.
---
Miniature painting is for wimps
Well, melodrama aside, there is something to be said about showing up everyday to do something productive with your time. But, it can often be hard to stay motivated when you're alone. Unlike sports, there is no team or coach. You solo this hobby.
Sure, you may have a gaming club or league that motivates you to stick with your hobby goals. But, in the end, you're on your own. You set the goals and milestones and determine how closely you want to follow that path. And, perhaps that's the fun. You're liberated from the obligations of daily responsibilities, e.g., chores, work, school.
But, there it is. Miniature painting is a freedom from being judged or winning a competition. Motivation to paint comes from yourself. Doing anything in this hobby other than for your enjoyment is work. Who wants another job?
So, on this poor weather day, I looked at my unpainted space marines and wanted to walk away….
But, I didn't.
---
What is a professional?
This particular set of space marines weren't mine. They were a part of a miniature painting commission I agreed to finish. And, they weren't simple paint jobs either. These space marines had a lot of detail for the quality the client requested.
If this were my set of miniatures, I'd have totally left them aside for another day. I had some TV shows and video games I wanted to play.
Yet, deep down I know I would be letting someone down if I didn't carry through with my word. Indeed I had a ballpark deadline for completing the project. It was a good time away, but like my time as a rower, there was a sense of obligation to someone else.
More important than that, I knew from experience in the past that if I let myself slip (go undisciplined, as it were), I would slide into a much deeper apathy and stubborn complacency for the project. I know myself that much.
I had to show up. And, so I sat down. I decided to push these 40k Space Marine Blood Angels off the table.
(Figuratively speaking!)
---
Action before motivation
This is the trick for producing anything worthwhile. Action before motivation. You get out of bed before you are motivated to do anything else. The first action leads to the next…and the next.
When I was rowing with the crew team, each power stroke led to the next. If I slipped a single pull, the rowing shell would tip sideways throwing my whole team off balance, perhaps even into the water.
There are no seat belts in a rowing shell.
If I failed to lift/lower my oar or scull from the water at the right moment, I'd "catch a crab". The momentum of the rowing hull will lever the oar grip right into my face or chest with enough force to throw me off the shell.
While painting miniatures isn't team rowing or even remotely as exhausting, it uses the same principles for creating and maintaining momentum. You work on a project even if you are unmotivated, because the action usually drives the motivation to do more.
(The same is true for any job I suppose that you want to succeed at, whether it is chopping wood, doing the dishes, or other mundane things.)
In fact, I gather this is what distinguishes a professional anything from a casual. A professional somebody is anyone who has honed their discipline in a particular skill. A pro knows how to get the job done in the best way possible even in the most stressful, challenging situations (whether they arise from internal or external places).
---
What was the result?
On a day when I didn't want to paint, do anything hobby related actually, I got that commissions project done in a single day. And, here it is.
I used Games Workshop and Vallejo brand paints. 50% 0f the job involved airbrush work, including the base coat, general shading and highlights, and glow effects (e.g., claws).
RELATED: TOP 10 BEST AIRBRUSHES FOR PAINTING WARHAMMER AND OTHER MODELS
All the metallics were from the Vallejo model air line of metallic paints. These metallics work really well with a regular brush, despite their design as airbrush paints.
For instruments, I only used an Iwata HP-C and a Raphael 8408 #2 round brush. All paints were mixed with water by varying amounts, depending on need. The total time to completion was about 6 hours.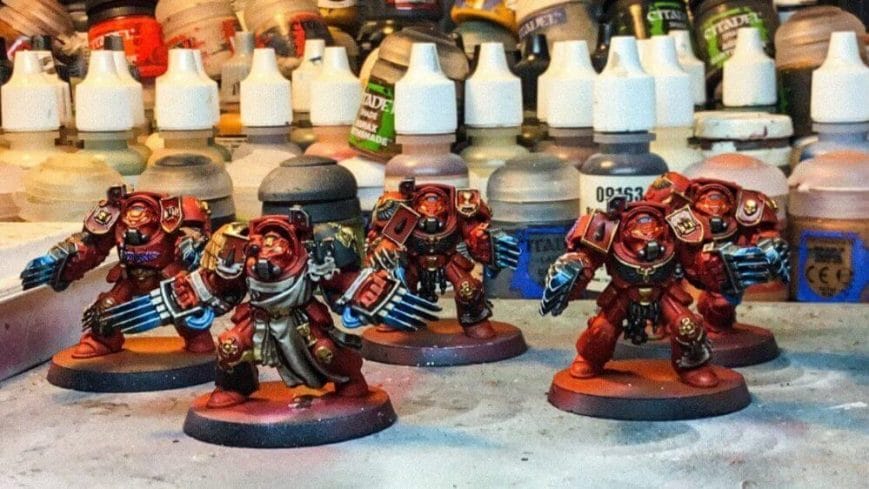 The final photograph was taken in a miniature studio setup and a camera setup on a tripod. Lightroom was used to adjust shadow, contrast, and punch up the saturation (which I find is needed with a black background).
I personally think the models look better in-person. Not bad for a day's hard work….better than pushing snow off my driveway.
RELATED: CHECK OUT THIS AWESOME BLOOD ANGEL FREEHANDING VIDEO
---
Final Thoughts
There is something special about getting a job done well when you didn't want to actually do it. This is one of those projects that I finished without a sense of internal enjoyment. The pleasure of this work came after I finished. I ran this race and crossed the finish line even on a day when I didn't feel any need or want to do so.
Thank you for reading, and keep up the good work.
Happy miniature painting!
Tangible Day on YouTube (Miniatures and More!)