This Artis Opus Brush Series S review is based on several months of regular brush use in commissioned miniature painting. Artis Opus brushes are similar in cost to other kolinsky sables, and require the same level of care for best performance. This may dissuade more casual painters. But, if you're serious about painting miniatures and want to experience everything the industry has to offer, we suggest you give this brand a try.
For more details in this Artis Opus brush review, read on.
---
Artis Opus is Latin for "Work of Art"
Artis Opus launched their Kickstarter campaign in April 2018, and successfully reached their funding goal a month later (source). A lot of people backed their new brand, and many well-known professional studio artists raved about the new product. A few of these painters include Angel Giraldez, Andy Wardle, Gareth Nicholas, Neil Hollis, Richard Gray, and Jen Haley.
"The finest brushes for passionate artists, crafted by artisans using true Kolinsky Sable."

Artis Opus (website tagline)
I've been painting miniatures for many years. As a commissioned painter, I've tried many, many types of brushes and had settled upon the trusty ol' Winsor & Newton Kolinsky sables as my primary brush (see our article on brushes for miniature painting).
Of course, when all the hype about a new brand of brushes hit my social media feeds, I couldn't resist giving these beautiful instruments a try.
Look and Feel
As you can see from the images, the Artis Opus brush set arrived in a handsome case (you can buy the brushes without the case).
The exterior has a laser-engraving of the Artis Opus logo.
A simple metal clasp holds the case closed.
Artis Opus put a lot of attention into the package. The case interior has several engravings. The Latin wordplay is fun for those who appreciate the language (which I do).
Included in the case was a pamphlet with detailed brush cleaning and care instructions. I was also surprised to see a dated signature and stamp indicating that my brushes underwent a quality control inspection.
Quality control by a real human? Wow. The only other art product I know that gets this level of human attention are quality airbrushes, such as from Iwata or Badger.
The Artis Opus Series S brush set normally includes four sizes: 000, 00, 0, and 1. I purchased the additional size 2, which I thought might come in handy for color blending larger surfaces.
The brushes look very unique. The handles are wooden, but are covered with a smooth white lacquer. The brand and brush size are clearly labeled.
A neat little detail I discovered is that the Artis Opus label is stamped fairly high on the handle. In the several months I've used the brushes, this stamp has yet to rub off because my hand isn't constantly rubbing this area of the handle.
I can barely see the logos and brush size numbers on my other kolinsky sables.
Ergonomics and Handling
Okay, the package is pretty, but how do the brushes perform?
I have to admit that I focused my attention on the size 1 and 2 for most of my time with these brushes. I can only assume that the smaller sizes will hold up to the same expectations.
The key thing I noticed when I picked up the Artis Opus brushes was the additional heft. It's subtle, but noticeable. All of the handles for each Artis Opus brush size was thicker than their respective Winsor & Newton brethren.
The Artis Opus size #1 brush has a maximum diameter of 5.95mm as compared with the Winsor & Newton Series 7 which has a maximum diameter of 5.80mm. The thicker handle of the Artis Opus also runs nearly the entire length of the brush; whereas the Winsor & Newton tends to taper.
Did the increased brush handle diameter matter?
Although their overall length (from ferrule to handle end) was similar, the extra diameter on the Artis Opus handles gave them a center of gravity that felt closer to the bristles.
Did this change how I held the brushes? Maybe.
Artis Opus stated that the increased handle width was designed for users to "…benefit from the [extra] comfort, avoiding 'painter's cramp', and allowing to paint for longer."
Whether my hands were more "comfortable" or not, I could not tell when painting with the Artis Opus brushes. My back and neck still cramped up after 2-3 hours of painting. It didn't matter what brush I was using.
What I did notice, perhaps, is that I have more control when I pinch-hold the Artis Opus brushes closer to the bristle tips (which I often do for more precise detail work). However, this is such a subtle feeling that I don't think you will notice, or until you've painted for many hours with the brush.
The Bristles (Character)
Every Kolinsky sable brush I've used has a specific character.
Winsor & Newton Series 7 brushes are "snappy". The Raphael 8404 brushes have a softer touch, a bit of "flop" (which is excellent for wet blending). Da Vinci Maestro brushes lean toward the springy feel of the Winsor & Newtons, but have a shorter bristle length that I find can be useful for texturing or other details.
The Artis Opus brushes are slightly stiffer than the Winsor & Newton Series 7 brushes (size 1 and 2). The bristles are also a tad longer.
Upon closer inspection with my 3.5x magnifying headband (this one), the individual filaments in the Artis Opus bristles appeared to be thicker at the base (nearest the ferrule) than those in the Winsor & Newton brushes. Interestingly, this may be the reason why the Artis Opus tufts have more bending resilience when applying paint.
You can see a side-by-side inspection further below.
The belly of the Artis Opus brushes (size 1 or 2) are generous, and allowed me to perform all kinds of technical approaches without any trouble.
I especially enjoyed loaded-brush blending and feathering with the size 1. The stiff bristles really lend to these advanced techniques.
Overall, I have enjoyed my experience painting with the Artis Opus brushes. In the time I have used them, the bristles have held up to my painting and cleaning routines. The bristles are still springy, and the fine tips have stayed sharp.
A Comparison with Other Kolinsky Sables for Miniature Painting
As a better comparison, I've taken side-by-side photos of the Artis Opus brushes with the Winsor & Newton and Raphael 8404 kolinsky sables.
In general, the tufts of the Artis Opus and Winsor & Newton Series 7 size 1 brushes are very similar. The only observable difference is the slightly larger belly of the Winsor & Newton brush. As mentioned, the bristles of the Artis Opus are stiffer (or more springy) than the Winsor & Newton. This is particularly true when the brushes are wet.
The comparison between the Artis Opus and Raphael 8404 size 1 brushes is kind of silly. The Raphael 8404 has much longer bristles, and a much larger belly. It's a great blending brush.
Although the bristle tips of either brush brand remain sharp throughout constant painting, I would note that these brushes have "spring" attributes that are nearly opposite: the Raphael 8404 is a "softer" and more "flexible bristle" painter in comparison with the Artis Opus.
Side-by-side, the size 1 and 2 Artis Opus brushes are almost indistinguishable. The only difference is the larger belly volume in the size 2 brush.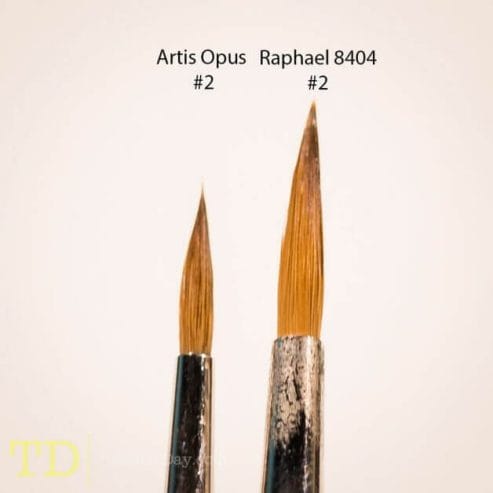 For completion sake, a comparison between the Artis Opus and Raphael 8404 size 2 brushes show even further differences. I might not have even made this comparison if it weren't for the fun of just seeing how these two brands are so different.
Price and Value
We've looked at the value of other kolinsky sable brushes in another article, which places the cost of a high-quality size 1 or 2 brush around $15-35 USD.
The cost of a single size 1 Artis Opus brush is about $16-17 USD (see the store @ http://www.artis-opus.com), which is either the same or a few dollars less than the Winsor & Newton Series 7 brush of similar size (lowest price found online). However, Artis Opus brushes are on the costlier side, as compared with some other respected kolinsky brush brands not discussed in this article, such as those from Rosemary and Company.
In terms of value, I think the Artis Opus brushes are a good buy. They are of a quality and performance that matches my Winsor & Newton Series 7 brushes. They look good, handle well, and are a joy to paint with.
My only hesitation in going head-long and replacing my Winsor & Newton brushes with an entirely new brand is the lack of consensus on durability.
How long will the bristles of an Artis Opus brush last through the demands of a professional painter?
The miniature painting community has generally considered Winsor & Newton Series 7 brushes to be the best value for good reason. Although there have been times when the UK brand has suffered with batches of poorer quality brushes, Series 7 brushes still last a long time with proper care.
Optimistically speaking, the Artis Opus brushes have continued to perform consistently with my regular use. With routine care and proper storage, I have not experienced any splitting hairs or fraying bristles. The fine tips and spring-like character of my Artis Opus brushes are still like-new.
Summary: Artis Opus Brushes
Pros
Aesthetically beautiful
Assured quality control
Ergonomics
Bristle tip feel
Paint handling and control matches Winsor & Newton Series 7
Cons
Expensive
Lack of history in the broader miniature painting community
Final Perspective: Are the Artis Opus Brushes Worth It?
I'm glad I purchased these Artis Opus brushes. My concern with bristle durability is trivial relative to how much I've enjoyed working with the brush.
I can report that the Artis Opus brushes do not hinder my ability to paint to a very high level. Rather, I find myself reaching for the white lacquer handle when I'm approaching more challenging parts of a model.
Artis Opus brushes are similar in cost to other quality kolinsky sables (here's my affordable brush choice), and require the same level of care and maintenance. This may dissuade more casual painters.
But, if you're serious about painting minis and want to experience everything the industry has to offer, I suggest you give this brand a try.
---
If you found this review helpful or would like to leave us your thoughts, please leave a comment below. We'd love to hear from you!
To stay up to date with more miniature hobby content, you can subscribe through email or follow us on Facebook and Instagram.
Happy painting!
Tangible Day on YouTube (Miniatures and More!)