What is my favorite lamp for painting miniatures? As a commission painter who has painted a lot of models over the years, I've found that good light is the key to better miniature paint jobs. A bright, diffuse light with daylight spectrum bulbs or LEDs can make painting miniatures much more comfortable. You'll have less eye fatigue, less headaches (literally), and more fun.
In this article, I present you with a review of my current favorite desk lamp for working with miniatures and models: the Neatfi XL 2,200 Lumens LED Task Lamp.
How does the Neatfi XL lamp perform?
Is it worth the money?
What are the Neatfi XL lamps best features?
I answer these questions and more. Read on for the full review below.
I've reviewed some of the best lamps for painting miniatures, including highly-recommended magnifying lamps and lights for detailed model work. Some of you may now also be asking what is the best lamp for painting Warhammer and other tabletop wargames models? This review highlights one of the best hobby lamps for painting Warhammer miniatures and other scale models.
---
Why do I place so much emphasis on good light?
It's simple.
The top issues that come to mind when I think about why light is important are: Age and eyesight.
Without good light you can't see anything, properly. When it comes to focusing on what's important, placing emphasis on good light is the key to enjoying whatever activity you're doing.
If you're a miniature painter, a photographer, or scale modeler, light is everything.
Sure, a good comfy chair and a well-organized desk space with fancy holders and model paint organizers will go a long way toward your C.R.A.P. method, but good light is the epitome of enjoying things (in general).
Okay, a tad melodramatic!
But, take this for example:
You're disassembling your Patriot 105 airbrush (see here for full review and guide), and you accidentally drop the nozzle on the floor at your feet. That sucks.
You ponder for a moment. Then, the "ah-hah!" moment hits you.
Swing your hobby desk lamp over the floor around your hobby table. Oh, look at that… you can see the floor (and how dirty it is).
But, more importantly, your airbrush nozzle glistens like a beacon!
You found that missing nozzle!
Alright, in all seriousness, let's get on to the review of the Neatfi XL 2,200 LED Lamp.
---
Arrival and Unboxing
I don't usually do unboxing segments, but in this case I had my camera nearby. It didn't take long for the Neatfi XL to arrive at my home. Amazon shipping is fast!
Solid packaging. Professional and neat. A nice box that wasn't heavy, or too light. For a lamp, it was marketed as one of the brightest lamps available using LEDs. In terms of brightness, the Neatfi XL Task Lamp is a 2,200 lumens light, which is equivalent to a 150 watt regular incandescent bulb.
I have to be honest. Blue is my favorite color. The glow blue bit around the edge of the lamp housing caught my eye early and fast.
The great thing about LED lamps is their ability to create light without the heat. Light emitting diodes (LED) also don't require a lot of energy to function. This makes LED lamps a more environmentally friendly way to brighten your workspace, than compared to conventional lighting systems.
Taking my utility blade, I pop open the box and pull out the styrofoam packaging. Of course, I will save the white styrofoam for making DIY terrain. I will likely use my hot wire cutter and get some hills made.
Inside the packaging, the lamp is neatly tucked into molded slots. It's a secure package and I'm already confident that everything arrived intact.
Whew!
And, there's a STOP sign right in front of me. (My daughter ends up cutting the card stock to make a small stop sign on a popsicle stick).
Oh, and I discover that it's a warranty card. Sign up with my email and I can get a 3-year warranty and 15% off my next Neatfi purchase.
Unfortunately, I'm not sure what other products I'd want from Neatfi. Might be something to check on later….
Either way, I elect not to sign up with my email. Who knows how that info will be used. Don't you hate getting spam emails?
---
How to assemble the Neatfi XL 2,200 LED Task Lamp?
Easy. The lamp comes in two parts. The first part is the clamping mechanism, which uses a screw-in clamp for the side of a tabletop or desk. The second part is the lamp assembly. The swing arm has springs in it to keep the lamp's position. There is a pivot insert that goes into the clamp (after it has been attached to your desk).
Place the lamp pivot insert into the clamp attached to your desk, and you're done!
To adjust the LED lamp housing, you may need to loosen the top screw first. Then, tighten the screw back down to keep your lamp in place.
---
Look and feel
The lamp is stylish. It is mostly white with a neat blue glow around the LED lamp housing.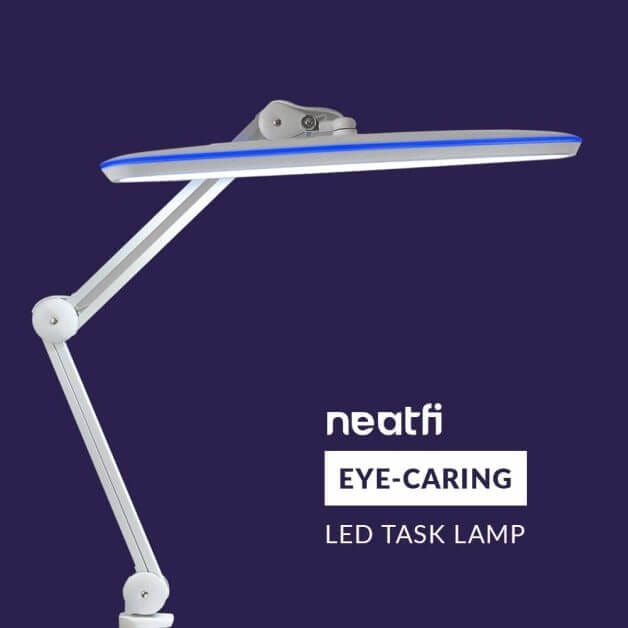 You can choose other colors when you get this lamp. There's a black, gray, and pink colored lamp.
I like the white, because of how clean it looks. The swing arm has a smooth operation and the plastic LED housing feels light but solid. This is a sturdy product. If there was any concern, it might be the springs, which tend to get squeaky over time.
I will note that the lamp stays where I put it. There is no slop in the pivots or the LED housing. If I tilt the lamp sideways at an angle, it stays there. No problem.
Overall, the Neatfi XL lamp looks and feels great.
---
What are the dimensions of the Neatfi XL Task Lamp?
The LEDs are housed in a lamp that is about 23″ wide. The swing arm has a total length of 32″, which is adjustable at 3 pivot points.
This allowed me to place the light right over the center of my fairly large (deep) desk. I'll note there that Neatfi has a slightly narrower lamp for smaller hobby spaces that spaces 20″ instead of the 23″ of the current Neatfi lamp of this review.
There are also other similar lamps, e.g., the Model Craft Professional Task Lamp, the Lighcraft Pro LED lamp, which all review just as highly and have the same features, power output, and color as the Neatfi XL task lamp.
If you're looking for the best lamp for painting miniatures, the Neatfi XL task lamp might be all you need. It covers a wide swath of surface in a nice (daylight spectrum) light. It almost makes my desk glow on the brightest setting.
---
What is the color temperature of the light from the Neatfi XL Task Lamp?
This is a great question for miniature painters who are looking for color accuracy in their work. This is also an important consideration if you're looking to use the Neatfi XL LED Task lamp for other things, e.g., computer desks, crafts, reading.
The actual color temperature of this unit isn't clearly stated on Amazon. But, reaching out to the manufacturer, their response notes that the Neatfi XL Task lamp produces a light with a color temperature of 5.6-6 Kelvin. This is within the cooler daylight side, but not "blue".
Recommended lights for painting accurately have a color temperature that falls within the daylight range (5000 – 6500K or Kelvin) and provides sufficient diffuse illumination to prevent eye strain, e.g., squinting, and hard-shadowing.
As such, I would recommend the Neatfi XL for model hobby work, but not so much for reading paper copy or books.
---
How bright is the Neatfi XL Lamp?
The Neatfi XL Lamp is very bright. But, it's not a harsh light. It produces a nice, bright diffuse light over your working surface.
There are four brightness settings for the Neatfi XL task lamp. It can be set to 25%, 50%, 75% and full 100% brightness. For most hobby work, I've been using my light at 100% brightness. I get the most contrast and visual detail at this setting.
If I'm photographing a miniature on my desktop, I might lower the brightness to reduce "hot spots" in the image frame.
Here are some examples of what the different brightness settings look like on my desk.
To capture these images, I locked-in my camera's aperture, iso, and shutter. This way you can get an accurate sense of how the brightness settings look over my painting desk.
Ambient lighting let my camera focus on the elements of the desk. (If I didn't have other lights on in the room, the image would be completely dark).
I skipped the 25% brightness because it didn't register well with the other lighting behind me. But, at 50% brightness you can already see all the details and colors on the desk.
The 3D printed model on desktop is the same one you see in this article.
At 100% brightness, at the camera settings I used, most objects in the image are washed out. This is how bright the lamp is. Notice that the light source isn't harsh. The shadows are tame.
As I mentioned, if you're only planning to get one lamp, the Neatfi XL Task lamp might be the one lamp to rule them all.
Admittedly, I do own multiple light sources for various hobbies of mine. Can't have too many good light sources, especially for macro photography!
---
Is the Neatfi XL Lamp good for painting miniatures?
You can probably tell I think the Neatfi XL Lamp is incredible for miniature painting.
Here's what to look for in a good lamp for painting minis:
Color accuracy
Good contrast
Flexible ergonomics
Durable
Low heat/energy consumption
Affordable
In all these categories for an ideal desk lamp for miniature painting and model work, the Neatfi XL is amazing.
The day light spectrum LED output is great for color reproduction on your working surface. If you're painting other things, like rocks, or needlework and other crafts, the light is diffuse and pleasant.
You won't suffer eye fatigue using the Neatfi task lamp.
In fact, in retrospect as I write this, I wouldn't mind using this lamp in the kitchen. Food prep work might be more enjoyable with good light!
I digress.
The width of the lamp is useful for providing useful, high contrast on your working surface. Contrast often suffers when a light is too bright and focused in one spot. The diffuse nature of the Neatfi light source helps maintain contrast.
The Neatfi lamp combines well with those who use wearable magnifying visors. Glare and unwanted reflections through glass lenses or optics are kept to a minimum.
The flexible swing-arms help the lamp stay in place wherever you put it. Sometimes you may need to tilt the light to see the underside of a model. The lamp can do that and stay positioned while you work.
I can already tell the Neatfi will last me years from its mostly metal construction. The LEDs are rated for up to 100,000 hours of use, and will never get hot. The 3-yr warranty is a nice touch but I doubt will be needed.
In summary, I think for about $100 USD, the Neatfi Task Lamp is a steal. It is one of the best lights for modelers, hobbyists, and miniature painters. I have also used the task lamp as a photography light for capturing impromptu images of my works-in-progress.
---
Final Thoughts
Writing reviews on things is hard when you aren't "into them". I'm excited to say that the Neatfi XL lamp has made an incredible impression. It's a huge upgrade from my old fluorescent hobby lamp (a LSF-150BLK Solare Clamp-on Swing-Arm Lamp).
Anyway, I wanted to share my thoughts on how much I enjoy using this light. I hope this review of the Neatfi XL Task Lamp was useful. If you're looking to supplement or upgrade your light source, check it out!