3D printing is a game changer for the miniature hobbyist and tabletop gamer. The ability to print miniatures or terrain on demand allows anyone to create models from the comfort of home. You don't need to walk into a local store, wait for a delivery, or deal with bad weather. You can shop for amazing miniatures and models online and moments later have it sitting on your hobby desk. 3D printers that produce box kit quality 3D prints are affordable even for the budget-minded hobbyist. All you need is bustling marketplace to find the best 3D printable files.
In this article, I examine the benefits of a 3D print miniatures on demand, subscription-based model, and showcase the Arenpi miniature 3D printing marketplace, where you can find 3D print-on-demand files of miniatures and terrain for tabletop gaming.
Disclosure: We are a participant in affiliate programs for Amazon Services LLC Associates, Etsy, Noble Knight Games, and KEH Camera. Some of the links on this page may refer you to these or other affiliate sites where we earn fees for qualifying purchases.
In the World of 3D printing, e.g., Thingiverse, Heroforge, Myminifactory, Gambody, DriveThruRPG, the Arenpi 3D model bazaar is a pretty unique destination. There is a sign up to score Arenpi pre-launch discounts and cool prizes below.
Is a subscription to on demand 3D printable miniatures worth it? Read on for more details about Arenpi, and how a 3D print on demand marketplace creates new opportunities for the miniature hobby and modeling community.
---
How 3D printing has changed miniature and tabletop gaming
Look out miniature game company <insert brand here>, 3D printing is here to stay! As a business disruptor, 3D printing technologies have forced the commercial miniature and model market to adapt or die. Consider Uber, Netflix, or even Amazon. These companies have turned the way we travel, entertain, and shop upside down. 3D printing is doing the same thing for the miniature gamer and hobbyist.
Here are 7 ways the 3D printing industry has changed how we approach the miniature and tabletop gaming hobby:
On-demand print miniatures
Saves time for the hobbyist (e.g., less assembly or technical know-how required)
More unique miniatures and models
Less expensive than commercial kits
Scalable models (e.g., 3D print models at any scale, 28mm to 75mm, etc.)
Encourages game companies to innovate
Democratizes 3D artists and creators to more users
1. On-demand print miniatures
When you see a model you like, you don't need to wait for your order to get delivered to your home. With 3D printing, all you need is a 3D printable file of the sculpt you want and a good printer.
A few button clicks later, maybe a few hours doing something else, and your printer will complete the 3D print of your model. Even better, you own the 3D file and can make as many as you like. Getting your models is now as easy to buying streaming movie online!
2. Save time for the hobbyist
Maybe you like assembling miniatures. But, it takes a lot of skill and time to build a model kit well. Often, you need glues, gap fillers, and other tools, e.g., pin vises, mold line removers, clippers, to do a good job. Not so with well-designed 3D printable models.
A good printable 3D file and a high resolution printer will produce models that require very little post processing and assembly. Most printable miniatures created by professional 3D artists don't require any assembly at all! Arenpi hosts a library of 3D print ready miniatures and terrain that make your job as the end-user hassle free.
3. More unique miniatures and models
If you're looking for an exotic miniature or model for your next role playing game campaign (e.g., Dungeons and Dragons, Pathfinder RPG, Frostgrave), 3D printing can be your ticket! Heroforge is a good place to create custom 28-35mm models for RPGs.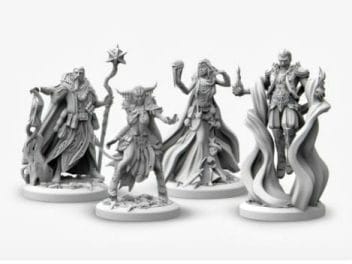 With a 3D printer and a good library of miniatures to choose from, you'll find the perfect model for your tabletop game or collection. Learning to paint 3D printed models like this amazing resin sculpt can take your hobby skills to the next level.
4. Less expensive miniatures
3D printing is affordable for any hobbyist. On a cost-by-model expense, it may appear that you are spending the same. But, consider that after purchasing the initial 3D printer equipment, your only expense is material (e.g., resin or filament) and the 3D model files. These are almost negligible costs when you consider economic force amplification of a single 3D file you can use over and over.
5. Scalable models
Sometimes you want a model extra big (or small). Maybe you're making a scenic diorama for your model train display or need some terrain scaled to a specific size (here's a handy reference for different miniature scales). With a 3D printable file, you can use a printer's software to scale up or down to any dimension you want.
You can take your 28mm miniature and blow it up to create a 75mm scaled bust. Imagine making a space marine the size of your hobby chair. Or, take your favorite tabletop miniature game and shrink it down so your entire army fits inside of your laptop office bag. Take any huge army and make it portable.
6. Encourages game companies to innovate
Adapt or die, the saying goes. 3D printing is a disruptive technology to many businesses, including tabletop miniature gaming and board game companies, e.g., Games Workshop, Privateer Press, Asmodee, Fantasy Flight. This means that companies will be encouraged (gently or forcefully) to adapt to the speed, accessibility, and affordability of 3D printable models.
Although in the short or mid term this may create turmoil, this is ultimately to the benefit of the end-user and society at large who will reap the benefit of assimilating new technologies across mainstream industry sectors, e.g., medical, art, fashion, and more. Ultimately, 3D printing will shape consumer demand and keep vendors on their toes to produce things people want.
7. Democratizes 3D artists and creators to more users
3D printing allows anyone with an interest in 3D sculpting and modeling to reach a broad audience. You and I could become successful artists and creators through the wide opportunity that 3D printing affords. As a designer, you can reach countless consumers through the digital market space. You don't need to partner with large corporate entities to sell your ideas and art products. Go straight to consumer.
For someone who wants access to a host of unique designers and artists, the 3D printing marketplace is the ideal destination, too. Not only can you find the miniatures or models you want, you can also engage with the original 3D artist. Look at the success of 3D creators on Patreon. Arenpi is unique digital marketplace in that it forms a community around miniature hobbyists and 3D modelers in the tabletop scale genre.
---
Are subscriptions for 3D printable miniatures and models worth it?
Yes, but with exceptions, I think subscribing to access great 3D printable miniatures is certainly worth the cost. When you sign up for a subscription, you're paying to receive a product or service over regular intervals. Subscription services have been around for more than a century. You can sign up for tangible products like magazine catalogs, medicines, and household products.
In the digital space, you probably already have a subscription to a TV/movie streaming service, like Netflix or Disney+. Maybe you have subscription to receive access to a huge library of audiobooks. Want to listen to the entire Warhammer Horus Heresy Saga? Check out audible for a 30 day free trial. The entire digital world is heading in this subscription service direction, and for good reason.
The value in subscribing to a service that gives you access to high quality 3D printable miniatures is in the convenience. You don't have to tweak your 3D files to make them work with your 3D printer. A subscription service makes products you want more affordable and canceleable. You don't experience buyer's remorse with a subscription service because you can cancel it.
With backend support for 3D printable products, the technical hassle and frustration is gone. Just get the models you want and make them! And with the democratization of a 3D printing marketplace, like Arenpi, you can access a much more diverse library of 3D printable assets than you could with a static provider.
---
Why is 3D printing hard?
3D printing isn't a plug and play experience for anyone. You still need some technical know-how to reliably produce 3D prints, especially small models, like gaming miniatures. As a hobby, 3D printing can take up a lot of time. Some 3D printers are easier to use than others, but you'll want to learn as much as you can about software and hardware.
From my viewpoint, the hardest part about 3D printing is working with the 3D files and getting them to work properly with your printer model. Although all software slicers, like Cura, can read and use STL files, they don't produce the same quality g-codes (the code a 3D printer needs to function). This is especially apparent when it comes to the discrepancy between FMD and resin type 3D printers.
The 3D model marketplace makes things easier
Standardizing the 3D printing workflow to create gcodes that work for FDM and resin type 3D printers is a major challenge. Arenpi makes the 3D printing process experience for the user as close to "plug n' play" as possible. Commercial markets of 3D printable models has already begun making pre-supported STL files a standard (which means less work for you and me in printing complex miniatures).
For resin printers and FDM printers, Arenpi will provide specific g-codes that work with your software/hardware environment. This removes the hassle of slicing and adjusting your files for the perfect print on your specific 3D printer.
---
What is the Arenpi Miniature Bazaar?
Arenpi is 3D printable file marketplace that uses a subscription-based model to specifically serve tabletop gamers, collectors, and 3D printing enthusiasts. Behind the curtain, Arenpi also acts as a digital repository for professional 3D artists to share and sell their wares with hobbyists. The Arenpi subscription pool system allows you to reach more artists' work than you could on a single Patreon page and for less cost.
Reasons to try the Arenpi 3D printing marketplace:
Accessibility – As easy as the open source site Thingiverse, but Arenpi caters to the miniature hobbyist with high quality 3D printable files for modern high resolution printers.
Diversity – Whatever your heart's desire, artistic aesthetic preference, or simple impulse to shop, the Arenpi marketplace delivers a diversity of 3D sculpts for your modeling and gaming hobby.
Backend customer support – Arenpi is backed by a staff of knowledgeable 3D printing experts. The site founders have more than a decade of 3D printing experience combined in service and technical 3D printing industries. If there's an issue with your 3D models or printing equipment, they will be there as support.
Cost-benefit – There is a steep learning curve with 3D printing, which usually arises from software issues, e.g., broken 3D meshes, bad slicing settings, etc.The Arenpi marketplace focuses on ensuring a low technical hurdle in creating amazing quality 3D printed miniatures. The benefit of a hassle-free 3D printing experience adds to the fun of the hobby.
Community – At the end of the day, the enjoyment of any hobby is the community of like minded individuals you form relationships with. Like a friendly local club, Arenpi rests on its burgeoning community of tabletop gamers, miniature hobbyists, and designers.
---
How to explore the Arenpi marketplace as a 3D printing hobbyist or artist
When you sign up to receive a notification of the Arenpi 3D miniature and terrain marketplace portal opening, you'll also receive a pre-launch subscription discount and free STL model giveaway. Check out the portal site and sign up for more information. If you're a 3D sculptor/artist who wants to start the process of selling your designs, you can register as a designer.
Here's the current pricing structure for the Arenpi 3D printing miniature marketplace (subject to change at launch):
| Plan | Number of designers | Price |
| --- | --- | --- |
| Tier 1 | 3 | 12.99 USD |
| Tier 2 | 5 | TBD |
| Tier 3 | 10 | TBD |
---
Current popular alternatives to the Arenpi 3D printing marketplace
Gambody – This is a pay-by-model 3D printing library. Here you'll find a host of miniatures and figurines of pop culture icons, video games, movies and TV shows, and a limited number of tabletop games.
Heroforge – Create your own custom miniature for RPGs using this fun website builder. Check out a full review of the 3D printed miniatures and how you can paint the models.
Myminifactory – A huge site that sells miniatures and sculpts with pay per model or bundle business model.
DriveThruRPG – An online RPG library like no other. From cool papercraft terrain to 3D printables, this is a smorgasbord of roleplaying game related stuff. Pay per product or package allows you to shop like you would any brick and mortar store.
Patreon – This is not really a store for 3D printables. But, if you sign up with a particular 3D artist, you can receive 3D sculpted miniatures for printing. Some of these are mind-blowing gorgeous models.
I'm sure I missed a ton of other sites. Actually, I know I did. I'd love feedback about any sites that I should mention and review. Let me know with a comment below.
---
Final Thoughts
3D printing is an amazing hobby by itself. Take a look at other articles and how-to's about 3D printing for miniature painters and modelers.
Do you think unique 3D printing and miniature marketplace is worth the cost of a cover fee? If you're a miniature painter, then the advantages and creative opportunities with 3D printing are endless. The technology for our hobby is constantly advancing and changing. Yes, I'm excited to see where the ability to 3D print tabletop and gaming miniatures takes us next!
Happy 3D printing and modeling!
Tangible Day on YouTube (Miniatures and More!)