What's the best metal dice set for tabletop gamers? The answer to this question depends on a lot of factors, including your budget and what you need in a gaming dice set. Forged Gaming is one company that sells high-quality metal dice sets which are durable and cost-effective. They sent me a unique set to write this review. Despite my initial reservations of spending a lot of money on any polyhedral dice, I would say for those looking for the full RPG experience, these quality metal dice sets do make a difference.
In this article, I take a closer look at the blood splattered white dice set from Forged Gaming. Whether you're looking for themed dice sets for your next RPG campaign, e.g., Dungeons and Dragons (DnD), Pathfinder, Frostgrave, or other tabletop game, Forged Gaming may have exactly what you're looking for!
Disclaimer: Forged Gaming sent me a few items to take a closer look at for a review. One of these products is the dice set I mention in this article. I generally don't accept products to review unless I think they are exciting to write or talk about. And, of course, I will always give my true opinion so you have a good sense of the pros and cons about whatever I'm speaking about here on the site.
Read on for my review of these super-heavy metal dice from Forged Gaming!
---
Why Should I Get Metal Dice for Tabletop Games?
There are many reasons why you should get metal dice for your tabletop games.
For starters, metal dice are cost-effective. You won't have to spend a fortune to get the perfect tabletop gaming dice set because metal dice can be expensive depending on what type of metal they're made from.
The second reason is that metal dice are heavy and this weight makes them great for rolling and not rolling away like other types of dice.
Finally, metal dice are durable compared to their plastic cousins. While they may dent if you drop them on a hard surface, these dents shouldn't affect rolling.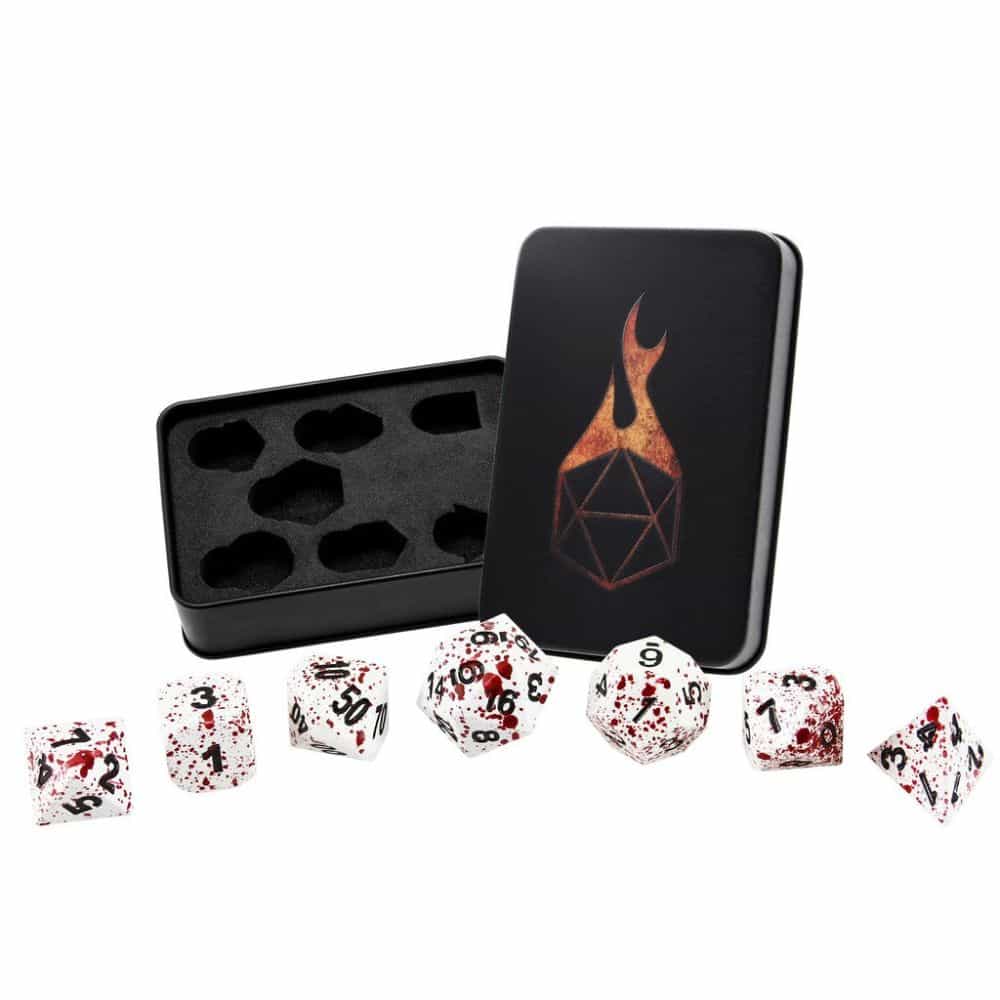 The heavy weight that metal dice provide is both a blessing and a curse. On one hand, this weight means that you're less likely to have your dice roll away from you during gameplay. For those who are playing on tables with cloth or other fabric surfaces, this weight is no issue.
However, for those who are playing at hard surfaces like stone or tile, these heavy dice can cause unnecessary wear and tear on these surfaces. If you roll metal has many times as possible each day, the wear and tear could be more noticeable over time.
So which type of gaming dice is best for tabletop games? While I can't tell you what's best for you because that depends on your preferred gaming system, I can say that metal dice are the way to go for me.
Benefits of Metal Dice
Cost-effective for quality
Heavy and won't roll away like other types of dice
Metal dice are durable
Drawbacks of Metal Dice
Metal dice can be too heavy for rolling delicate surfaces like stone, tile, or wooden tables (e.g., use a dice tray)
More expensive compared to plastic or poly-resin dice sets
Don't roll as far, so this could skew rolling results
---
My Quick Thoughts About Buying Gaming Accessories
I'm fairly stingy. If I don't think something will help me, add value, or really make a dent in my hobby or gaming, I won't get it no matter how inexpensive it is. Take a look at the Citadel Painting Water Cup that I hesitated to buy. Whatever "it is", I think it must be special in some way for me to think it's worth getting.
Solid, good quality metal dice are expensive, as compared with resin or plastic dice. For those looking into metal dice, here's what I think: I'm skeptical. How much better are metal dice compared to plastic dice?
Because Forged Gaming sent me my own set for free in exchange for my honest review, I was able to discover and play around with metal dice to see if I though they improved my tabletop gaming experience.
I hope this article helps you make your own decision about what type of gaming dice are best for your tabletop games, e.g., RPGs, DnD, or whatever your favorite game.
---
Unboxing Review: How Do Forged Gaming's Metal Dice Look?
Forged Gaming metal dice in a word are gorgeous. The set they sent me are blood splattered white metal dice, which have a stunning, realistic appearance. The blood is so close to the real thing that I took me aback when I first opened the metal case they came in. I almost didn't want to touch them right away.
Taking a look at the photos I took, these white metal dice are beautiful. The blood splatter is thick and bold, but doesn't obscure the numbers on each side of the dice. I think it adds a very realistic touch to them without being too gory.
Forged Gaming metal dice come in an aluminum case. This case is nice enough to be used for storing the dice long term as well as transport them.
Because they are metal, if you drop these dice on a hard floor it may leave a dent or scratch, so make sure they're not bouncing around too much during transit. Keep them in the case they came with, or use one of these dice cases.
To protect your gaming table, I do recommend using a dice tray, too. Here are few dice trays I've checked out that would help with rolling heavy metal dice! These are incredibly heavy, dense dice, and could hurt someone if you throw them around with a bit too much force.
The corners of each dice face aren't super sharp–you wouldn't want them to be, otherwise they'd chip–but they are angled enough to put a dent in whatever softer material they roll across.
Here are a bit more of my thoughts about the metal case Forged Gaming dice come in, since this is probably going to be your first impression when you receive the set.
The outer metal tin box is black and has the logo of Forged Gaming. It looks very stylish and would make a good gift for anyone who plays role playing games. Your package will also come with some pretty awesome looking stickers. I'll probably use these on my miniature gaming bags and army transport cases.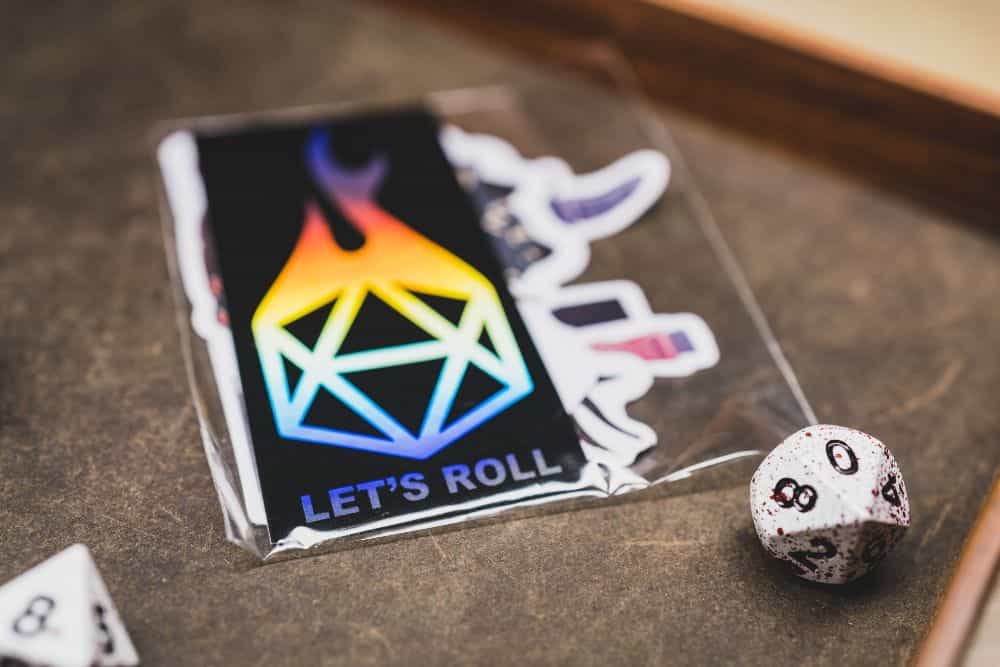 The meta is a good quality material that feels good to hold. The entire case with dice in it feels like holding a thick stack of playing cards. A box of playing cards with 2-3 times the weight doesn't feel flimsy at all. You'll likely never forget you're carrying these dice with you or not, as they will make their weight known in your bag or whatever you travel with.
The foam insert has slots for 7 standard sized polyhedral gaming dice, as well as a single slot on top to hold one special twenty sided die. It's the perfect size, each die has a good fit for a snug hold. You won't need to worry about dice bouncing around during transit.
The dice feel great in your hand. The blood splatter pattern on the white metal look really great and gives them a nice sense of style. They feel well balanced, and roll smoothly on any hard, flat surface. They have a heft, a density, that adds to the feeling they are quality dice.
There's something special about heavy metal dice that's hard to describe. It's as though the added weight brings the die into focus. You can feel it in your hand when you pick them up, it's very cool.
The weight of the dice when thrown or rolled feels perfect. They roll true and don't bounce or wobble when they hit the dice tray. I'm using a Wyrmwood Dice Tray. At this point, I feel like I'm gushing about these metal dice a little too much, but it's hard not to get excited over them.
Do your dice make you feel like you want to go out and use them? Do you have an urge to get a group of friends together whenever you look at your dice, or pick them up? That's what I'm talking about with these metal dice. You want to play more games because the dice make you feel attached to that experience.
---
What are Some Good Features to Look for When Buying Metal Dice Sets?
If you're still shopping around for good metal dice sets, here is some interesting information that I learned when I was researching this review article.
Metal dice sets are an excellent choice if you're looking for the best dice to go with your tabletop game. The majority of metal dice sets come in a box or tin, which make them perfect for long-term storage and transport. If you want something that's going to last and be durable, metal is the way to go.
Here are some features to look for when you're shopping for metal dice sets for tabletop RPGs and other games.
Size
Weight
Style and design
Travel case
Price
Size
A lot of the time, the size of metal dice will have an influence on how they feel to hold and roll. This is because it's easier to get a grip on them when they're not too big or too small. You'll find that large dice are better for use in RPGs and tabletop games when you need fellow players to see what you're rolling.
Weight
High quality metal dice are made with a solid, durable aluminum-zinc alloy. This gives them a density and heft that is unmatched by other dice materials. I love the weight of heavy metal dice. The weight has a powerful influence on your gaming experience.
The heavier metal dice are, the easier it is to launch them into the air for dramatic effect. Okay, I'm kidding. Be careful as heavy metal dice can damage furniture, e.g., your wooden tabletop, or hurt pretty badly if it hits someone (seriously). Of course, lighter metal dice look good, too, but don't have the same heft and immersive feeling as heavy metal dice.
Style and design
It's exciting to select the perfect dice for your tabletop game or RPG. Some of the most popular styles are dwarven, elvish and orcish. All of these fantasy settings match some type of theme, which you may want to express yourself during gameplay. Of course, there are a near infinite variety of motifs and artistic styles to polyhedral dice sets for games.
Metal dice are kind of special, too, in that they often allow manufacturers or artisans to craft unique, beautiful designs into the faces. This isn't generally possible–or as good looking–with normal plastic or even resin dice. So, if you're looking for the best metal dice sets with a special "vibe" for your next tabletop game, be sure to search online and take a look at all of your options before making a decision.
Travel case
Considering how important it is to take good care of our precious tabletop gaming equipment when we're not playing, it's sensible to find a durable case to store them in when not in use. Metal dice sets often come with their own dedicated travel cases or tins to store them in.
This is an excellent feature to consider if you're looking for the best metal dice sets that will stay protected during travel, whether it's on a plane or in your backpack. And having a special case is perfect for people who like to take their gaming lifestyle with them everywhere they go!
Price
The price of the dice set will, of course, have an influence on your experience. The more expensive metal dice sets are made using better material and craftsmanship than cheaper metal dice sets. Generally speaking, the more expensive metal dice sets will be lighter to hold in your hand and roll when you toss them into the air. Of course, there are plenty of inexpensive, yet ultra-high quality metal dice that offer excellent value for your budget.
Look out, though! I'm quite sure, once you start getting into buying cool looking dice sets, you'll end up having a collection of them. Every game you play may trigger your urge to go shopping for a unique dice set. There's a slippery slope when it comes to spending your hobby money on dice.
---
Do Metal Dice Sets Have Good Weight Distribution?
Solid metal dice sets are often considered more "balanced" due to their weight and construction. Good quality metal dice aren't molded like resin or plastic. Instead, metal dice are cut with a CNC machine using lasers or other mechanical method that ensures each face and angle is shaped, accurately.
Sure, there will be imperfections, but there is less room for error than a die-cast or molded resin or plastic dice set. As a note, testing the "true randomness" of a die is a science that few of us can perform ourselves at home. This is especially true with metal dice, which cannot be used in the floating dice balance test.
Rather, just be aware that most of the precision and balance in a dice comes from how it is manufactured. Metal dice by nature require more precise tools and manufacturing processes than other dice materials.
Bottomline: If you want to get the best balanced dice without the hassle, then shop for dice constructed with a durable, solid metal.
---
My Favorite 3 Forged Gaming Metal Dice Sets
These heavy duty polyhedral dice are made of SOLID metal (e.g., a durable aluminum-zinc alloy). The gun metal numbers are outlined with red dragon scales. Whether you're rolling for the coup de grace, or chucking them at a kobold to defend your party, these dice are right for the job.
If you're playing a mage (which I do) in your tabletop RPG, then dice like Celestial Ore Dice these fit right in. They look like gems or some type of precious metal infused with glittery magical stuff. Yep, I'd totally love these for my games. Take a closer look and you'll see the composite metal and resin brightly contrasting with the numbered faces, which makes reading your dice rolls super easy.
Minimalism is often the best "style" for me when I'm indecisive. These Iron Red Dice are simple in style, but solid in substance. Heavy, dense, and practical, I see these are perfect dice for playing my warrior or barbarian characters. This is a larger dice set with extra D6 dice for those additional weapon attacks you have. Take a closer look and you'll notice the finer raw iron texturing on these dice. These are solid metal dice that feel as strong and utilitarian as they look.
---
Final thoughts
I'm quite sure you've had a moment where you're deciding between two dice sets, and you can't decide which one to buy. You might be wondering if the metal dice are better than resin or plastic ones? If you want more weight and more reliably balanced dice in your dice set, then you should consider buying a solid metal die over an inexpensive molded one.
I am quite impressed by the Forged Gaming dice and would totally explore the other dice set designs and themes. You can find out more and explore their range of other gaming accessories from the Forged Gaming online store.
I hope you enjoyed this review. Do you have a favorite set of gaming dice? Let me know with a comment, so I can check them out!
Until next time, happy gaming!!!