Do you want to teach your little kids about color, but don't want the mess of paint, the hassle of broken crayons and dried-out markers? Dot markers are the perfect way to keep kids engaged and entertained. The best dot markers will get your kids involved from a young age with your painting and creative hobbies, without making a mess.
In this article, I share my thoughts about Chakola dot markers for toddlers and young kids (ages 2-5). As a hobbyist, I'm looking forward to the day when my kids come alongside me and get to play with all the art and creative things I enjoy. These dot markers are a bridge toward this future, and I throughly enjoyed the opportunity of showing them how to use color (even if it was messy!).
Disclaimer: I was contacted by Chalkola to try their Dot Marker Kit. I accepted and watched (and played alongside) while my three children used the marker set over the course of several weeks. My observations and thoughts are documented in the review you're about to read.
---
Summary: What are Chalkola Dot Markers?
The Chalkola Dot Marker Kit comes with 10 dab markers in assorted colors each filled with 2 fl oz (60ml) of ink. It also includes a bonus activity book to teach them about ABCs, numbers, shapes. It even has 50 pages of activities they're sure to love! These dot markers have water based ink easily washes off clothes and hands and is 100% non-toxic.
---
Dot Markers are Great for Young Kids
There is a depth of creativity, personal growth, and discovery in miniature artistry and scale modeling work. Color, visual composition, and more come into play. My kids see me working with my art supplies. Here is their chance to play, too, with dot markers built especially for them.
Admittedly, I was excited to have these markers to test along with my kids. During that crazy time when kids are stuck at home all the time, there was a constant pressure to keep them engaged and learning things.
As a part of their at-home learning experiences, I wanted my kids exposed to the "art world". I wanted them exposed to color, but more than that, I wanted them to play with art supplies made for them.
Certainly, there are the old fallbacks like crayons, tempera paint and brushes, and washable magic markers. But, if you've dealt with these, then you know how annoying it is for crayons to break and lose their point. Crayons also tend to be hard to wash off anything. Once wax is on your walls or furniture, it's there for good.
Tempera paints are great. They are safe to use, and fun, too. But, at the age my kids were, liquid mediums with a brush are a huge mess. Worse, I'm not sure it bugs everyone else, but I'm a stickler for not mixing colors in the original dispenser.
(I have to watch my kids like a hawk, so they don't dip their unwashed brushes in all the bottles/jars).
Other washable paint markers are a good choice, especially if they use ink that doesn't stain clothing or skin. But, a lot of the markers I've found in the budget price range of fragile tips that bend, break or leak. Let's not even talk about the mistake of handing permanent markers you find in an office supply store to a young child….
Magic markers (or those stamps with ink pads) are a good choice for kids, but they lose ink quickly especially when their tips are jabbed into paper over and over. Stamps also require that you refill the ink pads as they tend to dry out quickly, too.
There is no sense of applying correct writing/drawing pressure with little kids. It's either full force scribbling, or not. Well, not all kids are like this….But, let's face it, most art supplies aren't durable enough to withstand the hurricane that is young children.
Enter dot markers.
Here are 3 reasons why you may want dot markers:
They help improve your child's fine motor skills like hand-eye coordination, which helps them perform better in other areas like writing or drawing.
It also helps them with creative ideas for coloring or drawing.
Finally, it makes their time more enjoyable which will lead to more creative endeavors.
Importantly, the best dot markers are durable. They should hold up to the rigor of small, creative hands that still need to learn how to be gentle. Dot markers work when pressure is applied to the marker tips.
With smooth flowing ink, you can actually write/draw with them. Dab or jam them into paper on a hard table surface and they don't break. Dot markers keep on chugging along.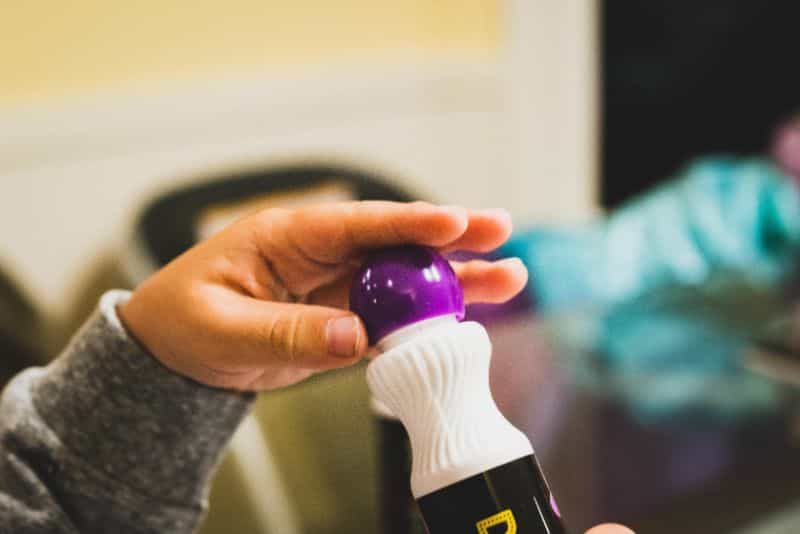 The colors are limited in most dot marker sets, the Chakola set not withstanding; but they are compartmentalized into different markers and won't mix unless on paper. And, the dot markers I tested have a huge capacity of ink (60ml). I expect them to last a long time (and they have!), which makes them a good value compared with other children art supplies in a similar price range.
---
Unboxing Impression
The box of dot markers arrived and was well packed inside. All the markers were undamaged and I did not notice any leakage leaking from the sides of each marker cap. No spill? Great. Let's go!
There are a wonderful assortment of bright colors. The labels are clearly visible as you open the box with each cap denoting the ink color, too. The 10 colors include black, teal, brown, orange, purple, pink, yellow, green, blue, and red.
I was impressed by how "chunky" each marker was, and they felt light but good in the hand. There is an ergonomic sculpt to the end of each marker, near the cap, that you can see in the photos.
In my hand, I immediately felt like trying them out. But, being the kind of parent who likes to see the surprise on a kid's face with a new "toy", I held myself back.
One by one, I pulled out each marker and hefted them. I expect they would feel off for an adult to use with our larger hands…and because I'm mainly a small scale modeler and miniature artist, I knew these would not be in my daily rotation.
Dot markers are for kids after all!
Yet, I was drawn to them. They look fun to use!!!
The back of the box has the simple instructions for how to start the ink on these markers. They are typical ink markers that require some priming to start the pigment flowing.
All you have to do to start using these markers is to shake the pen, open the cap, and press down on the felt/spongy tip on a flat surface until the ink flows normally.
I would let my kids try doing this (read on below to see what they think).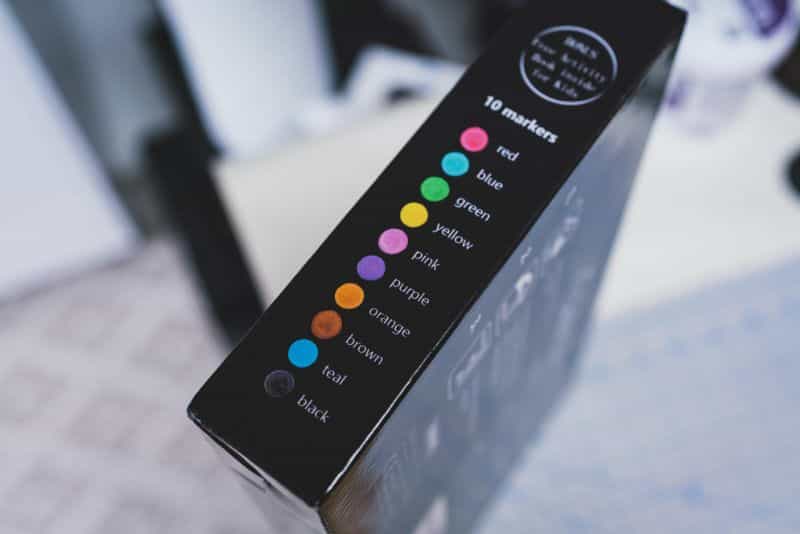 The included activity book is a nice addition. It includes a lot of pages (50 of them) that you can tear out cleanly with the pre-cut perforations.
A quick peek on the Amazon site shows you what's inside. There are pages for inking in the alphabet, numbers (1-10), and different daily objects and things out in the world, e.g., animals, vehicles, food, and more.
As an art set for kids 3+, I was not surprised by the content. It's clean, simple, and par for the course in terms of what to expect with workbooks designed for kids around this young age.
---
Are These Dot Markers Safe?
Of course, I wanted to confirm that these markers are safe. Are these dot markers non-toxic? They appear to be water-based resin pigment ink, which for the most part is non-toxic when you get it on your skin. I would not allow your kids to put these in your mouth however, as that could have other issues.
The ink from these dot markers easily wash off skin (which I tested later). All you need is soap and water. Nothing special needed and I did discover that the ink washes off furniture too 😃. So that's pretty nice.
---
How Do You Use Dot Markers?
The dot markers from the set are very easy to use. They work exactly like side-walk chalk in that all you need to do is get the ink flowing and put the drawing end to the working surface.
Let the marker do the rest as the color flows onto the page.
Of course, all of the markers need to get primed to get that ink working. To do so, shake the pen (which I let my kids do), then open the cap, and press the sponge end to the paper.
After a few presses, it may take a few (2-10), the ink will fill the tip and the pen is fully ready to use.
My kids got right to work after priming all the markers. Suffice it to say, getting the dot markers working was simple and part of the fun!
---
Do I Think My Kids Enjoyed Using the Dot Markers?
There is no precision in using these dot markers. The tips is huge and every mark my kids made was a huge circle or swiping stroke on the page. The dot markers throw out a lot of ink without much effort.
This is fantastic as the immediate gratification I noticed my kids have with these kept them going. They used all sorts of invented techniques with these markers.
My kids had plenty of fun with these as there's just so much they can do. They loved using them with and without the activity book. They banged them around on the pages (the two year olds loved the noise they made with them against the paper and table).
Of course, with two year olds, there wasn't a true rhyme and reason for how they played with the dot markers. All I knew is that they were smiling and laughing as they saw how the colors blend into the paper, into each other, and how easily they could make a mess.
To tell you the truth, I don't think they made any art worth showing off on the refrigerator just yet with these markers. Harsh, I know 😅. But, they had fun and I definitely enjoyed watching them play with the markers.
---
How Long Will These Dot Markers Occupy Kids and Keep Their Attention?
You may be wondering how well these markers could keep the attention of your kids. Well, that depends right? How old are your kids? Is their personality geared toward focused tasks, or do they bounce around a bit more?
My kids used the markers enthusiastically for about an hour, which for 2 year olds is a lifetime! The 5 year old daughter was, of course, a bit methodical with the markers once she got the hang of how to use them.
Whether this is due to her personality or her age, I'm not sure. In either case, all of my kids had fun with the hour or so we used the markers.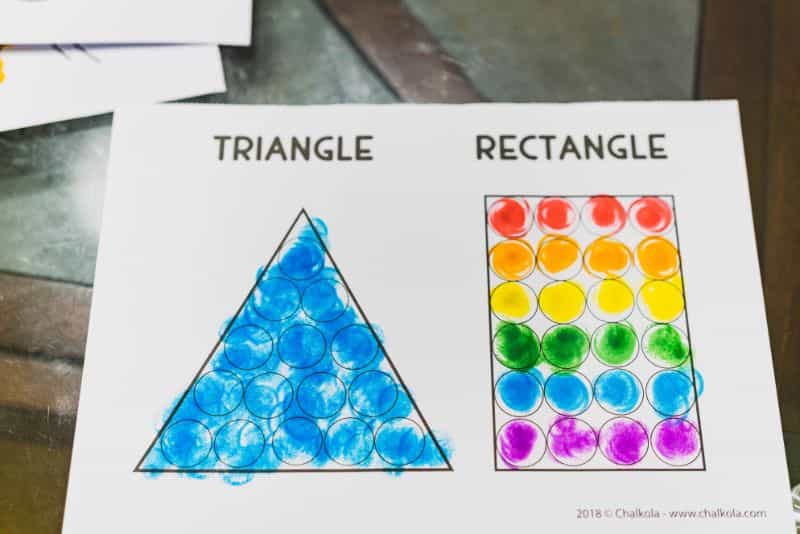 To be transparent, I think my 2 years olds (two boys) will return to using them over and over. While my 5 year old may not given she has so many other toys and art supplies that fit her desire for more "precise" drawing and art.
Your mile will vary with your kids using these markers, as I think their interest will depend on their personality and age. The age range for these markers is about right, and I think anywhere between 2-6 years old would be a good bet for them having fun.
What About Clean Up?
As others in the parental community noted about these dab and dot markers, these are one of the easiest, best washable markers you can find online. The colorful dots stay on paper, but wash off nicely from the little ones' hands.
Other dot markers do leave a bit of a color stain you can see a bit of, even if you scrub with soap and warm water. But, these Chakola dot markers comes out clean. The water based ink doesn't require an ink pad, which also means that you can contain the mess to just the markers themselves.
---
Are the Dot Markers Really Durable? Will They Last?
There is a ton of ink in these dot markers. For their price, I don't think you'll be worried about them running out anytime soon barring any leaks. Dot markers for toddlers aren't expected to last long, given their intended audience.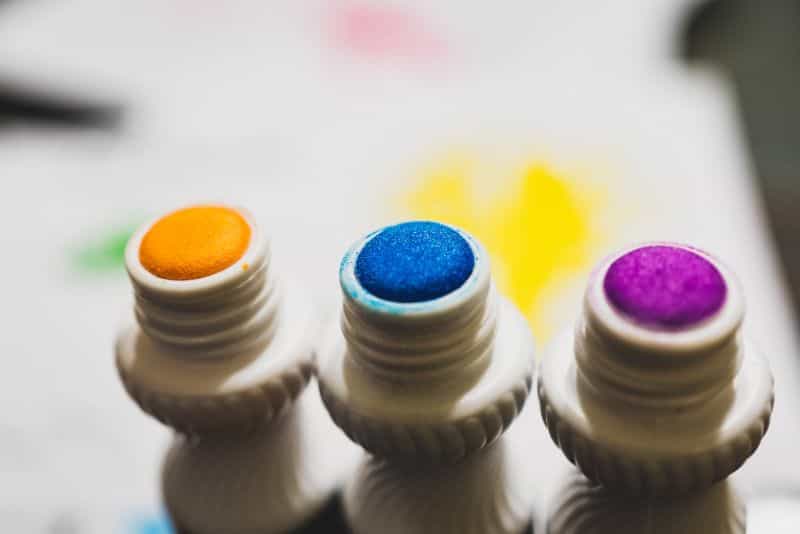 The plastic barrels on these markers are durable and withstood the repeated banging, thumping and jabbing. The sponge tips also handled all the rough use by my 2 year olds. As the ink flows smoothly through the marker tips, even a bit of a clog or tear in the spongy end shouldn't affect their ability to create dots.
The constant punching of the colored tips into paper and the tabletop would have broken most other magic markers. I would not be afraid of these breaking at all. Ink spills aren't a concern, at least for us it wasn't.
The large caps on the markers are easy to twist on and off. They also provide an excellent seal over the sponge tips, so you don't need to be afraid of the ink drying out. Sponge tips stayed wet and ready to go when the kids wanted to create.
Because of their shape, the spherical caps were also easily handled by my toddler boys who learned quickly how to open and close the markers. This easy grip and large sponge tip made these some of the best markers for my kids who just wanted to play without Daddy worrying about the tools breaking or spilling a mess over the kitchen table.
Overall, I think these are great markers built to last for little ones looking to play with color. I would not be afraid of leaving my kids alone with them. And, given that the ink washes off so easily on different material surfaces, I'm not concerned with them making permanent messes all over the house, their clothes, etc.
Are these the best dot markers for toddlers (and kids of any age)? I honestly don't want to make that claim. I would just say that these are reliable markers for kids who want to put vibrant color down and make a tangible print in the world.
---
Where to Buy and Try Out the Chalkola Dot Markers?
The easiest place to find these Chalkola Dot Markers is on Amazon or from the Chalkola website. They range in price depending on the year, but are equivalent to similar art supplies.
---
Final Thoughts
I would recommend these markers to any parent with young children. The Chalkola Dot Marker Kit is perfect for kids who love colors and making a mess! Their water based ink washes off easily so there's no need to worry about your child spilling the marker all over the floor or clothing. I found that they were durable enough for my two year olds, but I think 5 may be on the older side of things for these markers.
Taken together, I think these Chalkola dot markers are the kind of art supplies that are great for very young children. They allow them to experience the "use of color", playing freely, and engaging with tools that work well with their small hands and big imagination!
Are you looking for fun art supplies for little kids? Did you find this helpful or want more reviews like these? Let me know and leave a comment below!
Tangible Day on YouTube (Miniatures and More!)